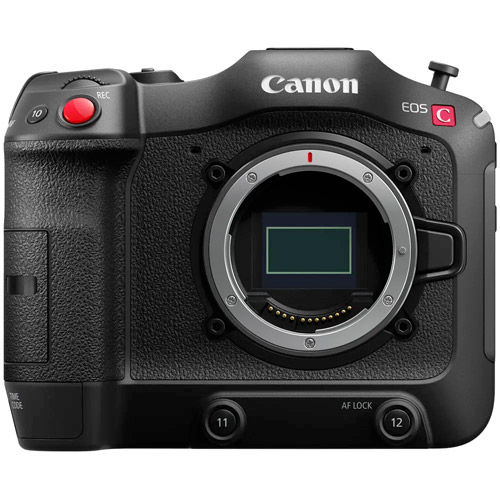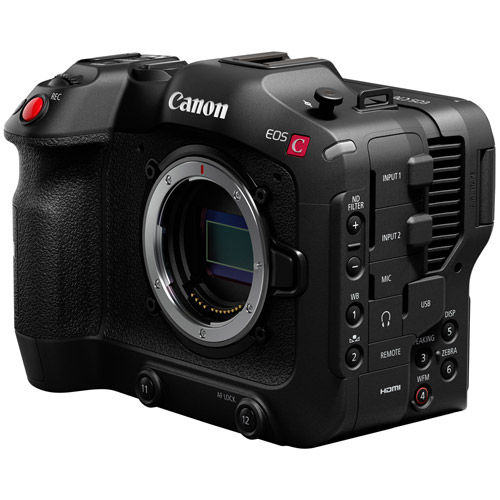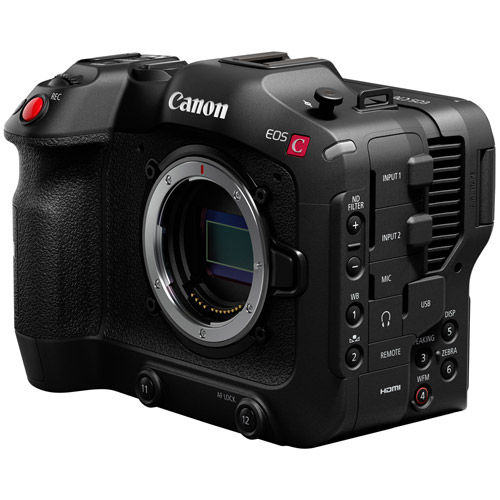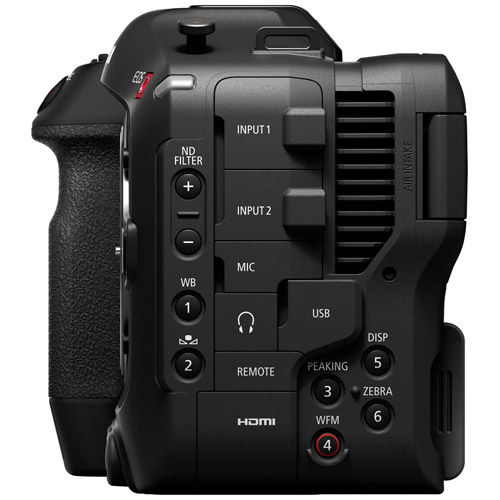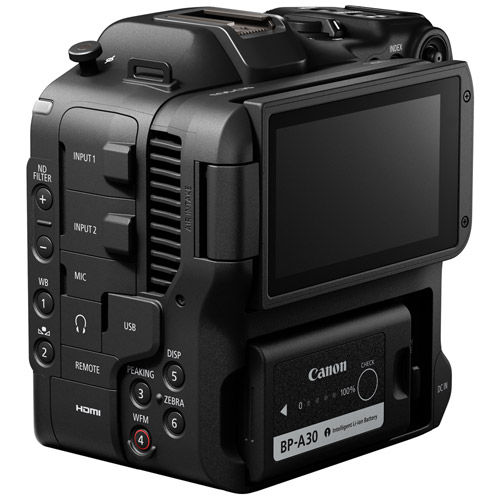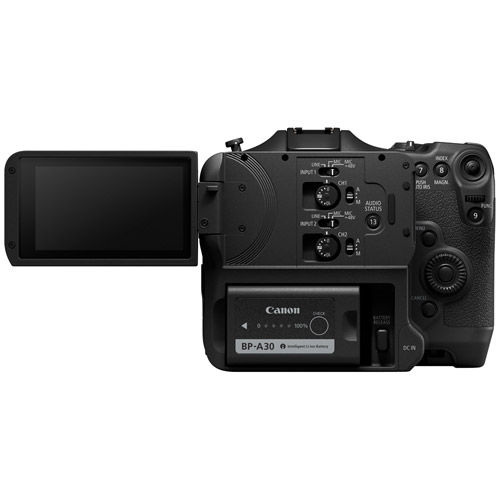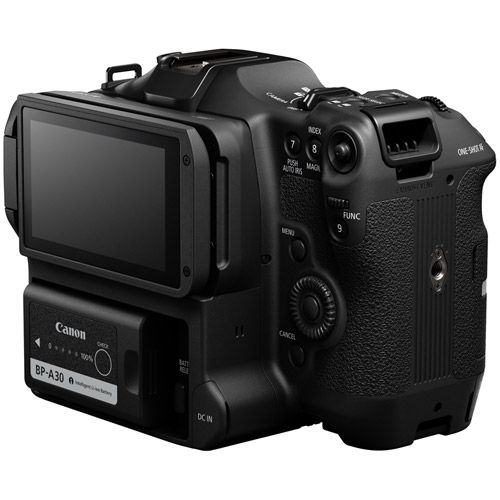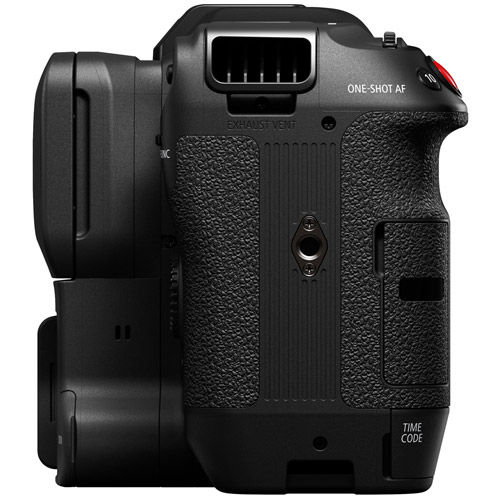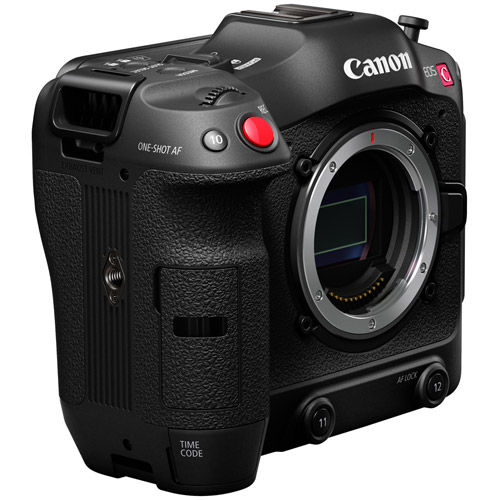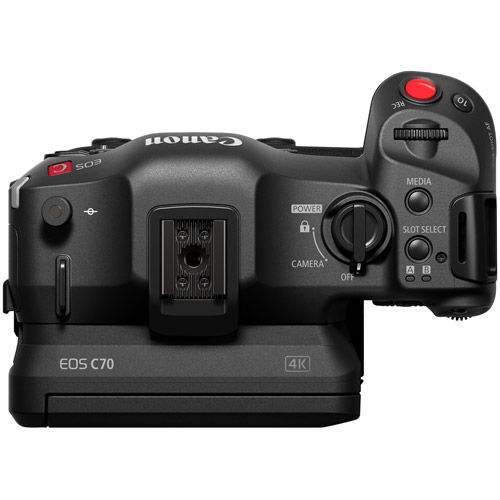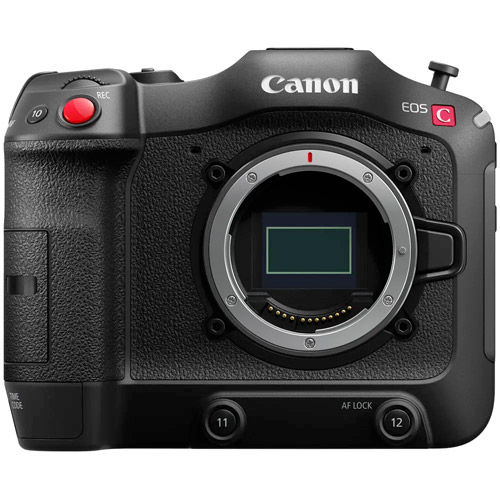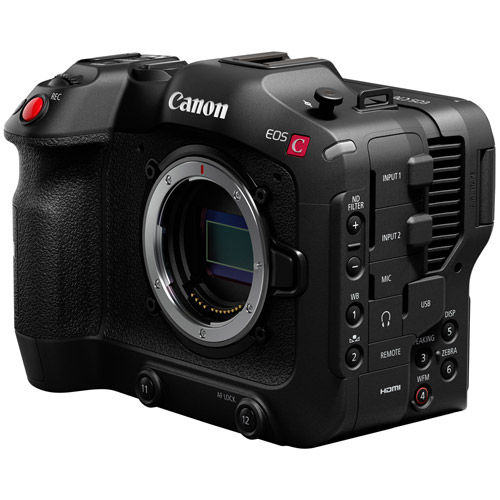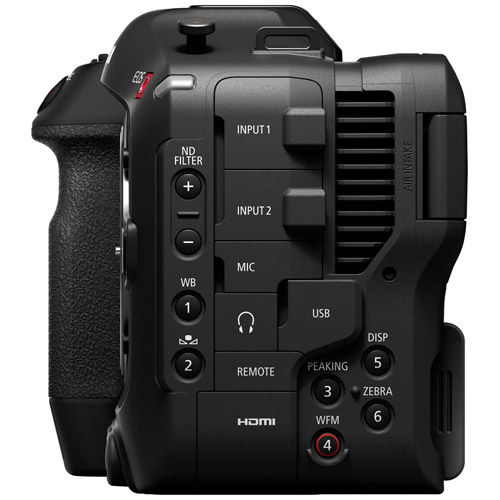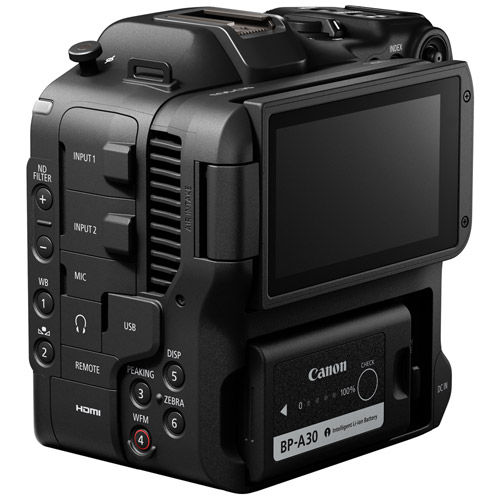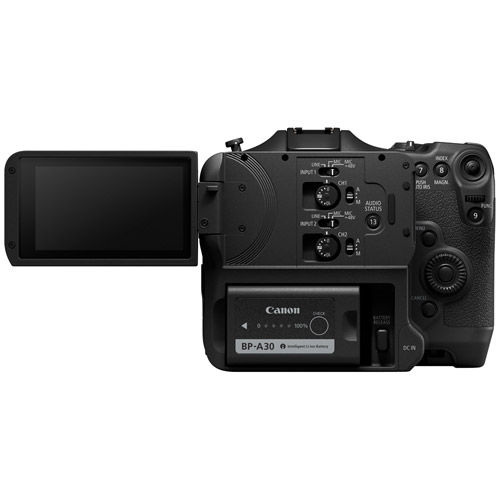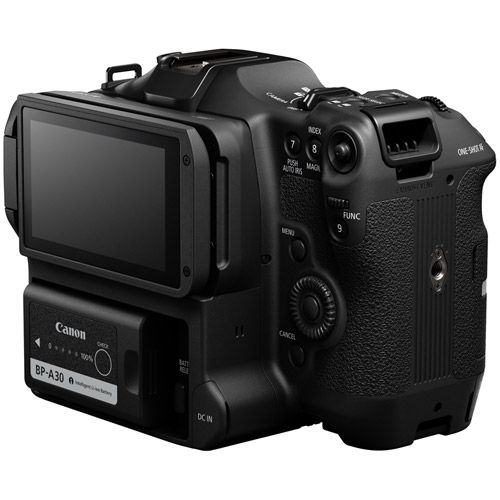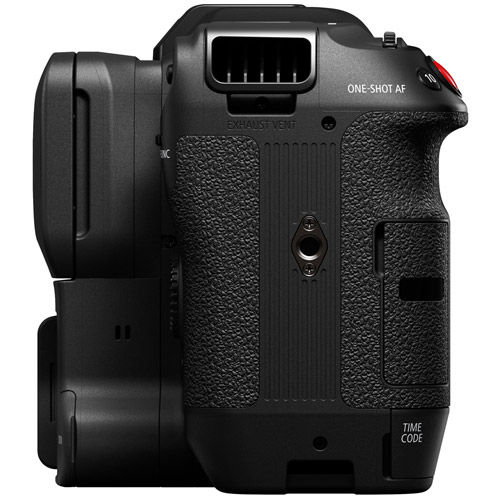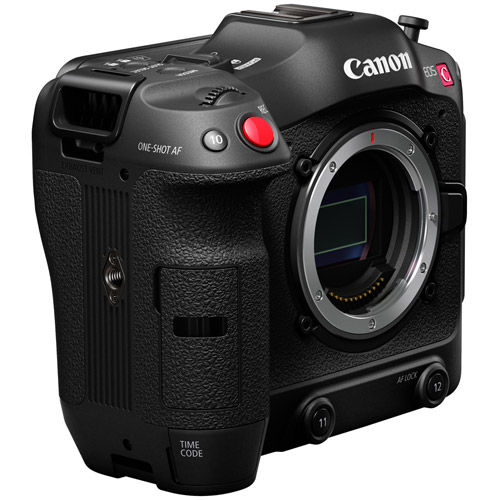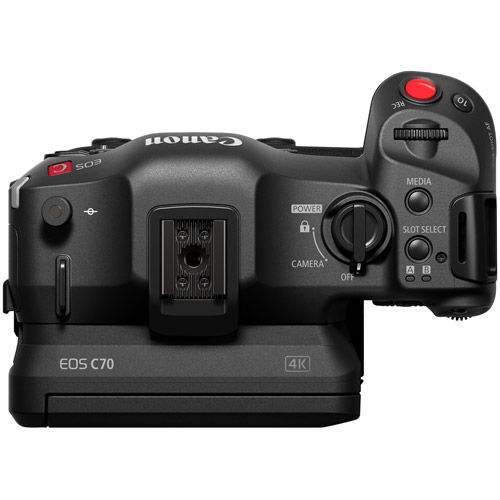 Product Highlights
8.85MP

Super 35mm Dual Gain Output (DGO) CMOS Sensor

4K (4096x2160) @ 120p

Video Resolution

DiG!C DV 7

Image Processor

ISO 100-102,400

Sensitivity

16+ stops (ISO 800)

Dynamic Range

RF Lens (EF with Adapter)

Mount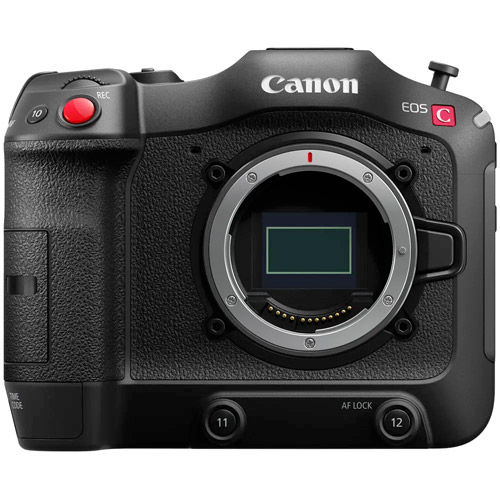 Canon EOS C70 Cinema Camera RFMount,Super35
Canon EOS C70 Cinema Camera RFMount,...
Web Availability:
In Stock
Product is In Stock in our Warehouse or in one of our store locations. We will confirm stock is available and process your order. If the available stock is sold before your order is processed, you will receive an email from us.
In-store
Available in Edmonton
Call for Availability in Ottawa
Vistek Locations
Toronto Available for Order
Ottawa In Stock
Mississauga Available for Order
Calgary Available for Order
Edmonton In Stock
Please call and verify availability at the store as stock changes daily.
EOS C70 | Cinema Camera
Canon's new entry-level C70 compact 4K cinema camera combines the best of its cinema EOS features with SLR-like ergonomics. It's also the first Canon RF-mount cine cam, with additional new features including vertical operation for social media, a multifunction grip with three dials and a joystick, plus a built-in motorized ND system. It's capable of recording stunning 4K video at 120 fps and 2K at 180 fps, with 16-plus stops of dynamic range.
Key Features:
Canon Super 35mm Dual Gain Output (DGO) Sensor
16+ stops of Total Dynamic Range
DIG!C DV7 Image Processor
Canon Log 2 and 3, PQ, and HLG Recording
RF Mount
EF Lens Compatibility with Mount Adapter EF-EOS R 0.71x
Direct Touch Control
9x16 Vertical Shooting
New Compact, Uni-Body Design
Built-in Mini-XLRS
Built-in Neutral Density Filter System
Time Code Terminal
Dual Pixel CMOS AF, EOS iTR AF X, Dual Pixel Focus Guide
Electronic Image Stabilization with Coordinated Control
Auto ISO/Gain Control
RC-V100 Remote Control Support
Dual SD Card Slots with Various Recording Options
High Frame Rate; 4K 120P and 2K CROP 180P
Look File for Recording (User LUT)
Long GOP Supported in 4K/2K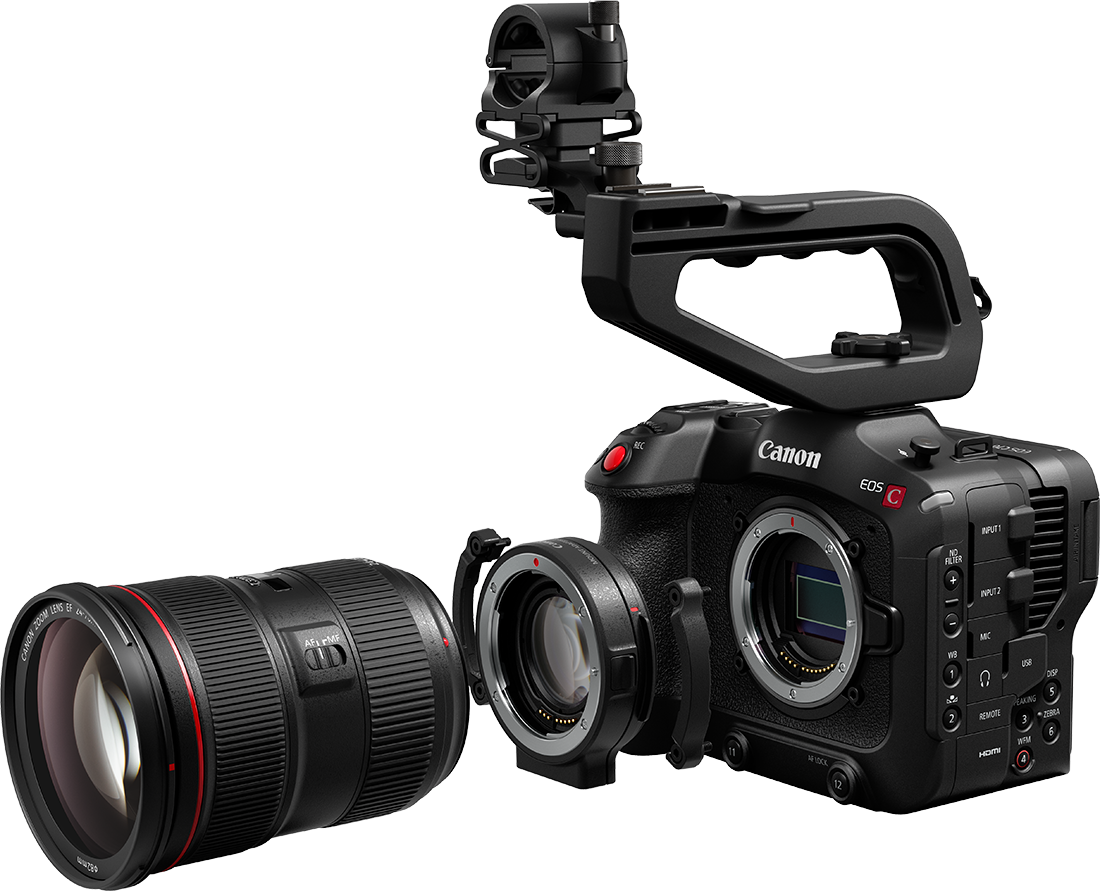 Developed with an idea of combining the Cinema EOS series with the EOS R series, the new EOS C70 offers exceptional image quality and professional video features in a compact and mobile form factor, perfect for documentary, newsgathering, and corporate videos.

The EOS C70 is the first Cinema EOS camera with a built-in RF-lens mount, which was previously a feature that was only used for the EOS R series of mirrorless cameras. The RF-mount offers users access to Canon's superb line of RF-lenses, which are quick, reliable and provide brilliant image quality. There is also a full 2, 4, 6, 8, and 10-stop internal ND filter system in the relatively small flange depth of the RF-mount.

Canon's EOS C70 is also equipped with a Super 35mm Dual Gain Output (DGO) Sensor that is capable of over 16 stops of dynamic range. The DIG!C DV7 Image Processor expands functionality and flexibility by enabling features such as 4K 120p High Frame Rate recording and Dual Pixel Autofocus.
Canon Super 35mm Dual Gain Output (DGO) Sensor
16+ stops of Total Dynamic Range
The EOS C70 features Canon's next generation Super 35mm Dual Gain Output (DGO) Sensor. This new sensor is capable of a total dynamic range in excess of 16 stops and includes Canon's exclusive Dual Pixel CMOS Autofocus technology.

The DGO Sensor is a newly developed imaging system that generates high dynamic range and maintains low noise levels by reading out each photodiode with two different gains. It combines the two with a saturation prioritizing gain for bright areas, and a lower noise prioritizing gain for darker areas.
DIG!C DV7 Image Processor
The EOS C70 features Canon's DIG!C DV7 image processor that takes the extensive RAW information captured from the imaging sensor and processes it for output. DiG!C is also the engine behind features such as high frame rate recording, Dual Gain Output (DGO) Sensor, Dual Pixel Autofocus, HDR (PQ) output, Electronic Image Stabilization, and proxy recording.
Canon Log 2 and 3, PQ, and HLG Recording
The EOS C70 supports both Canon Log 2 and Canon Log 3 Gamma. In post-production, Canon Log is designed to reproduce the entire tonal range that the CMOS image sensor is capable of. Log workflows provide the user with higher dynamic range, more highlight and shadow retention, and more flexibility in color grading.

Canon Log 2 provides the largest dynamic range and image detail. However, while Canon Log 2 provides the most post-production flexibility and full dynamic range of the sensor, it typically requires more time in post and color correction.

For users looking for most of the benefits of a log workflow, but with shorter turnaround times, Canon Log 3 provides an alternative with only a slightly reduced dynamic range of 14 stops.

The EOS C70 also features HLG and PQ compliance with ITU-BT.2100 in Custom Picture (CP) presets, allowing users to record HDR footage instantly without grading.
RF Mount
The EOS C70 is the first Cinema EOS camera engineered with a built-in RF mount making it compatible with Canon's expanding line of high-performance RF lenses. The short flange distance helps to dramatically reduce body depth, resulting in a more compact design.
Give This Heart a Pen
A film by Jolade Olusanya
Behind the scenes of 'Give This Heart a Pen'
with the Canon EOS C70
In addition to RF lenses, the EOS C70 offers tremendous flexibility by also being compatible with Canon's broad line of award-winning EF lenses thanks to the new EF - RF optical adapter, Mount Adapter EF-EOS R 0.71x. This adapter converts light transmission from full-frame to Super 35mm image format. It extends the angle of view and optical sensitivity, while seamlessly integrating with the camera's optical corrections. mount adapter.

In addition to the flanges of the RF mount, four screws securely attach the adapter to the camera. Once mounted, the adapter maintains a similar angle of view of your full frame lenses on the Super 35mm sensor, while boosting the speed of the attached lens by an average of 1-stop. The adapter also carries all EF information through to the RF contacts, so on certain lenses, full DPAF and metadata will be available, working much as they do on a native EF mount.
Other adapters that are compatible with EOS C70, include:
Direct Touch Control
The EOS C70 is equipped with Direct Touch Control which allows easy access to commonly used menu settings on the fully-rotatable LCD screen. Users will be able to simply touch the screen to start/stop recording, access file format and resolution, set ISO/Gain, color temperature and iris, and display important settings. Shooting settings that were once in various places of the menu can now be accessed with one hand, allowing for on-the-spot changes while holding the camera.
9x16 Vertical Shooting
The EOS C70 supports vertical shooting, which is crucial for creators looking to capture content for smart devices and digital signage. The user interface can be switched to support vertical shooting with the same feel as horizontal shooting. A 1/4/20 tripod hole is built into the side of the camera grip, allowing users to easily attach a tripod without special accessories.
New Compact, Uni-Body Design
The EOS C70 features a new uni-body design that exhibits a compact form factor and an ergonomic built-in grip making handheld shooting easy and comfortable.
Built-in Mini-XLRS
The EOS C70 is equipped with two mini-XLR audio input terminals for professional audio recording. Additionally, manual audio control dials let users intuitively and quickly adjust the audio control.
Built-in Neutral Density Filter System
The newly-developed thin, motorized ND filter unit has been specifically designed for the RF mount's short flange back. It offers up to 10 stops of ND, allowing users to shoot in various lighting conditions.
Time Code Terminal
The EOS C70 includes a time code input/output terminal in the lower front of the body that makes synchronizing easier in multi-camera productions.
Dual Pixel CMOS AF, EOS iTR AF X, Dual Pixel Focus Guide
Canon's Dual Pixel CMOS AF technology uses every pixel on the imaging sensor to detect focus and to capture actual image information, offering users high precision focusing and exceptional image quality.

The EOS C70 is the first Cinema EOS camera to feature EOS iTR AF X, which includes a head detection algorithm developed with deep learning technology. In Face Detection mode, the AF works with this advanced algorithm to dramatically improve distance measuring and tracking reliability.

The EOS C70 also features Dual Pixel Focus Guide, which is an innovative UI that gives users both front- and back-focus information telling users if the focus position is in the back or the front, aiding in smooth pulls during manual focus.
Electronic Image Stabilization
With Coordinated Control
For the first time in a Cinema EOS camera, enhanced image stabilization is available with coordinated control. With an RF lens and the electronic IS in the EOS C70 , coordinated control optimizes hand-shake correction, resulting in better anti-vibration performance than the conventional EF lens and electronic IS together.

In addition, the EOS C70 adds Super 16 Digital IS, which stabilizes the 2K images by using the peripheral area around the center of the 4K sensor, to provide high performance stabilization.
Auto ISO/Gain Control
The EOS C70 is the first Cinema EOS camera to feature Auto ISO and Gain Control. EOS C70 can automatically adjust sensitivity by utilizing the DGO sensor characteristics to switch gain smoothly, helping users concentrate on framing without worrying about aperture and other camera settings when moving from indoor to outdoor locations with significant changes in lighting.
RC-V100 Remote Control Support
The EOS C70 features a remote terminal that allows users to control the camera with Canon's RC-V100. The multi-functional RC-V100 remote controller provides full access to all important functions, including start/stop, shutter/gain adjustments, zoom/focus/iris parameters, custom picture values, white balance, black gamma, and more.
Dual SD Card Slots
With Various Recording Options
The EOS C70 has dual SD card slots for simultaneous recording in different formats, including 4K/HD and XF-AVC/MP4.
High Frame Rate
4K 120P and 2K CROP 180P
The EOS C70 is capable of ultra-high frame rates with its new chip design and powerful DiG!C DV7 processor. Frame rates up to 120 fps can be obtained in 4K, while 2K CROP mode provides even greater flexibility with speeds up to 180 fps. The EOS C70 supports Dual Pixel CMOS AF, even when shooting at high frame rates, keeping the camera in focus even when mounted on gimbals or drones.

*V90 SD cards are recommended for Slow & Fast motion recording.
Look File for Recording
User LUT
The EOS C70 has a new option called Look File to import '.Cube' type 3D LUTs for use while recording. This function greatly improves the flexibility of EOS C70 in professional workflows.
Long GOP Supported in 4K/2K
The EOS C70 supports Long GOP with high compression for longer recording times up to 4K 60P.
What's Included
EOS C70 Cinema Camera Body
Handle Unit
SS-1200 Shoulder Strap
Battery Charger CG-A20
Compact Power Adapter CA-CP200 L
AC Power Cable
Canon BP-A30 Battery Pack
Microphone Holder Unit
Show Adapter Base/Knob/Screw (M4)
Measure Hook
Body Cap
Product Specifications
C70

Imaging Sensor

Effective Pixels
4096x2160: when 4096 x 2160 or 2048 x 1080 is selected as the resolution (Approx. 8.85 megapixels)
3840 x 2160: when 3840 x 2160 or 1920 x 1080 is selected as the resolution (Approx. 8.29 megapixels)
Total Pixels
4206 x 2280; Approx. 9.6 megapixels
Sensor Type
CMOS
Sensor Size
Super 35mm
4K: 26.2 x 13.8 (29.6 mm diagonal)
UHD: 4K: 24.6 x 13.8 (28.2 mm diagonal)
Sensor Modes
Super 35mm, Super 16mm(cropped)
Pixel Pitch
6.4 µm
Scanning System
Progressive
Number of Sensors
1
Filter
RGB Primary Color Filter (Bayer Array)
Imaging Processor
DiG!C DV 7

Lens System

Lens Mount
Default Mount: RF Mount
Zoom/Focus Preset
Not Available
Shockless Zoom
Not Available
Digital Teleconverter
Not Available
ND Filter
Mechanical ND filter system with option of clear, 2, 4, and 6 stops; 8 and 10 stops in extended mode
Peripheral Illumination Correction
Available
Chromatic aberration Correction
Available
Distortion Correction
Available (RF Lenses only)
Difraction Correction
Available

Exposure and Metering

Exposure Modes
(1) Manual exposure based on shutter setting, iris setting, ISO/gain setting, and ND filter setting
(2) Push auto iris control, auto iris control
(3) Auto ISO mode
Metering Modes
Standard, Spotlight and Backlight
Gain
Normal Setting -6dB to 54dB
Fine Setting -2dB to 54dB in 0.5 dB increments
ISO
100 to 102,400
Auto Gain Control (AGC)
Not Available
Shockless Gain
Not Available
Exposure Compensation/AE Shift
–2.0 to +2.0 in 0.25 point intervals
Shutter Modes
3 Modes: OFF; Speed; Angle; Slow Shutter; Clear Scan
Speed Mode is selected in 1/3 or 1/4 stop increments
Shutter Speed Range
59.94Hz/24.00Hz: 1/12 to 1/2000
50.00Hz: 1/15 to 1/2000
Shutter Angle Settings
59.94Hz/50.00Hz/24.00Hz: 360, 240, 180, 120, 90, 60, 45, 30, 22.5, 15, 11.25
Iris Settings (EF)
Can be set to 1/2 stop, 1/3 stop or Fine.
(1) Push auto iris control
(2) Auto iris control (Compatible lens required)

Focus

Focus Control
Dual Pixel CMOS AF with EOSxITR
Focus Modes
Manual focus, Continuous AF, One-Shot AF, AF-Boosted MF, Face Detection AF
Only lenses that support AF functions can be used in AF modes

Recording Selection

System Frequency
59.94 Hz, 50.00 Hz, 24.00 Hz
59.94 Hz mode: 59.94i/59.94P/29.97P/23.98P
50.00 Hz mode: 50.00i/50.00P/25.00P
24.00 Hz mode: 24.00P
Color Gamuts*
Cinema Gamut, BT.709, BT.2020
Gamma Curves*
BT.709, Wide DR, Canon Log 2, Canon Log 3, PQ, HLG

*Enabled for recording (including proxy) and output from each terminal

Recording / Codec

Video Compression Formats
XF-AVC: MPEG-4 AVC/H.264 (10bit, 8bit (proxy))
MP4(HEVC): H.265/HEVC (10bit)
MP4(H.264) : MPEG-4 AVC/H.264 (8-bit)
Audio Recording System
XF-AVC: Linear PCM (24bit, 48kHz) 4-channel recording
MP4 (1) : MPEG-2 AAC LC (16-bit, 48 kHz, 2-channel)
MP4 (2) : Linear PCM (16-bit, 48 kHz, 4-channel)
File Format
SD Card x 2 slots
(Still Images (JPEG), Custom Picture Data, Clip Metadata, and menu settings); SD/SDHC/SDXC Supported

XF-AVC: MXF (OP-1a)
MPEG4: MP4
HEVC: MP4
File System
SDHC card: (up to 32 GB): FAT32
SDXC card (more than 32 GB): exFAT
File division unit: 4 GB for FAT32, none for exFAT
Maximum Clip Number
999 (per media)

Audio

Recording Format
Linear PCM; 4-Channel; 24-Bit; 48 kHz
Built-in Microphone
Stereo/Monaural
External Audio Inputs
2 – Mini-XLR inputs (Auto and Manual level settings)
External microphone terminal: (3.5 mm diameter)
Recording Chanel Selection
Up to 4 channel audio recording is supported.
XLR Mic Trimming
Available; -12dB, -6 dB, 0dB or +12 dB
Limiter
Available
Recording Level Adjustment Range
- Infinity to +18dB
Phantom Power
Available; +48V
Headphone Adjustment
16 Settings; Volume is muted at lowest setting
Built-in Speaker
Available; Volume Adjustable
1KHz Tone
Available (off, -12, -18, or -20 dB)

Features and Performance

Playback
Clip Display: 3x4 Index Display.
Clip Playback: Forward Search (x5, x15, x60), Reverse Search (x5, x15, x60), Forward frame Advance, Reverse Frame Advance, Record Review, Skip to next clip, skip to previous clip
Clip information Display: Clip Metadata display, custom picture settings
Playback Functions: Clip Delete
Photo Playback: index, single playback, delete, protect
Special Recording Functions
Relay Recording*; Double-Slot Recording**

* Not available during Slow Motion recording
** Not available in combination with slow and fast motion recording or relay recording
Photo Recording Mode
Available; Images captured to SD Card
Waveform Monitor
Available (HDR Compatible);
(a) Line display
(b) Line + spot: Line display over a red waveform in a red frame.
(c) Line select display
(d) RGB (parade)
(e) YPrPb (parade)

Output gain can be selected as either 1x or 2x. With gain set to 2x, the vertical axis (Y-position) offset value can be chosen.

When gamma is set to PQ, a PQ index (nits index) can be displayed. When gamma is set to HLG, an HLG index (0.0–1.0 relative index) can be displayed.
Vectorscope
Available
False Color
Available
Exposure / Focus Aids
Peaking (2 types), Zebra Pattern, Magnify, Black and White Mode, Focus Guide
Frame Record
Not Available
Pre-Record
Yes, 3 seconds cache (Audio and Video)
Time code
Drop Frame (DF) and Non-Drop Frame (NDF)
Time Code Modes
Regeneration, Record Run, Free Run and External Source
Auto White Balance (AWB)
Available
White Balance
Kelvin Setting:
2,000K to 15,000K in 100K increment
-20CC to +20CC in 1 CC increments
White Balance Presets
Daylight (5,600K); Tungsten (3,200K), Custom A, Custom B
Auto Black Balance
Available
Custom Picture Settings
20 Custom Picture settings
Custom pictures can be adjusted using the following settings and saved for later recall:
Gamma, Black, Black Gamma, Low Key Saturation, Knee, Sharpness, Noise Reduction, Skin Detail, Selective Noise Reduction, Color Matrix, White Balance, Color Correction, Setup Level
Custom Pictures can be saved to an SD card for later use or transferring between cameras
Custom Display
Yes; LCD panel and EVF information display can be customized
On Screen Markers
Available marker options include center, horizontal, grid, aspect, safety zone, and user marker.
With user markers, user can set their preferred size and position.
Markers can be displayed in yellow, blue, green, red, black, gray, or white.
Assign Buttons
13 total assignable buttons on body
Color Bars
Color bars compliant with SMPTE, EBU, or ARIB standards can be selected depending on system frequency selected
Sensitivity
59.94 Hz: f/10 (2048x1080/59.94P) or f/14 (1920x1080/29.97P)
50.00 Hz: f/11 (2048x1080/50.00P) or f/16 (1920x1080/25.00P)
All values for ISO 800, 2000 lux, and reflectance rate of 89.9%
Dynamic Range
Canon Log 2: 1600% / 16+ stops (ISO 800)
Canon Log 3: 1600% / 14 stops (ISO 800)
Language Support
English, Japanese, Chinese, German, Spanish, French, Italian, Korean, Russian
Time and Date
Automatic Calendar range January 1st, 2020 through December 31, 2050
World Clock
World Clock support – UTC time setting: Setting range from +14:00 to -12:00

LCD Monitor

Type
3.5-inch (8.8 cm diagonal) color wide-screen LCD
Approx. 2,760,000 dots (1280 x RGB x 720)
Aspect Ratio
16:9
Field of View Coverage
100%
Display Adjustments
Brightness, Contrast, Color, Sharpness, and Luminance

Input/Output

Time code In/Out
Yes; BNC Connector (Input and Output)
HDMI
Yes (Type A)
[4096x2160/3840x2160]/1920x1080/1280x720
Audio Input Terminal
2 – Balanced 3-pin XLR (Mic Level, Mic Level with phantom power and Line Level)
3.5mm Microphone terminal
Headphone Jack
Available; 3.5mm stereo mini-jack
Remote Terminals
Remote A (Standard – LANC Compatible or RC-V100)
Remote Control through WiFi/LAN Adapter
USB
Available
CCU
Remote Controller RC-V100 (Optional)

Power

Supply
14.4V DC (Battery Pack)
Power Terminal
DC IN 12V jack: DC 11.5V - 20V
Battery
BP-A Series (BP-A30, BP-A60)
Compact Power Adapter
CA-CP200L (for Camera and Battery charger CG-A20)

Physical Specs

Temperature and Humidity
Performance requirements: 0ºC to 40ºC, 85% (relative humidity)
Operating requirements: -5ºC to 45ºC, 60% (relative humidity)
Dimensions
Body Only: 130.2 x 160 x 115.9 mm (5 x 6.3 x 4.5")

*Width x height x depth, excluding cable and grip belt
Weight
RF Camera body: Approx. 1.17 kg (2.6 lbs)
Battery Pack BP-A30: Approx. 225 g (7.9 oz.)
Compact Power Adapter CA-CP200L: Approx. 290 g (10.2 oz.) *Not including AC cable
Battery Charger CG-A20: Approx. 145 g (5.10 oz.)
Mic holder unit: Approx. 56 g ( 2.0 oz.)
Body cap: Approx. 17 g (0.60 oz.)
Canon EOS C70 Cinema Camera RFMount,Super35
Looking for a personal touch? Not sure if you are choosing the right product? Our staff is here to help.
We want to make sure you get the right product for your needs.
Our staff will help you understand the options available so you can be confident in your purchase.
As the country's leading Professional Imaging retailer, Vistek is in the perfect position to ensure you make the right choice.
Contact us today for a personal touch.