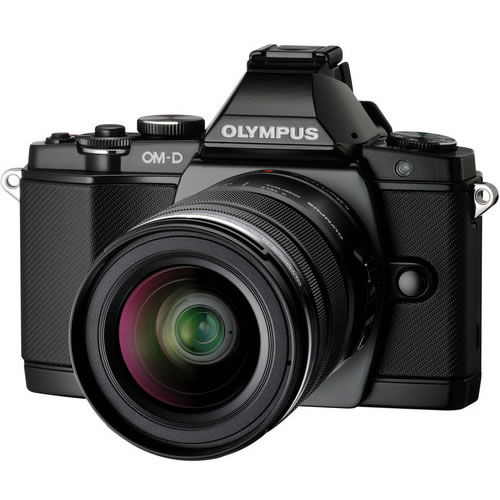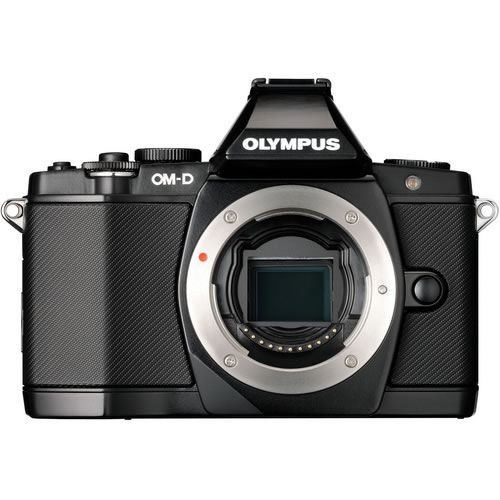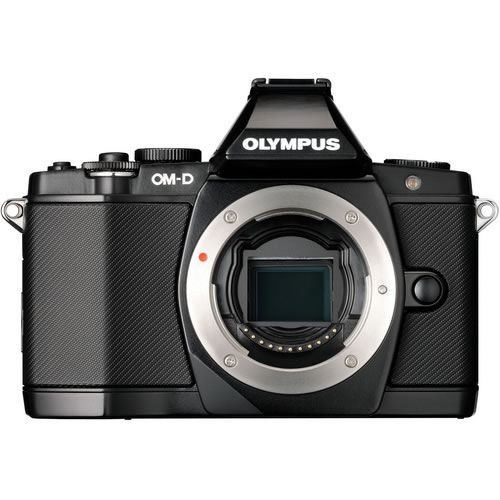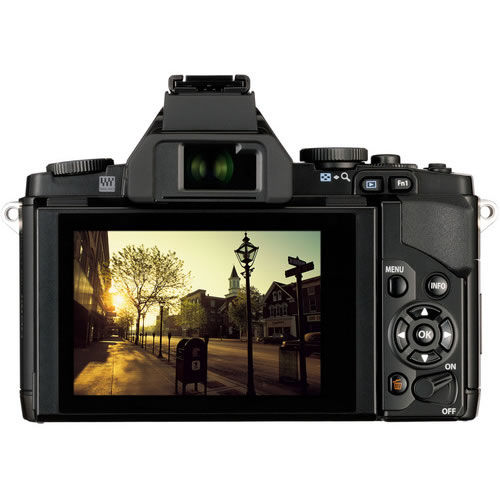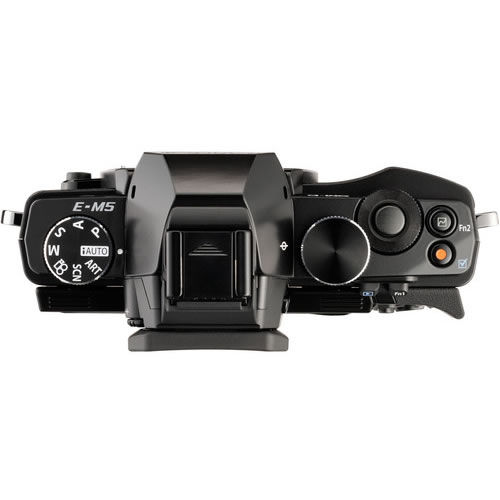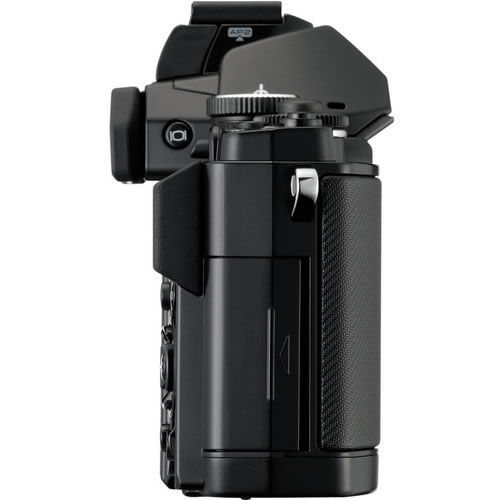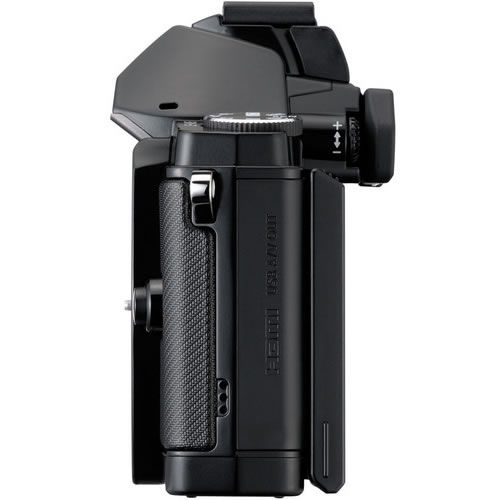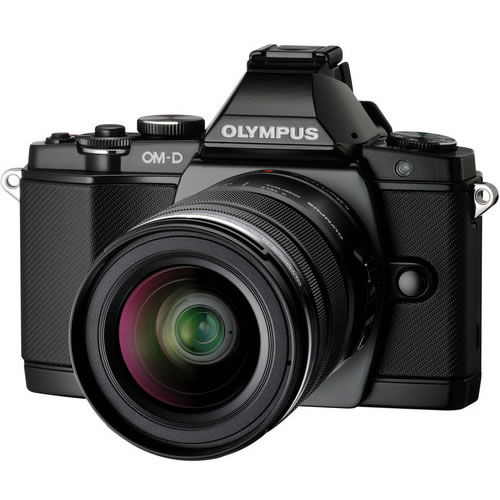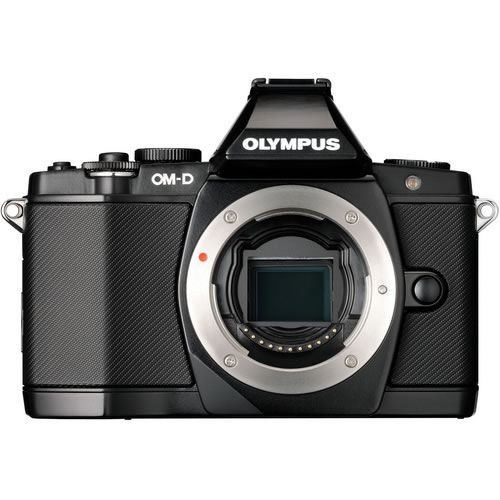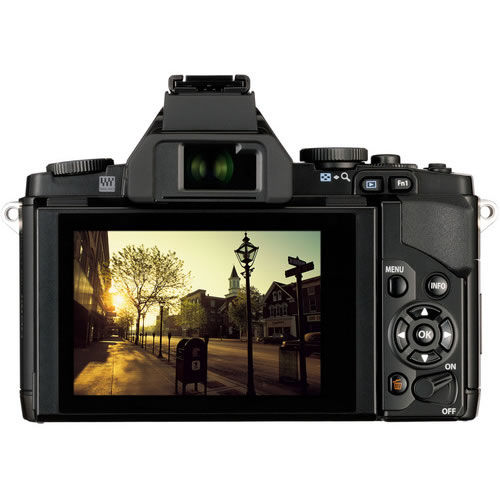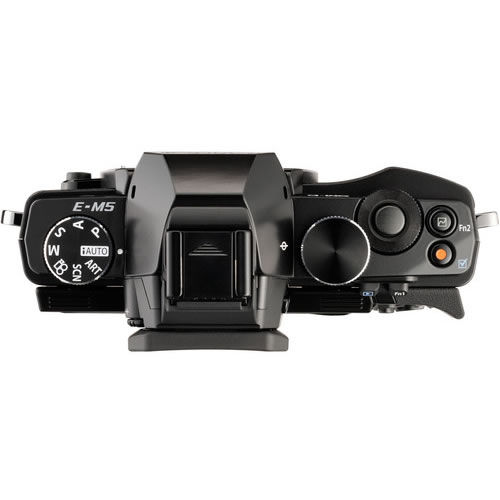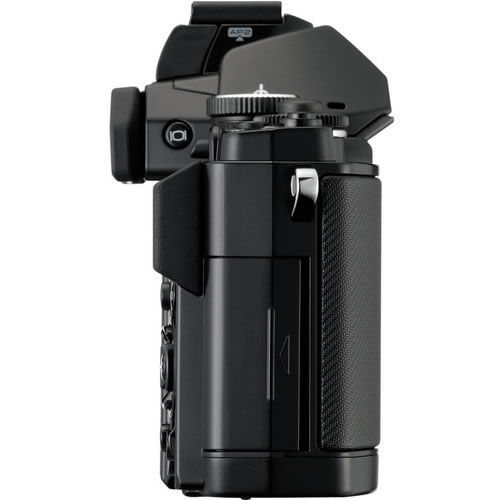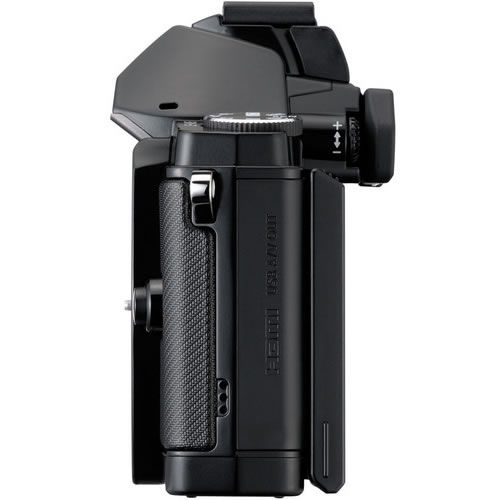 Used Details
Item Condition: in excellent working condition, 32,756 Actuations
Warranty: 90 day Vistek warranty.
Accessories: With grip, AC-3 AC Adapter, battery, charger, flash, cables & box
Used item may not be exactly as shown.
Check Used Details for more information.
Product Highlights
16.1MP 4/3 Live MOS Sensor; TruePic VI Processor; 3.0" Tilting OLED Monitor; Eye-Level EVF; RAW + JPEG; 200-25,600 ISO Sensitivity; TTL Flash Compatibility; 1920 x 1080 HD Video; Computerized Focal-Plane Shutter; Digital ESP/Center/Spot Metering.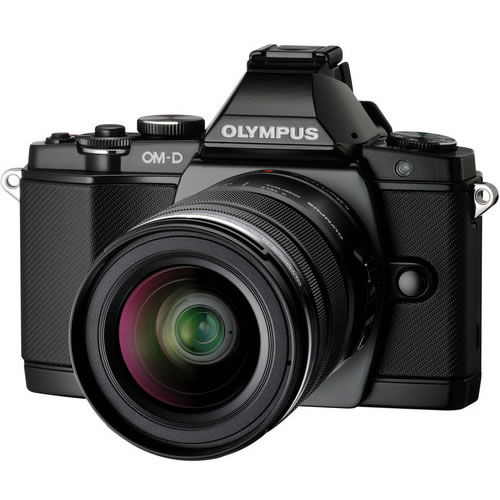 Olympus OM-D E-M5 Black Body w/ Grip
Olympus OM-D E-M5 Black Body w/ Grip
Web Availability:
In Stock
Product is In Stock in our Warehouse or in one of our store locations. We will confirm stock is available and process your order. If the available stock is sold before your order is processed, you will receive an email from us.
Available for Curbside Pick-up
Call for Availability in Ottawa
Vistek Locations
Please call and verify availability at the store as stock changes daily.
The Beginning of the New.
A new era in Micro Four Thirds technology is about to begin. The new, revolutionary mirrorless camera, the OM-D E-M5, has an exceptionally light and compact body. Its Electronic View Finder enables photographers to check exposure levels, white balance and preview Art Filter effects in real-time. When shooting, the photographer can instantly "create" a truly unique world and preserve it in exceptional quality. The "world" will be transformed from something you see to something you "take part" in.

The OM-D is a groundbreaking, new digital interchangeable lens camera perfect for people who want to "take part", "create", and "share".
Key Features
INTELLIGENT ELECTRONIC VIEWFINDER - The High Resolution 1.4 million dot EVF, with a 120 fps refresh rate, is a 100% accurate high eye point electronic viewfinder, delivering precise preview accuracy of highlight/shadow control, white balance and exposure for unlimited creative control. Eye sensor technology provides automatic switching between EVF and 3" tilt monitor. The shooter can choose from three different EVF informational display modes.
16 MEGAPIXEL LIVE-MOS SENSOR & TRUEPIC VI IMAGE PROCESSOR - The new 16-megapixel Live-MOS sensor coupled with the newly developed TruePic VI Image Processor delivers increased ISO sensitivity up to a staggering 25,600 ISO level. Fast data readout for seamless continuous shooting and support for the FAST AF system. This new processor delivers excellent dynamic range, accurate colour fidelity and reduced noise, all the way up to maximum 25,600 ISO.
WORLD'S FASTEST AUTOFOCUS - The E-M5's "FAST" contrast type AF system is the worlds fastest so you can follow the action no matter how fast it is happening. The 35 area AF design assures offers the flexibility of choosing a 9 AF area or single AF area pattern to match the situation. Sophisticated "Eye Detection" function allows the photographer to set this feature to detect the right or left eye.
IN-BODY IMAGE STABILIZATION - The E-M5 features an all new "5 axis" In-body Image Stabilization system that for the first time can compensate for not only vertical and horizontal camera movement, but as well for rotational camera shake that previous systems could not handle. It is effective for up to five shutter speed steps*. As it is built-in to the body, all lenses are stabilized, including wide-angle and fisheye lenses.
3" 610,000 DOT TILT/TOUCH OLED - Dust and Splash Proof like the body; tilt and touch LCD gives you the flexibility to capture your image from low on the ground to above your head, or at any angle. The 100 percent accurate LCD delivers precise compositional previews. The touch navigation feature allows the shooter to control various functions in the shooting and playback modes with the touch of a finger.
ART FILTERS - A series of 11 built-in Art Filters, including the all new "Key Line" filter let you create dramatic effects when shooting stills or video. The innovative Art Filters including Pop Art, Soft Focus, Pale and Light Colour, Light Tone, Grainy Film, Pin Hole, Diorama, Gentle Sepia, Cross Process, Dramatic Tone and the new Key Line filter, can all be used in all the shooting modes - Aperture, Shutter, Program and Manual modes. Certain Art Filter effects can even be combined, and creative frames can also be overlaid, all right in the camera.
RUGGED CONSTRUCTION - Magnesium-alloy and Aluminum construction coupled with advanced splash and dust protection, make the E-M5 the perfect choice for photographers who need a camera that is not limited by harsh environments and that they can depend on in any situation.
DUST REDUCTION SYSTEM - The E-M5's proven Dust Reduction System, with the Supersonic Wave Filter™ (SWF) self-cleaning ultrasonic sensor unit, eliminates dust particles on the sensor by silently vibrating an amazing 30,000 times per second, ensuring spot-free images. It is a sealed unit integrated into the stabilizer/sensor assembly.
SHUTTER DURABILITY - Durable shutter mechanism tested to 100,000 cycles. The pro-level shutter ensures reliability, even during extended burst shooting at nine frames per second.
DATA STORAGE - The E-M5 accepts SD- SDHC/SDXC, cards in a weatherproof slot. This media format possesses the ultra-fast data transfer speeds necessary to support burst shooting with simultaneous recording of RAW and JPEG files as well as HD Movie recording.
MULTIPLE EXPOSURE - Multiple Exposure makes heightened creativity an easily-obtained objective. Two frames can be combined, and portions of one can be combined with those of another in any of the shooting modes. Additional RAW frames can be overlaid in the playback mode.
MULTIPLE ASPECT RATIOS - Express yourself by altering how you frame the world -- choose from nine aspect ratios, from the standard 4:3 to the cinematic 16:9. By selecting an aspect ratio before shooting and easily reviewing images on the LCD throughout the shoot, the Multi-Aspect function adds a new means of expression to your photography.
WIRELESS FLASH CONTROL - The E-M5 is compatible with a range of optional external flashes, including the Olympus FL-300R and FL-600R. Both of these flashes can be controlled wirelessly by the E-M5 so you can dynamically control lighting as your photography skills grow. The E-M5 features a commander function incorporated into the included clip on FL-LM2 flash, making wireless multi-flash photography possible without using an outside commander.
DIGITAL LEVELER - The camera's Digital Leveler function is a highly functional and practical feature for such specialized requirements as architectural photography and other similar needs. It can be displayed on the 3" OLED monitor or in the EVF.
HD VIDEO - Shoot movies at full 1080 HD resolution with available manual control over aperture and shutter speed. This level of control allows you to express your vision exactly how you want in your HD videos. When shooting a movie you have the choice of Standard or HD Movie with or without the 11 Art Filters, total movie creativity is in your control. Record movies in the .avi or .mov formats.
MOVIE EFFECTS - One Shot Echo, for a semi-transparent frame at your whim and Multi Echo, for a multi-motion trail effect.
Powerful Portability and Rugged Durability
Intuitively Designed Electronic Viewfinder
The OM-D's new electronic viewfinder (EVF), with 120 fps refresh rate, features a high-resolution 1.44-million dot LCD, 100% field-of-view coverage, and 1.15x maximum magnification that let you totally immerse yourself in your subject, and actively control image creation. The EVF also enables you to enlarge the focus point for precision focusing in virtually any shooting situation, and can show you the effect of Highlight & Shadow Control, White Balance, Exposure Compensation, Aspect Ratio, and a host of other settings and advanced digital image processing functions right in the viewfinder. With improved precision and responsiveness that make it as easy to use as an optical viewfinder, the E-M5's advanced EVF gives you virtually unlimited creative control. Eye sensor technology automatically activates the EVF when you bring the camera to eye level.

Dust-proof & Splash-proof Construction
Trouble-free shooting in all environments is assured by our proven dust-proof and splash-proof technology. Multiple ring-shaped seals protect the camera from sand, dust, rain, and water spray, making it ideal for all kinds of outdoor shooting. What's more, the OM-D extends this protection to the M.ZUIKO DIGITAL ED 12-50mm F3.5-6.3 EZ lens, the bundled attachable flash unit, and the optional grip with power battery holder.

Total Control
Two full size control dials in concert with dedicated function buttons allow fast setting changes on the fly. Adjust highlight and shadow, exposure, white balance, aspect ratio and more and preview the results instantly in the EVF or on the tilting 3" OLED touch screen.

Lenses and Accessories
In addition to the new electronic motorized M.ZUIKO DIGITAL ED 12-50mm F3.5-6.3 EZ lens with quiet, linear drive AF, the OM-D is supported by an ever-expanding range of wide-angle, macro, portrait, and telephoto Micro Four Thirds M.ZUIKO DIGITAL lenses. System accessories include cases, straps, filters, external flash units, and mount adapters for Four Thirds System lenses and OM System lenses.
Superior Image Quality
All New Sensor
A new 16-megapixel Live MOS image sensor for rich tonal expression, increased dynamic range and support for a maximum 25,600 maximum ISO.

M.Zuiko Digital Lenses
A wide line-up of Micro Four Thirds lenses featuring the most advanced optical designs and performance take full advantage of the sensor's capabilities.

Micro Four Thirds will also include two new lenses that Olympus will introduce later this year: the ED 75mm f1.8 and the ED 60mm f2.8 macro. The 75mm lens is a high-quality metal design with fast aperture settings for portraits and indoor sports shooting, while the dustproof and splashproof 60mm lens features 1:1 macro and a closest shooting distance of just 7.5 inches.

Image Processor
The TruePic VI image processor delivers superb colour fidelity and the fast performance required for continuous still shooting and movie capture. The optimal balance of these three factors ensures the high resolution, sensitivity, and colour accuracy you need to brilliantly capture the world around you.

5-Axis Image Stabilization
The E-M5 is equipped with the world's first 5-axis image stabilization system, and can compensate for vertical, horizontal, and rotational camera shake that conventional 2-axis systems of the past have been unable to handle. Built into the camera body to ensure effective stabilization with all lenses, its unique 5-axis design makes it particularly effective when taking high-magnification telephoto shots, macro close-ups, and long exposures. In addition, it can be activated by pressing the shutter button halfway, so you can also use it to stabilize the viewfinder image and obtain a crisp, clear view of your subject that makes it easy to frame and compose your shots.
Blazing Speed
Fast AF
The world's fastest* AF system, FAST AF, has been made even faster and more accurate on the E-M5. Improved new 3D Tracking AF assures you won't miss the moment even when subjects move toward or away from you, and the new high-sensitivity image sensor ensures superior AF performance even in dim light.

* Among digital cameras with interchangeable lenses available as of February 8, 2012, when using the OLYMPUS M. ZUIKO DIGITAL ED 12-50mm F3.5-6.3 EZ lens with the E-M5, based on Olympus in-house measurement conditions.

9 fps High-Speed Sequential Shooting
Thanks to the new 16-megapixel Live MOS image sensor's high-speed read-out performance, the E-M5 offers maximum sequential shooting at 9 fps, making it easy to capture sports action or fast-moving subjects such as pets, kids and wildlife. In addition, a compact new high-speed shutter mechanism enables the E-M5 to offer this performance without compromising the handling advantages of a light and compact body.

Face and Eye Detection AF
Improved Eye detection lets you choose from left or right eye priority modes to get the correct focus point quickly for perfect portraits every time. Up to 8 separate faces can be detected by the AF system.

3D AF Tracking
Advanced "predictive" AF system can track moving subjects moving not only on the x and y axis but along the z-axis as well. The system uses face, colour, and pattern information and can support 4.2 fps continuous frame rates.
Creative Freedom
Tilting 3-inch OLED Touchscreen
In addition to offering dial and button controls, the E-M5 is the first Olympus camera to feature a tilting touchscreen monitor for intuitive fingertip operation. The 3-inch OLED touchscreen delivers high-resolution images of your subject with rich colour reproduction. It also responds instantly to your touch with fast operation that makes it easy to focus on subjects, play back images, and adjust settings such as exposure and white balance.

In-Camera Art Filters
11 Art Filters that can be applied to both still photos and HD movies right in the camera. Apply these filters instantly while shooting or apply post capture. Combine Art Filter effects for custom variations. Apply frames for even more creative control.

Multiple Exposure
Unleash your imagination by combining JPEG frames with overlay preview to produce your own unique vision. Additional RAW frames can be overlaid in the playback edit mode for nearly unlimited possibilities.

Multi-Aspect Shooting
Choose from 5 different Aspect ratios while shooting to get the special compositional effect your photo deserves – traditional 4:3 and 3:2, 16:9 for cinematic effect or 6:6 that emulates the medium format look.
Product Specifications
Detailed Specifications
Product type
Micro Four Thirds interchangeable lens system camera
Memory
SD Memory Card*1 (SDHC, SDXC, UHS-I compatible, Eye-Fi Card compatible*2)
*1: Class 6 is recommended for Movie shooting.
*2: Not compatible with endless mode. Release time lag may be generated in actual use.
Screen size
17.3 mm (H) x 13.0 mm (V)
SENSOR
Sensor Type
4/3 Live MOS Sensor
Number of pixels / Aspect ratio
Number of effective pixels : 16.1 million pixels
Total number of pixels : Approx. 16.9 million pixels
Aspect ratio : 1.33 (4:3)
Dust reduction
Supersonic Wave Filter (dust reduction system for image sensor)
Filter array
Primary colour filter (RGB)
RECORDING FORMATS
Recording format
DCF, DPOF compatible / EXIF, PRINT Image Matching III, MPO compatible
File format
RAW (12-bit lossless compression), JPEG, RAW+JPEG, MPO(3D still)
Recording image size
[RAW] 4608 x 3456 pixels
[JPEG] 4608 x 3456 pixels - 640 x 480 pixels
File sizes
RAW: 4608(H)x3456(V) (approx. 1/1.5 lossless compressed) Approx. 17MB
Set1(LF): 4608(H)x3456(V) (1/4 compressed) Approx. 7.5MB
Set2(LN): 4608(H)x3456(V) (1/8 compressed) Approx. 3.5MB
Set3(MN): 2560(H)x1920(V) (1/8 compressed) Approx. 1.1MB
Set4(SN): 1024(H)x768(V) (1/8 compressed) Approx. 0.3MB
IS SYSTEM
Type
Built-in (Image sensor shift type for movie & still, 5-axis* image stabilization)
* yaw/pitch/vertical shift/horizontal shift/rolling
Modes
3 modes (IS1, IS2, IS3), OFF
Focal length setting
Available
Manual Function
Input focal length 8, 10, 12, 16, 18, 24, 28, 30, 35, 40, 48, 50, 55, 65, 70, 75, 80, 85, 90, 100, 105, 120, 135, 150, 180, 200, 210, 250, 300, 350, 400, 500, 600, 800, 1000
Effective compensation range
maximum 5 EV steps
* Based on Olympus in-house measurement conditions.
Shutter speed range
60 - 1/4000 sec. (Not available when Bulb is selected)
ELECTRONIC VIEWFINDER
Eye Level Finder type
Eye-level electronic viewfinder, approx. 1.44M
Eye point / Diopter adjustment range
Approx. 100% / Approx. 0.92x*1 - 1.15x*2 (-1m-1, 50mm lens, Infinity)
*1 : at Finder Style 1, 2 (aspect 4:3) *2 : at Finder Style 3 (aspect 4:3) Approx. 18mm (-1m-1, Distance from rear lens surface) / -4 ~ +2m-1
Preview
Available with Live Preview function button [custom function]
Level Gauge
2-axis level gauge; horizontal /vertical
Finder Style
Selectable from 3 types
Brightness / Colour temperature control
±7 levels / ±7 levels
EyeCup
Removable, Optional eyecup EP-11 is available.
LCD MONITOR
Live view
100% field of view,
Exposure compensation preview, WB adjustment preview,
Gradation auto preview, Face detection preview (up to 8 faces),
Grid line, Histogram, Magnification display (x5/x7/x10/x14)
OFF
Grid/ Monitor Display Types
Normal Mode, Grid Line Mode(4 types), Histogram Mode, Magnified View Mode, OFF
Magnification Ratio
x5, x7, x10 (Default), x14
Monitor information
Aperture value, Shutter speed, Auto Bracket, AE Lock, AF mode, IS, Shooting Mode, Battery Check, Myset, Internal Temperature Warning, Face / Eye Detection, Histogram, Number of storable still pictures, Record mode, ISO, Sequential shooting, Self-timer, White Balance, Metering Mode, AF confirmation mark, Exposure Compensation Value, Spot metering Area
Flash Mode, Flash Status, Flash intensity Control, Super FP
Focusing length, Tone control, Eye-Fi condition
Display of Face Detection
Max 8 frames of face detection can be displayed.
Monitor Specs
3.0-inch tilting OLED monitor
Approx. 610k dots, Touch control in electrostatic capacitance Type
Touch control
Touch shutter release, Touch enlargement, Touch Live Guide, AF area selection, AF area enlargement, Frame advance/backward, Enlargement playback, Touch Super Control Panel
Tilting angle
Upward tilting angle : up to 80 degrees / Downward tilting angle : up to 50 degrees
Brightness / Colour temperature control
±2 levels / ±3 levels
Colour tone select
Vivid / Natural
AF SYSTEM
AF Type
High-speed imager AF
Focus modes
Single AF (S-AF) / Continuous AF (C-AF)* / Manual Focus (MF) / S-AF + MF / AF tracking (C-AF + TR) *
Full-time AF
Available
Magnified frame AF
Selectable from over 800 AF points
Enlarged view check by magnify button
Magnification x5, x7, x10(Default), x14 selectable
Face detection AF / Eye detection AF
Available / Available
Eye Detection AF mode : OFF / Nearer-eye priority / Right-eye priority / Left-eye priority
Focusing point / Focusing point selection
35-area multiple AF / All target, Group target area (9-area), Single target
AF illuminator
Yes
Manual focus assist
Live view image is magnified when the focus ring is rotated. (at S-AF+MF or MF mode)
AF tracking
Yes
METERING SYSTEM
TTL Image sensor metering
Digital ESP metering (324-area multi pattern metering), Center weighted average metering, Spot metering, Spot metering with highlight control, Spot metering with shadow control
Metering range
EV 0 - 20 (at normal temperature, 17mm f2.8, ISO 100)
Exposure modes
i Auto, P: Program AE (Program shift can be performed), A: Aperture priority AE,
S: Shutter priority AE, M: Manual, Bulb, Time, Scene select AE, Art Filter,
Underwater wide / macro* * Selectable from menu as a function on Fn-1/Rec button
Scene Select AE Modes
Portrait, e-Portrait, Landscape, Landscape + Portrait, Sport, Night, Night + Portrait, Children, High Key, Low Key, DIS mode, Macro, Nature Macro, Candle, Sunset, Documents, Panorama, Fireworks, Beach & Snow, Fisheye Conv., Wide Conv., Macro Conv., 3D * * Still image only
ISO sensitivity
AUTO: ISO 200 - 25600 (customizable, Default 200-1600) / Manual ISO 200 - 25600, 1/3 or 1 EV steps selectable
Exposure compensation
±3 EV in 1/3, 1/2, 1 EV steps selectable
AE lock
Locked at 1st release of shutter button (can be set to Fn1/Rec button)
Metering standard value adjustment
1/6 EV step, +/- 1EV range
SHUTTER SYSTEM
Type
Computerized focal-plane shutter
Shutter speed
1/4000 - 60 sec. (1/3, 1/2, or 1EV steps selectable.)
Bulb: default setting 8min. (1/2/4/8/15/20/25/30 min. selectable.)
FLASH SYSTEM
Flash intensity control method
TTL Auto, Auto*, Manual, FP-TTL AUTO*, FP-MANUAL*
* Available on the external flash
Built-in flash
No
Bundled flash (FL-LM2)
TTL flash, GN=10 (ISO200·m) / GN=7(ISO100·m)
Flash mode
Flash Auto, Red eye, Fill-in, Flash Off, Red-eye Slow sync.(1st curtain), Slow sync.(1st curtain), Slow sync.(2nd curtain), Manual(1/1(FULL)~1/64)
Synchronization speed
1/250sec. or less* (using the bundled flash)
* It depends on flash models or flash mode
FL-50R: 1/180 sec., Exept FL-50R: 1/200 sec., Super FP: 1/125-1/4000 sec.
Flash intensity control
Up to ±3 EV in 0.3, 0.5, 1 EV steps selectable
Compatible external flash
FL-50/FL-50R, FL-36/FL-36R, FL-20, FL-14, FL-300R, FL-600R
Colour Temperature
5500±400°K
Compatible wireless external flash
FL-50R, FL-36R, FL-300R, FL600R
Control method
Triggered and controlled by bundled flash (FL-LM2)
** Available on FL-LM1/ FL-600R.
(Olympus Wireless RC Flash system compatible)
Channel No.
4 channels
Group Number
4 groups (External flash 3 groups + a bundled flash)
DRIVE
Drive mode
Single-frame shooting, Sequential shooting, Self-timer
Sequential shooting maximum speed
[Sequential shooting H mode] 9.0 fps
[Sequential shooting L mode] 3.5 fps / 4.2fps in case of "I.S. OFF".
Max. recordable pictures
on sequential shooting
[RAW] Max. 17 frames (in seq. shooting L), Max. 11 frames (in seq. shooting H)
[JPEG] Up to full extent of data storage capacity (in seq. shooting L),
Max. 17 frames ( in seq. shooting H)
(with TOSHIBA SDHC UHS-I card R95-W80 8GB model, under Olympus test standard)
Self-timer
Operation time: 12 sec., 2 sec. (cancel available)
Wireless remote control
Not Available
BRACKETING
Exposure bracketing
2, 3 or 5 frames in 0.3/0.7/1.0EV steps selectable, 7 frames in 0.3/0.7EV steps selectable
White balance bracketing
3 frames in 2, 4, 6 steps selectable in each A-B/G-M axis.
Flash bracketing
3 frames in 0.3/0.7/1.0EV step selectable
Art Filter bracketing
i-Enhance, Vivid, Natural, Muted, Portrait, Monotone, Custom, Art Filters selectable
ART FILTER
Mode (Variation / Effect)
Pop Art (I, II / a.b.c.d.e.)
Soft Focus ( - / c.e.)
Pale & Light Colour (I, II / a.b.c.d.)
Light Tone ( - / d.)
Grainy Film (I, II / b.c.d.)
Pin Hole (I, II, III / d.)
Diorama ( - / d.)
Cross Process (I, II / b.c.d.)
Gentle Sepia ( - / a.b.c.d.)
Dramatic Tone (I, II / b.c.d.e.)
Key Line (I, II / a.b.c.d.e.)
Art Effect
a. Soft Focus Effect
b. Pin-Hole Effect
c. White Edge Effect
d. Frame Effect
e. Star Light Effect
MOVIE
Recording format
MOV(MPEG-4AVC/H.264) , AVI(Motion JPEG)
Movie Mode
MOV (MPEG-4AVC/H.264), AVI (Motion JPEG)

[MOV]
Full HD: 1920(H)x1080(V), 59.94i Recording *3
20Mbps (Fine) *4 / 17Mbps (Normal) *4 : Aspect 16:9
HD: 1280(H)x720(V), 59.94i Recording *3,
13Mbps (Fine) *4 / 10Mbps (Normal) *4 : Aspect 16:9
*3 : Sensor output 30fps
*4 : bitrate

[AVI Motion JPEG]
HD: 1280(H)x720(V), 30fps *4, Aspect 16:9
SD: 640(H)x480(V), 30fps *4, Aspect 4:3
*4 : Except for some of the Art Filters
Maximum Recording Times
Full HD : Approx. 29min(Fine) / Approx. 22min(Normal) HD : Approx. 29min(Fine) / Approx. 29min(Normal)
Effects
Movie Effect : One shot echo / Multi echo
Art Filter Movie, Aperture priority Movie, Shutter Priority Movie, Manual Shooting Movie
IS for Movie
Built in (Image sensor shift type image stabilization)
IS1. mode only
AE Lock
Avarable
Exposure control (Movie)
P: Program AE, A: Aperture priority AE, S: Shutter speed priority AE, M: Manual, Art Filter
* S mode and M mode : Shutter speed is limited in less than 1/30 sec.
Compression ratio
Motion-JPEG Format : 1/12(HD), 1/8(SD)
File size
MOV Format : Max 4GB
Motion-JPEG Format : Max 2GB
Recording format
Wave Format (Stereo linear PCM/16-bit, Sampling frequency 48kHz)
Micophone/Speaker
Stereo/Mono
Microphone function
Wind Noise Reduction, Recording Volume
Audio dubbing possible for still pictures (up to 30 sec.)
Colour matrix
sRGB, Adobe RGB
Mode
i-Enhance, Vivid, Natural, Muted, Portrait, Monotone, Custom, Art Filters
Gradation
Auto, Normal, High Key, LowKey [except for Art Flters]
Adjustment parameter
4 levels (Auto, Normal, High key, Low key)
Filter effect (B&W filter)
Neutral, Yellow, Orange, Red, Green for Monotone
Picture tone
Neutral, Sepia, Blue, Purple, Green for Monotone
NOISE REDUCTION
At High ISO setting
Off, Low, Standard, High
At Slow shutter speed
Off, On, Auto
On : effective when shutter speed is slower than 1 sec.
Auto : effective when shutter speed is slower than 4 sec. (at ISO 200 or higher) or 8 sec. (at lower than ISO200)
MULTIPLE EXPOSURE
Number of picture / Function
2 frames / Auto gain, Exposing on Recorded picture(RAW)
ASPECT RATIO
Aspect Ratio
4:3(Default) / 3:2 / 16:9 / 1:1 / 3:4
Post Processing
RAW: Aspect ratio is recorded as EXIF data, JPEG: JPEG image is produced based on the aspect ratio
LEVEL GAUGE
Detection
x 2
DIGITAL TELE-CONVERTER
Magnification
x 2
PLAYBACK FUNCTIONS
Playback mode
Single-frame, Information display, Index display (4/9/25/100 frames), Calendar, Enlargement (2x - 14x), Movie (with sound, FF/REW/Pause), Picture rotation (auto), Slideshow *(with BGM/BGM+Sound/Sound)
* Slideshow : Still/Movie/Still+Movie, When a camera is connected to HDTV with HDMI cable, 3 new slideshow effect can be selectable.(Still)
Information display
Histogram (independent luminance / RGB available), Highlight/Shadow point warning, AF frame, Photographic information, OFF
MENUS
Languages
34 languages selectable :
- English, French, German, Spanish, Italian, Japanese, Korean, Traditional Chinese, Simplified Chinese, Russian, Czech, Dutch, Danish, Polish, Portuguese, Swedish, Norwegian, Finnish, Croat, Slovenian, Hungarian, Greek, Slovakian, Turkish, Latvian, Estonian, Lithuanian, Ukrainian, Serbian, Bulgarian, Rumanian, Indonesian, Malay, Thai
Reset and custom settings (My mode)
4 settings recordable
IMAGE EDITING
Editing function
RAW development, Gradation auto, Monochrome, Sepia, Red-eye fix, Saturation, Resize (1280x960, 640x480, 320x240), Trimming, Aspect, e-Portrait, Image Ovarlay, Postrecording
RAW picture editing
RAW development based on settings of the camera(including Art Filter)
JPEG editing
Shadow adjustment, Red-eye fix, Cropping, Aspect, Black&White, Sepia, Saturation, Resize, e-portrait
Image Overlay
Up to 3 RAW images
Erasing function
Single frame, All, Selected frames (from Index)
Protect function
Single frame, Selected frames, Release protect (Single/All selected)
PRINTING
Print function
Print reservation (DPOF), Direct print (PictBridge compatible)
INPUT / OUTPUT
USB/AV/Remote controller connector
Dedicated multi-connector [USB: USB2.0 High Speed, Video: NTSC/PAL selectable, Optional Remote cable RM-UC1 can be used.]
HDMI connector
Micro HDMI (Type-D)
Flash attachment
Hot shoe
Accessory Port 2
Dedicated multi-connector [Available for VF-2/VF-3, SEMA-1, MAL-1 and PP-1.]
PC interface
USB 2.0 High Speed
TV interface
HDMI (HD/Stereo Sound), VIDEO-OUT(SD/Mono Sound)
DC-in
- [Optional Power Battery Holder HLD-6 has DC-IN jack for AC-3.]
POWER REQUIREMENTS
Battery
BLN-1 Li-ion battery (included)
Power battery holder
(Option) Power Battery Holder HLD-6
AC adaptor
(Option) AC adapter AC-3 *Optional HLD-6 has DC-IN jack for AC-3.
Sleep mode
Available (1/3/5 min. off selectable)
Number of recordable pictures
Approx. TBD shots [IS ON, CIPA test standard]
(with BLN-1 and TOSHIBA super high-speed Class 6 SDHC 4GB card)
OPERATING ENVIRONMENT
Temperature
32 ~ +104 (operation) / -4 ~ +140 (storage) Farhenheit
Humidity
30 - 90% (operation) / 10 - 90% (storage)
DIMENSIONS / WEIGHT
Dimensions
4.8 inch (W) x 3.5 inch (H) x 1.7 inch (D)
[CIPA guideline compliant, excluding protrusions]
Weight
Approx. 15 ounces [CIPA guideline compliant, with BLN-1 battery and Memory card]
Approx. 13 ounces [body only]
Olympus OM-D E-M5 Black Body w/ Grip
Looking for a personal touch? Not sure if you are choosing the right product? Our staff is here to help.
We want to make sure you get the right product for your needs.
Our staff will help you understand the options available so you can be confident in your purchase.
As the country's leading Professional Imaging retailer, Vistek is in the perfect position to ensure you make the right choice.
Contact us today for a personal touch.