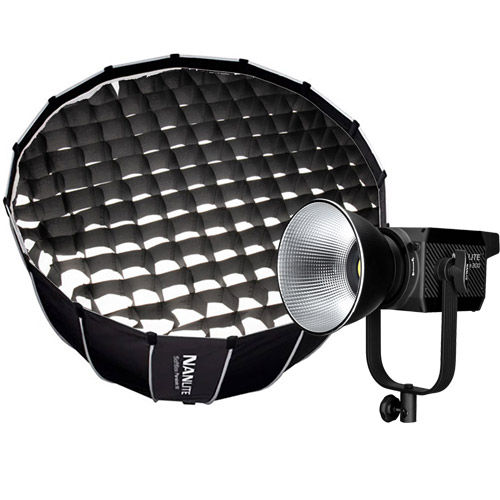 Webcode:

441971

• Mfr: GU420224+ GU421634+ GU420897
Product Highlights
This item is unavailable
This page is here for your reference.
Forza 300
Bright Output | Multifunctional | Lightweight
Use this LED light's bright, accurate output to enhance your creative potential and its multifunctionality to adapt seamlessly to various shooting scenarios. Lightweight, portable and easy to use, with an intuitive menu system.
Key Features:
Daylight 5600K
300W of LED power
43,000 lux at 1 meter
TLCI 98 CRI 95
4 creative lighting effects
Wi-Fi, DMX control
LSD Display
Dual power supply suitable for indoor and on-location
Compatible with Bowens mount accessories
Forza Series
Amazing High Brightness | Impressively Compact | Special Lighting Effects.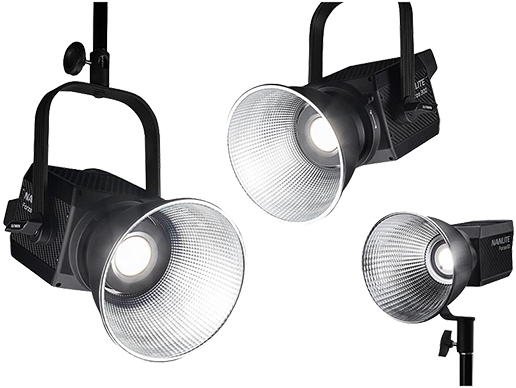 The NanLite Forza series spotlights are easy to control, have an impressive compact design and amazing brightness.

Perfect for photography and video production, the NanLite Forza Series is the ideal choice for commercial and portrait photography, and is a great partner for on-location shoots.
Forza 300


A monolight style light fixture with remarkable light output relative to its size
Weighing only 5.5 lbs, the Forza 300 employs a COB LED module to output 43060 Lux of 5600K daylight-balanced light at 1 meter. All while maintaining a high CRI/TLCI of 98/95, ensuring accurate colour rendition.
A new breakthrough in super brightness
2000W tungsten light ≈ 300W Forza 300
Under the standard hood, the tungsten light @ one meter is as high as 43060lux and higher than 2000W.
CRI up to 98, TLCI 95
The Forza 300 CRI has been tested to a maximum of 98, TCLI 95, which allows the shot to more realistically restore the colour and detail of the object.
Ultra Bright Output
With the included reflector, the Forza 300 emits an impressive 43060 Lux at 1 meter. When equipped with the optional fresnel the light output climbs to a staggering 108679 Lux at 1 meter. Plus with dimming from 100% down to 1% you can quickly adapt the Forza 500 to any scene without adding ND filters or diffusion.
Lightweight Compact Design
Created to eliminate the difficulties of traveling with large light fixtures the Forza 300 weights only 5.5 lbs and is compact enough to be easily packed into most gear cases.
Colour Perfection
The brightness of a light is important, but without colour accuracy, a ton of time and money will be lost in post-production. The Forza 300 features a CRI of 98 and a TLCI of 95 meaning you can shoot with confidence knowing the colour reproduction will be precise.
Bowens Style Light Modifier Mount
By utilizing the near-universal Bowens style light modifier mount, the Forza 300 is compatible with a massive selection of light modifiers. Including, but not limited to NanLite's line of softboxes and umbrellas.
Practical Effects
With pre-programmed special effects in a simple-to-master menu system, the Forza makes it easy to imitate lighting scenarios that can otherwise be tricky to recreate. At the touch of a button, you can simulate the lighting effects of lightning, a TV screen, a flash, and a malfunctioning light bulb.
Satellite Control and Power Station
To keep a low center of gravity and the controls easily accessible the Forza 300's control panel, AC adapter, and battery plate have been combined into one satellite unit easily hung from any light stand. The satellite also serves as the DMX connection point enabling the Forza 500 to be quick adoption to any DMX controlled environment.
Power Anywhere
Optimized for use in the studio or on location, the Forza 300 can run off either the included AC adapter or 2x 26w V-Mount batteries (Not Included) so you can operate in any location regardless of power availability.
Studio and Location Ready
Supplied with a standard 5/8" receiver mount, the Forza 500 can be mounted directly on any standard light stand, and the 330-degree rotating yolk makes it easy to adjust an angle or hang the light from a ceiling for studio use. Also thanks to the Forza500's active, silent fan it is at home in even the most sound-sensitive situations.

Round COB spot is beautiful without corners
The highlight of the center of the light is rich to the edge, and the transition is naturally uniform. Use with Fresnel lens for 10°-45° concentrating floodlight
Four special effects, not only plane, but also film and television
The Forza 300 has four built-in special effects "lightning" "flicker" "television" "bad bulb". You can switch between different lighting special effects at the touch of a button, it is very simple and fast.
Light control separation, multiple working mode experience
The light control is separated and control is more flexible and free.
Individual controllers are intuitive and easy to use
The LCD large screen is clear and simple, the function is easy to use, and the design is elegant, so that you can quickly get started.
LCD Display

Adjusts Screen Brightness


Four Button

Simple buttons for quick adjustment


Easy Adjustment

Two stepless knobs
Power Supply / Battery Power
Two power supply modes for indoor and outdoor shooting
Install the adapter or install a battery of 150 watts or more to supply power, to meet indoor and outdoor shooting.
Strong cooling super-quiet design life of 150,000 hours life of up to 16 db
Forza 300 adopts imported high-efficiency cooling fan and stepped air intake design, which increases the pressure efficiency and heat dissipation. The fan life can reach 150,000 hours, which is about 17 years, which can protect the lamp body to the greatest extent. The noise is as low as 16 decibels at full power, and the fan can be turned off manually to achieve a purely silent effect, giving you a quiet creative environment.
Strong performance, breaking through traditional design
Without fear of severe scene challenges, the Forza 300 always solves lighting problems with powerful performance, and high-intensity brightness offers unlimited possibilities for creation. Breaking through the traditional design, it solves 60% of the shooting problems, adapting to local conditions and doing whatever you want.
Baorong bayonet, rich accessories, to achieve a variety of plastic light possible
Compatible with more than 50 NANLITE professional light control accessories to solve the ultimate light quality needs.
Multiple adjustment intelligent control
Built-in 2.4G remote control receiving device, optional RC-1 remote control; with WIFI control box, it can be adjusted on the mobile APP; it is also compatible with DMX control.
Strong stability and flexible operation
The locking device is stable and reliable, carrying heavy-duty light control accessories, a new large U-shaped support column, the lamp body angle can be adjusted by 360°, the inclined handle is ergonomic and flexible.
P

ara 90 Quick-Open Softbox | 90cm (35")
With Bowens Mount
The Nanlite Para 90 Quick-Open Softbox with Bowens Mount (35in). A 16-Sided Softbox with a deep parabolic design that creates even lighting with a wrap-around quality and natural-looking catchlights while increasing directional control. Includes 1-Stop Front Diffuser, 2-Stop Front Diffuser, Bowens Mount Quick-Open Speedring and Carry Bag

The Nanlite Para 90 Quick-Open Softbox with Bowens Mount (35in) is a 16-Sided Softbox with a deep parabolic design that creates even lighting with a wrap-around quality and natural-looking catchlights while increasing directional control.
Control and Shape Light
The Para 90's reflective silver interior maximizes light output while the removable front diffuser softens it and reduces contrast. Also, the parabolic shape creates even lighting with a wrap-around quality and natural-looking catchlights. Its 25" depth produces a focused light with increased directional control, minimal spill light, and significant falloff.
Multiple Diffusion Options
Nanlite provides both a 1-stop and a 2-stop front diffuser to enable even more adjustment of light quality. Also, using neither diffuser turns the Para 90 into a large reflector outputting high contrast light.
Bowens Style Speed Ring
Created to be compatible with Nanlite's Forza Series LEDs, the Para 90 includes a Bowens Style Speed Ring. This near-universal light modifier mount expands compatibility to an extensive range of LED, strobe, and constant light sources.
Fast Set Up and Break Down
Nanlite Forza LEDs are ready at a moment's notice, so their softbox should be too. This softbox utilizes a Quick-Open speed ring with spring-loaded rod locks. Quickly snap the rods into place to set up the softbox and then release them at the touch of a button for break down.
Accepts Optional Fabric Grids
For additional control of light spill and added directionality, an optional fabric grid can be mounted via touch-fasteners. The fabric grid narrows the beam angle to 60 degrees and concentrates the light's beam forward. Fabric Grid sold separately.
Fabric Eggcrate Grid | For NanLite Para 90
This fabric grid mounts to the front of the softbox to minimize light spill and add directionality by tightening the beam angle. Great for selectively lighting subjects without losing the soft quality of light produced by the softbox. Attaches easily and swiftly via touch fasteners and folds down flat for storage and transport.
What's Included
Forza 300 LED Monolight Fixture
55 Degree Reflector
Power Cord
Carrying Case
Para 90 Softbox
1-Stop Front Diffuser
2-Stop Front Diffuser
Bowens Mount Quick-Open Speedring
Carrying Bag
Fabric Eggcrate Grid
Product Specifications
Forza 300

Mount
Bowens S Style
Cooling
Active Silent Fan
Significant (Ra)
98
TLCI (Qa)
95
Colour Temperature
5600K
Brightness Adjustment
0 - 100 %
Illumination
Lumen Output: 29440 Lumens
Lux @ 1m w/55 Degree Reflector: 66300
Mount
5/8" Receiver with rotating yolk
Control Method
Manual control, 2.4G wireless control, Wifi control
Power
100-240V AC
Power Source
DC48V/12.5A
Battery Compatibility
Sony V-Mount 26v Battery (* not included)
Battery Run Time (at 100%)
Approx. 0.9 hours (2x 26V Sony V-Mount Style 230WH)
Maximum Power
300W
Dimensions
Lamp body:
308.5 x 205 x 123 mm (12.1 x 8.1 x 4.84")
Weight
Lamp body:
2.3 kg (5.1 lbs)

Lamp body + control box + adapter:
4.8 kg (10.6 lbs)
Illuminance (lux)

Distance
Bare lamp
With condenser lens 10°
With condenser lens 45°
With standard cover
1 meter
13260
128679
39805
43060
2 meters
3198
35960
10252
10661
3 meters
1598
14250
4500
4073
4 meters
960
7746
2566
2278
5 meters
655
4706
1714
1462
6 meters
485
3296
1204
1048
7 meters
357
2407
908
793
8 meters
284
1854
706
618
Para 90 Softbox

Shape
Hexadecagon
Interior Colour
Silver
Number of Rods
16
Removable Front Diffusion
Yes
Requires Speedring
Yes, Bowens Style Quick Open Speed Ring Included
Accepts Grids
Yes, Sold Seperately SKU# EC-PR90
Dimensions
(Diameter x Depth)
88.9 x 63.5 cm (35 x 25")
Weight
1.45 kg (3.2 lbs)
Fabric Grid

Beam Angle
60°
Diameter
90 cm (35")
Shape
Hexa-Para
Mount
Via touch fasteners
Nanlite Forza 300 LED Light 300W incl AC, Cable, Reflector w/Parabolic Softbox 90CM & Fabric Eggcrate
Looking for a personal touch? Not sure if you are choosing the right product? Our staff is here to help.
We want to make sure you get the right product for your needs.
Our staff will help you understand the options available so you can be confident in your purchase.
As the country's leading Professional Imaging retailer, Vistek is in the perfect position to ensure you make the right choice.
Contact us today for a personal touch.