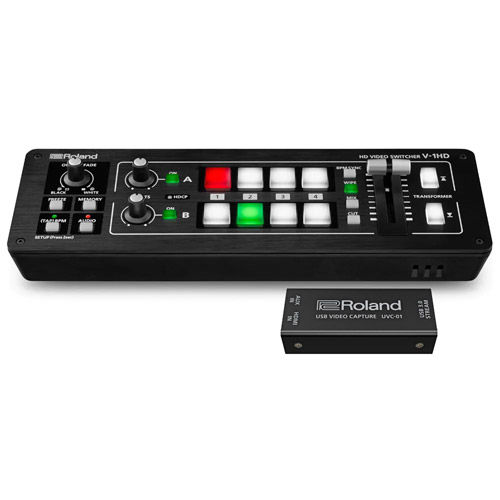 Webcode:

445118

• Mfr: 445118
Product Highlights
Compact and portable HD Video Switcher makes it easy to connect to HDMI, and supports professional compositing effects. Advanced video effects for transforming video into creative visuals to support all kinds of performances.
This item is unavailable
This page is here for your reference.
V-1HD | High-Definition Video Switcher
So compact and portable, you can bring it and use it anywhere.
Easy-to-use mixer offers 4-channel HD video switching, built-in compositing effects, multichannel audio mixing and more.

Switcher Features:
Roland's new HD Video Switcher makes it easy to connect and switch video cameras, smart phones, computers, tablets, Blu-ray players and other HDMI video sources with a simple push of a button or slide of the T-Fader.
The V-1HD supports professional compositing effects such as picture-in-picture and keying allowing for graphic insets, titling or even "green screen" ideal for news broadcast or corporate training productions.
For creative live event video switching, the V-1HD includes an advanced video effects for transforming video into creative visuals to support all kinds of performances.
Output of your video mix is as simple as connecting the HDMI output to a projector or screen at an event and you can even connect a recorder for capturing your event or production.
Ideal for supporting both live events and presentations
As well as small broadcast setups for enterprise video users, K-12 schools and house-of-worship environments. It is also an amazing creative tool for visual artists or musicians, who want to add video switching to their performances, create YouTube videos, mix content for online streaming and more. It is the most affordable 4-channel HD video switcher that includes a hardware interface, video FX and audio mixing/FX, making it a complete portable video switching and control solution. The companion PC/Mac or iPad application when connected by USB can also control the V-1HD.
The Roland V-1HD provides switching for up to four HDMI A/V sources
Including cameras, computers, tablets, smartphones and even Blu-ray players, thanks to its HDCP copy protection support. Its high definition output can be switched between 720p (from 720p inputs), 1080i or 1080p. In either 1080i or 1080p output mode, the V-1HD can accept both 1080p and 1080i input signals simultaneously, allowing use with a range of sources. It has a 12-channel audio mixer for mixing stereo audio from HDMI and external stereo audio sources and its dedicated microphone input. The V-1HD includes two HDMI program and preview outputs and a stereo audio output.
An array of compositing effects
Including picture-in-picture and keying, allowing for graphic insets plus titling and green screen capabilities. The V-1HD is ideal for live event video switching, thanks to its advanced transition and filter effects – more than 30 effects and transition types including mix, cut, full additive mix (FAM), non-additive mix (NAM), wipe and other performance effects. The V-1HD also has output fade, BPM Sync and Auto-Scan functions. The A and B video busses each have controls for effects assignment and parameter control. The output can be switched A/B or in PGM/PST mode where the B buss is used for signal preview. The preview output can be set to a Multiview mode, where all inputs are displayed with colored borders indicating the program and preview selections, or in a full-screen mode. The preview output can be used for additional, menu-driven set-up control, or as a second output for applications such as a simultaneous webcast or recording output.
Full Audio Mixer Included
Included is a 12ch digital audio mixer.

In addition to 4 stereo audio inputs from the HDMI ports, the V-1HD also supports a stereo line level input and a mic level input.

Every channel is equipped with a delay function to synchronize the video and the audio.




* maximum delay time is 500ms.

Audio follow function enables the audio transition along with the video.

Reverb function and mastering function used for adjusting sound quality and volume are also supported.

With audio output jacks you can send the audio mix to a PA system or record it on an external device.
Easy to Operate with Hardware Controls
Basic operations can be done by operating the buttons and the T-Fader on the unit.

To make detailed settings you just need to connect a monitor to the preview connector.
Two HDMI Outputs
Four-way multi-view preview screen shows every input source (non-drop frame). A red border shows the video currently being output and a green one indicates the video to be output next.

There are three types of view modes available for the preview output which are Multi-view, Output (as a program output) and Preview. On-screen display can be turned on or off.
Remote Control via USB or MIDI Connection
Remote control is possible with the dedicated application on a PC or an iPad connected via a USB cable.

The user interface is very easy-to-see and you can make detailed settings through it.You can use the unit to switch video and mix audio on the application.

You can control the unit from a music instrument or

a sequencer via the MIDI input connector.
Additional

Switcher

Features:
Support for video cameras, action cameras,

smart phones, tablet computers and other HDMI devices.

The switching and mixing can be done with local buttons.

On-screen display will satisfy the need for detailed settings.

Connect to a PC or a tablet computer

for even more control.

Two full HD outputs support preview,

projection, recording and webcast etc.

Clean, intuitive control layout with multi-function buttons and knobs

Large handled T-Fader for key and transition operations

12-channel audio mixer offers 3-band parametric EQ, reverb, up to 500ms delay for accurate lipsync

Headphone output facilitates audio monitoring

Supports mono or stereo plug-in-powered microphones

Rugged construction ensures long-term reliability even under the most demanding conditions of portable and professional use
UVC-01 | USB Video Capture
Plug-And-Play for Flawless Recordings and Livestreams
For online content creators, musicians, and gamers to businesses, schools, and houses of worship, livestreaming is an essential medium for communicating with people around the world. With the UVC-01, it's never been easier to add high-quality livestreaming capabilities to your Roland V-series video switcher or favorite HDMI-equipped camera or camcorder.

Just connect to the UVC-01 via HDMI, plug into your computer's USB 3.0 port, and start streaming to Facebook Live, YouTube, and other popular platforms. Offering plug-and-play operation in a rugged, pocket-size design, the UVC-01 is ready for action everywhere you go.
Encoder Features:
High-quality HDMI to USB 3.0 video encoder
Plug-and-play USB webcam operation for Mac and Windows computers
Seamlessly works with all Roland V-series switchers with an HDMI output
Also works with most HDMI-equipped cameras and camcorders
Uncompressed 1080p HD at 60 FPS for engaging livestreams
Dedicated analog audio line input for live music versatility
Powered via USB
Quality You Can Count On
Backed by more than two decades of professional A/V product development, Roland's UVC-01 drives your livestream with uncompressed 1080p HD image quality, ultra-smooth 60 FPS motion, and low-latency encoding. And thanks to its hardware-based design, it just works every time you need it—efficiently, consistently, and reliably.
Plug In and Stream
Once connected, the UVC-01 automatically shows up as a source in your streaming software, with no drivers or fussy setup required. Like a dedicated webcam, it encodes HDMI to USB video class and USB audio class formats, letting you instantly stream at superspeed USB 3.0 with any service, platform, or application that accepts a webcam as its A/V source.
A Sound Solution
With the UVC-01, stereo audio is embedded in the HDMI feed along with video. And thanks to the dedicated audio input, it's possible to blend a secondary sound source as well. For example, you can play bumper music from your smartphone, or use Roland's GO-MIXER Pro to combine a mic and instruments for impactful musical performances.
Reach More People
By delivering your message to in-person and online audiences at the same time, you can achieve a wider reach with minimal extra effort. Using a Roland professional video switcher in tandem with a UVC-01, it's simple to create these hybrid productions. Just connect the UVC-01 to the second output of your switcher and simultaneously broadcast live action to your preferred streaming platform.
Capture and Distribute
In some situations, you may want to record a presentation ahead of time and distribute it online after the fact. With the free Roland Live Recorder (Windows) and Video Capture for VR (Mac) applications, you can capture high-quality video and audio through the UVC-01 in real time, ready for upload to video sharing sites.
What's Included
V-1HD 4-Channel HD Video Switcher
AC Adapter
Power Cord
Cord Hook
UVC-01 USB Video Capture
USB 3.0 Cable
Product Specifications
V-1HD Switcher

Video

Video Processing
4:2:2 (Y/Pb/Pr), 8-bit
Input Connectors
HDMI INPUT: 1-4: Type A (19pins) x 4 *HDCP Supported
Output Connectors

HDMI OUTPUT: Type A(19 pins)

HDMI PREVIEW: Type A (19 pins) *HDCP Supported

Input Formats

HDMI
720/59.94p,720/50p(FORMAT switch = 720p)

HDMI
1080/59.94i,1080/50i,1080/59.94p,
1080/50p(FORMAT switch = 1080i or 1080p)

*The input interlaced video signal is converted to progressive video signal by internal processing.
*The video signal frame rate is selected by SETUP parameters (59.94 or 50).

Output Formats

HDMI
720/59.94p,720/50p(FORMAT switch = 720p)

HDMI
1080/59.94i,1080/50i(FORMAT switch = 1080i)

HDMI
1080/59.94p,1080/50p(FORMAT switch = 1080p)

*The video signal frame rate is selected by SETUP parameters (59.94 or 50).

Video Effects

Transition
CUT, MIX (DISSOLVE/FAM/NAM/MOSAIC), WIPE (30 types), TRANSFORMER(11 types)

Effects
NEGATIVE, EMBOSS, COLORIZE, COLORPASS, POSTERIZE, SILHOUETTE, MONOCOLOR, FINDEDGE, FLIP, WH-LUMIKEY@, BK-LUMIKEY@, GR-CHROMAKEY@, BL-CHROMAKEY@, PinP(1/4)@, PinP(1/2)@, SPLIT(H-STRETCH)@. SPLIT(H-CENTER)@, SPLIT(V-STRETCH)@, SPLIT(V-CENTER)@

*@ marked Effects are effected common to A-BUS and B-BUS.

Audio

Audio Processing
Sampling rate 24bit/48kHz
Input Connectors

Digital: HDMI INPUT 1–4 (19 pins) x 4

Analog: AUDIO IN (RCA pin type), MIC (Stereo mini type, plug-in power supported)

Output Connectors

Digital: HDMI OUTPUT (HDMI Type A 19 pins), HDMI PREVIEW (HDMI Type A 19 pins)

Analog: AUDIO OUT (RCA pin type), PHONES (Stereo mini type)

Input Level
AUDIO IN: -10 dBu (Maximum : +8 dBu), MIC: -41 – -13dBu (Maximum : -1 dBu)
Input Impedance
AUDIO IN: 15 k ohms, MIC:10 k ohms
Output Level

AUDIO OUT: -10 dBu (Maximum : +8 dBu)

PHONES: 72mW + 72mW (32 ohms)

Output Impedance

AUDIO OUT: 1k ohms

PHONES: 10 ohms

Audio Effects
EQ, Delay, Compressor, HPF, Gate, Reverb, Mastering effect
Other Connectors
USB: B Type (for remote control from PC), MIDI: IN, OUT/THRU

Misc

Other Functions

MEMORY (8 types), FREEZE (input video captured),

BPM SYNC (auto transition synchronized to tempo), OUTPUT FADE (WHITE/BLACK)

Power Supply
AC adaptor
Current Draw
1.5A
Power Consumption
18W
Dimensions (WxDxH)
313mm x 102mm x 59mm (12.25" x 4" x 2.25")
Weight
(excluding AC adaptor)
1.2 kg 2 lbs 10-2/5 oz
Accessories
AC Adaptor, Power Cord, Cord Hook
UVC-01 USB Video Capture

VIDEO

Input Connectors
HDMI IN connector: HDMI type A
* Multi-format Supported
* HDCP Not Supported
Output Connectors
USB STREAM port: USB 3.0 B type
Input Formats
480/59.94i, 576/50i, 480/59.94p, 576/50p, 720/59.94p, 720/50p, 1080/59.94i, 1080/50i, 1080/59.94p, 1080/50p, VGA (640 x 480/60 Hz), SVGA (800 x 600/60 Hz), XGA (1024 x 768/60 Hz), HD (1280 x 720/60 Hz), WXGA (1280 x 800/60 Hz), SXGA (1280 x 1024/60 Hz), FWXGA (1366 x 768/60 Hz), SXGA+ (1400 x 1050/60 Hz), UXGA (1600 x 1200/60 Hz), FHD (1920 x 1080/60 Hz)
* The refresh rate is the maximum value of each resolution.
* Conforms to VESA DMT Version 1.0 Revision 11.
USB Video Output Format
YUY2 (Uncompressed)
USB Video Output Resolution
1920 x 1200, 1920 x 1080, 1680 x 1050, 1600 x 1200, 1600 x 900, 1440 x 900, 1366 x 768, 1360 x 768, 1280 x 1024, 1280 x 960, 1280 x 800, 1280 x 720, 1152 x 864, 1024 x 768, 1024 x 576, 960 x 540, 856 x 480, 800 x 600, 768 x 576, 720 x 576, 720 x 480, 640 x 480, 640 x 360, 320 x 240
* The maximum frame rate is 60 fps.

AUDIO

Audio formats
HDMI IN connector: Linear PCM, 48 kHz / 44.1 kHz, 24 bits / 20 bits / 16 bits, stereo
USB STREAM port: Linear PCM, 48 kHz, 16 bits, stereo
Input Connectors
HDMI IN connector: HDMI type A
AUX IN jack: Stereo miniature phone type
Output Connectors
USB STREAM port: USB 3.0 B type
Nominal Input Level
AUX IN jack: -10 dBu (Maximum input level: +8 dBu)
Input Impedance
AUX IN jack: 10 k ohms

OTHER

Power Supply
Supplied from the computer via USB
Current Draw
500 mA
Operation Temperature
+0 to +40 degrees Celsius
+32 to +104 degrees Fahrenheit
Dimensions (WxHxD)
90 x 23 x 37 mm (3.5 x 0.9 x 1.5")
Weight
96 g (4 oz.)
* excluding AC adapter
Roland V-1HD Compact Portable 4-Channel Video Switcher Bundle with UVC-01
Looking for a personal touch? Not sure if you are choosing the right product? Our staff is here to help.
We want to make sure you get the right product for your needs.
Our staff will help you understand the options available so you can be confident in your purchase.
As the country's leading Professional Imaging retailer, Vistek is in the perfect position to ensure you make the right choice.
Contact us today for a personal touch.