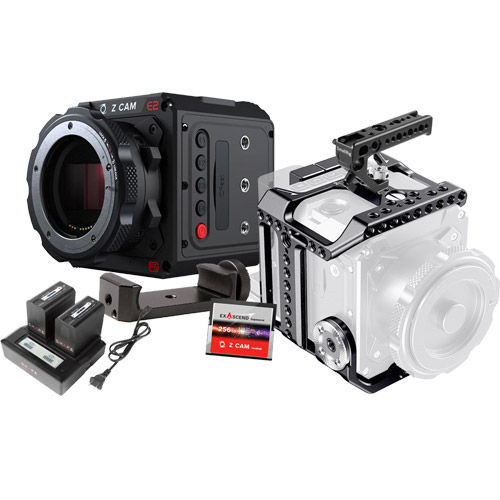 Product Highlights
26MP

CMOS Sensor

Full Frame

Format

6244 x 4168 at 30 fps max

Video Recording

15-stops

Dynamic Range

400-2500

Native ISO

Aluminum

Material Construction

Native EF

Mount

Optional PL & MFT Mounts also available (3rd party E-mount coming soon)

6K@60fps & 4K @ 120fps 2.4:1

With 10Bit Colour

Internal Pro Res HQ C4K

Up to 50ps

12 Bit Colour Pro Res Raw

With optional Atomos Ninja V

Optional eND

Kit includes E2-F6 6K camera, cage, handle, 256GB memory card, smartphone mount & 2x NP-F980 batteries
Kit Options: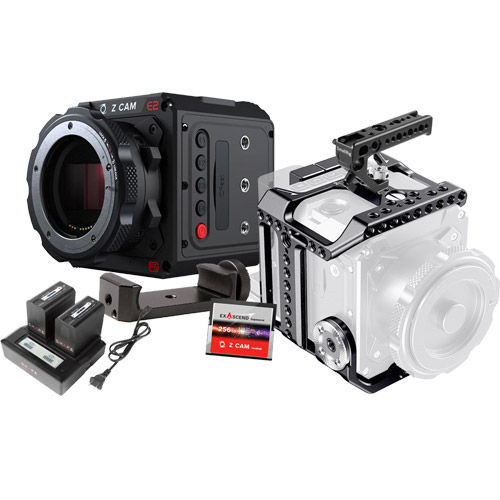 Z CAM ZCAM F6 Starter Kit w/Cage Handle Smartphone Clip Batteries Charger & CFast 256 Gb Memory Card
Z CAM ZCAM F6 Starter Kit w/Cage Ha...
Web Availability:
Not In Stock
While not in stock right now, we can get more from our vendor for you.
Vistek Locations
Toronto Available for Order
Ottawa Available for Order
Mississauga Available for Order
Calgary Available for Order
Edmonton Available for Order
Please call and verify availability at the store as stock changes daily.
announcement ZCam has recently announced that going forward their flagship series cameras
will only be available in the native EF version.



*

Interchangeable PL & MFT mount adapters will be available separately in early 2020

.
E2-F6 (EF) Full Frame 6K Cinema Camera
Camera Features:
6K @ 60fps & 4K @ 100fps max, 10-bit colour
Full Frame CMOS sensor
15 stops dynamic range
ZRAW supported
EF lens mount
Gigabit Ethernet for data, control & live preview
* Includes a curled DTap power cable. Does NOT include an AC power supply, uses NPF-L style (Sony Type) batteries or adapters (not included).


False Colour Settings

SmallRig Cage for Z Cam E2-S6 / F6 / F8 Camera
SmallRig Cage for Z CAM E2-S6/F6/F8 CVZ2423 is designed to provide protection and a variety of accessory-mounting options for ZAM E2 flagship cinema cameras. The cage secures to the camera via three 1/4"-20 screws, one on the top and two on the bottom to prevent twisting. Featuring multiple 1/4"-20 and ARRI 3/8"-16 threads for accessories such as Side Handle 2093, Cold Shoe 2260, Top Handle 2165 and Monitor Mount 2348. Each side integrates with a NATO rail for Side Handle 2187 and 2270. The right side comes with an ARRI rosette for rosette handle. Besides, it comes with slots for carry strap, built-in flat head screw driver and Allen wrench on the bottom for quick installation. HDMI Cable Clamp & USB-C Cable Clamp are included in the package.
Cage Features:
Designed for Z CAM E2-S6/F6/F8 Cinema Camera
1/4"-20 & 3/8"-16 & ARRI 3/8"-16 Accessory Threads
NATO Rail on Each Side & Integrated ARRI Rosette
Built-in Flat Screw Driver & Allen Wrench on the Bottom
HDMI Cable Clamp & USB-C Cable Clamp Included
Compatible with SmallRig SSD Mount 2343
Z CAM Exascend CFast 2.0 Memory Card | 256GB
Precious Moments Captured Precisely
Certified for ZCam, as well as Komodo, Canon and other cameras requiring Hi Speed CFast 2.0 cards.
Z CAM and Exascend have partnered together on CFast 2.0 cards certified across all Z CAM camera platform.
Z Cam has heard your feedback and wishes on CFast 2.0 cards; you wanted a reliable card, with great performance and data rescue in case of mishaps. They listened and took action. Z CAM and Exascend are proud to announce the availability of a new line of Z CAM certified CFast 2.0 card optimized for Z CAM camera platforms.

These certified media support all Z CAM 4K, 6K, and 8K shooting modes, they are custom-developed, engineered in-house, leveraging their proprietary hardware, firmware, and validation platform. The new Z CAM certified CFast 2.0 cards are 100% custom developed based on an enterprise-class Marvell SATA controller, and comes with several exclusive features.
Adaptive Thermal Control (ATC)
ATC improves reliability and enhances sustained performance and quality of service (QoS) while preventing the CFast card from overheating across thermally challenged operating environments. ATC continuously monitors drive thermals and regulates drive performance to keep thermal under control, sustaining the highest performance while keeping under the thermal envelope.
Life Time Firmware Update and Service Support
Throughout the lifetime of the Z CAM certified CFast 2.0, Exascend will continue to enhance and support the Z CAM camera platform, ensuring forward compatibility.
Factory Data Rescue Service
Under unfortunate circumstances when these cards become inoperable from physical damage, Exascend provides an optional Factory Data Rescue service to retrieve your invaluable content. Z Cam has also set up service centers in Asia, the US, and the EU to support your data recovery needs.
Certified by Z Cam
Provides full performance for all MP4, H265, Pro Res, and Raw recording settings, up to 8K.
Shape WLB
2x NP-F980 lithium-ion batteries & dual LCD charger
Insert the battery into the charger plate. The charger will detect the load and start pre-charging. When fully charged, remove the battery from the plate and turn off the power.
Battery Kit Features:
Two 7.4 V, 6600 mAh L-Series Batteries
16.8V Charger
Charge Two Batteries Simultaneously
Clear LCD Charger Display
Pre-Charge Feature Extends Battery Life
5V Micro-USB Charging Port
NP-F980 lithium-ion battery pack 7.4v 6600 mAh
The Shape NP-F980 6600mAh Lithium-Ion Battery is designed to power Sony L-series mount cameras, Atomos monitors, SmallHD monitors, or any equipment that accepts an L-series NP-F980 battery. This 7.4V, 6600mAh battery has no memory effect and is decoded so it can be fully charged with accurate power metering. A 5V micro-USB port is provided which can be used to charge the battery with a separately available wall plug or USB power source. Battery capacity can be quickly checked via the 4-segment LED meter. The battery's box-like design can be easily stacked for storage, or packed away in a case for transport.
Additional Battery Kit Features:
Dual charging port designed to charge two batteries at the same time;
Wide range compatibility of charge (8.4 V / 12.6 V / 16.8 V);
Intelligent MCU control identify the voltage of the battery and prevent overcharge;
Charger plate is suitable for most Sony camera/camcorder batteries;
USB Output, perfect to charge your smartphone and other USB devices when the AC is plug to the wall;
LCD display the percentage of power level and current mode;
Charging method is CC/CV (Constant Current / Constant Voltage) with high efficiency;
Pre-charging feature allows to extend battery life.
Input and cables
AC 100V-240V 50/60 Hz 1500 mA (Max)
DC 12-24 V 3000 mA (min)
(1) AC cable ; (1) DC cable
Output
Output Voltage: DC 8.4V/12.6 V/16.8 V
Output current mode (H): High current charging mode, 1.5A for 1 battery or 0.8A for 2;
Output current mode (L): Lower current charging mode, 1A for 1 battery or 0.5A for 2;
USB Output: 5 V 2100 mA (perfect to charge your cell phone when plugged to the wall).
Compatible Cameras
Sony CCD-TR (Hi8) Series
CCD-TR1, CCD-TR200, CCD-TR215, CCD-TR3, CCD-TR300, CCD-TR3000, CCD-TR3300, CCD-TR416, CCD-TR500, CCD-TR516, CCD-TR517, CCD-TR57, CCD-TR555, CCD-TR67, CCD-TR716, CCD-TR76, CCD-TR818, CCD-TR87, CCD-TR910, CD-TR917, CCD-TR930
Sony CCD-TRV (MiniDV) Series
CCD-TRV101, CCD-TRV119, CCD-TRV15, CCD-TRV16, CCD-TRV215, CCD-TRV25, CCD-TRV3000, CCD-TRV315, CCD-TRV35, CCD-TRV36, CCD-TRV37, CCD-TRV4, CCD-TRV41, CCD-TRV43, CCD-TRV46, CCD-TRV51, CCD-TRV517, CCD-TRV57, CCD-TRV58, CCD-TRV615, CCD-TRV62, CCD-TRV65, CCD-TRV66, CCD-TRV67, CCD-TRV68, CCD-TRV715, CCD-TRV716, CCD-TRV72, CCD-TRV720, CCD-TRV75, CCD-TRV78E, CCD-TRV81, CCD-TRV815, CCD-TRV82, CCD-TRV85, CCD-TRV87, CCD-TRV88, CCD-TRV90, CCD-TRV91, CCD-TRV93, CCD-TRV95, CCD-TRV98, CCD-TRV99
Sony InfoLithium L-Series
BC-V615, DCM-M1, DCR-TRU47E, MVC-CD1000, PLM-100, VCL-ES06A
Sony CCD-SC (Hi8)
CCD-SC5, CCD-SC55, CCD-SC65
Sony DCR-TR7, DCR-VX (MiniDV), DCR-TV
DCR-TR7000, DCR-VX1000, DCR-VX2000, DCR-VX2100, DCR-VX700, DCR-TV900, DCR-TV900E
Sony DCR-TRV (MiniDV) Series
DCR-TRV103, DCR-TRV110, DCR-TRV120, DCR-TRV130, DCR-TRV210, DCR-TRV310, DCR-TRV315, DCR-TRV320, DCR-TRV103, DCR-TRV110, DCR-TRV120, DCR-TRV130, DCR-TRV310, DCR-TRV315, DCR-TRV320, DCR-TRV210, DCR-TRV330, DCR-TRV340, DCR-TRV350, DCR-TRV460, DCR-TRV460E, DCR-TRV480, DCR-TRV480E, DCR-TRV530, DCR-TRV730, DCR-TRV740, DCR-TRV830, DCR-TRV840, DCR-TRV950, DCR-TRV5, DCR-TRV510, DCR-TRV820, DCR-TRV900, DCR-TRV360, DCR-TRV520, DCR-TRV525, DCR-TRV7, DCR-TRV720, DCR-TRV9
Sony DSC-CD, DSC-D (Cyber-Shot Point & Shoot) Series
DSC-CD100, DSC-CD250, DSC-CD400, DSC-D700, DSC-D770
Sony DSR, GV (Video Walkman), MVC-FD (Mavica)
DSR-200, DSR-300, DSR-PD100A, GV-A500, GV-A500E, GV-D200, GV-D800, MVC-FD100, MVC-FD200, MVC-FD5, MVC-FD51, MVC-FD7, MVC-FD71, MVC-FD73, MVC-FD75, MVC-FD81, MVC-FD83, MVC-FD85, MVC-FD87, MVC-FD88, MVC-FD90, MVC-FD91, MVC-FD91AOL, MVC-FD92, MVC-FD95, MVC-FD97
SmallRig Cold Shoe Handle
SmallRig Cold Shoe Handle 2094 is designed for DSLR cameras and cages. It offers lots of additional attachment options and enables the camera to release its potential to the utmost as per the needs of cameraman during shooting.
Handle Features:
It could be mounted on the hot shoe of camera for handheld shooting.
It could be locked tight via a thumb screw manually and thus will not loose.
Built-in cold shoe on the top of handle is anti-off designed lest accessories with cold shoe adapter will drop down accidentally.
It comes with a 15mm rod clamp for 15mm rod whereby microphone bracket, EVF support and follow focus could be mounted.
It feels good due to the smooth structure and thus offers a very comfortable handheld experience for the cameraman.
It is equipped with an abundance of 1/4''-20 and 3/8''-16 threaded holes for DIY operations. It could be mounted with Monitor Holder Mount 1842 for monitor. Arri locating point on the top could attach Magic Arm 2026 for monitor. It comes with three built-in cold shoes. The one in the front could attach microphone directly or Magic Arm 1875 for monitor. It features an anti-off button on the side to prevent the accessories from accidental removal. The one in the rear could be mounted with wireless voice receiver.

It comes with a built-in 15mm rod clamp to attach 15mm rod for NATO Rail with 15mm Rod Clamp 1910 and EVF Support 1594 and then monitor. It could also attach 15mm rod and then microphone bracket for microphone. It features a cold shoe adapter at the bottom, with a thumb screw above operated manually to lock it tight. The cold shoe handle could be placed on the hot shoe of camera or mounted on the side of cage for handheld shooting.
Litra Smartphone Mount
2.0
Now in Aluminum construction with 2 1/4 20 mounts!
Mount your LitraTorch 2.0™ or LitraPro™ to your smartphone. Expandable mount from 2.3" to 3.5" for most standard and oversized phones. The mount has a 1/4 20 male post on top to mount your LitraTorch™ / LitraPro™ and a 1/4 20 female mount for a handle or other mounting options.

The LitraTorch™ / LitraPro™ can be faced forward for primary phone camera or backward for selfie mode.
What's Included
Z CAM E2-F6 Full Frame 6K Camera (EF)
DTap Power Cable
SmallRig Z Cam E2-S6/F6/F8 Cage
HDMI Cable Clamp
USB Cable Clamp
Exascend CFast 2.0 Memory Card (256GB)
NP-F Dual LCD Charger
2x NP-F980 Lithium-Ion Batteries
AC Cable
SmallRig Cold Shoe Handle
Litra Smartphone Mount 2.0
Product Specifications
E2-F6 (EF) Full Frame 6K Cinema Camera

Camera Features

Sensor Type
Full Frame CMOS Sensor
Sensor Size
37.09 x 24.75 mm
Effective Pixels
26 MP
Dual Base Native ISO
400/2500
Lens Crop Factor
Full-Frame
Dynamic Range
15 Stops
Lens Mount
EF / PL (different hardware variants)
Microphone
Built-in Stereo Microphone

Recording

Resolution & Max Frame Rate
6244x4168 @30fps max (6K Open Gate)
6144x3240 @48fps max (6K DCI)
6144x2592 @60fps max (6K 2.4:1)
5760x3240 @48fps max (6K UHD)
5552x4164 @30fps max (5K 4:3)
4992x4160 @30fps max (5K 6:5)
4096x2160 @72fps max (4K DCI) *
4096x1728 @120fps max (4K 2.4:1)
3840x2160 @72fps max (4K UHD) *
1920x1080 @120fps max (FHD)

* supersampling / cropping selectable, 4K supersampling is supported at the same frame rates as 6K DCI resolution mode
Video Encoder
ZRAW* / H.265 main 10 profile / H.264 high profile**
* up to 4K @30fps
** ProRes will be supported at a later stage once certification is obtained
Bit Rate
300 Mbps max for H.265 & H.264 / 1.2 Gbps for ZRAW
Color Bit-depth
12-bit (ZRAW) / 10-bit 4:2:0 (H.265) / 8-bit 4:2:0 (H.264)
Audio Format
24-bit 48 kHz
Audio Encoder
AAC / PCM (for MOV only)
File Format
MOV / MP4
Record Mode
Video / Time Lapse Video

Settings

ISO
Auto, Manual (400 ~ 125000), Dual Native ISO: 400 / 2500
Shutter
Shutter Speed: Auto, Manual (1"~ 1/8000") or Shutter Angle: Auto, Manual (1° ~ 360°)
White Balance
Auto / Preset / Manual (2300K ~ 7500K)
Focus Mode
MF / AF / CAF
Image
Brightness / Contrast / Saturation / Sharpness
Image Configuration
Rec. 709 / Z-Log2 / FLAT / HLG
Audio
Audio In / Out Level
Time Code
Current Time / Manual Input

Storage

Media
CFast2.0
File System
exFAT

Connectivity

HDMI
HDMI 2.0 Type A (video output up to C4K @ 60fps, 10-bit 4:2:2)
USB
USB 3.0 Type C for camera control & data transfer only
COM
2x Serial Port
Remote Control
2.5 mm jack socket (Sony LANC compatible)
Audio-In
3.5 mm stereo jack socket (TRS) or 5-pin LEMO port for dual channel XLR microphone (require additional XLR audio connector)
Audio-Out
3.5mm Stereo jack socket
Wi-Fi
2.4G / 5G, 802.11n with external antenna port
Ethernet
Gigabit Ethernet port for control, setting & live streaming

Power

Battery
Sony NP-F series compatible, 6.8V ~ 8.4V (Battery not included)
Power Input
DC 6.8V ~ 16.8V (2-pin LEMO socket), with LEMO connector
Power Output (AUX)
DC 12V (2-pin LEMO socket)

Physical

Material Construction
Aluminum Alloy
Weight

EF Mount:
1090 g (38.45 oz.)

PL Mount:
1160 g (40.9 oz.)

Dimensions
9.1 x 9.9 x 8.9 cm (3.58 x 3.8 x 3.5") (without lens)

Environment

Storage Temperature
-20° C ~ 60° C
Operation Temperature
0° C ~ 40° C
SmallRig Cage for Z Cam E2-S6 / F6 / F8

Compatibility
Z Cam E2-S6 / E2-F6 / E2-F8
Attachment
1/4"-20 & 3/8"-16
Weight
297 g (10.4 oz)
Dimensions
11.7 x 10.7 x 9 cm (4.6 x 4.2 x 3.5")
Material Construction
Aluminum
Exascend CFast 2.0 Memory Card 256GB

Storage Capacity
256GB
Minimum Read Speed
520 MB/s
Minimum Write Speed
250 MB/s
Shape WLB Lithium-Ion 2x batteries with Dual LCD charger

Compatibility
Sony camera / camcorder batteries
Compatibility of charge
8.4 / 12.6 / 16.8 V
Weight
1 kg (2.2 lbs)
Dimensions
12.5 x 11 x 10 cm (4.9 x 4.3 x 3.9")
Cold Shoe Handle

Compatibility
DSLR camera / cage
Max. Load Capacity
1.5 kg (3.3 lbs)
Attachment
1/4"-20 & 3/8"-16
Weight
165 g (5.8 oz)
Dimensions
12.4 x 2.4 x 7 cm (4.8 x 0.94 x 2.7")
Material Construction
Aluminum
Z CAM ZCAM F6 Starter Kit w/Cage Handle Smartphone Clip Batteries Charger & CFast 256 Gb Memory Card
Looking for a personal touch? Not sure if you are choosing the right product? Our staff is here to help.
We want to make sure you get the right product for your needs.
Our staff will help you understand the options available so you can be confident in your purchase.
As the country's leading Professional Imaging retailer, Vistek is in the perfect position to ensure you make the right choice.
Contact us today for a personal touch.