Z CAM Renowned Image Quality
All Z CAM cameras offer renowned image quality from 4K to 8K, depending upon the model, and 4K recordings are super sampled in 6K and 4K, providing superior resolution and colour fidelity without image crop. Z CAM cameras also offer high frame rate recording options in 10-bit ProRes 422 and H.265 quality, as well as support for MP4 and ZRAW internally and external ProRes RAW.
Z CAM Cinema Flagship Series Cameras
Packed with state-of-the art capabilities, each of the Z CAM flagship models is rugged and compact, sharing a standard size, ergonomic operational and interface layout. They all offer intuitive operation, versatile customization and the ability to capture rich cinema-quality video – and they're also perfect for live-streaming applications.
All Z CAM flagship models have the same-size chassis and share the same ergonomics. They utilize CFast 2.0 media and sport a full-size HDMI port for up to 4K monitoring. They also feature a Sony Type L series battery mount, standard Lemo 2-pin power in (DTap included) LAN port, USB-C port, WiFi antenna, CTL ports for triggering, remote and optional TC adapter, dual Lemo XLR audio input with Phantom power, and an auxiliary 12v accessory power-out port.
Z CAM Unique Operation & Remote Control Capability

Z CAM cameras all have a built-in OLED that can display menus, status, timecode run, audio and battery levels. The OLED can also display a confidence camera image. To speed up operation, there are programmable function buttons and quick menu buttons. The simple Ops Menu is organized under nine main headings.
All camera functions can also be controlled in direct mode connected via LAN cable and calling the IP address in the web browser. There is also a companion Apple/Android app, and a device can control all camera function while streaming video to the device either over WiFi or tethered via USB-C.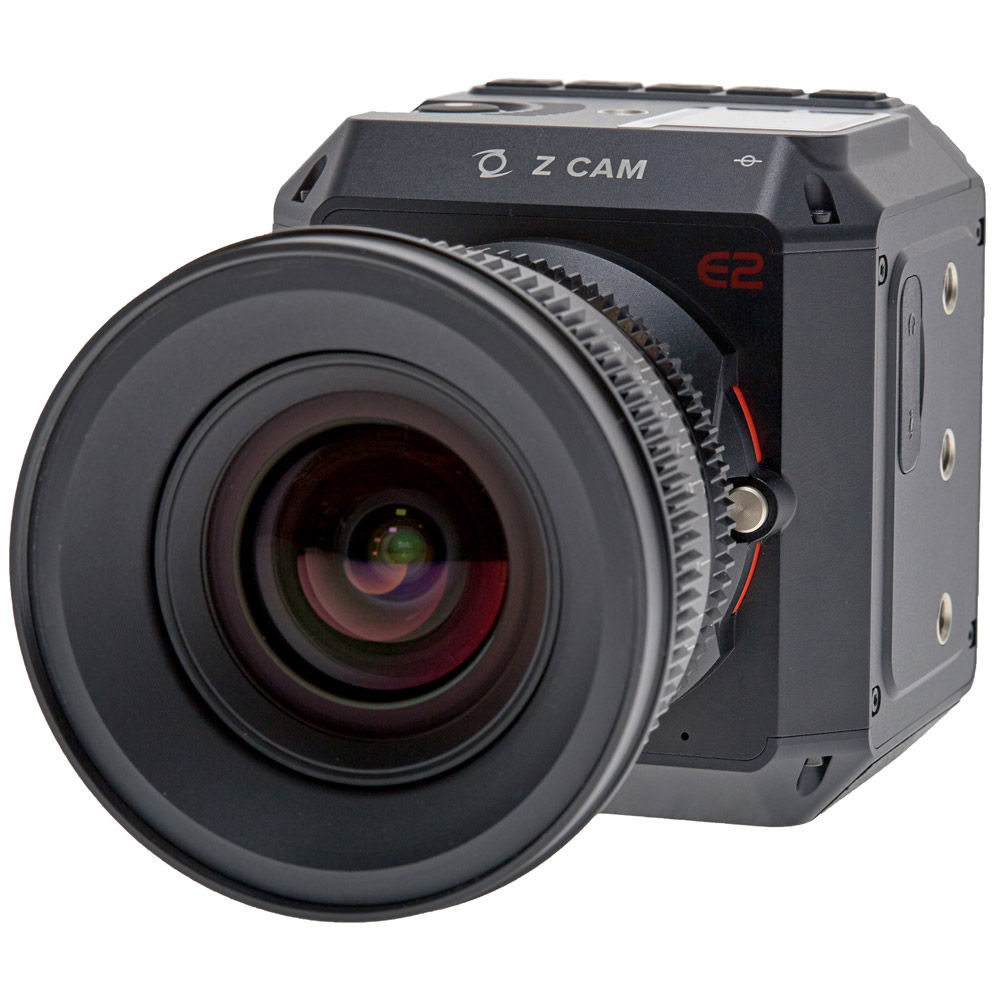 Z CAM E2 Camera MFT Mount
(the original)
The original Z CAM E2 M4/3 4K cinema camera was first announced in late 2018 and has since garnered wide recognition in the indie production market. An affordable entry-level E2C model was also announced soon after at NAB 2019, now on production hold due to parts availability. Both the original E2 and the E2C have unique smaller bodies than the flagship series. The original E2 and the flagship E2 M4 are virtually identical, other than body size, general ergonomic differences and one unique feature – remote sync capability. The original E2 therefore can be synchronized in either 3D beam split rigs or multi-cam Big Freeze-style applications when you want to fly in real time around a subject Matrix style.
---
Z CAM Optional Camera Lens Mounts
Z CAM External ProRes RAW Recording
Illuminated by a bright 1000 cd/m² LED backlight and colour calibrated to ensure reliably accurate image representation, the five-inch IPS LCD screen is viewable in daylight without the need for a hood. Records ProRes and ProRes RAW 4K footage in DCI or UHD formats up to 60 fps to optional SSD.

Record up to 4Kp60 10-bit HDR video direct from your camera's sensor, over HDMI 2.0. Store edit-ready ProRes or DNxHR on affordable SSD drives and bypass your camera's internal compression and record time limits. A tiny 1TB AtomX SSDmini will give you 2.5 hrs of 4K recording.



Made for each other! SLR Magic compact cine lenses are the ideal companions for Z CAM cine cameras.
SLR Magic builds dedicated cine style lenses with integrated Follow Focus 0.8 gear pitch rings. They are recognized for building lenses with excellent image character and can cover a range of sensor sizes. The general MFT/E-mount cine line provides an affordable "cine" alternative to photo-style glass. Next up are the MicroPrime Cine series in MFT, E and X mount, APO EF mount Microprime and EF/PL Mount APO Hyperprime series, as well as both 1.33 and 2.0 anamorphic lens lines, all of which provide an excellent quality/cost-benefit balance.
SHOP SLR MAGIC
Z CAM Media
All ZCAM models (except E2C) utilize advanced CFast 2.0 media, which is designed to support the high data rates of ProRes 422 and HQ and even ZRAW workflow.
---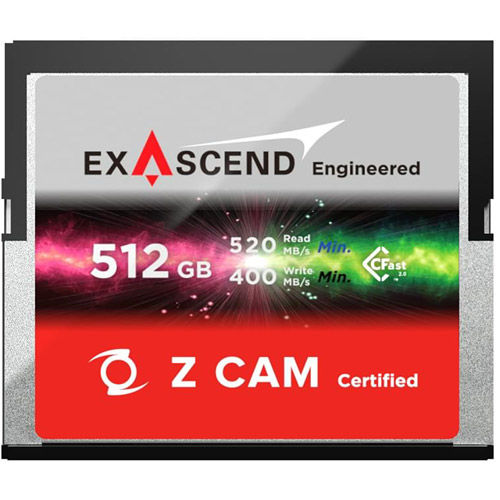 Z CAM Exascend CFast 2.0 Memory Card 512GB
ATC continuously monitors drive thermals and regulates drive performance to keep thermal under control, sustaining the highest performance while keeping under the thermal envelope.
---
| Buy Now
Z CAM Exascend CFast 2.0 Memory Card 256GB
These certified media support all Z CAM 4K, 6K, and 8K shooting modes. They are custom developed and engineered in-house, leveraging their proprietary hardware, firmware and validation platform.
---
| Buy Now
Z CAM Support
---
Z Camera App (iOS & Android)
Z Camera is a mobile application for camera live preview and control through WiFi and USB cable connection. It can control the camera to start and stop recording, adjust camera settings and more.
APPLE STORE
GOOGLE PLAY
LUTs & Colour Correction
Download our LUTs and colour- correction plug-in to colour grade your video project. You can easily adjust the exposure and white balance and apply a vintage or cinematic look! Supported on both Windows PC and Mac OS.
VIEW LUTS
Z CAM Software
Z CAM software for camera control, video transcoding, noise reduction and video concatenating
SEE THE SOFTWARE
Z CAM Blog Posts
---
The latest firmware (ver. 0.98) update for Z CAM E2 series cameras adds 5K 60fps recording to the E2-F6 camera, support for ProRes 422 recording in all resolutions and frame rate combinations (except C8K 2.4:1), improved external SSD recording through USB and more!
The Z CAM E2 line models are all great affordable cinema-style cameras. as you may already know, but there is something that is far less known about them: that they all make great live-production streaming cameras as well.
Over a series of three interviews, we talk to three people who have one thing in common: they are all Z CAM users. Our first interview is with Jason Dam, Toronto-based director and co-owner, alongside Justin Manabat, of Ten Fold Productions.
Marc-André Bilodeau: DoP, Cinematographer, Z CAM User
Over a series of three interviews, we will be talking to three people who have one thing in common: they are all Z CAM users. Our second interview is with Marc-André Bilodeau, a Quebec-based freelance commercial director of photography, cinematographer and outdoor filmmaker.
Kyle Tiernan: Freelance Cinematographer, Z CAM User
Kyle Tiernan's cinematography career has taken him around the world, working on a wide variety of projects and stories that provoke thoughtful questions through his shaping of light.
Kyle's unique eye for natural light, paired with strong abilities in VFX, allow him to tackle a broad spectrum of projects, including the official music video for the Gord Downie song "Always is Mine", the independent film "Connecting Flights" and "The Creek", an award-winning WW2 short film (all shot using the Z CAM E2-F6 or Z CAM E2-S6 cameras).

We offer the professional video industry a specialized division called the Commercial Solutions Group
Vistek Commercial Sales provides sales and service support, and encompasses all the photo and video products and accessories that we carry in our prosumer, professional and broadcast lines across Canada, including exclusive brand names that we bring in from all parts of the world.
---