Want to polish up on your photo printing knowledge? We can help.
Learn how to print great photos at home
Introducing the Zhiyun Crane 3S
NEW!
A more powerful, versatile and modular next-gen handheld gimbal stabilizer
Get in on the ACT!
The new Zacuto ACT Recoil System kits for DSLRs, mirrorless and compact cine cameras easily adapt to suit multiple shooting styles.
Sony FX9
NOW IN STOCK
Sony's full-frame 6K camera delivers stunning picture quality and a phenomenal 15+ stops of dynamic range. More stock arriving this week.
You Can Count on BenQ
Professional photo and video post-production monitors using AQCOLOR Technology to ensure utmost colour accuracy.
Get ready for the Fujifilm X-T4
NEW!
A powerful new feature-packed SLR-style mirrorless for serious image makers. Available in Silver and Black.
FREE SHIPPING ON QUALIFYING ORDERS OVER $99! DETAILS
SonyCine #CreatorConversations - Cinematography In Challenging Times
BY: SONYCINE TEAM
The Sony Cine team checks in with a few friends during the COVID-19 production hiatus.
Time of event: Mar 31, 2020 2:00 PM / 14:00 PDT (U.S. and Canada)
Join us for a conversation with Directors of Photography Bradford Lipson, Todd Bell and Colorist Arianna Shining Star Pane about the dramatic changes we're all facing – from keeping up creative collaborations while social distancing, to changing workflows, to the best binge-watching and teasers of their upcoming projects.
---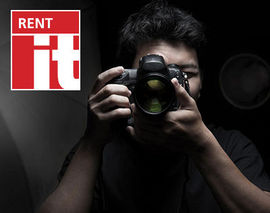 No matter what reason you have for choosing renting over buying, our selection prices and amazing staff will meet your rental needs for your next shoot.
Browse Rental Gear
At Vistek, we firmly believe there's no end to the learning process and we admire those who seek guidance with the goal to get better.
View the Events
---
---
---
Before you spend big bucks buying it, give it a test run. Then, if you do decide to buy, we'll accept your one day rental fee as a down payment.
Great Deals on Overstock, Open Box, Demos and Pre Owned Gear. Vistek guarantees all used equipment for 90 days, so you can purchase with confidence.
You earn top marks by securing exclusive low pricing on Student Deals, everything from cameras and lenses to lighting and other essentials.
Join our newletter for access to new product launches, events by world-renowned photographers and filmmakers, sales promotions and the chance to win great prizes!