---
Tip: Watch this video on youtube if you want to participate in the live chat!
---
Live Event Canon Feature Products
Promos running from Tuesday April 13 - 18
You will need to click the green "GET ORDER DETAILS" button after you've added your item to the cart to get your
event special pricing emailed to you. Limited Time offer while supplies last!
About Irene Rudnyk

Irene Rudnyk is a Calgary based portraiture photographer, educator, content creator and Canon Canada Ambassador. About Irene Rudnyk First picking up a camera around 11 years ago, Irene began her photographic journey by regularly using her sister Orysia as her main subject.

Since then, Irene has been captivated and inspired by feminine beauty, using the camera to capture her subjects in a more creative, romantic manner.

You can find more of Irene's work on Instagram or by visiting her YouTube Channel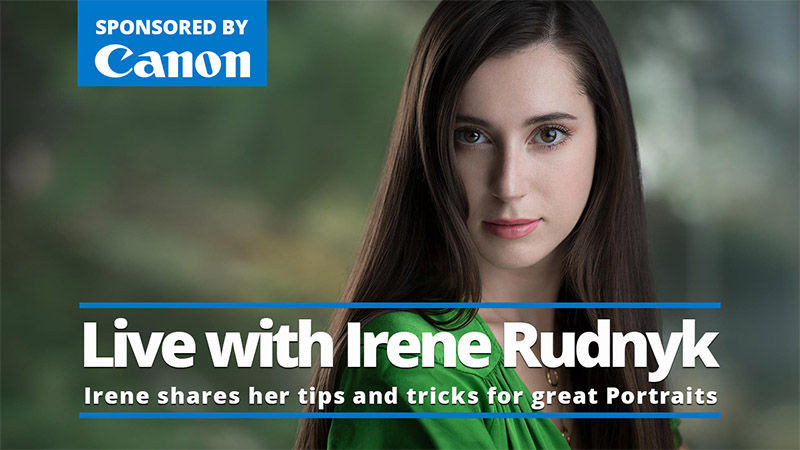 Previous Event
Vistek Live: A Conversation with Landscape Photographer Paul Zizka - Presented by Canon Canada
A prolific adventurer, Paul's explorations have taken him to all seven continents, as well as to each of Canada's provinces and territories. In the Canadian Rockies, Paul has hiked extensively in the backcountry and photographed from the summits of countless peaks. His adventures abroad include a 1400-km unsupported double-crossing of Iceland on foot (2004), which is believed to be the first of its kind, and a 1488-km solo crossing of the South Island of New Zealand (2007). He has also explored such destinations as Antarctica, Norway, Svalbard, Nepal, Greenland, the Caribbean, Niue, French Polynesia, Namibia, the Faroe Islands, Baffin Island and the Torngat Mountains.
To see more of Paul's work, you can find it on Instagram or head over to his website at www.zizka.ca.
More great ways to get creative this spring
From streaming live video to podcasting and printing, we have curated some really great products to help get your creative vision on track this summer.
Subscribe today for access to sales, events and more every week!
Events by world-renowned photographers and filmmakers. New product launches and time limited promotions. The chance to win great prizes and save on your favourite brands! Read more.