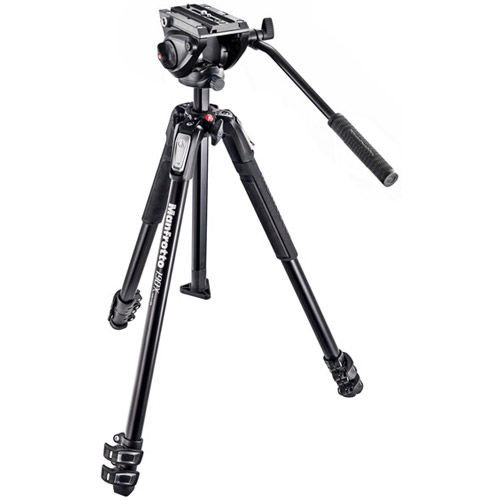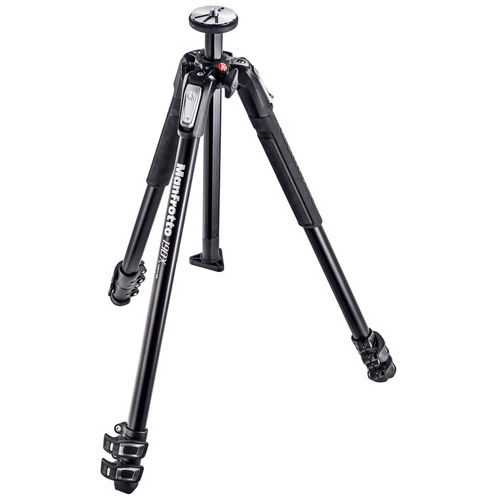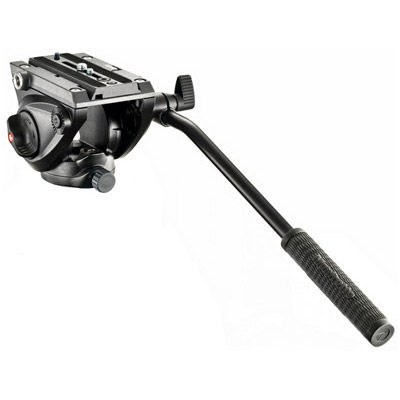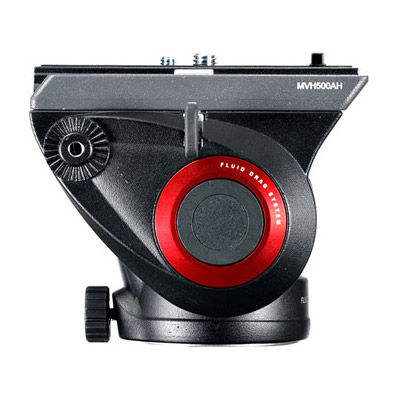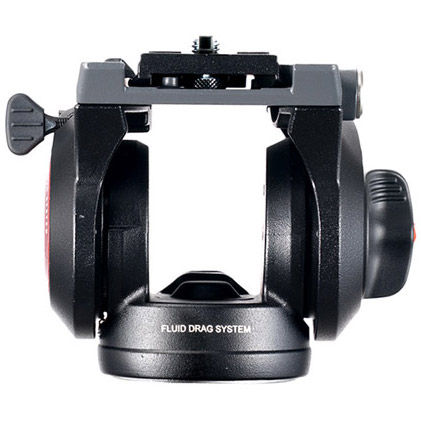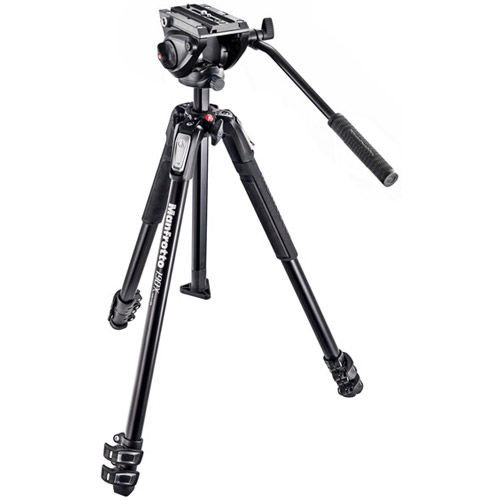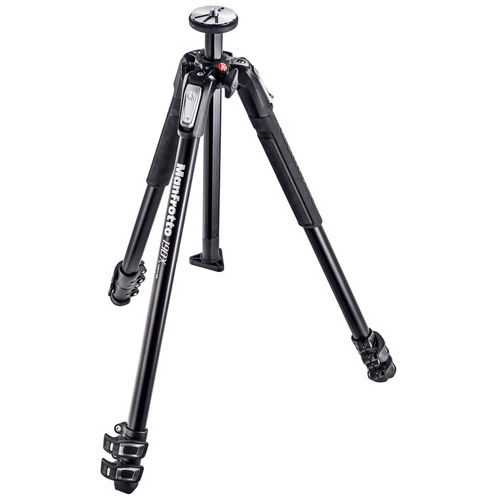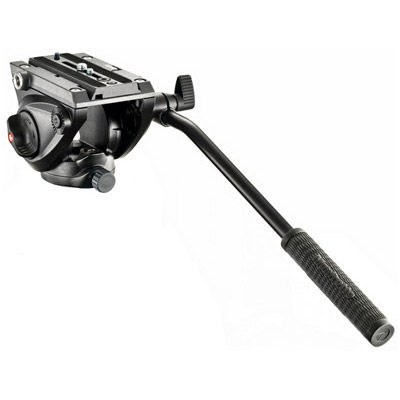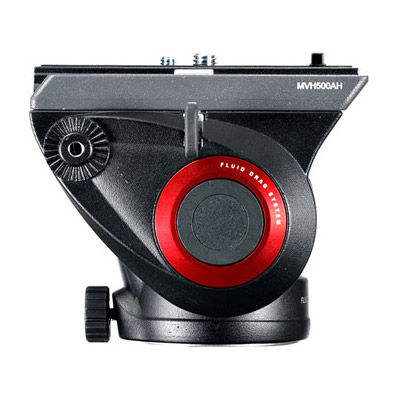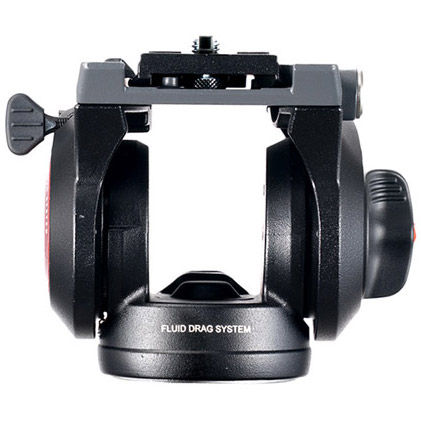 Included in Rental
1

Manfrotto MT190X3 Tripod w/ fluid head

1

Manfrotto MVH500AH Fluid Video Head Flat Base with Sliding Plate

1

Manfrotto 500PLONG Long Video Camera Plate for MVH500AH Head
Product Highlights
7 kg (15.4 lbs)

Max. Load Capacity (Tripod)

9-160 cm (3.54-62.9")

Height Range (Tripod)

2 kg (4.4 lbs)

Weight (Tripod)

Aluminum

Material Construction

5 kg (11.02 lbs)

Max. Load Capacity (Head)

0.93 kg (2.05 lbs)

Weight (Head)

Aluminum

Material Construction

-70° / +90°

Tilt range

Quick Release

Flip Lock

Leg Lock Type

Bubble Level
Manfrotto Hybrid Video Kit A
All-In-One Kit Special
Key Features:
Flat Base 500 Fluid Video Head

With a wider platform for HDSLR bodies.
Quick Setup

Thanks to the Quick Power Lock levers on legs.
Dual Easy Links

Both the tripod and head feature Manfrotto's Easy Link 3/8" connection system, which allow for accessories and monitors to be attached.
MT190X3 Aluminum 3-Section Tripod
With essential functions and excellent built-in quality.
The key feature of the 190X is the ground level adaptor which allows great shooting creativity.
Once placed on the top casting and combined with the 4 leg angles, it enables the tripod to reach ultra-low positions. The legs of the 190X tripod are fast to extend and adjust, thanks to the Quick Power Lock levers that block and unblock each leg section. The QPL levers are specially designed to allow a more comfortable, stronger single-handed grip of the leg locks. From a folded position, the sections of each leg of the tripod can be released in a single movement. The QPL lever design also enables each section to lock more powerfully, making the tripod more stable and rigid than with traditional lever designs. Intuitive, ergonomic leg angle selectors allow each leg to be independently and solidly set to any of the pre-set angles, allowing even greater positioning freedom.
The top casting of the 190X has an Easy Link connector to support a photo or video accessory (such as a LED light, flash, reflector, or other piece of equipment) on an extending arm or bracket, turning the tripod into a practical mobile studio.
The 190X is made in Italy by Manfrotto.
MVH500AH Fluid Video Head
Lightweight head with a wider platform for HDSLR bodies
Featuring a sliding plate which travels to balance the latest interchangeable lens cameras.
The entry-level 500 ensures smooth shots and fine control with up to 5kg (11lbs) of equipment. It's the most compact head in our successful Bridging Technology™ range and it replaces the Manfrotto 701HDV video head.
Beautifully smooth shots: the 500 has professional fluid cartridges on both pan and tilt axes to ensure that every camera movement is smooth, controlled and precise.
Faster, easier and safer to use: the side lock system allows the camera and sliding QR plate to click quickly into the head from above, instead of needing to be aligned and slid in from the back. No secondary safety lock is necessary. The side lock system also makes it quicker and simpler to lift the camera out of the head from above.
The 500 has a pre-set counterbalance of 2.4kg (5.3 lbs), but is able to support equipment of up to 5kg (11 lbs). The 500 has one Easy Link 3/8" connector to allow an external monitor or other accessory equipment to be fitted. MVH500AH head with flat base tripod mount for attachment to a hybrid photo/video tripod, a traditional photo tripod, slider, a monopod or other supports.
What's Included
MT190X3 Tripod
MVH500AH Fluid Video Head with Flat Base
500PLONG Quick Release Plate
Handle
Product Specifications
| | |
| --- | --- |
| MT190X3 Tripod | |
| attaches by. | 3/8 attachment type |
| centre column | rapid |
| Color | black |
| column tube diameter | 25mm |
| leg angles | 25°.46°.66°.88° |
| legs tube diameter | 26. 22. 19 mm |
| material | aluminum |
| closed length | 59 cm |
| leg sections | 3 number |
| maximum height | 160 cm |
| maximum height (with centre column down) | 135 cm |
| minimum height | 9 cm |
| safety payload | 7 kg |
| weight | 2 kg |
| | |
| --- | --- |
| MVH500AH Video Head | |
| Attaches by | 1/4" and 3/8" attachment type |
| Attachment | 3/8" screw attachment type |
| Bubble spirit level (no.) | 1 number |
| Center Of Gravity | 55 mm |
| Colour | Black |
| Counterbalanced Weight | 2.4 kg |
| Independent pan lock | Yes |
| Independent tilt lock | Yes |
| Lateral tilt | -70° / +90° tilt range |
| Material | Aluminum |
| Maximum working temperature | 60.0 °C |
| Minimum working temperature | -20.0 °C |
| Pan bar positions | 2 number |
| Pan bars included (no.) | 1 number |
| Pan drag | fluid cartridge with fixed drag |
| Panoramic rotation | 360 degrees |
| Plate type | 500PLONG |
| Quick release | Yes |
| Safety Payload Weight | 5.0 kg |
| Secondary safety system | Yes |
| Spring loaded counter balance | Yes |
| Tilt drag | fluid cartridge with fixed drag |
| Weight | 0.93 kg |
| Working height | 9.5 cm |