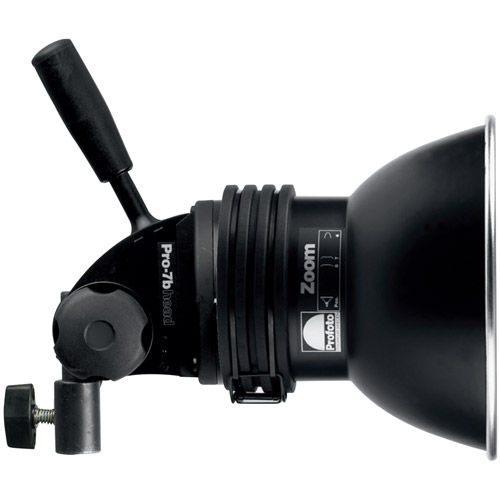 Rental Details
standard head for Pro-7b, Standard Reflector included.
Included in Rental
1

Profoto Pro-B Head Zoom for Pro-B2 Pro-7b Generators

1

Profoto Standard Zoom Reflector 65-100 Degrees
All Pro-7 heads accept Profoto's system of modular light shaping tools. The basic Profoto modular flash head design features a circular, heavy duty quartz flash tube which surrounds the modeling lamp. It provides even illumination and maximum light output.
All lamphead cables feature Profoto special connectors for safety, security and convenience, and new dual lead technology for better, reliable performance. All heads feature a 5/8" stand adapter.
Interchangeable glass covers can be selected to warm or cool and soften or sharpen the light to your personal style.
Key Features
Improved Design
The fan is regulated to ensure minimized sound level in all situations. Due to a new glass cover design and improved mounting plate used under the flash tube/model lamp, the light is more color stable, the light distribution more even and the light output is increased. New electronics guarantee optimal function of the fan worldwide.

Easy to Control
A built-in tilt-control lever makes for easy angle adjustment.

Easily Replaceable Flashtube
Features a heavy duty plug-in quartz flashtube.
Optional glass domes are available in a variey of coatings for added control over the color temperature.

Removeable Reflector
Comes with zoom reflector.
Compatible with all of Profoto's light shaping tools.

Modeling Light
Comes with a bright, 250W quartz halogen model light.
The modeling lights for this unit are readily available in a variety of voltages for worldwide use.

Long-Reaching Cable
Resists twisting, trampling and cracking.
Extension cables are available for light heads placed at longer distances from the power pack.

Backward Compatible
The ProHead and ProTwin provide 100% functionality with Profoto's D4 and Pro-7 power packs.
Product Specifications
DETAILED SPECIFICATIONS
| | |
| --- | --- |
| Maximum Watt/Seconds | 3000 w/s |
| User Replaceable Flashtube | Yes |
| Changeable Reflector | Yes, accepts all Profoto light shaping tools |
| Circuit Protection | Thermostatic overload protection if the ventilation is obstructed. |
| Cable Length | 16.4' (5M) |
| Modeling Light Wattage | 250W, 120V |
| Modeling Light On/Off Switch | Yes |
| Protective Glass Dome | Yes |
| Fan Cooled | Yes |
| Dimensions | 3.9 x 10.2" (10 x 26cm) |
| Weight | 4lbs 12oz (2.2kg) |