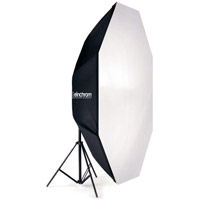 Rental Details
6' diameter. Flash head not included.
Included in Rental
1

Elinchrom EL Octa Lite 190CM 74"

1

Elinchrom Front Diffuser for EL Octalite

1

Elinchrom profoto adapter for octalite
The 74" Octa is the largest and most popular of the Elinchrom Light Banks. The octagonal shape is ideal when using the reflection method of light distribution. As a result, the Octa Bank gives remarkably even illumination - within 1/3 f/stop - across the entire 6' plus diameter. It can be used very close to your subject for soft, even, wrap-around lighting effects, and its light efficiency allows even the smallest compact units to give impressive exposure readings.
Elinchrom light banks are optically matched to Elinchrom heads, providing unsurpassed evenness and efficiency in a large size. The Octa is also supplied with a durable carrying case for protection and portability.
Key Features
Double diffusion design for extra soft, even, wrap-around light --within 1/3 f/stop - across the entire 6 ft-plus diameter.
Folds like an umbrella.
Mounts onto any Elinchrom head, Rotating locking knob.
Product Specifications
Detailed Specifications
Size
187 cm (74")
Shape
Octagonal
Compatibility
Elinchrom strobe only
Removable Face
Yes
Removable Baffle
Yes
Accepts Grids
No
Required Speed Ring
Included for Elinchrom heads