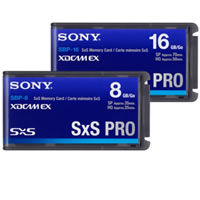 PCI Express™ solid state media
Sony SxS PRO™ memory cards comply with the ExpressCard™ industry standard, adopted worldwide by PC manufacturers to replace the legacy PC Card™ format. ExpressCard™ technology represents improved performance, simplicity and reliability. SxS PRO™ PCI Express™ solid-state storage media can transfer data at up to twice the speed of legacy PC Card interfaces.
Super fast solid state media for efficient High Definition workflows
Designed for the latest XDCAM EX™ camcorder, Sony SxS PRO™ media is set to change the way professional HD video is captured and edited. These compact flash-based memory cards provide near instantaneous read and write performance with transfer speeds of up to 800Mbps. For professional videographers and broadcasters requiring faster turnaround times and more efficient high definition digital video workflows, SxS PRO™ is the ideal solution. SxS PRO™ is part of a family of Sony HD media products designed for every need and budget.
Rapid data transfer of large video files for cost savings
It's easier than ever to transfer high definition video footage with SxS PRO™. Simply connect to a PC through a high-speed PCI-Express™ bus and with optimized settings for controlling communication between hardware and media, data can be transferred at up to an astonishing 800Mbps. This reduces the duration of non-linear video editing and dramatically improves workflow efficiency. When time and cost savings are essential, SxS PRO™ gives you the performance you need to maximise productivity.
Compact for true mobility
Based on the ExpressCard™/34 module, SxS PRO™ is half the size of standard PC cards at just 34mm in width, 5mm in height and 75mm in length. This has encouraged the design of smaller and lighter professional camcorders without compromising higher storage capacities of up to 16GB – enough for almost an hour of HD digital video. As well as being small, the ExpressCard™/34 module can be read on an ExpressCard™/54 module.
Tough, reliable and durable
Like all flash memory cards, SxS PRO™ benefits from the advantages of non-volatile semiconductor memory and offers video professionals the freedom to shoot in harsh conditions and environments.
Sony is your perfect HD partner
HD is here and Sony offers the world's first PCI Express™ solid-state storage media for high definition video recording. SxS PRO™ is smaller, faster and provides longer recording times than standard PC cards, giving digital video professionals every opportunity to enhance workflow efficiency through smoother data transfer and editing. As co-inventor of SxS PRO™, Sony is able to provide today's new breed of videographers and broadcasters with a rapid and reliable flash memory solution for cutting edge HD video production.
Protective pocket case
Supplied with SxS PRO™ media is a high quality locking case designed to safely store and protect your card while travelling. The case and card easily fit into a jacket pocket or bag compartment for when you need to take your media out on the road.
Key Features
Uses ExpressCard™ technology
High speed transfer up to 800 Mbps
Record approximately 25min of video with XDCAM EX camcorders
Increase the efficiency of workflow with higher performance and reliability
Specially designed for non-linear video editing systems
Product Specifications
Detailed Specifications
Interface
ExpressCard 3/4, PCI Express interface

Transfer Speed

800Mbps (=100 MB/s)

Input Voltage
DC 3.3V within 10%, DC 1.5V within 10%

Operating Temperature
-25 to 65 degree C

Operating Relative Humidity
to 95% (non-condensing)

Storage Temperature
-40 to 85 degree C

Storage Relative Humidity
to 95% (non-condensing)

Weight
Approx 27g

Dimensions
Approx.34 x 5 x 75 mm(excluding the projecting parts)

DURABILITY/RELIABILITY


Shock
1500G

Vibration
15 g
Insertion/Extraction
30,000 times

Drop Test
150cm