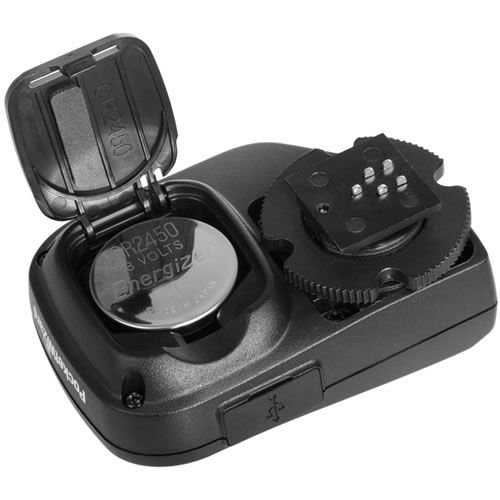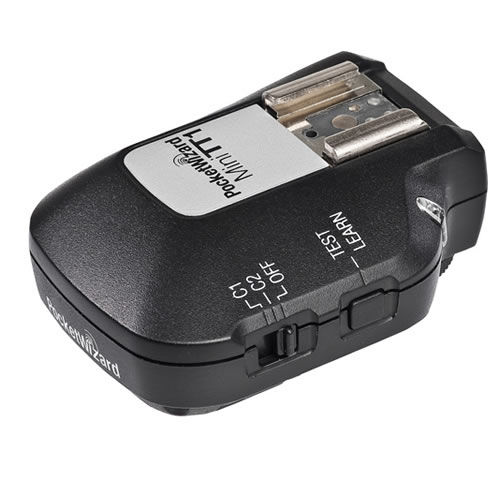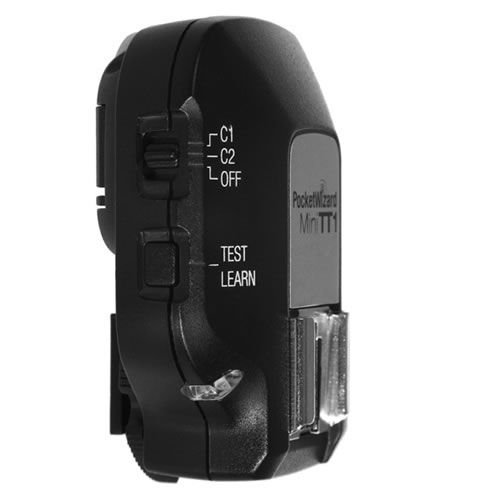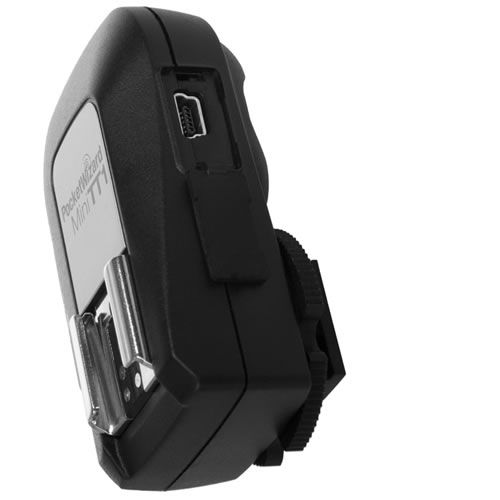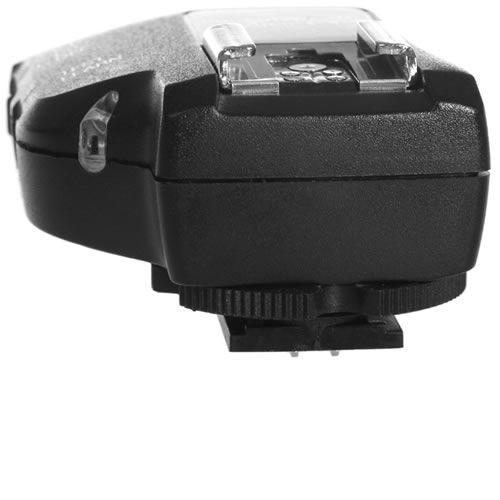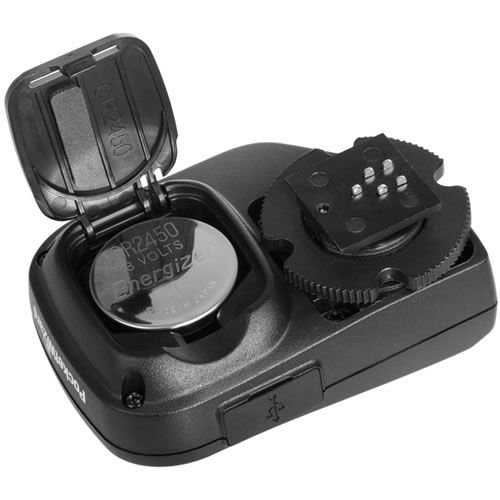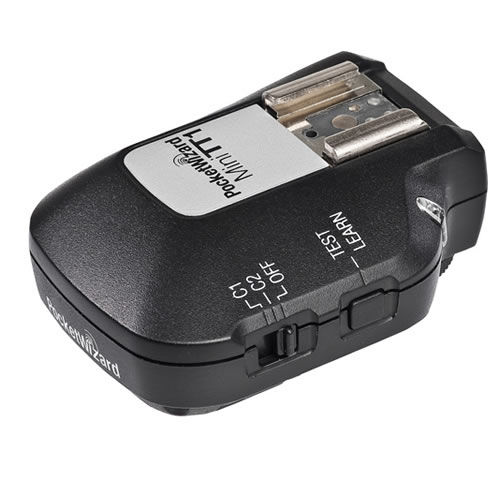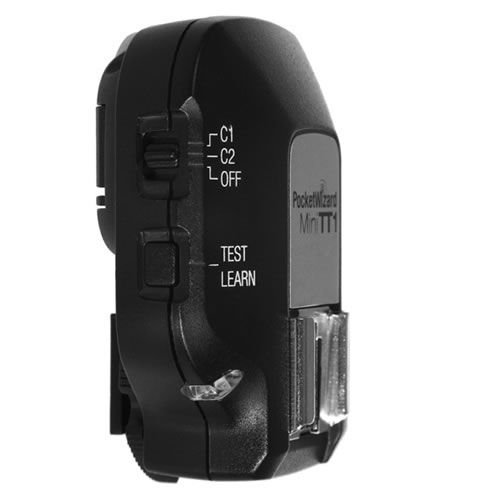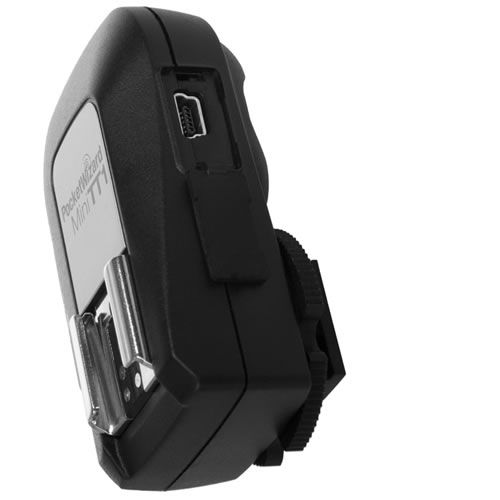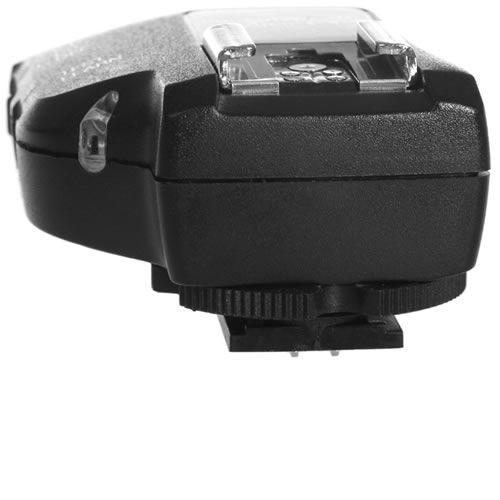 Rental ID:

R303394

• Webcode: 242569
Rental Details
compatible with Nikon only.
Product Highlights
Up to 365m (1200')

Range

20

Channels (TTL)

32

Channels (Manual)

Up to 1/8000 Sec.

Hi-Sync Mode

Nikon

Compatibility

340 - 354 MHz

Frequency

Mini B, USB

Ports
Available in Edmonton
---
Buy this for: $149.99 Learn More

The New Shape of Wireless Freedom

The smallest PocketWizard radio ever, the MiniTT1™ Transmitter locks onto the camera's hot shoe supporting an on-camera flash with its own hot shoe while working with remote PocketWizard units. Remotes can be one or more PocketWizard FlexTT5™ Transceivers connected to Canon E-TTL II flashes or any PocketWizard Receiver for triggering flash or remote cameras.

The MiniTT1 Transmitter is easy to use; just slide in place and begin to shoot. The new PocketWizard ControlTL™ System interprets the complex E-TTL II data being sent through the camera's hot shoe and digitally transmits it in a reliable radio signal. Change the flash compensation dial on the camera, and those commands pass seamlessly through the system to your remote flash. Adjust your shutter speed, aperture or ISO and the system corrects for those changes. A ratio command set on the flash or command unit passes through the MiniTT1 to set the remotes. PocketWizard ControlTL radio communication allows you to shoot farther, faster, around corners, through walls even at high noon in bright daylight. Now you can deploy a wireless flash system wherever you want, without infrared limitations, in seconds.

Use the MiniTT1 for standard triggering with any PocketWizard Receiver including the FlexTT5, PlusII or MultiMAX. When used this way with a digital camera, you can take advantage of PocketWizard's HyperSync Technology that allows up to 1/500th of a second camera sync with many camera/strobe set-ups. HyperSync allows you to advance the timing of your flash trigger so that faster than X-sync speeds can be achieved.
Need more speed? Push your ControlTL system beyond 1/500th and go into FP/High-Speed sync mode automatically. No buttons to press or settings to change other than your shutter speed will give you flash sync all the way to 1/8000th.

A new PocketWizard Utility program is provided to support the MiniTT1 via a USB port. The Utility allows you to configure your channel settings, dial in your HyperSync timing, adjust your sleep-mode timers and update your product to the latest firmware.
The PocketWizard MiniTT1 Transmitter is the start of a new era in wireless trigger control.
Key Features
ControlTL™: PocketWizard's newest firmware platform taps into the camera's digital communications to enable an entirely new level of remote flash capability through our proven radio system, beginning with remote TTL for Nikon E-TTL II systems. ControlTL firmware is configurable and upgradeable for "future-proof" continuous improvement. Find more details on ControlTL here.
Dedicated E-TTL II Triggering: Locking your MiniTTI Transmitter into the hot shoe of a Canon DSLR camera and mounting E-TTL II flashes onto FlexTT5 Transceivers gives you full autoflash exposure control with the freedom and reliability of a PocketWizard radio. There are no special settings to make or modes to call up. Use the camera, on-camera flash or flash commander controls for flash compensation, zone and ratio control.
Power Tracking: Change any of your control settings on your flash or camera and the system adjusts for those changes. Change your flash compensation to tweak the exposure or make adjustments in shutter speed, aperture or ISO and the system communicates the changes to your flash.
Eight Frames per Second: Never before have you been able to shoot remote E-TTL II at this speed. Nothing else comes close.
HyperSync™: HyperSync allows photographers to achieve faster X-sync speeds, up to 1/500th second, with full power flash. Now you can cut the ambient light and use wide-open apertures, outdoors in bright sunlight. HyperSync works with TTL speedlights and full size studio flash. All you need is a MiniTT1 or FlexTT5 on camera that has been tuned to your specific camera via the PocketWizard Utility.
FP/High Speed Sync: Need more speed? Push your ControlTL system beyond 1/500th and go into FP/High-Speed sync mode automatically. Simply change your shutter speed to get flash sync all the way to 1/8000th. No buttons to press or settings to change!
Low-Profile Design: The MiniTT1 Transmitter is the smallest PocketWizard ever, utilizing an internal antenna and common coin-cell battery. At just 2.3oz (65 grams) you barely realize it's on the camera.
Built-in Hot Shoe: Lock your Nikon flash into the FlexTT5's dedicated hot shoe and combine your remote flash with on-camera flash or use the on-camera flash for additional E-TTL II control only. The metal and glass reinforced resin hot shoe assembly is a superstructure onto itself and incredibly durable. The best part; no more cords.
PocketWizard Compatible: The MiniTT1 operates on the same channels as all other PocketWizards and will work with any unit you may already have.
Channels / Learn Mode: The MiniTT1 has two channel configuration settings; C1 and C2. Each can be programmed as needed with up to 20 ControlTL channels for TTL photography, or 32 standard channels for manual flash photography. TTL and manual flashes can be combined in a lighting situation. Use the Learn function to quickly program channels, or the reset function to configure back to factory settings.
Programmable and Upgradeable: Use the supplied PocketWizard Utility software with the on-board USB port to program the MiniTT1 to any PocketWizard channel and zone as well as many other custom settings. The MiniTT1 can be upgraded whenever updates and feature enhancements are available (many planned!)
Power Saver: The MiniTT1 Transmitter will go to sleep 10 seconds after your camera does to conserve energy. Just touch the shutter button half way to wake both the camera and the MiniTT1. It works on the supplied CR2450 coin cell battery (or optional CR2354 for in the field options) that provide hundreds of hours of battery life.
What's Included
MiniTT1 Transmitter
USB cable
CR2450 battery
Quick Guide
Product Specifications
Detailed Specifications
TTL Compatibility
Nikon
Frequency
340 - 354 MHz
Channels
52 Channels over 26 Frequencies
Antenna
Internal
Transmit Output Power
Less than 0.001 watt (1/1000 of a watt or 1 milliwatt)
Maximum Range (in optimum conditions)

800 feet (240 Meters) for E-TTL II triggering

1200 feet (365 Meters) for standard triggering

Mounting
Hot-shoe only
Maximum Shooting Rate: Frames Per Second (fps)
8 fps for E-TTL II & normal triggering
Power/Channel Switch
OFF - C.2 - C.1
Status Indicator
LED, Green, Amber, Red status indications
Voltage Present
3.3 VDC (all pins) - safe for all cameras
Hot Shoe Voltage Protection
Hot Shoe: up to 50V
USB
USB Compliant 2.0, Mini-B Connector
Operating Temperature
above -15C (5 F) and below 50 C (120 F)
Storage Temperature (without battery)
above -30 C (-22 F) and below 85 C (185 F)
Construction
High impact plastic, captive battery door
Hot shoe made of glass reinforced resin
Power
3 V Lithium battery, CR2450 (included) or CR2354 Lithium coin cell type
Battery Life
Hundreds of hours of camera "awake time" depending on shooting habits
Dimensions
2.8" (7.1 cm) long x 1.9" (4.9 cm) wide x 1.3" (3.3 cm) tall
Weight
2.3 oz (65 grams), 2.0 oz (57 grams) without battery