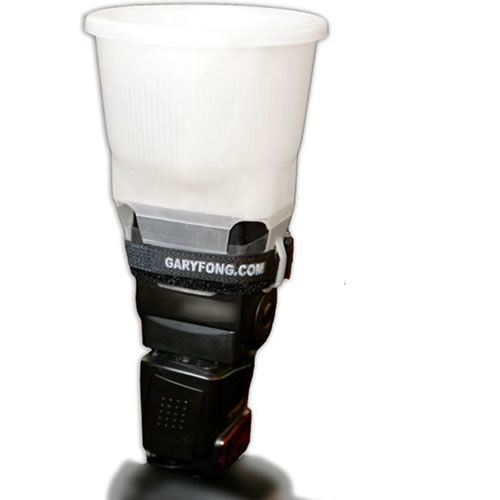 Rental ID:

R303400

• Webcode: 234860
Product Highlights
Made for Most Shoe-Mount Flash Units

Frosted

Design

Diffuses and Broadens Light Spread
Available in Mississauga and Toronto
---
Buy this for: $89.99 Learn More

The famous Gary Fong Lightsphere - Now in a UNIVERSAL size to fit almost ANY on-camera flash!
Works with your existing accessory domes - AmberDome & ChromeDome
The grip is so strong that it can support the entire weight of a camera, drive and flash securely.
Attaches with patent pending grip system - it will NOT fall off!!
All other diffusers 'point' the light - like a flashlight. The Lightsphere is the only diffuser that lights up the entire room.
The Lightsphere-Universal fits most flashes!
No more sizing charts!
| | | | |
| --- | --- | --- | --- |
| Achiever 260 | Minolta 5200 | Pentax AF-540 FGZ | Sony HVL-F32X |
| Bower 724AFC | Minolta 5400 | Promaster 5750-DX | Sunpack 2000-DZ |
| Canon 299 | Nikon SB-24 | Promaster 5900 | Sunpack 266-D |
| Canon 380EX | Nikon SB-25 | Promaster FT-1700 | Sunpack 355-AF |
| Canon 420EX | Nikon SB-26 | Promaster FTD-5200 | Sunpack 4000-AF |
| Canon 420EZ | Nikon SB-28 | Promaster FTD-5400 | Sunpack Auto 383 |
| Canon 430EX | Nikon SB-28DX | Promaster FTD-5500 | Sunpack Auto 411 |
| Canon 430EZ | Nikon SB-400 | Promaster FTD-5600 | Sunpack MZ-440AF |
| Canon 540EZ | Nikon SB-50DX | Promaster FTD-6500M | Sunpack PZ-5000 |
| Canon 540EZ | Nikon SB-600DX | Promaster FTD-7500 | Vivitar 273 |
| Canon 580EX | Nikon SB-800 | Quantaray 6500A | Vivitar 2800 |
| Canon 580EX MKII | Nikon SB-800DX | Quantaray PZ1-DSZ | Vivitar 3500 |
| Contax TLA 2/3 | Nikon SB-80DX | Quantaray ODC-900 | Vivitar 5200 |
| DigiSlave DFS-1 | Olympus FL-36 | Quantaray ODC-900W | Vivitar 550 |
| Metz 36AF | Olympus FL-40 | Quantaray OTB-7500A | Vivitar 560D |
| Metz 40MZ2 | Olympus FL-50 | Quantaray OTB-9500A | Vivitar 600N |
| Metz 44MZ2 | Olympus FL-60 | Sakar 77-TFZ | Vivitar 728-AF |
| Metz 54AF-IC | Olympus G-40 | Sigma 420 | Vivitar 730-AF-PK |
| Metz 54MZ-4 | Pentax 330FTZ | Sigma 430 | Vivitar 840-AF |
| Minolta 3500XI | Pentax AF-500 FTZ | Soligor MZ-340AF | Vivitar DF-200 |