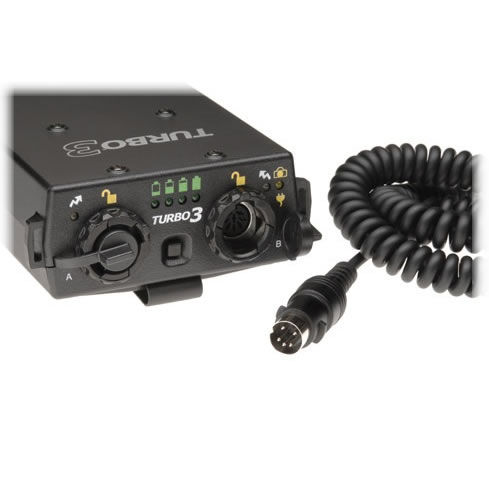 Rental Details
compatible with Canon 580EX, 580EX II & 600. Up to 1000 full power flashes. 1.4 second recycle time at full power.
Included in Rental
1

Quantum Turbo 3 Battery Pack

1

Quantum 1.3m Locking Coiled Cable for Canon 580EXII/580EX and Turbos

1

Quantum T75 Charger for turbo 3 output 24v, 0.75A
Available in Calgary and Ottawa
The new TURBO3 battery is three times more powerful than the original Turbo. The impressive power and speed of the new TURBO3 are concealed in its compact body.

Teamed with a Qflash 5 or TRIO you can literally fire at will, continuously, and grab all the action shots. Stop tripping over AC cords and use TURBO 3 as your studio and location power pack. The battery provides ultra-fast flash recycling and camera power for the longest, most intensive shoots. 600-6000 flashes 1/10 to 1.9 second recycle time. Its case is rugged and "give" slightly, making them durable and comfortable to wear on a belt. Any camera strap attaches for over-the-shoulder carrying.

The Battery uses the latest Nickel Metal-hydride to give consistent, excellent performance and no "memory" effect.
Key Features
Nickel Metal Hydride rechargeable battery has no "memory"
Universal 100-240 VAC charger
Lockable sockets work with new locking cables
Compatible with hundreds of flashes & digital cameras….Nikon, Canon, Metz and many more
"Gas gauge" shows available power and charging status
Product Specifications
Detailed Specifications
Dimensions (L x W x H)
5.8" x 4"x 1.7" (14.7 x 10 x 4.3cm)
Weight
32oz (900g)