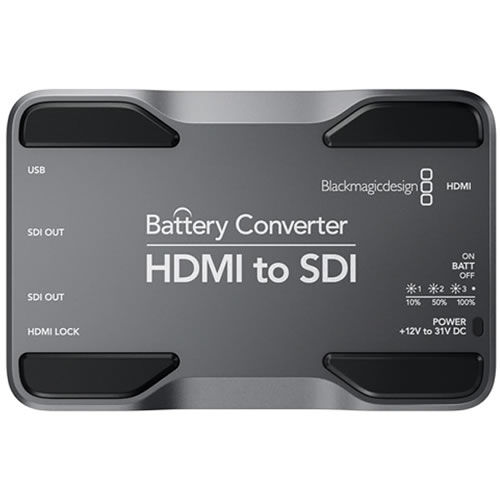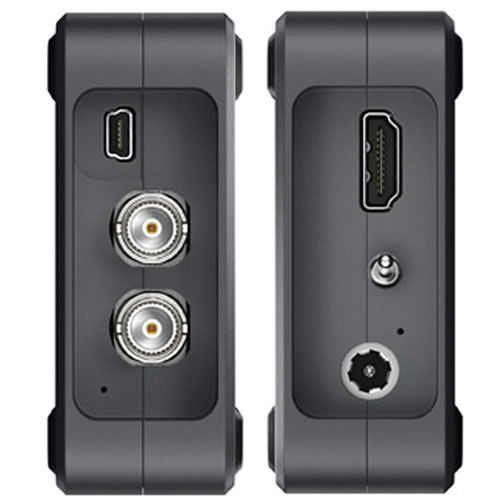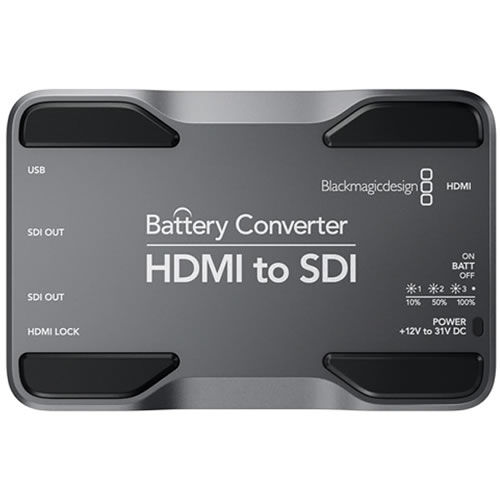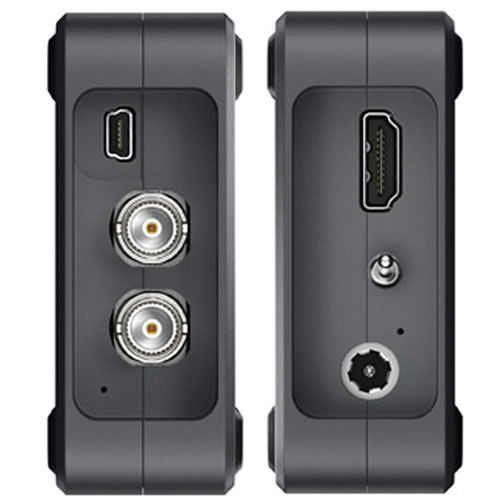 Rental ID:

R305895

• Webcode: 262681
Rental Details
Converts from an HDMI source to an SDI signal up to 1080p. Built-in battery lasts up to 2 hours.
Included in Rental
1

Blackmagic Design Battery Converter HDMI to SDI

1

Blackmagic Design AC Adapter for Battery Convert
Product Highlights
SD/HD

Supported Formats

HDMI type A

Video Inputs

2x SD/HD-SDI

Video Outputs

Video Outputs Automatically Match SD/HD Video Input
Available in Edmonton and Toronto
---
Buy this for: $299.99 Learn More

The Blackmagic-Design HDMI to SDI Battery Converter converts an HDMI input to up to two SDI outputs. The outputs automatically match and output in the quality of the HDMI input, whether HD or SD; whatever comes in is what automatically goes out. Both the HDMI and SDI connections support up to 1080p60 HD, which on the SDI side is equivalent to 3G. The converter also supports embedded audio on both the in and outs.

One reason for converting to SDI is to take advantage of the longer distance that SDI cables can carry a signal. If your camera has an HDMI output, this converter will let you instead output by SDI, allowing professional connectivity on location.

Power is supplied by a built-in lithium-ion polymer rechargeable battery that allows on location work without external power, and an AC power supply is additionally also included.
Key Features
Sophisticated Conversion
Converts an HDMI input to up to 2 low-jitter SDI outputs
Conversion allows the use of longer professional SDI cables
The SDI outs auto-match the SD / HD quality of the HDMI input
Both the HDMI and the SDI connections support up to1080p60 HD
Audio embedded on the HDMI in goes out embedded on the SDI outs
Battery and/or Adapter Power
A built-in battery provides more than 2 hours of charge
The battery can be recharged while the converter is in use
A toggle switch allows you use the battery only when needed
An LED indicator displays what the charge level of the battery is
An adapter is included for external power and to charge the battery
Super Tough Design
Machined of aircraft grade aluminum
Can be run over by a truck and still work
Small enough to fit into the palm of a hand
Scratch-resistant labels / non-slip rubber feet
What's Included
Blackmagic Design HDMI to SDI Battery Converter
12V AC Adapter with International Socket Adapters for All Countries
Integrated Lithium-Ion Polymer Rechargeable Battery
Limited Warranty
Product Specifications
Detailed Specifications
Inputs/Outputs
SD/HD-SDI output x2, automatically match the SD/HD HDMI video input
HDMI input x1, type A
USB 2.0 input x1, 480 Mb/s
Multi-Rate Support
Auto detection of HD or SD HDMI inputs
SDI Compliance
SMPTE 259M, SMPTE 292M, SMPTE 296M, ITU-R BT.656, ITU-R BT.601
SDI Video Rates
SDI video connections are switchable between SD and HD
Sampling
SDI video: 4:2:2
SDI audio: television standard sample rate of 48 kHz and 24 bit
Colour Precision
SDI: 4:2:2
HDMI: 4:2:2 in all formats and 4:4:4 up to 1080p29.97
Colour Space
SDI: YUV
HDMI: YUV and RGB
SDI Auto Switching
Automatically selects between SD-SDI, HD-SDI and 3G-SDI
Format Support
SDI:
525/29.97 NTSC, 625/25 PAL, 720p50, 720p59.94, 720p60, 1080i50, 1080i59.94, 1080i60, 1080p23.98, 1080p24, 1080p25, 1080p29.97, 1080p30, 1080p50, 1080p59.94 and 1080p60

HDMI:
480p60 NTSC, 576p50 PAL, 720p50, 720p59.94, 720p60, 1080i50, 1080i59.94, 1080i60, 1080p23.98, 1080p24, 1080p25, 1080p29.97, 1080p30, 1080p50, 1080p59.94 and 1080p60
Copy Protection
HDMI input is unable to capture from copy protected HDMI sources / always confirm copyright ownership before capture or distribution of content
Video Lock Indicator
LED indicates input video signal lock
Software Update
Via USB
Internal Software Upgrade
Via included software updater application
Power Supply
Integrated Lithium-ion Polymer rechargeable battery. 12V-31V DC port for external battery power or use included 12V AC adapter with international socket adapters for all countries. Cable tie point.
Battery
Over 2 hours battery life. Battery charge indicator with On/Off switch to preserve battery life.
Power Consumption
Typically 2.3 W
Operational Voltage Range
12 - 31 VDC