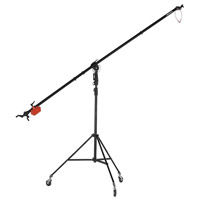 Rental ID:

R306765

• Webcode: 129588
Included in Rental
1

Manfrotto 025BS Super Boom Complete with 008 Steel Stand - Black

1

Manfrotto 025BSL Super Boom - A17 + 014 without Stand

2

Kupo KCW-04 Counter Weight 4 KG (8.8 lb)

1

Manfrotto 109 Wheel Set 80mm Diameter with Adapter for 22mm Legs

1

Manfrotto 008AC Air Cushioned Cine Stand
Product Highlights
5 kg (11.02 lbs)

Max. Load Capacity

24-100 cm (9.45-39.37")

Extension Range

21 kg (46 lbs)

Weight

Aluminum & Steel

Material Construction

16 mm (5/8") Stud & 3/8" Screw

Connection
Available in Edmonton
---
Buy this for: $1,169.99 Learn More

The Manfrotto Super Boom features coaxial geared controls at the end of the boom, which permits movement of 180°.
The stand has chrome plated steel construction, with wheels. The stand section supports light fixture loads up to 66 lbs, to a maximum height of 7 feet. The boom supports loads of up to 15 lbs fully extended.
Key Features
Double leg bracking provides extra stability, giving the stand more strength
Fitted with a universal mount with 1 1/8in (28mm) socket plus either 5/8 in scoket or "pop-up" 5/8 in spigot.
One leg section may be independently extended to level the lightstand on uneven terrain
This stand and boom are silver brushed aluminum. A black finish is available (3390).
270cm long.
Detailed Specifications
Minimum Height
46.4 in (117.9cm)
Maximum Height
Stand: 7 ft (2.2,)
Boom length: 8ft (2.5m)
Closed Length
45.7 in (116.1cm)
Footprint Diameter
46.4 in (117.9cm)
Weight
46.4 lbs (21kg)
Socket Size*
Type 17 + Rapidadapter Art. 014-38
Air Cushioned
What's Included
Ø 35mm 1 section boom arm complete with Pivoting Clamp 123
Counter Weight 022
Cable Clips and Cine Stand 008 with casters
Load: 5kg at 200cm with 20kg of counter weight
Remote control of lighting movement