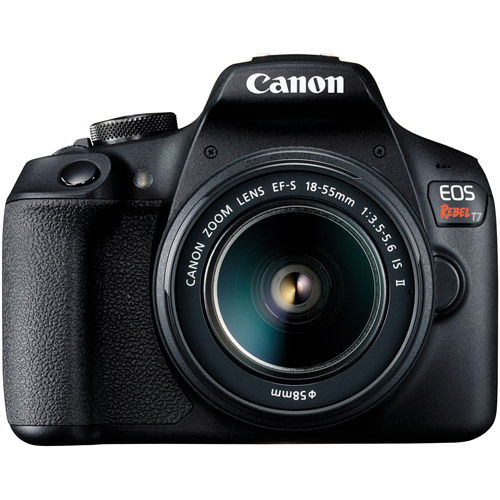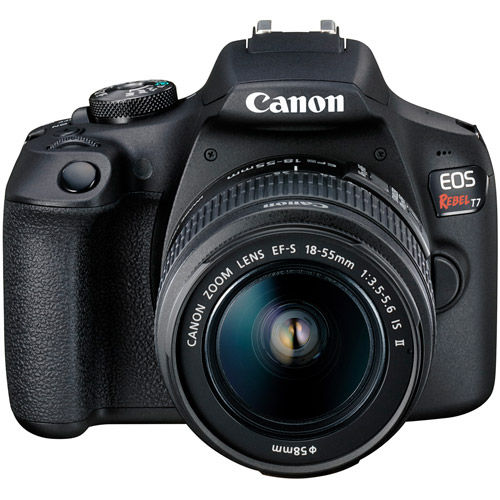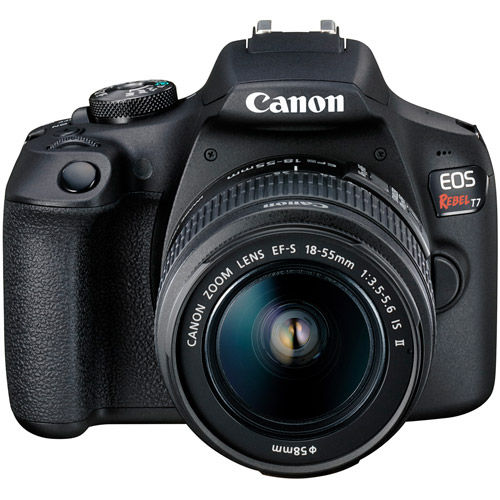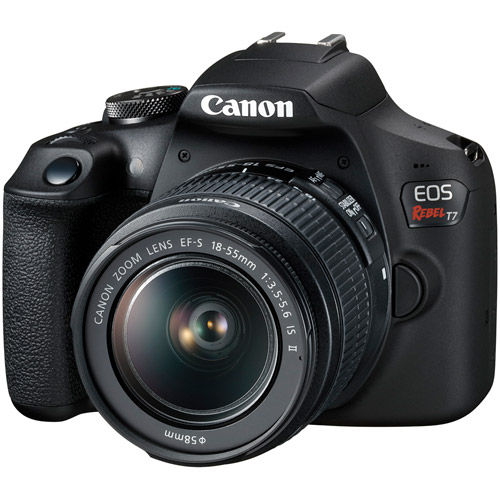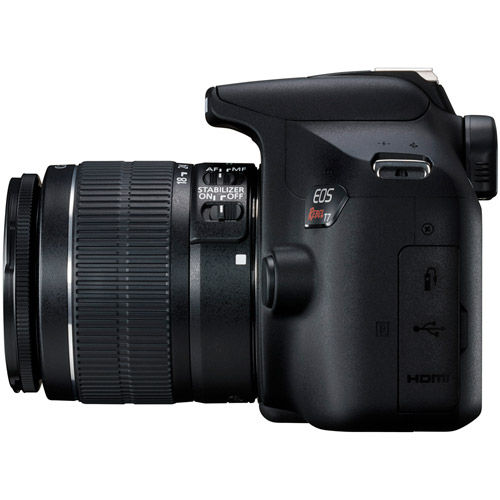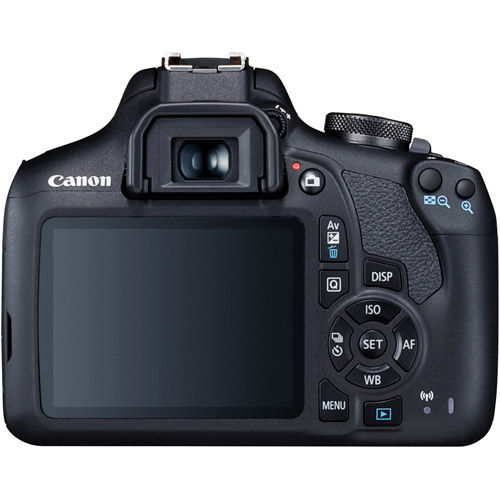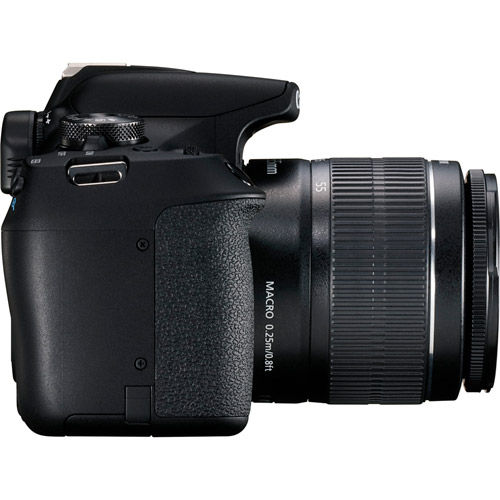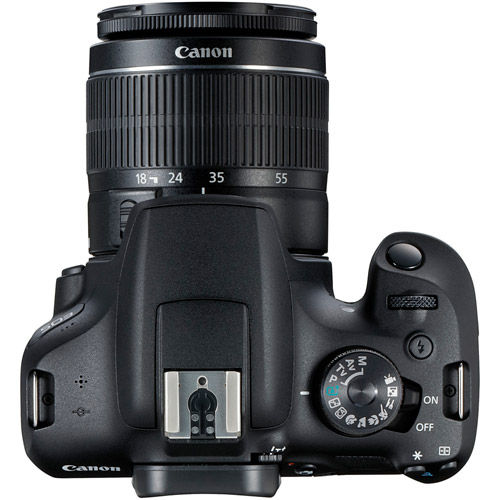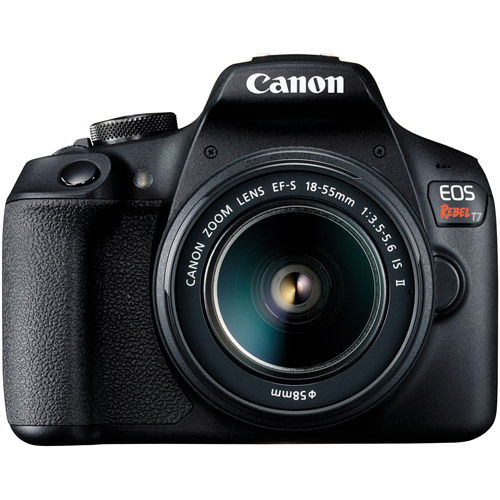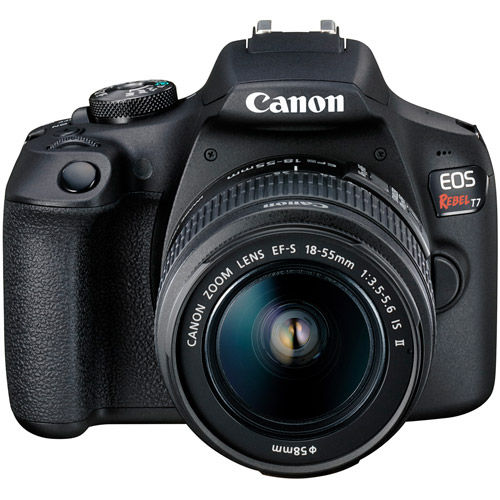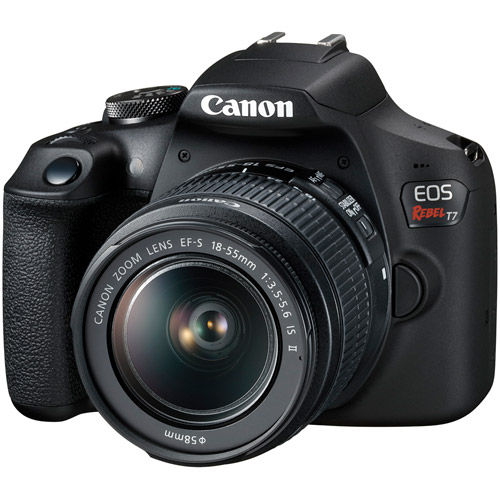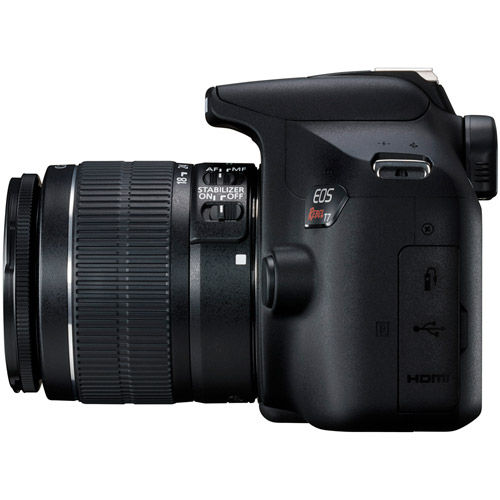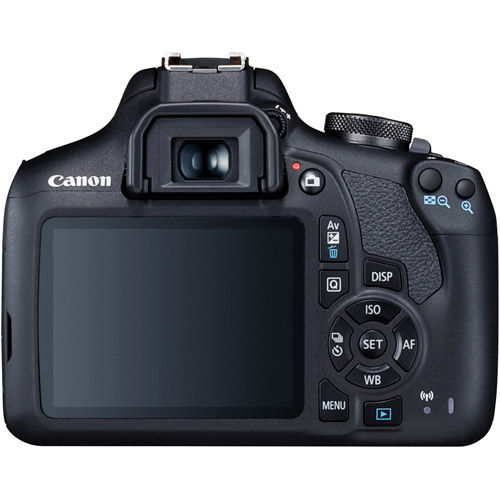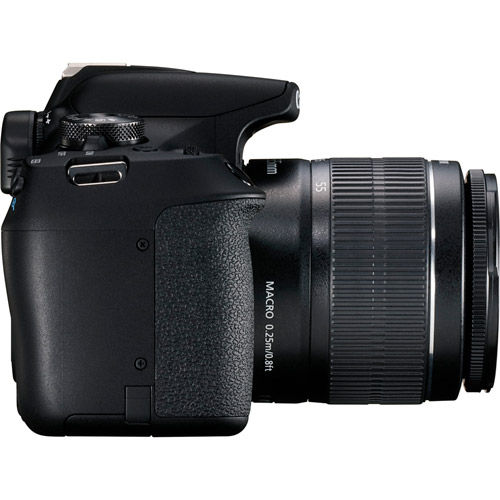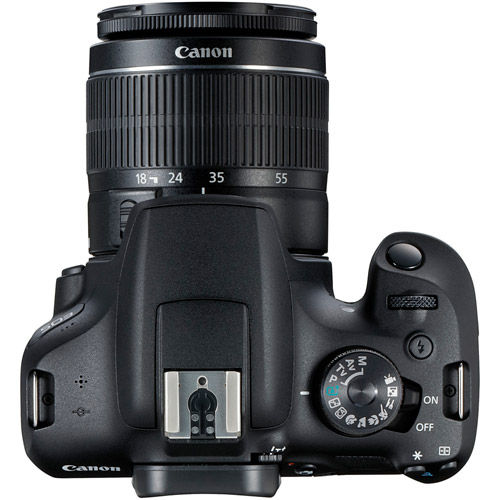 Product Highlights
24.1 MP

CMOS Sensor

APS-C

Format

3 fps

Continuous Shooting

ISO 100-6400

Expandable to 12800

Full HD 1920 x 1080 (30fps/24fps)

Vari-Angle LCD Touchscreen

Camera Body & Lens Kit

Includes EF-S 18-55mm IS II
Kit Options: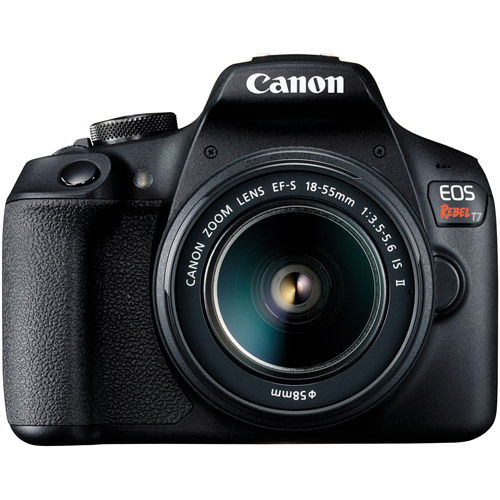 Canon EOS Rebel T7 w/ EF-S 18-55mm IS II
Canon EOS Rebel T7 w/ EF-S 18-55mm I...
Web Availability:
Not In Stock
While not in stock right now, we can get more from our vendor for you.
Vistek Locations
Toronto Available for Order
Ottawa Available for Order
Mississauga Available for Order
Calgary Available for Order
Edmonton Available for Order
Please call and verify availability at the store as stock changes daily.
Ideal for mobile device users wanting to take the next step with their photography, the EOS Rebel T7 camera combines fantastic features with easy-to-use operation for high-quality images you'll be proud to share.
Harness the power of the EOS Rebel T7's large 24.1 Megapixel CMOS sensor to realize your potential for great shots. Share the memories with your friends and family quickly and easily via built-in Wi-Fi®* and NFC** technology. With the EOS Rebel T7's fast autofocus system, you can capture every moment as it happens, viewing each shot through the bright optical viewfinder. A range of additional features, including a large LCD screen, Full HD video recording and an on-board feature guide help you capture eye-catching photos and video.
24.1 Megapixel CMOS (APS-C) Sensor with ISO 100-6400 (H: 12800)
Capture super fine details and beautiful, vibrant colors with the EOS Rebel T7 camera's high-resolution 24.1 Megapixel APS-C sensor. The large sensor helps the camera perform superbly even in low light, giving you the chance to capture amazing results in a variety of conditions. A wide ISO range of 100-6400 (H: 12800) gives you the confidence to carry on taking pictures even when the lighting gets dim.
DIGIC 4+ Image Processor
The Canon DIGIC 4+ Image Processor powers the EOS Rebel T7 camera's advanced functions and capabilities. Its accelerated processing speed creates fast, responsive performance, for a shooting experience that can be smooth and natural. The DIGIC 4+ Image Processor also helps enhance image quality by shortening the processing of high ISO shots by up to 60% compared to the DIGIC 4 Image Processor. This helps reduce noise for brilliant color, smooth gradations and beautiful detail even in low light.
Built-in Wi-Fi* and NFC** Technology
Built-in Wi-Fi®* Capability

EOS Rebel T7 camera offers a number of easy solutions for sharing. It's equipped with built-in Wi-Fi® connectivity to help make wireless functions incredibly easy and convenient. Using Wi-Fi® and Canon's free Camera Connect app, the EOS Rebel T7 can connect to a number of compatible devices – including smartphones, tablets, Wi-Fi® enabled Canon cameras, and Wi-Fi® equipped printers. You can share photos and videos between cameras, browse photos and videos, print images for friends and family or post them to select social media sites.

Built-in NFC** Capability

Built-in NFC (Near Field Communication) helps provide a virtually seamless connection to numerous compatible Android™ devices**, and the Canon Connect Station CS100 device. To transfer your photos and videos, simply tap the EOS Rebel T7 camera to the Connect Station CS100 and the transfer is done! With the Connect Station CS100, you can store, view and organize all of your photos and videos from just one device.

Remote Shooting and Wireless Printing

Wireless capabilities also allow users to use their compatible smart devices* to remotely control the camera, which is useful for self-portraits and group shots or shooting from a distance as long as the camera is in wireless range. A variety of the camera's expressive capabilities are available to you: use different shooting modes; choose AF frame modes (single-point/face detection); shoot in continuous shooting mode; and utilize the AF button. Just connect to a compatible device using the free Camera Connect app* to start capturing photos using remote shooting.
9-point AF System and AI Servo AF
The EOS Rebel T7 camera features fast and accurate autofocus, which can enhance your shooting experience by making sure you're ready to capture the action as soon as it happens. Using a 9-point AF system that includes a center cross-type AF point, it can deliver precise focus and crisp detail whether the camera is oriented in portrait or landscape position. An AI Servo AF system achieves and maintains consistent focus with an incredible degree of reliability.
Optical Viewfinder with Approx. 95% Viewing Coverage
The Optical Viewfinder on the EOS Rebel T7 camera lets you quickly line up and capture a photo in nearly any situation. It helps you accurately see what the lens sees even in bright sunlight, so you can be sure you're taking the picture you want. Utilizing the viewfinder can help you hold the camera steady, which can reduce camera shake for clear and sharp photos.
3.0-inch LCD with 920,000 Dots
The EOS Rebel T7 camera has a large, bright 3.0-inch LCD monitor that can be ideal for composing and capturing amazing images, as well as showing them off to friends and family. The large display has high resolution with 920,000 dots and a wide viewing angle of 170°. It works wonderfully for Live View composition or viewing camera settings like AF, ISO, metering, AF point selection and flash options.
Scene Intelligent Auto Mode
The EOS Rebel T7 camera features Scene Intelligent Auto mode, which delivers accurate exposure, simply. It uses the EOS Scene Analysis System, an automatic feature that helps analyze the image, accounting for faces, colors, brightness, moving objects, contrast and more. Scene Intelligent Auto mode then chooses the exposure and enhancements that can bring out the beauty in virtually any scene or situation. Simplifying DSLR image capture, Scene Intelligent Auto mode lets you concentrate on composing images without puzzling over settings.
Full HD 30p
The EOS Rebel T7 camera offers easy-to-use video capture with breathtaking Full HD quality and a variety of recording sizes and frame rates, including 30p for a natural look. Simply press the dedicated Live View/Movie Recording button to get started. The EOS Rebel T7 also enables easy manual control of exposure, focus and Live View features and even allows for in-camera editing. A wide ISO range means you can record in a variety of lighting situations, and over 60 interchangeable lens options provide plenty of creative opportunities.
Continuous Shooting at up to 3.0 fps
The EOS Rebel T7 camera lets you capture up to 3.0 fps (frames per second) until the card is full, or for up to approximately 11 RAW files. Whether capturing the action on the soccer field or waiting for the right expression on someone's face, the EOS Rebel T7 delivers intuitive, speedy operation for a great shot. With near-instant startup, speedy AF and virtually no shutter lag, the EOS Rebel T7 will help you capture the action, when you want.
Auto White Balance with "White Priority."
Different light sources can affect the colors you see in a photo. With Auto White Balance, the EOS Rebel T7 camera automatically adjusts the white balance according to "ambience priority," which retains warm color tones to help maintain the mood of the shot, or "white priority," which eliminates them to help ensure white lighting is neutral in color. You can choose between these two settings to make sure your image looks how you want it to, even under different lighting conditions.
On-board Feature Guide
The EOS Rebel T7 camera provides a Feature Guide that displays a simple description to explain how each function can apply to different shooting situations. This description is displayed in shooting modes, during playback, Live View and more for easy access. It appears automatically when a function is selected – a lifesaver when trying to determine a suitable mode or function for the next picture. The feature guide works automatically by default, and can be disabled easily through the camera's menu.
Creative Options including Basic+ and Creative Auto
The EOS Rebel T7 camera is loaded with features to take you to the next level. Basic+ makes it easy to create the image effects you want, changing ambience or scene type to your preference. Creative Auto mode puts basic settings in full automatic operation, but provides shooting guides on the LCD screen that explain how to change settings and how this can affect the final image. With Creative Auto mode, you can experiment and learn more about photography while still taking stunning photographs.
Creative Filters including Fisheye and Miniature
The EOS Rebel T7 camera allows you to capture images with a new perspective. The camera features five different creative filters for still images: Fisheye Effect, Miniature Effect, Grainy B/W, Soft Focus and Toy Camera Effect. Each filter alters the mood and feel of any particular scene, allowing you to create photos with a fun, distinctive flair.
Compatible with All Canon EF and EF-S Lenses
The EOS Rebel T7 camera is compatible with all Canon lenses in the EF and EF-S lineup. These lenses range from ultra-wide angle for grand, scenic landscapes, to super telephoto which can help you capture sports, wildlife and more from afar. Each Canon lens employs advanced optical expertise and engineering to help deliver phenomenal performance in virtually all facets of the photographic process. Numerous lenses feature Canon's sophisticated Optical Image Stabilizer technology to minimize the effect of camera shake.
What's Included
EOS Rebel T7
EF-S 18-55mm f/3.5-5.6 IS II Lens
Battery Pack LP-E10
Battery Charger LC-E10
Eyecup Ef (Not shown)
Wide Strap EW-400
Product Specifications
EOS Rebel T7

Type

Type
Digital, AF/AE single-lens reflex camera with built-in flash
Recording Media
SD, SDHC and SDXC Memory Cards

Compatible with SD speed class cards.
Not compatible with UHS speed class cards.
Compatible with Eye-Fi Cards.
Multimedia cards (MMC) cannot be used. (A card error will be displayed.)

Image Format
Approx. 22.3mm x 14.9mm
Compatible Lenses
Canon EF Lenses (including EF-S lenses, excluding EF-M lenses)
Lens Mount
Canon EF mount

Image Sensor

Type
CMOS Sensor
Effective Pixels
Approx. 24.10 megapixels (rounded to the nearest 100,000)
Total Pixels
Approx. 24.70 megapixels (rounded to the nearest 100,000)
Pixel Unit
Approx. 3.72 µm square
Aspect Ratio
3:2 (Horizontal : Vertical)
Color Filter System
RGB primary color filters
Low Pass Filter
Installed in front of the image sensor, non-detachable
Dust Deletion Feature
Dust Delete Data acquisition and appending

The coordinates of the dust adhering to the low-pass filter are detected by a test shot and appended to subsequent images.
The dust coordinate data appended to the image is used by the EOS software to automatically erase the dust spots.

Manual cleaning by hand

Self Cleaning Sensor Unit not provided.

Recording System

Recording Format
Compliant to Design rule for Camera File system 2.0 and Exif 2.30
Image Format
JPEG, RAW (14 bit Canon original)
File Size
3:2 Aspect Ratio
Large: 6000 x 4000
Medium: 3984 x 2656
Small 1: 2976 x 1984
Small 2: 1920 x 1280
Small 3: 720 x 480
RAW: 6000 x 4000

4:3 Aspect Ratio
Large: 5328 x 4000*
Medium: 3552 x 2664
Small 1: 2656 x 1992
Small 2: 1696 x 1280*
Small 3: 640 x 480
RAW: 6000 x 4000

16:9 Aspect Ratio
Large: 6000 x 3368*
Medium: 3984 x 2240*
Small 1: 2976 x 1680*
Small 2: 1920 x 1080
Small 3: 720 x 408*
RAW: 6000 x 4000

1:1 Aspect Ratio
Large: 4000 x 4000
Medium: 2656 x 2656
Small 1: 1984 x 1984
Small 2: 1280 x 1280
Small 3: 480 x 480
RAW: 6000 x 4000

* The dimensions will not attain a perfect aspect ratio.

Values are rounded to the nearest 100,000. (Nearest 10,000 for S3.)
For JPEG, the image will be generated according to the selected aspect ratio.
RAW images are generated in [3:2], and the set aspect ratio is appended.

File Numbering

The following three types of file numbering methods can be set:

Continuous numbering

The numbering of captured images will continue even after you replace the card. (The numbering continues even when the folder changes.)

Auto reset

When you replace the camera's card, the numbering will be reset to start from 0001. If the new card already contains images, the numbering will continue from the last recorded image in the card.

Manual reset

Resets the file number to 0001, and creates a new folder automatically.

Color Space
sRGB, Adobe RGB
Picture Style
Auto
Standard
Portrait
Landscape
Fine Detail
Neutral
Faithful
Monochrome
Smooth Skin
Self Portrait
User Defined 1-3
In Basic Zone modes, Auto is set automatically.
In Creative Zone modes, you can select and set the Picture Style.
Default settings for [User Defined 1-3] are [Auto].

White Balance

Settings
Auto (Ambience priority/White priority)
Daylight
Shade
Cloudy*
Tungsten light
White fluorescent light
Flash
Custom (Custom WB)
* Effective also in twilight and sunset.
Auto White Balance
Option between ambience priority and white priority settings
Color Temperature Compensation
Blue/amber bias: ±9 levels
Magenta/green bias: ±9 levels
Corrected based on the current WB mode's color temperature.

Viewfinder

Type
Eye-level single lens reflex (with fixed pentamirror)
Coverage
Approx. 95% vertically and horizontally (with Eye point approx. 21mm)
Magnification / Angle of View
Approx. 0.8x / 22.4° (-1m-1 with 50mm lens at infinity)
Eye Point
Approx. 21 mm (At -1m-1 from the eyepiece lens center)
Dioptric Adjustment Correction
Adjustable from approx. -2.5 to +0.5 m-1 (dpt)
Focusing Screen
Fixed
Mirror
Quick-return half mirror
Viewfinder Information
AF point, AF point activation indicator, ISO speed, White balance correction, Focus indicator, Maximum burst, Monochrome shooting, ISO speed, Highlight tone priority, Exposure level indicator, Exposure compensation amount AEB range, Red-eye reduction lamp ON, Aperture, Card full warning, Card error warning, No card warning, Shutter speed, FE lock, Busy, Built-in flash recycling, Flash exposure compensation, High-speed sync (FP flash), FE lock/FEB in-progress, Flash-ready, FE lock out of range warning, AE lock/AEB in-progress, Focusing screen
Depth Of Field Preview
Possible (with C.Fn-9 (Assign SET button) setting)

Autofocus

Type
TTL secondary image-forming phase-difference detection system with AF-dedicated sensor
AF Points
9 points
All AF points support f/5.6
Cross-type AF with center AF point
AF Working Range
With One-Shot AF (at room temperature and ISO 100, based on Canon's testing standards)
EV 0–18 (center AF point)
EV 1–18 (other AF points)
Focusing Modes
Autofocus

One-Shot AF
Predictive AI Servo AF
AI Focus AF
Switches between One-Shot AF and AI Servo AF automatically.

Manual focus
AF Point Selection
Manual selection
Auto selection

AF point selection for Basic Zone modes is fixed to Automatic selection.

Selected AF Point Display
Indicated by superimposed display in the viewfinder and on the LCD monitor.
AF Assist Beam
Intermittent firing of built-in flash

Effective range:

Center: Approx. 13.1 ft. / 4.0m
Periphery: Approx. 11.5 ft. / 3.5m

With an EOS-dedicated Speedlite attached, the Speedlite's AF-assist beam is emitted instead.

Exposure Control

Metering Modes
Dual-layer metering sensor with the area divided into 63 zones.

Evaluative metering (supporting all AF points)
Partial metering (center, approx. 10% of viewfinder)
Center-weighted average metering

* Spot metering not provided.
Metering Range
EV 1-20 (room temperature, ISO 100, evaluative metering)
Exposure Control Systems
Creative Zone
Program AE (Shiftable)
Shutter-priority AE
Aperture-priority AE
Manual exposure (including bulb)
Basic Zone
Scene Intelligent Auto (Program AE/non-shiftable)
Flash Off
Creative Auto
Portrait
Landscape
Close-up
Sports
Food
Night Portrait
ISO Speed Range
Manual ISO setting: ISO 100–6400 (in whole-stop increments), expandable equivalent to ISO 12800.
If highlight tone priority is set, the ISO speed is automatically set within ISO 200 to ISO 6400.

ISO Auto setting: ISO 100–6400
In Creative Zone modes, the maximum ISO speed (ISO 400, 800, 1600, 3200 or 6400) for ISO Auto can be set.
Shooting Mode ISO Settings
Scene Intelligent Auto, Flash Off, Creative Auto, Landscape, Close-up, Sports, Food, Night Portrait ISO 100-3200
Portrait ISO 100
P, Tv, Av, M ISO 100-6400
With flash ISO 800*2,3,4,5
With bulb exposures ISO 800

* Depends on the set maximum limit of ISO speed. *2 If fill-flash results in overexposure, minimum limit can be set to ISO 100. *3 If you use bounce flash with an external Speedlite in Basic Zone modes (except Night Portrait) or P mode, the ISO speed is automatically set within ISO 800 to ISO 1600 (or up to the set maximum limit) in accordance with the brightness. *4 Fixed to ISO 400 in Food mode. If you use bounce flash with an external Speedlite in Food mode, the ISO speed is automatically set in the range within ISO 400 to ISO 1600. *5 When the maximum ISO speed is ISO 400, the speed is fixed at ISO 400.

AE Lock
Auto AE lock

In the One-Shot AF mode with evaluative metering, AE lock takes effect when focus is achieved.

Manual AE lock

In P, Tv and Av modes, possible with the AE lock button. (Press again to update.)
Possible in all metering modes.

Shutter

Type
Vertical-travel shutter with electronic first-curtain control and mechanical second-curtain control
Shutter Speeds
1/4000 to 30 sec., Bulb (Total shutter speed range)
X-sync at 1/200 sec.
Settable in 1/3- or 1/2-stop increments
Shutter Release
Soft-touch electromagnetic release
Self Timer
10-sec. or 2-sec. Delay
Shutter Lag Time
During SW-1 ON, time lag between SW-2 ON and start of exposure: approx. 120 ms
Time lag between simultaneous SW-1/SW-2 ON and start of exposure: Approx. 240 ms
Remote Control
Possible by using Remote Switch RS-60E3

Built in Flash

Type
Auto pop-up, retractable, built-in flash in the pentamirror
Flash Metering System
E-TTL II autoflash (Evaluative, Average), FE lock
Guide Number
Approx. 30.2 ft./9.2m (at ISO 100)
Recycling Time
Approx. 2 sec.
Flash Coverage
Up to approx. 17mm focal length (equivalent to approx. 28mm in 135 format)
FE Lock
Possible
Flash Exposure Compensation
Up to ±2 stops in 1/3- or 1/2-stop increments
Flash exposure compensation for built-in flash and external Speedlite can be set with the camera.
FE Lock
Possible

External Speedlite

Flash Exposure Compensation
±2 stops in 1/3-stop or 1/2-stop increments

Drive System

Drive Modes
Single shooting
Continuous shooting

Max. approx. 3.0 fps
Shutter speed 1/500 sec., Maximum aperture
Continuous shooting speed may become slower depending on the shutter speed, aperture, subject condition, brightness, lens model, flash use, remaining battery capacity, etc.

10-sec. self-timer
2-sec. self-timer
Continuous shooting after 10-sec. self-timer (2 to 10 shots)
Continuous Shooting Speed
Max. approx. 3.0 fps

Live View Functions

Shooting Modes
Still photo and video recording
Focusing Modes
(1) Contrast AF
FlexiZone-Single
Face Detection Live mode

Covers approx. 80% of the image display area vertically and horizontally.

Quick mode

TTL secondary image registration, phase-difference detection with AF-dedicated sensor.
AF point manual selection anda selection possible.
Automatically set in Basic Zone modes.

Manual focus

Magnify the image by approx. 5x or 10x and focus manually.

Metering Modes
Evaluative metering (315-zone)

AE lock possible. Metering timer duration can be changed.

Metering Range
EV 0-20 (room temperature, ISO 100)
Grid Display
One of two types of grids can be selected and displayed on the screen.

Grid 1:2 vertical and 2 horizontal lines
Grid 2:5 vertical and 3 horizontal lines

Video Shooting

File Format
MOV:
Movie: MPEG4 AVC/H.264
* Variable (average) bit rate
Audio: Linear PCM
File Size
[Full HD]
1920 x 1080 (30 fps/24 fps): 340 MB/min.

[HD]
1280 x 720 (60 fps): 340 MB/min.

[SD]
640 x 480 (30 fps): 90 MB/min.

Frame Rates
1920 x 1080 (Full HD): 30 fps (29.97 fps) / 24 fps (23.98 fps)
1280 x 720 (HD): 60 fps (59.94 fps)
640 x 480 (SD): 30 fps (29.97 fps)
Exposure Control
Program AE for movie shooting

Shutter speed 1/30-1/4000 sec. (signal accumulation time), aperture and ISO speed automatically set.

Manual exposure

Shutter speed (signal accumulation time), aperture and ISO speed (auto/manual) manually set. The shutter speed (signal accumulation time) is limited to 1/4000 sec. at the maximum and to 1/30 sec. at the minimum for 24/30 fps or to 1/60 sec. or higher for 60 fps.

Focusing
Contrast AF
Manual focus

Magnify the image by 5x or 10x and focus manually.

Exposure Compensation
Possible (±3 stops in 1/3-stop increments)

LCD Monitor

Type
TFT color, liquid-crystal monitor
Monitor Size
3.0-inch (Screen aspect ratio of 4:3)
Approx. 7.5cm diagonal (approx. 6.0cm wide, approx. 4.5cm high)
Pixels
Approx. 920,000 dots
Coverage
Approx. 170° vertically and horizontally
Brightness Control
Adjustable to one of seven levels
Coating
Not provided
Interface Languages
25 (English, German, French, Dutch, Danish, Portuguese, Finnish, Italian, Norwegian, Swedish, Spanish, Greek, Russian, Polish, Czech, Hungarian, Romanian, Ukrainian, Turkish, Arabic, Thai, Simplified/Traditional Chinese, Korean, Japanese)

Playback

Display Format
Single image display

Basic information
Basic information + image quality / image file number
Shooting information
Histogram display

Index display; 4 or 9 images
Highlight Alert
On the detailed information and histogram displays, highlight areas with no image data will blink.

Quick Control Function

During Shooting
When you press the Quick Control button while shooting images, you can set various functions.
Settable functions differ between viewfinder shooting, Live View shooting and movie shooting.
During Playback
When you press the Quick Control button during playback, you can set various functions.
Settable functions differ between still photo shooting and movie shooting.

Image Protection and Erase

Protection
Erase protection can be applied or canceled for a single image, all images in a folder or all images in the card.
Erase
Erase unprotected image(s) with selection from Single image, Selected images, All images on folder or All images in a card.

Direct Printing

Compatible Printers
PictBridge-compatible printers
Printable Images
RAW and JPEG images compliant to Design rule for Camera File System.
Movies cannot be printed.

DPOF: Digital Print Order Format

DPOF
Complies to DPOF Version 1.1

Customization

Custom Functions
11 Custom Functions with 33 settings settable with the camera
Custom Controls
Not Provided
Camera User Settings
Not Provided
My Menu Registration
Menu functions, Custom Functions
Up to six kinds of function settings can be selected and registered from the top-tier menu functions.

Interface

USB Terminal
Hi-Speed USB (USB 2.0) Hi-Speed USB equivalent

Computer
PictBridge
Connect Station CS100 connection
GPS Receiver GP-E2 connection

Video Out Terminal
HDMI Type C (Resolution switches automatically)
Video output: (Switches automatically to 1, 2, 3 or 4 to suit the TV set.)

1080/60i
1080/50i
480/60p
576/50p

Extension System Terminal
Remote Switch RS-60E3 Terminal

Wi-Fi* (Wireless LAN) and NFC Functions

Standards Compliance
IEEE 802.11b/g/n
Transmission Range
Approx. 49.21 ft. / 15m

When communicating with a smartphone or tablet.
With no obstructions between the antennas and no radio interference from other devices.

Connection Method

Camera access point mode
Infrastructure mode

NFC Connection
Possible

Power Source

Battery
Battery Pack LP-E10 x 1

The camera can be powered by an AC power supply by using the household power outlet accessories (sold separately).

Battery Check
Automatic battery check when the power switch is turned ON.
Battery level indicated in one of the four levels on LCD monitor.
Power Saving
Power turns off after the set time of non-operation elapses
* [Auto power off] settable to 30 sec., 1 min., 2 min., 4 min., 8 min., 15 min. or Disable
Date/Time Battery
Built-in secondary battery
Maintains date/time for about 3 months when fully charged
Start-up Time
Approx. 0.1 sec. (CIPA standards)

Physical Specs

Dimensions (W x H x D)
Approx. 5.08 x 3.99 x 3.06 in. / 129.0 x 101.3 x 77.6mm
Weight
Approx. 16.75 oz. / 475g (including battery and card)
Approx. 15.06 oz. / 427g (body only)

Operating Environment

Working Temperature Range
32-104°F/0-40°C
Working Humidity Range
85% or less
Canon EOS Rebel T7 w/ EF-S 18-55mm IS II
Looking for a personal touch? Not sure if you are choosing the right product? Our staff is here to help.
We want to make sure you get the right product for your needs.
Our staff will help you understand the options available so you can be confident in your purchase.
As the country's leading Professional Imaging retailer, Vistek is in the perfect position to ensure you make the right choice.
Contact us today for a personal touch.