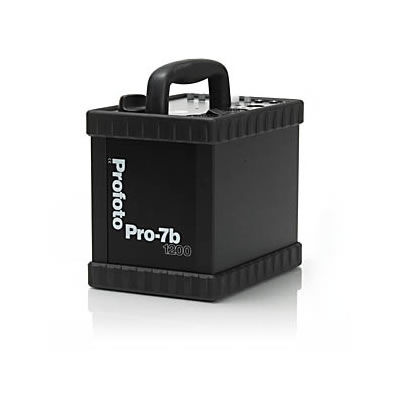 Rental Details
11.0kg, 2 outlets, 3.0 sec recycle at full power, can be used symmetrical or asymmetrical 250 full power flashes with slow recycle
Included in Rental
1

Profoto Pro-7b 1200 Battery Generator

1

Profoto Pro-B Battery with Cassette for Pro-B2 and Pro-7b

1

Profoto Battery Charger For Pro-7B

1

Profoto Carrying Bag for Pro-7B
The Pro-7 line is made to deliver thousands of flashes at a fast recycling rate, without over-heating, shifting color temperature or power output.
At minimum power, the flash fires @ 1/12,000 second. Recycle time is 2.8 seconds @ full power, and 1.4 seconds @ 600 w/s.
The removable 12V battery inside the 7B has a capacity of 250 full power flashes, or 1000 flashes at .25 power, and can be quickly replaced with an optional spare battery in a special cassette. The battery can be fully charged in 5.5 hours with the supplied Multi-Voltage AC charger, or via a car cigarette lighter in 2.5 hours.
Key Features
7 F-Stop Range: The power output is variable from 1200 w/s to 18 w/s in 1/6 stop increments.
Large Charge Capacity: Each fully charged battery will provide 250 flashes @ full 1200 Watt/second output.
Multi Voltage: The battery may be charged from a wall outlet in any country in the world, using the battery charger which is supplied with four different removable plug adapters
Charging Options: The battery may be charged directly from an automobile cigarette lighter with the optional 12V DC automobile charger.
Short Flash Durations: Stop action with 1/1400 sec. @ full power to 1/3000 sec. @ minimum power.
Fast Recycling Time: Requires only 2.8 seconds @ full power.
Power Distributrion: Can be symmetrically or asymmetrically distributed through two lampheads
Flash Ready Indication: Switchable acoustic signal "beeps" when unit is fully recycled. Also the "Test" button lights up when the power supply is ready to fire.
Built in Slave: Switchable, sensistive, eases synchronization with other flash sources.
Modeling Light: 100W modeling light is powered for 20 seconds before automatic cut-off, conserving battery power.
Optional AC Adapter: Charges the battery while shooting, allowing significantly more flashes (701248).
Product Specifications
Maximum Watt/Seconds

1200 w/s

Guide Number

F-45.3 @ 2M, ISO 100 with standard zoom reflector

Recycle Time

2.8 sec @ maximum power, .1 sec. @ minimum power

Flash Duration

1/1400 sec. @ maximum power, 1/3000 sec. @ minimum power

Flash Variability

7 F-Stops

Voltage Stabilization

Yes, +/- 1%

Distribution

Asymmetrical or Symmetrical

Head Outlets

2

Flash Ready Indicator

Charge Ready Light/Open Flash, Switchable Audible Beep

Built-in Slave Cell

Yes, switchable

Sync Voltage

20V, less than 0.3 mA

Operating Voltage of Charger

Auto ranging 90-130V and 180-260V, 45-65HZ

Battery Level Indicator

Four Color LED's on Top Panel

Battery Charge Time

5.5 hours with AC Multi-Voltage Charger, 2.5 hours with Car Charger

Number of Flashes

250 @ full power, with full charge

Auto Dump

Yes

Fan Cooled

No

Dimensions

9.5 x 6.75 x 9" (24 x 17 x 23cm)

Weight

27lbs (12kg)