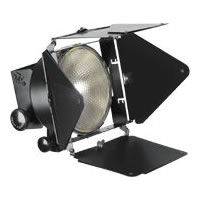 Rental Details
3 DP lights, 3 stands, 3 DP barndoors, all necessary cords, cables and transit cases.
Included in Rental
3

Lowel DP Light

3

Lowel Complete Barndoor for DP light

3

Manfrotto 004 Master Stand 5/8

3

Lowel Tota-Omni 16' Cable

3

Manfrotto 307 Maxi Stacker Stand
Product Highlights
1000W

Power

120-220/240V AC

Power Source
Available in Edmonton, Mississauga and Toronto
The focusable DP-light is a powerful (1000 watt) light that can be adjusted as a key, backlight or background light. Providing soft key lighting, the peened, parabolic reflector provides non-crossover beam with axial filament orientation for improved shadow pattern and gel life. Shown with optional barndoors.
Key Features
Watts: 1000, 750, 500 at 120v, 1000, 650, & 500 at 220 &240v.
Focus range - 8:1 with #1 reflector & FEL lamp.
Quick-change super-spot reflector for exeptionally long throws at all voltages.
Tilting: 170° no-yoke, constant-tension, one-handed tilting from straight up to almost straight down.
Large cool knobs.
Protective front screen must always be used.
Product Specifications
Weight less cable: 2.8 lbs (1.3 kg)
with 16' cable: 3.6 lbs. (1.6 kg)
Max. wattage: 1000
Max. amperage: 8.3 at 120v
Beam control: continuously variable
Fits on: 5/8" (1.59 cm)studs
Materials: primarily aluminum alloy
Cable: 16' (4.88 m) #16/3
Switch: in-line heavy-duty