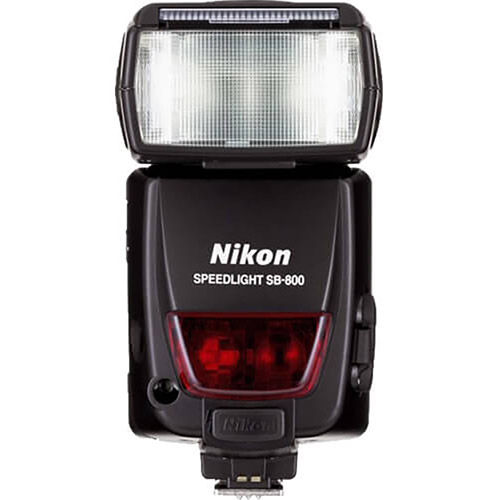 Rental Details
i-TTL with D2x, D200, D2H, D80, D70s / D-TTL with D1 series, D100 / TTL film based cameras, 6 second recycle at full power.
Included in Rental
1

Nikon SB-800 Speedlight IR

1

Nikon AS-21 Speedlight Stand for SB-900/910

1

Nikon SW-10H Diffusion Dome for SB-800
Fully compatible with the latest Nikon digital and film SLR cameras, the SB-800 is currently the most advanced flash in the Speedlight range. As a replacement for the SB-80DX, the SB-800 shares the same specs, but now also features i-TTL control as part of the new Creative Lighting System (CLS), being introduced with the D2H digital SLR camera.
The i-TTL system supports Advanced Wireless Lighting and versatile functions for up to four groups of Speedlights, with 3 remote i-TTL speedlight groups controlled through the master SB-800. i-TTL Balanced Fill-Flash flash control employs Nikon's new Advanced Data Communication system to introduce an improved method for the monitor pre-flash and wireless operation that marks an evolution in higher precision over Nikon's acclaimed D-TTL Balanced Fill-Flash control system and forms the core of the new Creative Lighting System.
NOTE: Requires SC-28 or SC-29 cables to maintain all i-TTL functions when used off-camera with D2H & D70 (or newer) camera.

Key Features
Multiple Flash Exposure Modes
i-TTL Balanced Fill-Flash with Nikon Nikon D2H & D70
D-TTL Balanced Fill-Flash with Nikon D1 series or D100
TTL Auto Flash with many film SLRs, including the Nikon F5, F100, N80 (F80), N75 (F75), N65 (F65) and FM3A
[AA] Auto Aperture Flash
[A] Auto Aperture Flash with many film SLRs, including the Nikon N55 (F55) and FM10
[M] Manual Flash
Bounce Capability
Flash head tilts down to -7 degree or up to 90 degree
Flash head rotates horizontally 180 degree to the left or 90 degree to the right
Stroboscopic Effect
Repeating flash for creating stroboscopic multiple-exposure effect
i-TTL
Intelligent i-TTL system supports Advanced Wireless Lighting and versatile functions for up to 3 remote i-TTL speedlight groups controlled through a master SB-800 or with the "Commander" function of the D70
Mixed Exposure Modes
Individual flash mode settings ([TTL], [AA], [A] and [M]) are available for each of the four groups (including master controller) for easy total lighting control based on the brightness of the subject and not simply on general output ratios for each group
FV Lock
Flash Value Lock allows photographers to change the composition or zoom for the shot while maintaining desired lighting of the subject
Distance Priority Manual Flash Mode
User can set the distance and aperture, and the SB-800 automatically sets the power output, a great feature for manual flash [M] shooting at weddings and for product shots
Colored Gels
Allows modification of flash output to match background scene, especially useful for digital cameras where "white balance" can be controlled. Included are Tungsten and Fluorescent adjustment filters.
Improved Safety
Safety lock on flash shoe
LCD
Large easily read illuminated LCD panel
Standby Mode
Adjustable standby mode can be varied from 40 to 300 seconds for conservation of battery power
What's Included
• Soft Case SS-800
• Diffusion Dome SW-10H
• Quick Recycle Battery Pack SD-800
• Colored Filter Set SJ-800
Includes: TL-A1 Tungsten Filter & FL-G1 Fluorecent Filter
• Speedlight Stand AS-19
• 1-Year Warranty
Product Specifications
Type
Shoe mount
Guide No.
125' (38 m) at 35mm Position

184' (56 m) at 105mm Position
Angle of Coverage
86° to 23° (24 to 105mm in 35mm format)

114° (14mm) with included wide angle adapter
Vari-Power
1/1 to 1/128th
TTL Dedication
Yes (i-TTL; with the D2H, D-TTL, or TTL, depending on camera used)
Bounce Head
Yes
Swivel Head
Yes
Zoom Head
24-105mm (Auto-zoom; flash senses focal length & adjusts)

14/17mm (with built-in wide flash adapter)

14mm (with Diffusion Dome SW-10H, included)
Off Camera Terminal
Nikon Type PC Terminal (SC-15 or SC-11), & TTL Terminal (SC-19 or SC-18)
Recycle Time
2.7 Seconds with SD-800 Battery Pack and Ni-Cd or Ni-MH batteries

6 Seconds with fresh alkaline batteries & full power
Power Source
Four 1.5-Volt "AA" batteries; alkaline, lithium, NiCad or NiMh
One extra AA battery with SD-800
Dimensions
2.8 x 5.0 x 3.6" (71 x 128 x 92mm) WxHxD
Weight
12.3 oz (350 g)