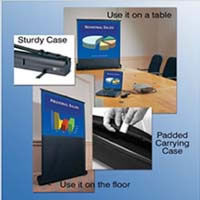 Rental Details
ultra portable, matte white, 48"x64" viewing area
Product Highlights
48 x 64"

Image Area

Matte White

Surface
Available in Mississauga, Ottawa and Toronto
KEY FEATURES:
Lightweight, spring-roller operated.
Easy to carry.
Durable.
Built-in carrying handle.
Shoulder carrying strap also included.
Screen case is made of extruded aluminum.
Clean, simplified design.
Includes 3/4" black borders and 30" black "rise" to clear a standard tabletop.
Surface raises at the touch of a finger.
Pneumatic cylinders hold screen securely at desired height.
Standard fiberglass matt white surface specifically designed for today's computer presentations and high resolution requirements.
Also available with glass beaded and High Contrast Grey viewing surface.
Available in 60" and 80" diagonal NTSC format and 55" and 73" diagonal HDTV format.
Remarkably inexpensive, considering its high quality.
Warranted for one year against defects in materials and workmanship.