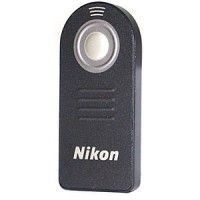 Rental ID:

R302267

• Webcode: 207562
Product Highlights
4.9 m (16')

Transmission Distance

Nikon

Compatibility
Available in Toronto
---
Buy this for: $24.99 Learn More

Nikon ML-L3
Wireless Remote Control
Trigger the shutter remotely when using slower shutter speeds to prevent camera movement.
Acts as a wireless shutter release capable of instantly triggering the shutter without disturbing the camera. Recommended for taking pictures of subjects that are difficult to approach, or to minimize vibration for close-ups and time exposure.
Range approximately 16 feet in front of camera.
Offers immediate release mode and two second delay mode
Compatible With:
D610
D7200
COOLPIX P900
D5500
D750
D7100
D5300
D3300
D5200
D3200
Nikon 1 V3
COOLPIX P7800
D5100
D7000
Nikon 1 J1
Nikon 1 J2
COOLPIX A
COOLPIX P7700
Nikon 1 V1
Nikon 1 V2
D600
COOLPIX P7100
D90
COOLPIX P7000
D60
D5000
D3000
D50
D70
D70s
D40X
D40
D80
Powered by CR-2025 3v battery (included).
What's Included
ML-L3 Wireless Remote Control (Infrared)