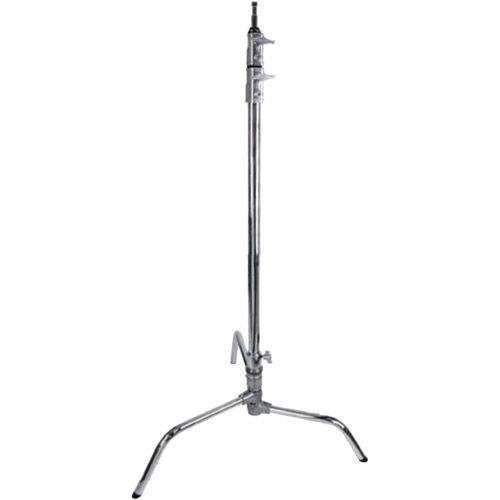 Rental ID:

R303043

• Webcode: 224259
Rental Details
max ht. 3m / 9'10", max load 10kg / 22lbs
Product Highlights
10 kg (22 lbs)

Max. Load Capacity

134-323 cm (52.8-127.1")

Height Range

6.4 kg (14.08 lbs)

Weight

Steel

Material Construction

100 cm (39.4")

Footprint Diameter

132 cm (51.9")

Closed Length
Available in Calgary, Edmonton, Ottawa and Toronto
---
Buy this for: $249.99 Learn More

Master C Stand with Sliding Leg
The Kupo Master C Stand with Sliding Leg features one sliding leg, which allows the stand to adapt to uneven terrain such as stairs and hillsides. This feature provides optimum support for your light heads, reflectors or gobos.
Key Features:
Zinc casting alloy makes the leg base holders most solid and sturdiest.
Stainless steel heli-coil give protection for the aluminum riser from being damaged by stainless steel bolt of knob.
The unique hollow design of the junior pin receiver on the base also makes dust, sands and water pass through easily for better cleaning and easy maintenance.
Captive on the top of the thread blot prevents the knob from falling off the stands.
The Master C Stand is outfitted with a patented spring ring locking system that removes all tension from the legs so that gravity can do the work for you. The removable base that separates from the main riser section for easy transport. The other advantage of a turtle base is that once you remove the main riser section, you have a junior 1-1/8'' (28mm) receiver to accept any junior stud or accessory.

Century Stands, more commonly known as "C" Stands, have been one of the most common types of grip equipment used by the filmmaking industry for decades due to their strength and flexibility. Used on its own or in combination with a grip head and grip arm, the C stand is used for mounting lighting equipment and a whole variety of light shaping tools and accessories. All Century Stands feature a unique base specially designed with three varied leg heights. This enables the user to position, or "nest" the stand bases so that the risers are just inches apart from one another for use in close proximity mounting of lights and other grip equipment or easy storage.
Product Specifications
Detailed Specifications
Closed Length
132 cm (51.9")
Max. Height
323 cm (127.1")
Min. Height
134 cm (52.8")
Weight
7 kg (15.4 lbs)
Footprint Diameter
100 cm (39.4")
Max. Payload
10 kg (22 lbs)