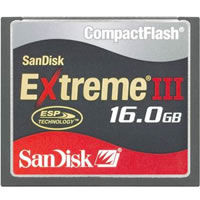 16 GB Capacity / Data recovery software / Up to 20MB per seconds read and write speeds

Extreme III is the exceptional, unbeatable best-in-class solution for high profile professional photographers. Extreme III has extremely fast 20MB per seconds read & write speeds. This line provides the durability and high-speed quality demanded for serious photography. SanDisk's award-winning technology solidifies the strength of the Extreme III family of high-performance Flash cards.


Designed to meet the critical speed and performance needs of serious professional photographers, lets you quickly capture, view, Upload and transfer large image files

Ideal for demanding photo shoots under severe weather conditions, heat, cold, wind, rain, snow, etc.
Built to perform in the most extreme environments and temperatures
20MB per second sequential read and write

Durable, reliable and thoroughly tested, temperature tested (heat and cold), shock and vibration tested (industrial-grade RTV included for CompactFlash)

Ensure your photos will always be there even if you delete them accidentally

Included travel case keeps your Memory cards safe.