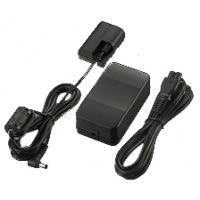 Rental Details
AC power supply and DC coupler for the Canon 5D mark II.
Included in Rental
1

Canon ACK-E6 AC Adapter Kit for 5D Mark II / 7D

1

Canon DR-E6 DC Coupler for 5D Mark II, 7D, 60D
Available in Calgary, Edmonton, Ottawa and Toronto
AC adapter kit for the Canon 5D Mark II digital SLR.
The Canon ACK-E6 Adapter is necessary when one desires to use the camera indoors for an extended period of time without using battery power. The ACK-E6 Adapter provides uninterrupted power for shooting or downloading images. The Canon ACK-E6 Adapter Kit includes AC Power Adapter and Camera Power Cord.
What's Included
AC Power Adapter
Camera Power Cord