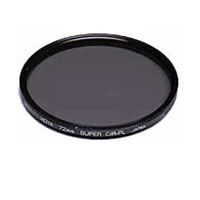 Available in Calgary, Ottawa and Toronto
Light rays which are reflected by any surface become polarised and polarising filters are used to select which light rays enter your camara lens. PL (Linear Polarising) and PL-CIR (Circular Polarising) filters have the same effect, but it is important that you choose the correct version for your camera. They allow you to remove unwanted reflections such as water, glass, etc. They also enable colors to become more saturated and appear clearer, with better contrast. This effect is often used to increase the contrast and saturation in blue skies and white clouds. HOYA Polarizing filters do not affect the overall color balance of a shot.

SUPER HMC
These outstanding filters offer revolutionary performance in light transmission and color balance. 12 layers of Super Multicoating are applied to the surfaces of the Skylight 1B and UV(0) models, which produces an average transmission of 99.7%! Coupled with maximum surface precision, this allows increased resistance to flare and stunning images can be recorded at wide apertures without compromising the performance of your lenses. Our ultra thin Circular Polarising filters have seven layers of Multicoating applied to their rear surface to eliminate internal reflections and ghosting. Advanced thin selective film is used to guarantee perfectly polarised light with neutral color balance. Their slim profile of just 5mm avoids any vignetting problems and makes them ideal for use with wide angle lenses. There is no front female thread, but they do accept our push-on lens caps. HOYA Super HMC filters will appeal to the most demanding of photographers who require the ultimate in performance.