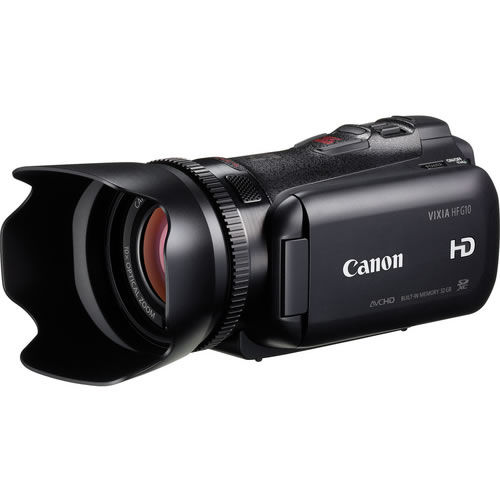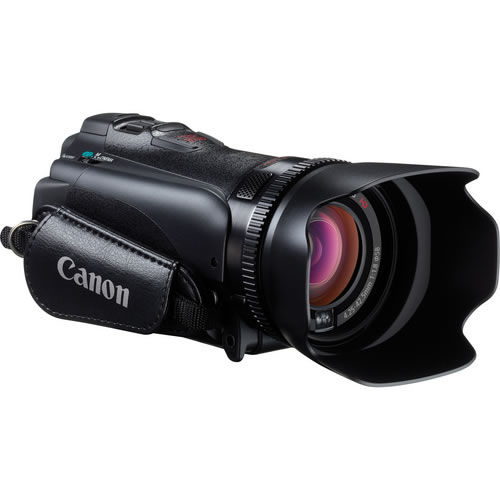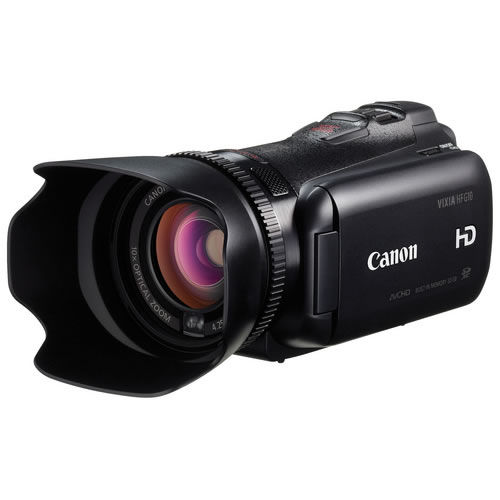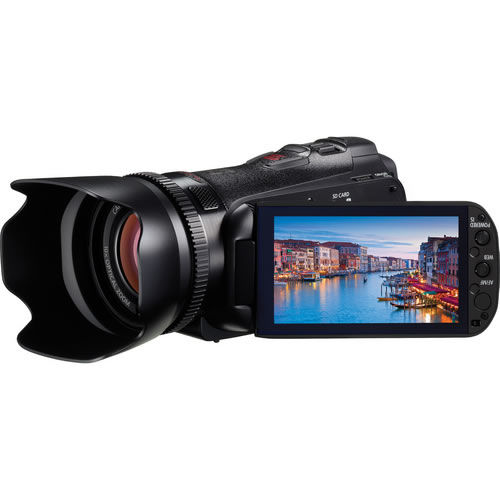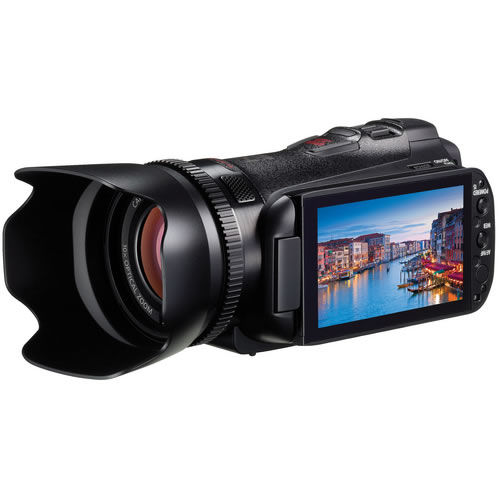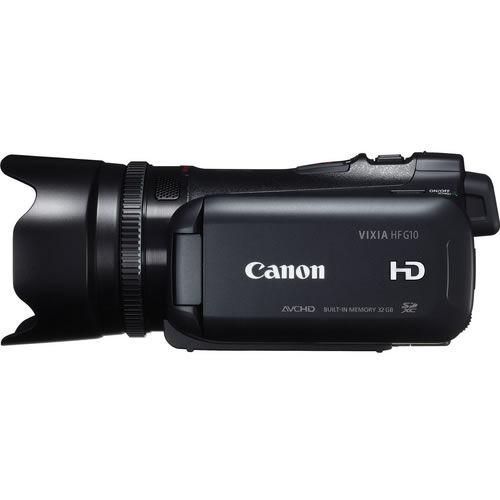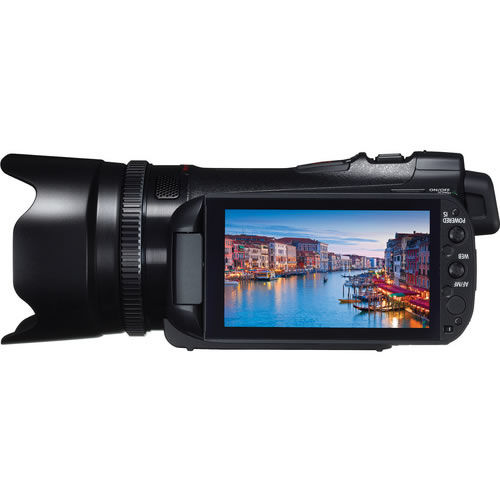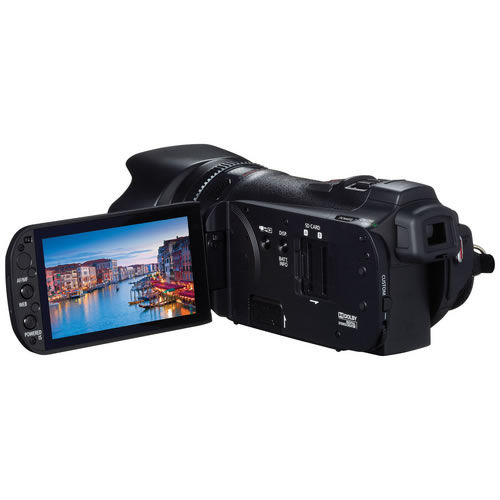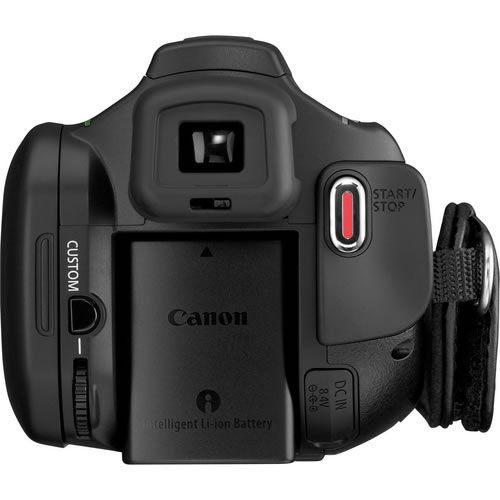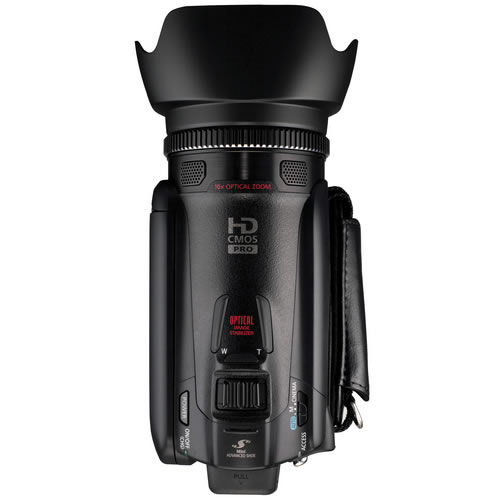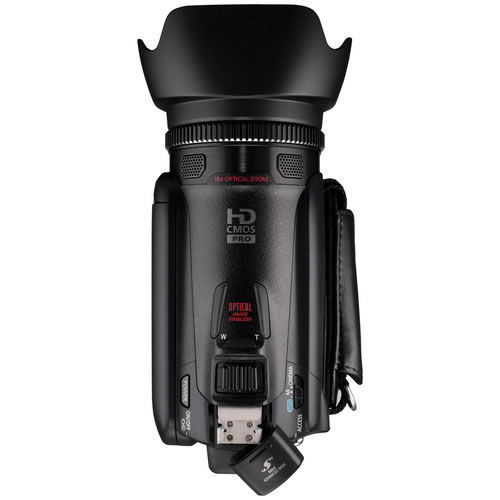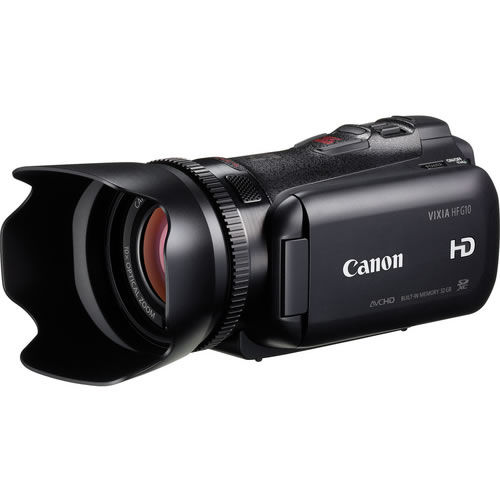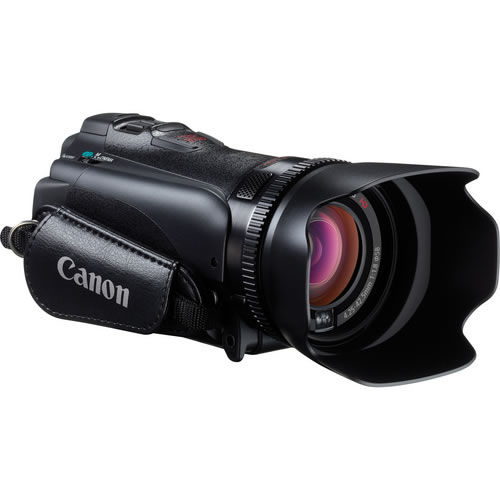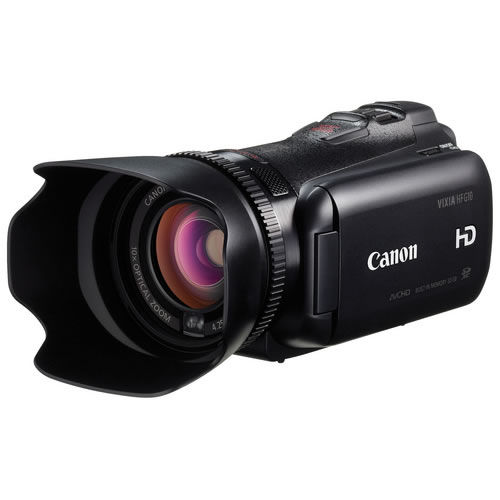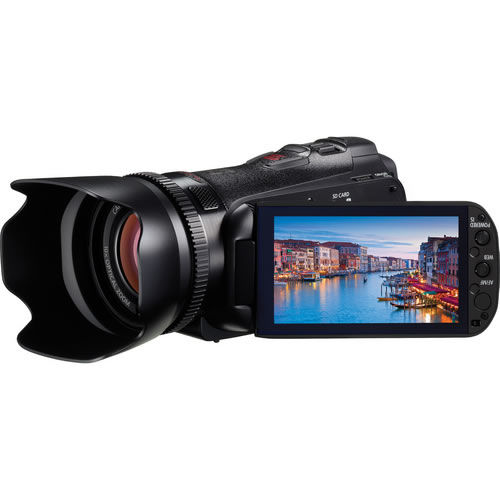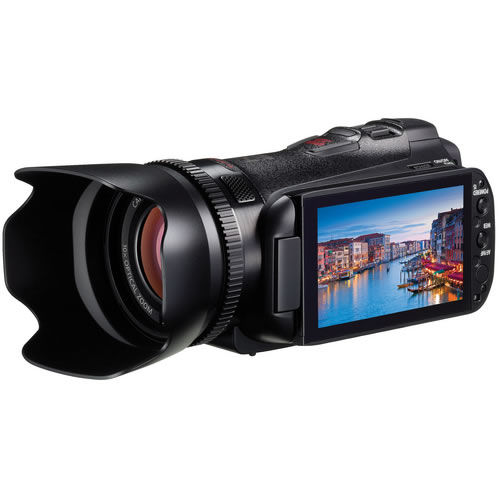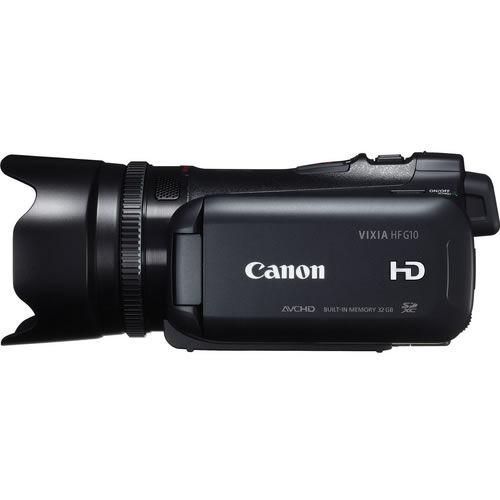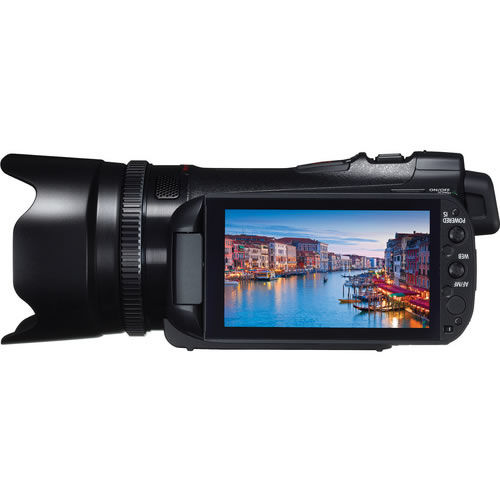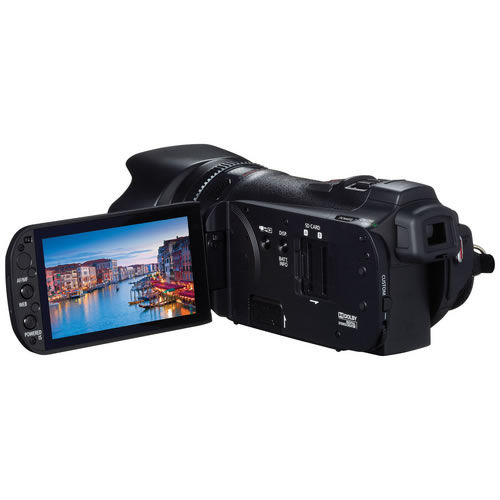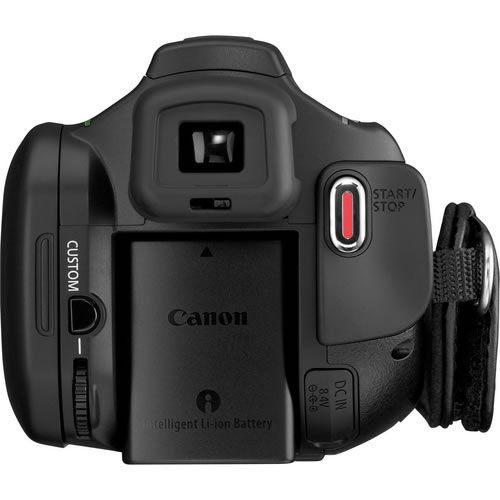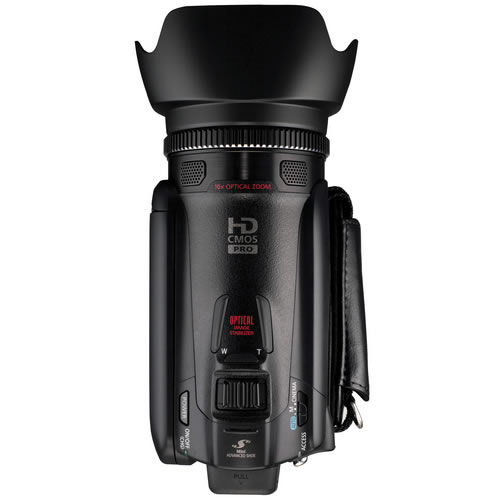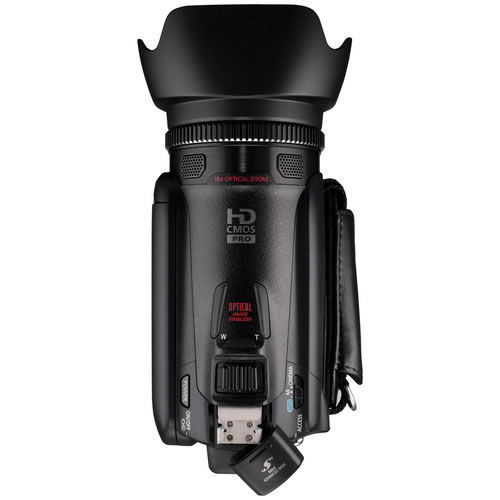 Rental Details
includes AC power supply. 2 batteries, AC power supply, USB cable and componet cable.
Included in Rental
1

Canon VIXIA HFG10 Flash Memory Card Camcorder Black

1

Canon CA-570 Compact Power Adapter

1

Lowepro Cirrus 110 - Ultramarine Blue

1

Canon BP-808 890 mAh Battery Pack for FS11/10/100, HF10/100,

1

Canon BP-819 1,780 mAhBattery Pack for HF10/100, HF-S10/100,

1

Canon HTC100 Cable for HF100

1

Cambo WL-D89 Wireless Remote Control
The VIXIA HF G10 Flash Memory Camcorder is Canon's current, high-end consumer camcorder. Although it retains a consumer price, the HFG10 is packed with so many professional features and functions that it doesn't seem right to call this model a consumer camcorder.
The HF G10 records at 60i, in native 24p, and in the 24p Cinema mode and 30p Progressive mode (both at 60i). With the 24p frame rate options you can give your footage a truly cinematic look. Using Cinema-Looks Filters, you can boost that film look with 9 built-in adjustable filters. You can also shoot video that's optimized for the internet with the 30p Progressive mode.
Driving all that stunningly detailed and vivid image capture would be the heart of the HF G10: The Canon HD CMOS Pro Image Sensor. This 1/3" image sensor boasts excellent low-light performance and a wide dynamic range, giving you flexibility unseen in most consumer camcorders. Working in conjunction with the sensor to create each spectacular shot would be Canon's DIGIC DV III Image Processor. The image processor reduces noise, corrects colour for life-like reproduction, and also powers a number of proprietary Canon features like Smart Auto and the Cinema-Look Filters.
Other features of the HF G10 include a generous 3.5" touch panel LCD display, a colour viewfinder, optical image stabilization, and a Genuine Canon 10x HD Video Lens. The lens boasts an 8 blade iris, and a 4.25-42.5mm focal length(30.4-305 35mm equivalent).
Whether you're shooting for a film look and feel or simply recording a family get-together, quality audio makes your production. Canon gave the HF G10 multiple ways to achieve high-quality sound recording, including built-in microphone and headphone terminals. Attach external microphones and headphones for audio capture that you can monitor with manual audio level controls. If you're looking to capture 5.1 Channel Surround Sound the G10 lets you do that as well using the optional SM-V1 microphone from Canon. When you'd rather leave the accessories at home the camera features a built-in stereo microphone with directional as well as frequency adjustments.
The HF G10 also packs in a number of shooting functions. Among the functions usually found on consumer models, the G10 also boasts professional shooting assist functions to make shooting easier. Custom key and dial, composition aids, and advanced control like manual exposure, aperture priority, and shutter priority, just to name a few. This camcorder also comes packaged with Canon's Pixela Video Browser Software. Compatible with Windows XP (SP2 and SP3), Vista, and Windows 7, this software helps you to edit and share all your video in post production.
Key Features
1920 x 1080 HD Recording
32GB Internal Flash Drive
2 x SD/SDHC/SDXC Memory Card Slots
Canon HD CMOS Pro Image Sensor
3.5" Touch Panel LCD
Color Viewfinder
Genuine Canon 10x HD Video Lens
Dynamic SuperRange Optical Stabilization
Customization Cinema-Look Filters
Professional Shooting Assist Functions
Flash Memory
The VIXIA HF G10 allows you to record up to 12 hours of clear high definition video to a 32GB internal flash drive or to two SDXC-compatible memory card slots. With Relay Recording, the camcorder automatically switches video recording from the internal drive to the SD memory cards when the memory becomes full. No need then to worry about running out of recording time during a thrilling, once-in-a-lifetime shot. With SDXC memory card compatibility, you'll have card storage capacity from more than 32GB up to 2TB and ultra-fast data transfer speeds.

You'll also have the flexibility of copying video from your VIXIA HF G10's internal drive to the removable SD or SDXC memory cards. That makes it easy to insert the card into your computer or HDTV's card reader and view your recorded footage immediately. Double Slot Recording allows you to record to two SD cards simultaneously, so you can have an automatic safety backup as you shoot.

The advantages of flash memory go beyond the added recording time. You'll also appreciate the quick response time, because there are no moving parts in the recording process. Press the record button and your VIXIA HF G10 starts recording video faster than you've ever seen before. In addition, when you review, you'll have quick access to your footage
Memory capacity
MXP
(app. 24Mbps)
FXP
(app. 17Mbps)
XP+
(app. 12Mbps)
SP
(app. 7Mbps)
LP
(app. 5Mbps)
2GB
10 min.
15 min.
20 min.
35 min.
45 min.
4GB
20 min.
30 min.
40 min.
1 hour
10 min.
1 hour
30 min.
8GB
40 min.
1 hour
1 hour
25 min.
2 hours
20 min.
3 hours
16GB
1 hour
25 min.
2 hours
5 min.
2 hours
50 min.
4 hours
45 min.
6 hours
5 min.
32GB*
2 hours
55 min.
4 hours
10 min.
5 hours
45 min.
9 hours
35 min.
12 hours
15 min.
64GB
5 hours
55 min.
8 hours
20 min.
11 hours
30 min.
19 hours
10 min.
24 hours
30 min.
Low Power Consumption
Another benefit of flash memory is the VIXIA HF G10's low power consumption rate, allowing your battery to last longer. It's just what you need so you don't miss that pivotal play on the field or the moment when they say "I do"
Shock-Resistant
While we certainly hope you keep your VIXIA HF G10 securely in your hand while shooting, if it happens to slip, or you accidentally knock it against something, you'll be happy to know that flash memory makes your camcorder more shock-resistant than other recording storage systems. It also minimizes the chance of data loss if you accidently jolt or drop your camcorder
Canon HD CMOS Pro Image Sensor
Incorporating a technology proven in Canon's professional level camcorders, HD CMOS Pro is a 1/3" 2.07MP image sensor which delivers outstanding video resolution, superb low-light performance and a wide dynamic range. Unlike image sensors found in competitive consumer camcorders, HD CMOS Pro uses fewer pixels, which are significantly larger (61 percent) and more sensitive, resulting in optimized video performance
Outstanding Video Resolution
Since the effective number of pixels of HD CMOS Pro is equal to 1920 x 1080 (2.07MP), resizing is eliminated, allowing Full HD video to be captured and recorded with professional precision (800 vertical and 900 horizontal TV lines)
Superb Low-Light Performance (1.5 lux)
Because each individual pixel is larger and more sensitive, each is capable of capturing more light, allowing high quality video to be achieved even in dimly lit conditions. The sensitivity of HD CMOS Pro is approximately 25% better than the Full HD CMOS sensor in the 2010 VIXIA HF S series
Wide Dynamic Range
A larger pixel area also allows more light to be stored, resulting in 280% improvement in dynamic range for exceptional reproduction of both highlights and shadows. Skin tones are captured in a finer gradation, and stable gamma and Auto Exposure control is also achieved resulting in a more 'lifelike' image.
Stunning Image Quality
The VIXIA HF G10 features a Genuine Canon 10x HD Video Lens which offers a 35mm equivalent of 30.4mm - 304mm. It delivers unsurpassed image quality, the versatility of a wide angle of view and smooth and professional looking background images thanks to a sophisticated 8-blade iris. The professional touch of a dedicated manual focus ring allows accurate and precise control. Combined with Canon's Exclusive HD CMOS Pro Image Sensor, it captures video with stunning resolution, superb low-light performance, and a wide dynamic range
Canon's DIGIC DV III Image Processor
Canon's DIGIC DV III image processor provides stunningly realistic colour and sophisticated noise reduction for exceptional low-light performance. It is also the high-speed engine that powers a variety of Canon technologies including Smart Auto, Touch & Track, Genuine Canon Face Detection, and Cinema-Look Filters
24Mbps Recording
You will also find that exceptionally lifelike tone and detail are captured thanks to 24Mbps Recording, which offers the highest bit rate in AVCHD. The VIXIA HF G10 not only captures images in Full HD, but records and outputs at 1920 x 1080 as well, so you get HD from lens to screen
Dynamic SuperRange Optical Image Stabilization with Powered IS
The VIXIA HF G10 features Canon's proprietary Dynamic SuperRange Optical Image Stabilization which provides continuous adjustment throughout the entire zoom range to correct a broad range of motion. Extra compensation is applied at wide-angle focal lengths to eliminate unwanted shaking which is common when walking. Together with the latest development, Powered IS, you'll find an even higher level of compensation for subtle hand movement at the telephoto end of the zoom range. Powered IS can be engaged by pressing or holding the Powered IS button on the Touch Panel LCD
Instant AF
A critical objective when shooting in high definition is achieving the sharpest focus possible. The VIXIA HF G10 camcorder features Canon's revolutionary Instant AF focusing system which offers a dramatic improvement in auto focus speed and accuracy, compared to traditional auto focus systems. The Instant AF feature uses an external sensor, in combination with Canon's auto focus system, to help significantly decrease the time it takes to find focus, even in low light conditions. This system achieves focus instantaneously, reducing focus "hunting." This is especially beneficial in high brightness or night shooting situations. In addition, with Instant AF it's possible to capture fast, accurate focusing even when following a moving subject.

For those situations in which the super quick action of Instant AF might not be desirable, you also have the option of Medium AF, which is softer and smoother than Instant AF, but faster than would be possible with manual focusing
3.5" Touch Panel LCD Screen
You will see extraordinary detail with this large, stunning 922,000 dot screen which also provides approximately 100% coverage of your shooting scene. It delivers brilliant colour combined with touch panel control for faster and easier menu navigation. You'll also have Touch & Track, which allows you to get precise focus and exposure on any subject - whether it's people, pets, or vehicles, by selecting your choice right on the Touch Panel LCD.

You'll also be able to use the Touch Panel for Touch Decoration. This feature lets you superimpose select decorations onto the images on your LCD and then records the images complete with the additions. You may add animation effects, hand written and stamp messages or insert a still image to give your video a truly individual look
Colour Viewfinder
For your convenience, the VIXIA HF G10 is also equipped with a 0.24", 260,000 dot colour viewfinder which provides approximately 100% coverage, for use in shooting when very bright outdoor light conditions may make it difficult to see the LCD display
Smart Auto
Smart Auto makes shooting great video easier than ever before. Using the power of Canon's DIGIC DV III Image Processor, the VIXIA HF G10 intelligently detects and analyzes faces, brightness, colour, distance, and movement, then automatically selects the best settings for the scene. Whether you are capturing a sunset, a day at the beach, or a fast-paced soccer game, Smart Auto delivers exceptional accuracy, raising your video to the next level
Tele Macro
Among the 38 scenes available in Smart Auto, a standout is Tele Macro. Tele Macro automatically zooms the lens of the camcorder to the telephoto end, setting the minimum object distance to approximately 1.3 feet (from 3.3 feet). This gives you the opportunity to shoot spectacular close-ups with the dramatic look of a shallow depth of field
Touch & Track
Touch and Track delivers precise tracking of the focus and exposure on any subject - people, pets, vehicles and more. Simply select your point of interest on the Touch Panel LCD, and you will have your subject in sharp focus, regardless of where in the frame it moves during the shot - and, the exposure will be perfectly adjusted for subject and conditions. Touch & Track is the default setting. You can also choose to adjust focus or exposure independently by turning off Touch & Track, and turning on Touch Focus or Touch Exposure.

Touch Focus allows the user to pinpoint a specific area to focus on. This function is similar to the Push AF feature found in professional camcorders, but can target a subject anywhere in the frame. Touch Exposure enables exposure to be locked or compensated for the area touched by the user
Genuine Canon Face Detection
The same high quality Face Detection technology used in Canon digital cameras is available in the VIXIA HF G10 high definition camcorder. Up to 35 faces can be tracked automatically, ensuring razor-sharp focus and natural, accurate exposure. Of the faces tracked, 9 detection frames can be displayed at one time

The system is in fact so smart that it will recognize faces turned downwards or sideways. In addition, a specific face may be selected as the main subject for continuous tracking. This feature can be used to search for clips featuring that specific subject's face. In search and playback, use of the Face Index will display frames with the chosen face as a thumbnail in each shot in which it appears. The selected face can be linked as a timeline to further identify footage containing that subject.

With the Face Only AF option, the camcorder will automatically track a chosen face. However, should that face leave the scene, it will reset focus to manual mode
Professional Shooting Assist Functions
To provide an exceptional level of control over the components of the video you shoot with the VIXIA HF G10, you will find a range of shooting assist functions normally only available to professional videographers
Custom Key and Dial
A Custom Key and Dial feature allows you to assign functions to an easily, accessible key and adjust the settings with a control dial. They include: Tv/Av: Use the dial to adjust shutter speed (Tv mode) or aperture (Av mode), as needed. In this mode the key has no effect. Manual exposure: When manual control is selected, the dial can adjust aperture, shutter speed, or gain. Select items to adjust, such as aperture or other settings, with the key. Exposure Lock can be set on or off as can the AGC Limit
Focus and Exposure Aids
To further enhance focusing capability the VIXIA HF G10 also features Focus Assist. It includes enlargement, which helps in capturing your subject in razor-sharp focus. It works by providing a 2x magnification of your subject, which is automatically cancelled when you start recording. This is a feature normally found in professional broadcast-quality cameras. Also included is colour peaking, which shows the shooting object's focused areas in actual colours. With Canon's Edge Monitor Focus Assist system, a red and green monitor is shown at the bottom of the LCD Display and three red focus check areas are shown across the display. The green waveform shows overall focus of the image, while the red waveform shows the focus status of the focus check boxes. Through this dynamic focus feedback, you can intuitively tune focus in a scene and quickly change the zone of focus.

Typically only found on expensive external units, the VIXIA HF G10 has a waveform monitor built right into the camera. The waveform monitor shows a detailed view of overall image brightness. Enhanced zebra pattern (70% or 100%) indicates 'blown out' or high brightness areas to help you set the proper exposure
Composition Aids
With the Level Marker feature, it's easy to keep your camcorder level for more professional looking shooting. Line up any horizontal lines in your shot - such as the horizon - to the marker and you can be sure your camcorder is level.

The Grid Marker helps you compose your shot accurately, by referencing a grid in your viewfinder. Depending on the background colour of your shot, you can choose between two different colours for better viewing contrast
Advanced Control
The VIXIA HF G10 features full manual exposure, as well as aperture priority (AV), and shutter priority (TV) modes. Either colour bars or colour bars and test tone can be selected and recorded using a menu. The colour bars comply with the SMPTE standard. -12 dB, -18 dB or -20 dB can be selected as the test tone.

The white balance control has 6 available presets settable through a variety of day and artificial light conditions (Daylight, Shade, Cloudy, Tungsten, Fluorescent H, Fluorescent), as well two manual white balance settings. colour temperature may also be manually set from 2000K to 15,000K in 100K increments for more precise adjustment.

Gain may be manually set from 0dB to 24dB in 1dB increments. Additionally, Auto Gain Control Limit allows you to set the maximum gain limit for the image sensor's sensitivity. With this function, brightness and noise can be balanced as required, and image quality can be maximized in low light situations.

The zoom speed as controlled by the rocker and handle controls is selectable, with a choice of variable or 16 fixed speeds, with fast/normal/slow settings for greater control while zooming in various situations
Advanced Video Snapshot
Advanced Video Snapshot allows you to capture the highlights of a once-in-a-lifetime trip or a family milestone with the same ease as taking photos. Simply record a series of short video clips - or select your favorite clips while in Playback Mode - and blend in your favorite background music to create an exciting movie that will grab everyone's attention. This version of Advanced Video Snapshot allows selectable recording time (2, 4, or 8 seconds). Additionally, audio from an external source such as an MP3 player can be played along with the Snapshot movie, and playback can be controlled from that source
Easy Web Sharing
HD-to-SD Downconversion allows you to convert recorded high definition video to standard definition files while safely preserving the original HD video. These standard definition files make it even more convenient to edit or share video online. The video can be transferred to your computer via traditional methods - i.e. USB connection, card slot - or wirelessly to sharing sites with an Eye-Fi SD memory card.

The VIXIA HF G10 is compatible with the Eye-Fi SD Memory Card. It's possible to wirelessly transfer your video and photos to your computer, or upload them directly to online sharing sites in a few simple steps. Insert an Eye-Fi SD Memory Card into the SD card slot on the camcorder, configure your computer to select the target site (e.g., Facebook, YouTube, Shutterfly, Flickr) and you're ready to share your standard definition files with family, friends, and the world!

Please Note:
Canon camcorders are not guaranteed to support Eye-Fi card functions, including wireless transfer. In case of an issue with the Eye-Fi card, please consult with the card manufacturer. The use of Eye-Fi cards may not be approved in all regions, or from one region to another; please contact the card manufacturer for status of approval in the country/region of use
Frame Modes
The VIXIA HF G10 boasts a host of shooting modes which give you creative options rare in a consumer camcorder. These four offer a range of opportunities to give your video a truly cinematic look and feel.

Native 24p Mode, a feature generally found only on Canon's professional camcorders, allows 24 frames per second to be captured and recorded (instead of the standard 60i) - a must for serious filmmaking work.

24p Cinema Mode enables all aspiring moviemakers to achieve a professional "film-look." You can change the camcorder's frame capture rate to 24p (recorded at 60i), which provides the appearance of the same frame rate as movie film. In addition, you can use the VIXIA HF G10's Cine setting, which changes the colour and tonal characteristics, evoking the look and feel of a movie shown in a theater. For added flexibility, these settings can be used together or independently.

You would normally have to look to professional video cameras in order to have a sophisticated tool like 30p Progressive Mode at your command. In addition to the standard interlaced video frame rate of 60i, you may choose to set the VIXIA HF G10 to capture video in 30p, (30 progressive frames, recorded at 60i) which is particularly useful for footage to be used on the Internet. Excellent for action and sports shots, this setting gives enhanced quality to still images captured after recording
Cinema-Look Filters
Other cinematic looks can be had through the use of Cinema-Look Filters. This feature offers a choice of nine varied built-in adjustable filters which give the look of a variety of cinematic styles by compensating for the colour, gamma and other aspects of the image's quality. The looks can be previewed in the LCD display while shooting. Choose from:
Cinema Standard: Tones down highlights slightly, boosts shadows slightly and adds warmth for a cinematic look
Cool: Adds a bluish tint for cool, futuristic-looking scenes
Dramatic B/W: Creates bold B/W movies with high contrast and grain
Dream: Adds a magical look (soft focus) for dream-like scenes
Memory: Adds a faded, misty look to create flashback scenes
Nostalgic: Recreates the look of old '70s TV programs
Old Movie: Gives movies the aged look of old cinema
Sepia: Uses a sepia tint for an antique, faded look
Vivid: Accentuates primary colours for a bright, cheerful look
The brightness of each filter can be adjusted low, medium or high, for even greater control. When Cinema Standard is selected, colour depth, softening, and contrast can also be adjusted
Terminals
To maximize the usefulness and versatility of the VIXIA HF G10, you'll find a range of terminals to extend the capabilities of your camcorder. A supplied HDMI cable offers easy, one-cable connectivity to your HDTV. The HDMI terminal also supports CEC and x.v.colour*. The camcorder converts 1080i in which the video was shot into HDTV format 1080p through the HDMI Terminal.

The Mini Advanced Accessory Shoe allows you to attach optional Canon accessories, such as the VL-5 Video Light, DM-100 Directional Stereo Microphone or SM-V1 5.1-Channel Surround Microphone.

The built-in microphone terminal with manual audio level control and headphone terminal provide exceptional audio flexibility.

A built-in remote control terminal (compatible with LANC protocol) provides an easy connection to both Canon and third party wired remote controllers
Audio
The VIXIA HF G10 offers an enhanced internal microphone to capture high-quality audio. The microphone's direction can be adjusted four different ways to match your needs and taste. Choose from:
Monaural: Single point direction
Normal (stereo)
Wide: Provides a more enhanced, separated stereo effect than normal
Synced with Zoom: Directionality is adjusted to match the zoom position
In addition, the frequency response characteristics of the microphone can be adjusted between low, mid-range and high frequencies
Normal: Provides a balance throughout all frequencies
Low-range emphasis: Excellent for recording live music with impact
Attenuate low frequencies: Reduces ambient noise and the sound of traffic outdoors, such as wind, cars and the like
Mid-range emphasis: Ideal for capturing people's voices
Low and high range emphasis: Record live music with balanced lows and highs
The Automatic Attenuator feature prevents high volume distortion and optimizes audio quality in situations when sound levels quickly change, such as when loud music plays in the background. It automatically keeps the audio clean and even.

The built-in microphone terminal with manual audio level control and the headphone terminal provide exceptional audio flexibility.

Canon's new optional WM-V1 Wireless Microphone allows you to record high-quality audio without wires from up to 164 feet away (50m), ideal for ceremonies and recitals.

For the ultimate home theater experience, 5.1 channel surround sound allows you to capture audio quality that matches the stunning realism of your high definition video. The sound is captured from all directions (five different pickup sensors) so your home movies will look and sound more lifelike than ever before
Optional SM-V1 5.1-Channel Surround Microphone is required
Story Creator
Story Creator assists you in the process of creating an organized and sophisticated video. Choose one of five different themes - Travel, Kids & Pets, Party, Ceremony, and Blog - and the camcorder provides a list of suggested scenes to shoot. After capturing your video, Story Creator helps you categorize and rate your scenes, making it easy to review, select and playback your favorites
Optional WD-H58W Wide Converter
The optional Canon WD-H58W Wide Converter is optically matched for the VIXIA HF G10's HD lens. It provides a magnification factor of 0.8x, increasing wide angle capability to approximately 24mm (35mm equivalent)
Intelligent Lithium-Ion Battery
Intelligent Lithium-Ion Battery accurately indicates remaining battery time down to the minute, so you won't run out of power when you need it most
Pixela Video Browser Software
Pixela Video Browser Software* is bundled with the VIXIA HF G10. You can easily perform a variety of functions, including AVCHD Editing in which you can trim, reorder, and combine scenes, as well as add music, titles, and transitions. This software also allows you to play your AVCHD movies on your computer and will let you share copies of your movie with friends and family through flash memory to hard drive copying. Transfer and store your movie onto your computer's hard drive with the software and easily convert your high definition video to standard definition video as well. Pixela Video Browser will also assist you in converting video to the optimum resolution for transmission over the Internet.

The bundled application is compatible with Windows XP (Service Pack 2 and 3), Windows Vista, and Windows 7
27 Language Support
Support for 27 languages is available, including Czech, Danish, German, Greek, English, Spanish, French, Italian, Hungarian, Malay, Dutch, Norwegian, Polish, Portuguese, Romanian, Finnish, Swedish, Turkish, Russian, Ukrainian, Arabic, Farsi, Thai, simplified Chinese, traditional Chinese, Korean, and Japanese
What's Included
Canon VIXIA HF G10 Flash Memory Camcorder
Lens Hood
BP-808 Lithium-Ion Battery
CA-570 Compact AC Power Adapter
WL-D89 Wireless Controller
Stylus Pen
IFC-300PCU USB Cable
STV-250N Stereo Video Cable
HTC-100/S Mini HDMI Cable
Bundled CD-ROMs
Limited Warranty

Product Specifications
Detailed Specifications
OPTICS
Sensor
2.37 Megapixel 1/3"
Lens
4.25-42.5mm
f/1.8-2.8
Zoom
Optical: 10x
Digital: 200x
Filter Size
58mm
RECORDING
System
NTSC
Recording Media
Internal Flash Memory 32GB
SD/SDHC, SDXC
Camcorder equipped with 2 memory card slots
Recording Time
Internal Flash Memory
32GB: LP: 12 hours, 15 minutes; SP: 9 hours, 35 minutes; FXP: 4 hours, 10 minutes; MXP: 2 hours, 55 minutes
SD
2GB: LP: 45 minutes; SP: 35 minutes; FXP: 15 minutes; MXP: 10 minutes
4GB: LP: 1 hour, 30 minutes; SP: 1 hour, 10 minutes; FXP: 30 minutes; MXP: 20 minutes
8GB: LP: 3 hours; SP: 2 hours, 20 minutes; FXP: 1 hour; MXP: 40 minutes
16GB: LP: 6 hours, 5 minutes; SP: 4 hours, 45 minutes; FXP: 2 hours, 5 minutes; MXP: 1 hour, 25 minutes
Video Format
High Definition
MPEG AVC/H.264
1920 x 1080i, 1920 x 1080p (60/24 fps)
Still Image Resolution
JPEG: 2.07 Megapixel, 1920 x 1080
Audio Format
2-Channel Stereo
DISPLAY
Display Type
LCD
Screen Size
3.5"
Touchscreen
Yes
FEATURES
Image Stabilization
Optical
Lux
1.5 (With Auto Slow Shutter selected, shutter speed 1/30 second)
0.1 (Low Light mode, shutter speed 1/2 second)
Built-in Mic
Yes
Built-in Speaker
Yes
Accessory Shoe
Mini Hot
Tripod Mount
1/4"
CONNECTIVITY
Inputs
1x 1/8" (3.5mm) Stereo Mini
Outputs
1x USB 2.0
1x Component Video (out)
1x Composite Video (out)
1x 1/8" (3.5mm) Stereo Mini
1x Mini HDMI
Microphone Input
Yes
Headphone Jack
Yes
GENERAL
Software System Requirements
Windows
XP (SP2), XP (SP3), Vista, 7
Battery
Rechargeable Lithium-Ion Battery Pack
Dimensions (WxHxD)
3.0 x 3.1 x 5.9" / 7.62 x 7.87 x 14.99cm
Weight
1.21 lb / 549g