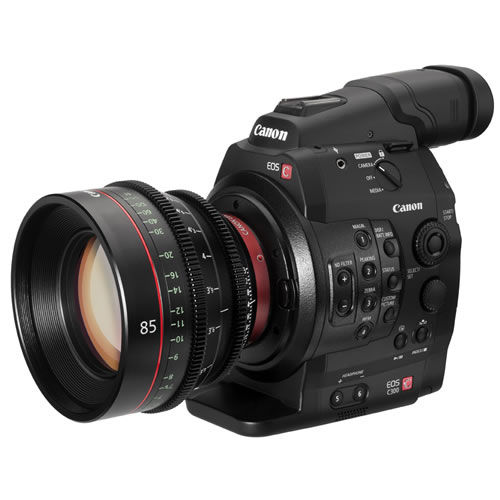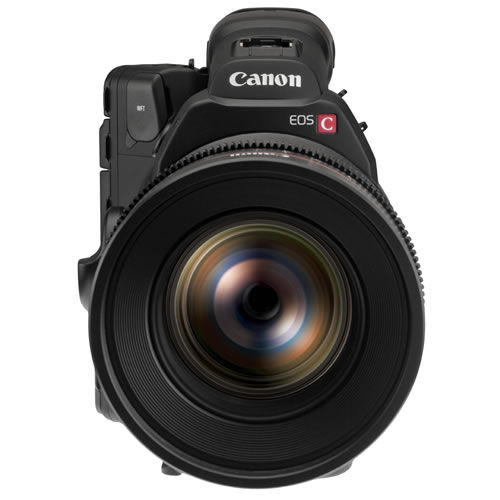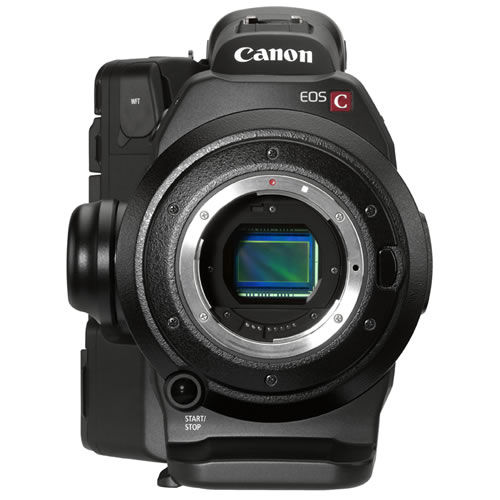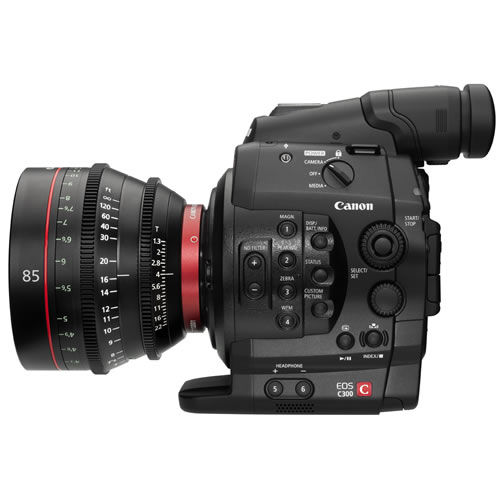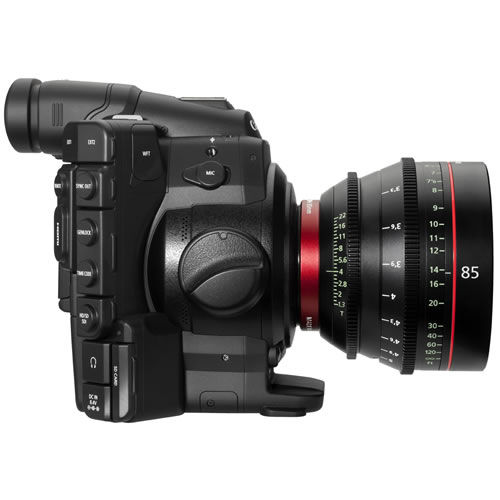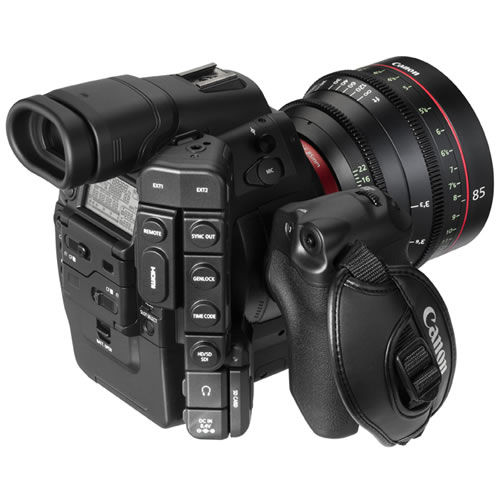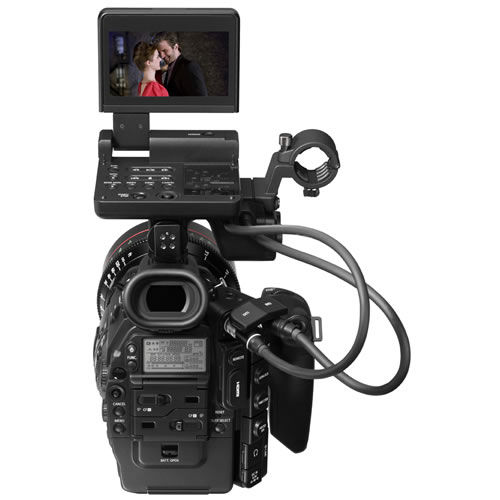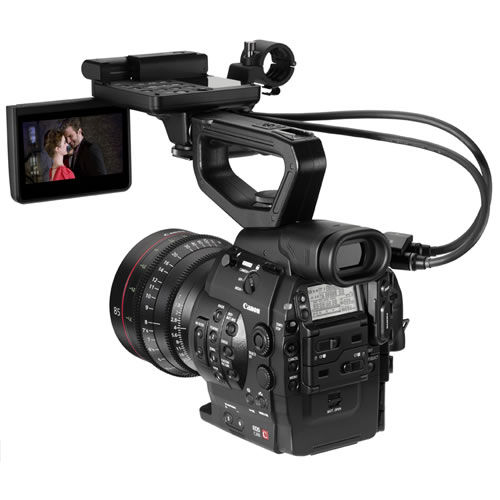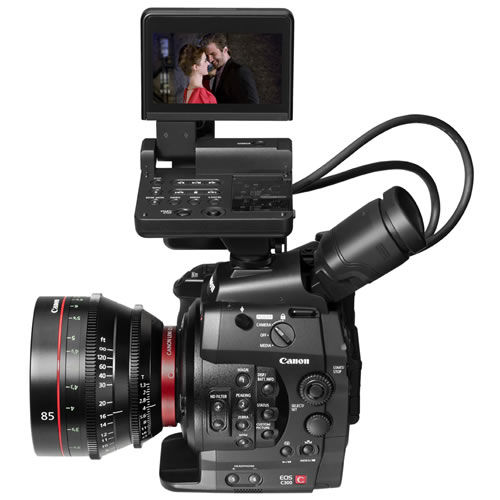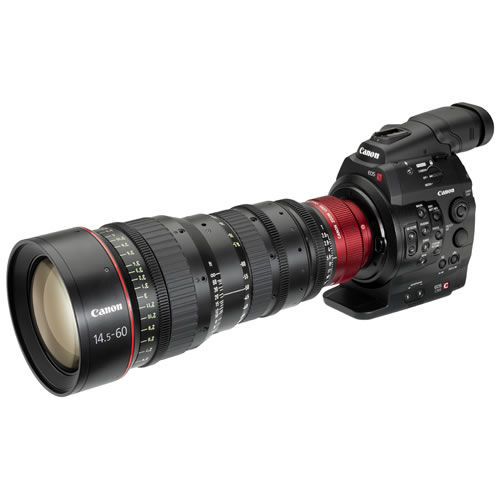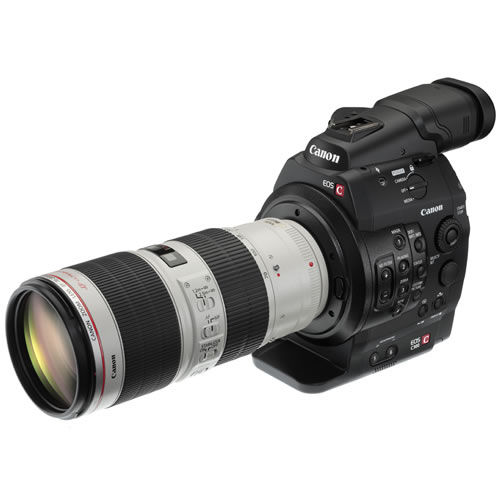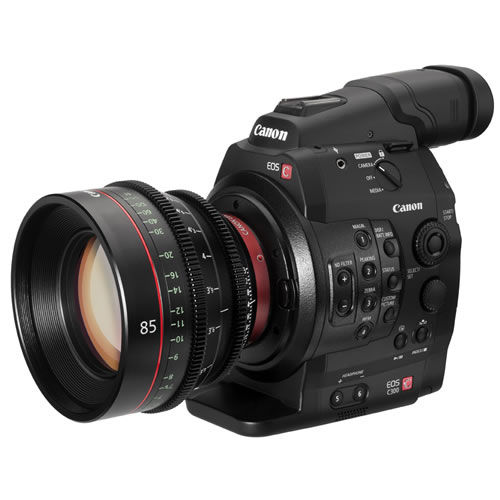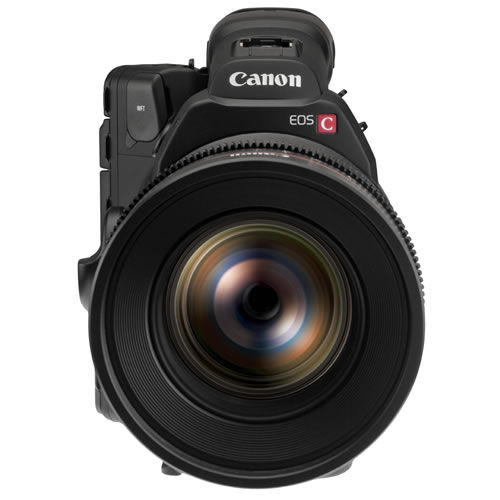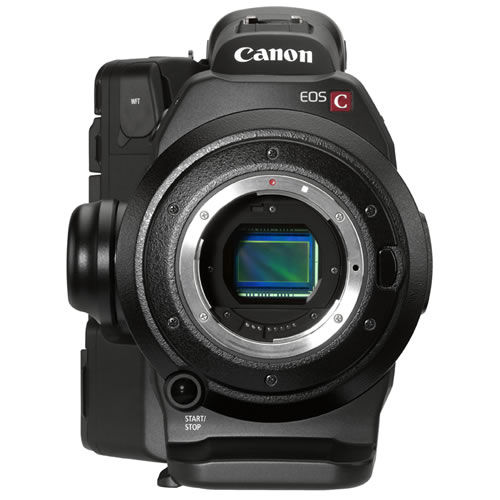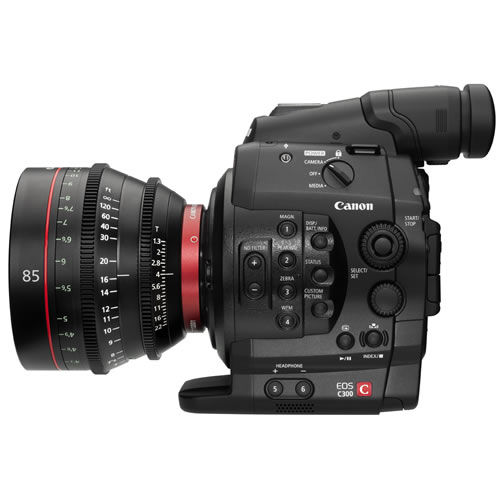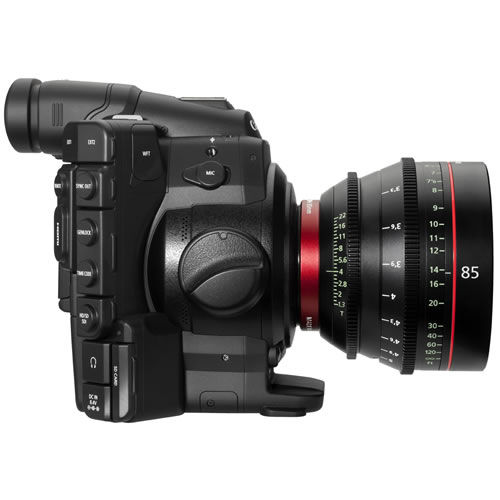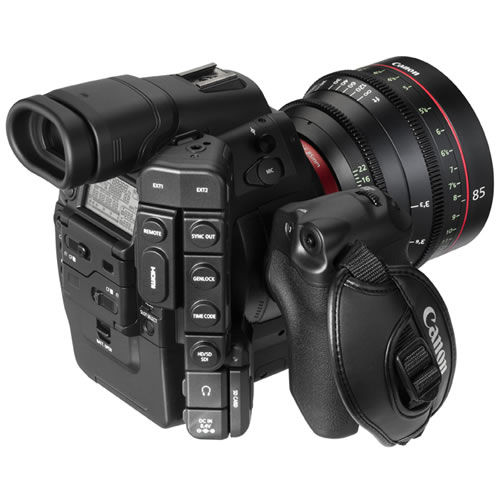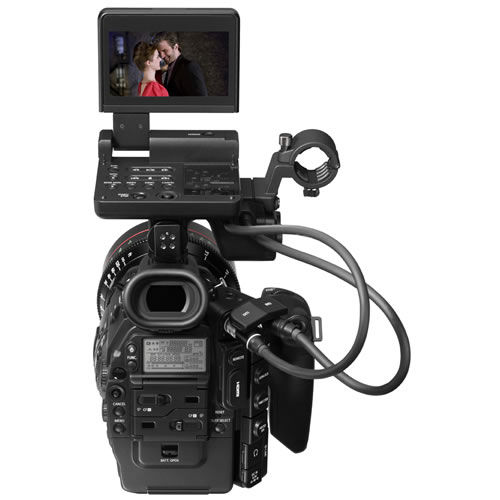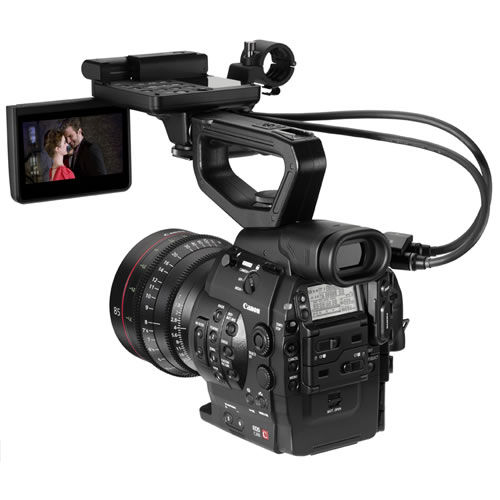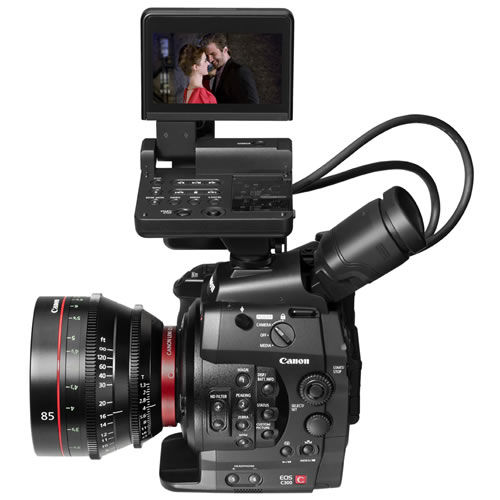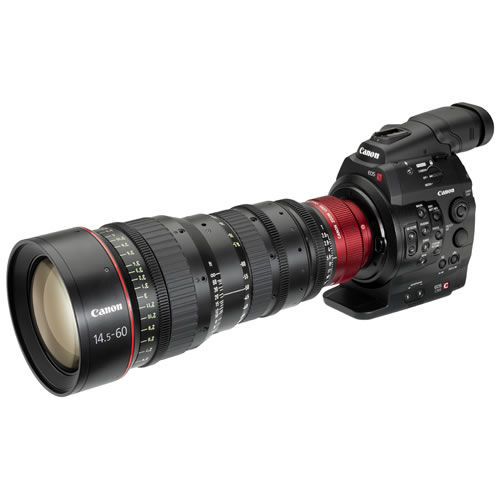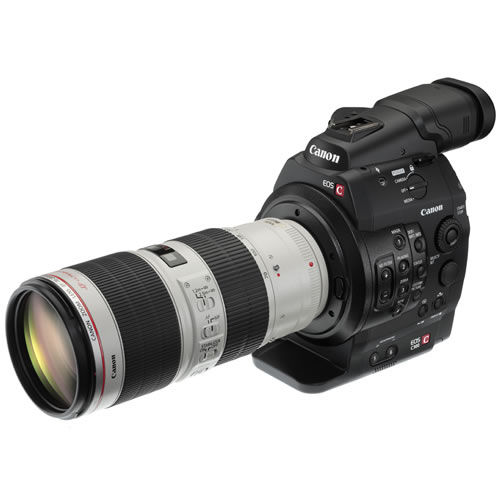 Rental Details
NO CONTINUOUS AUTOFOCUS. Super 35mm CMOS Sensor; EF Mount; Canon XF Codec - 4:2:2 50 Mbps MPEG-2; 1920 x 1080i60 & True 24p Recording; Rotating 4" LCD; HD-SDI Output, XLR Inputs; Dual CF Slots; Timecode I/O, Genlock In & Sync Out; and much more. Includes 2 batteries, AC charger, AC power supply, manaul and CD software.
Included in Rental
1

Canon EOS C300 EF Camcorder Body EF Mount

1

Canon CA-940 Compact Power Adapter

1

Canon CG-940 Battery charger

1

Canon C300 Handle unit

1

Canon C300 Grip unit

1

Canon C300 Monitor unit

1

Canon Cinema EOS Parts CABLE, DC, CA-940 EOS 300

2

Canon BP-955 Battery Pack
Available in Calgary and Toronto
Please Note: Lenses not included.
Leave No Story Untold.
Bringing Canon's expertise and decades of experience designing sensors, lenses, image processing and design to the world of motion picture capture, the EOS C300 camera has been designed to meet the demanding needs of cinema industry professionals, providing a modular, portable and eminently adaptable system of cameras, lenses and accessories built for moviemaking in the 21st century.

Featuring a unique Super 35mm Canon CMOS sensor, revolutionary Canon DIGIC DV III Image Processor and 50 Mbps 4:2:2 codec, the EOS C300 provides outstanding cinema quality movie capture. Compact, modular and compatible with Canon's existing line-up of EF and new EF Cinema lenses as well as accessories from third parties, the stunningly simple to operate EOS C300 is designed to please cinematographers for any production large and small, on location or in the studio, from shoestring to Hollywood budgets.

The EOS C300 offers compatibility with virtually every cinema lens in production today, while its compact and modular design and compatibility with third-party accessories enable it to meet virtually any production need while keeping costs down. Designed with SMPTE HD production standards, its MPEG-2 codec is an internationally recognized standard compatible with major NLE applications while additional features such as Canon Log ensure seamless integration with existing production workflows, making post-production easy. And with an entire support infrastructure designed to help you get the most from your equipment before, during and after production, the EOS C300 is ready to go to work.
Key Features
New Canon Super 35mm CMOS Sensor
Canon DIGIC DV III Image Processor
Canon XF Codec
Fully Compatible with New & Existing EF-mount Lenses
Compact and Modular Design
CF Memory Card Recording
Multiple Recording Formats and Advanced Recording
Industry-standard HD-SDI Output, Genlock, and Timecode terminals
Audio terminals with Linear PCM recording
Full Manual Control and Focusing Aids
WFT Wireless Remote Control over Wi-Fi
Check out these 3 films: XXIT, Mobius, and Sword. All shot with the Canon C300 Cimema EOS
New Canon Super 35mm CMOS Sensor
Modeled on the Super 35mm 3-perf motion picture film standard, the Canon CMOS sensor has an active image size of 24.4 x 13.5mm. It uses 3840 (H) x 2160 (V) photosites to perform the crucial optoelectronic transformation of digital imaging. Each photosite is a generous 6.4 x 6.4 micrometers in area and each has a microlens that ensures the highest efficiency in light transfer to the individual photodiode. Proprietary technologies within the photosite simultaneously lower the image sensor noise floor while enhancing the photon capacity of the photodiode - a combination that assures superb dynamic range. The image sensor employs an innovative readout technique that delivers full bandwidth individual RGB video components without the need for any debayering algorithms. Each of these components has a 1920 (H) x 1080 (V) sampling structure at up to 60 frames. From these original video components, a 1080-line 60i format or a 1280 (H) x 720 (V) at 60P HD format are selectively derived.

Wide Dynamic Range
The EOS C300 incorporates the first Canon CMOS sensor designed specifically for high frame rate motion pictures, offering not only high resolution and shallow depth-of-field but also high sensitivity with low noise. Working together, Canon's Super 35mm sensor and DIGIC DV III Image Processor achieve a remarkably high signal-to-noise ratio that enables recordings with great detail and dynamic range even in minimal light.

Canon Log Gamma
Shooting in Canon Log mode, cinematographers can set the camera exposure value using their customary light meter practices. Canon Log is a special nonlinear transfer function embodied within the DIGIC DV III RGB video processing system. This transfer function is specifically designed to facilitate the post-production of digital images originating in Cinema EOS in a manner similar to the post-production of images digitally transferred from motion picture film (the contemporary DI process). By managing the disposition of quantization bits, Canon Log ensures excellent tonal reproduction within both highlight and low-light regions of a given digital image - maintaining a total dynamic range of 800%. These sophisticated video grading processes restructure a new digital representation achieving a sought-after creative look on a quality reference display.

Low Light/High ISO Ability
A dark and stormy night? With the EOS C300, it's no problem. The combination of sensor and image processor render an extraordinary signal-to-noise ratio and as such make shooting at high ISO (up to ISO 16000) a breeze.

Reduced Rolling Shutter and Moiré Artifacting
The EOS C300 uses enhanced signal processing to minimize rolling shutter skews and to reduce moiré artifacts. A high-speed readout significantly reduces the subjective visibility of the vertical skewing on fast-moving horizontal subjects, a typical pitfall of the CMOS image sensor neutralized by Canon technology.
Canon DIGIC DV III Image Processor
Designed and built by Canon for the highest HD RGB processing, the DIGIC DV III Image Processor uses proprietary circuits and architecture to deliver the highest image quality at the highest speeds, with low power consumption and minimal heat output. It processes the RGB representations originated in the single CMOS sensor of the camera into three channels (Red, Blue and Green) to maintain the rich resolution and clean colour fidelity formerly possible only in three-chip sensor designs.
Canon XF Codec
XF Codec Image Quality
To create digital files robust enough for major post-production, the EOS C300 delivers the highest image quality with its XF Codec - the same codec used by other Canon XF - professional camcorders. With 4:2:2 colour sampling, image files have double the vertical resolution of colour components created with 4:2:0 colour sampling, minimizing jagged edges between red and blue and ensuring ample quality for chroma key compositing with green screens. Thanks to the Canon XF Codec and the EOS C300's superior resolution, original colour quality and cinematic look will hold up through post-production - with results that meet or exceed the filmmakers expectations.
Fully Compatible with New & Existing EF-mount Lenses
Canon EOS C300 with EF-Lens Mount
To integrate easily into the working style and equipment array of film crews and production houses, the EOS C300 with a Canon EF-lens mount is completely compatible with all of Canon's EF lenses, including compact primes, super telephotos, specialty Tilt-Shift, Macro and Fisheye lenses - over 60 in all.

EF and L-Series Lenses
A unique combination of the world's most advanced optical, microelectronic, and precision manufacturing technologies, the Canon's EF lenses, compatible with the EOS C300, are perfected in Canon's laboratories and proven in the field. Whatever the application, whatever the budget, there are Canon EF lenses perfect for nearly every scenario. Their compatibility not only affords the Cinema EOS access to some of the finest optics on the market, it opens up myriad possibilities with Canon's superlative specialty lenses, including a range of Tilt-Shift lenses, Close-up lenses and even Canon's amazing EF 8-15mm f/4L Fisheye Zoom.

Canon EF Cinema Lenses
Canon EF Cinema lenses are designed and engineered to meet or exceed the exacting standards of working professionals. Every Canon EF Cinema lens is designed to fulfill contemporary 4K production standards, surpassing the performance requirements of any HD imaging system. Zoom lenses feature large aspherical lens elements to achieve sharp, consistent images in every shooting situation. Geared inner focusing minimizes focus-induced changes in the angle of view, rendering focus breathing virtually zero. The 11-blade aperture diaphragms ensure smooth out-of-focus areas and beautiful bokeh - and innovative glass construction counteracts barrel expansion and contraction to avoid temperature-induced marking discrepancies. EF Cinema lenses provide markings on angled surfaces on both sides of the barrel, making it easy to read focus and aperture settings from behind or either side of the camera. Focus markings can be switched from standard labeling to metric. Control rings are designed to maintain the proper amount of resistance with consistent operating torque. EF Cinema lenses share uniform gear position, diameter and rotation angle as well as front lens diameters, enabling the film crew to quickly change to another Canon zoom or prime lens or compatible third-party accessories like matte boxes and rods without adjustments.

Broad Compatibility with EOS Cameras
The versatility of the Canon Cinema EOS approach also makes it compatible with more cinema optics than any other camera system. EF-mount EF Cinema Prime lenses are compatible with Canon EOS DSLRs - including full-frame models like the EOS-1D X and the EOS 5D Mark II as well as cameras like the EOS 7D and EOS 60D and their APS-C sized sensors.

Canon EF Cinema Zoom Lenses
Canon's Cinema EF Zoom lenses offer unrivaled optical performance for demanding high-end productions, available in both EF and PL mount configurations. With fluorite, aspherical lens elements and advanced optical design, these unequalled Cinema EF Zoom lenses are capable of 4K-image reproduction. The wide-angle CN-E14.5-60mm T2.6 L S/SP provides industry-leading breadth of range; the telephoto CN-E30-300mm T2.95-3.7 L S/SP rivals best-in-class zoom magnification and telephoto focal length. Together these lenses cover the range most commonly used in cinema shooting.

Canon EF Cinema Prime Lenses
The brilliant series of Cinema EF Prime lenses offers spectacular 4K-image quality in lightweight, compact designs. Three models for EF mount cameras - CN-E24mm T1.5 L F, CN-E50mm T1.3 L F, and CN-E85mm T1.3 L F - offer consistent form factors and marking optimized for motion picture production. Whether you shoot with a Canon EOS C300 or EOS DSLR, the compact and consistent lens design makes for excellent handling. Audiences will also love the results from the 11-blade aperture diaphragms, fast t-stops and proven Canon lens elements.

Additional lenses are already under development, reflecting Canon's commitment to offer the broadest range of professional cinema lenses to meet filmmaker's needs, now and in the future.
Ergonomics & Design
Designed with Filmmakers in Mind
With everything a cinematographer needs, the EOS C300 comes ready to produce. A logical layout of buttons and dials make operation simple. A lock switch turns off all controls except the recording button and function buttons. Small ridges between the buttons help prevent activating functions by mistake. A backlit display panel is great for low-light viewing. A tally lamp is clearly visible from the side or behind the camera.

Compact and Modular Design
The EOS C300 body is surprisingly small (5.24" x 7.0" x 6.7") and easily hand-held at just over 3 lbs. There is a bright 1.55 megapixel electronic viewfinder that comes bundled with a removable combination 4-inch, 1.23 megapixel monitor and control panel. The camera also has a removable hand grip with a control dial and function buttons for hand-held shooting in DSLR style - or remove it and use the supplied thumb rest for completely stripped down shooting. The EOS C300 has a manually-operated built-in Neutral Density glass filter offering 1/4, 1/16 and 1/64th steps of filtering. Hand-held or using a tripod, on location or in the studio, even on 3-D rigs, the EOS C300 fits shooting situations that are challenging for larger cameras.

Ultra-High-Resolution EVF
The EOS C300 features a 0.52-inch, 1.55 Megapixel Colour EVF and approximately 100% field of view coverage for comfortable viewing and accurate judgment of composition, focus and color. The angle of the viewfinder is adjustable for additional user comfort.
CF Memory Card Recording
For versatility and reliability, the EOS C300's recording and terminal specifications are completely compatible with the prevailing industry standards. It records to CF cards through dual slots. From a cost and reliability standpoint, CF cards have no equal. Solid state, and easy to find, 2 hours of 4:2:2 50 Mbps footage can be recorded on two reusable and hot swappable 32 GB CF cards with ease. It's even possible to record to two CF cards simultaneously and relay-record for uninterrupted shots and copy from one card to another.
Multiple Recording Formats and Advanced Recording
With the realities of production in mind, the EOS C300 can record in a number of different modes, resolutions and frame rates, delivering quality recordings perfect for any application. 24.00p mode matches the exact frame rates of film cameras, so there's no need for time-consuming frame-rate conversion. And the camera can shoot in both PAL and NTSC modes at 50 Mbps (CBR), 35 Mbps (VBR) and 25 Mbps (CBR) with a range of settings for resolution, colour, frame rate and recording time. Whether shooting with the expectation of significant editing and post-production, recording for compatibility with HDV editing, or simply creating the longest possible HD image files, the EOS C300 camera will perform flawlessly.

High-Speed, Slow-Motion, Time-Lapse and Stop-Motion
Beyond the advantages of file-based recording, the EOS C300 offers a number of creative possibilities in post-production. By capturing fewer frames per second, the camera can transform normal action into intense high-speed motion up to 60x. By capturing more frames per second, the camera can slow down motion to 1/2.5x at 720p. The EOS C300 can also be programmed to record a set number of frames at defined intervals for amazing time-lapse photography - and a frame-recording feature is perfect for stop-frame animation.
Connectivity
To connect to external monitors, switchers, VTRs and NLE systems with SDI inputs, the EOS C300 features industry-standard HD-SDI Output, Genlock, and Timecode terminals plus audio terminals with Linear PCM recording. Timecode and Genlock enable synchronized multiple camera capture, perfect for multiple camera shots, 3D acquisition and more. The HD-SDI Sync terminal can be switched to output to HD Sync, HD Y, Black Burst, and Composite.
Full Manual Control and Focusing Aids
Providing the cinematographer with everything they need in the palm of their hands, the EOS C300 comes ready to produce. The cameras have a Waveform Monitor (WFM) function that shows the overall brightness of a scene, with RGB Parade Display to view red, green and blue brightness or Spot Display to isolate the luminance distribution of a chosen area. The Vectorscope (VS) display shows real-time hue and saturation levels. For sharp focus, the EOS C300 camera has two peaking modes and a magnified focus assist function. An Edge Monitor Focus Assist provides both a waveform representing the overall degree of focus and a red waveform that represents focus in three specific areas displayed on the camera's 4" LCD monitor. To maintain proper highlight exposure, it offers a zebra bar feature as well. It's all in the camera.
WFT Wireless Remote Control over Wi-Fi
Offering a new level of mobility, the Canon Wireless File Transmitter WFT-E6A opens up a world of wireless options to the EOS filmmaker. The EOS C300 camera comes preconfigured so that camera settings can be viewed and controlled on third party devices with web browsers, including computers, smartphones and tablets without the need for additional in-camera software. With the WFT-E6A module the camera can be controlled from up to 150 feet away over an 802.11 a/b/g/n wireless network. The WFT-E6A enables superior camera control: users can start and stop recording; adjust focus, white balance, gain and other parameters; and adjust the aperture of Canon EF lenses. This offers huge potential for specialty applications where cameras must be controlled remotely such as nature documentaries or reality TV. It also enables input marking for metadata; and offers a live view of the composition. It supports incorporating GPS information into the file metadata - useful for general cinematic applications, and essential for expedition filmmakers. A basic window mode even enables use with the Apple iPhone®, iPod touch® and iPad®, as well as with handheld devices operating the Android™ operating system.
What's Included
EOS C300 EF Body (with Grip/Camera cover R-F-3)
Monitor unit
Handle unit
Battery Pack BP-955 (also available as optional accessory)
Battery Charger CG-940 (also available as optional accessory)
Compact Power Adapter CA-940 (also available as optional accessory)
Eye Cup
Viewfinder Cap
Thumb rest
Tripod base TB-1
WFT Attachment
Measuring Hook
AC Cable x2
DC Cable (for CA-940)
Shoulder Strap SS-1200
XF Utilities Disc Ver. 3.0
Limited Warranty
Product Specifications
Detailed Specifications
Standard Definition or High Definition
High Definition
Image Sensor
Sensor Type: CMOS sensor (single-panel), equivalent to Super 35mm
Sensor Size: 24.6 x 13.8mm effective screen size (6.4 x 6.4 micrometer pixel pitch)
Scanning System: Progressive
Number of Sensors: 1
Filter: RGB Primary Colour Filter (Bayer Array)
Imaging Processor: DIGIC DV III
Effective Pixels
Approx. 8.29 megapixels (3840 x 2160)
Total Pixels
Approx. 9.84 megapixels (4206 x 2340)
Lens
Interchangeable: EF mount
Focusing System
Manual; Autofocus system not available
Max. Shutter Speed
1/2000 sec
ISO Range
320 to 20,000, 1-stop or 1/3-stop
ND Filter Settings
Mechanical ND filter system with option of clear, 2 stops, 4 stops, and 6 stops
White Balance
Auto, Manual, 2 Custom (2000K - 150,00K in 100K increments), Daylight, Tungsten
Frame Rate
NTSC: 59.94P, 59.94i, 29.97P, 23.98P
PAL: 50P, 50i, 25P
Film: 24P
Recording/Codec
Signal System: NTSC and PAL
Compression: 8 Bit MPEG-2 Long GOP
Colour Space: 4:2:2 at 50Mbps recording
Maximum Bit Rate: 50Mbps (CBR)
Canon Log Gamma: Available
File Format: MXF (OP-1a)

Recording Options:
50Mbps (CBR) 4:2:2 422P@HL
1920x1080: 59.94i/29.97p/23.98p; 50i/25p; True 24 (24.00)
1280x720: 59.94i/29.97p/23.98p; 50p/25p; True 24 (24.00)

35Mbps (VBR) 4:2:0 MP@HL
1920x1080: 59.94i/29.97p/23.98p; 50i/25p
1280x720: 59.94p/29.97p/23.98p; 50p/25p

25Mbps (CBR) 4:2:0 MP@H14
1440x1080: 59.94i/29.97p/23.98p; 50i/25p
Max. Movie Recording Time
64GB Compact Flash (CF) card
Greater capacity is possible when both are used.

25Mbps: 310 minutes
35Mbps: 225 minutes
50Mbps: 160 minutes
Minimum Illumination
Full AUTO mode: TBA lux
Manual mode: TBA lux
Illumination Correction
Compensates for each lens' light fall-off. Lens specific data stored in firmware
Genlock Terminal
BNC (input only)
HD/SD-SDI Terminal
BNC (output only), with embedded audio
Timecode Terminals
BNC (input/output), Sync Out (BNC)
Viewfinder
0.52-inch diagonal, colour 16:9 rotatable LCD
+2.0 to -5.5 diopter eye adjustment
LCD Screen (Monitor Unit)
4-inch diagonal, 1.23 megapixel color 16:9 rotatable LCD
100% field of view
adj. brightness, contrast, colour, sharpness and backlight
Audio
Linear PCM; 2-Channel; 16-Bit; 48kHz
Built-in Microphone: None
External Audio Inputs: 2 - XLR inputs (Auto and Manual level settings)
Recording Channel Selection: Two channel recording
XLR Mic Trimming: Available; -12dB, -6 dB, 0dB or +12dB
Recording Level Adjustment Range: - Infinity to +18dB
Phantom Power: Available: +48V
Headphone Adjustment: 16 Settings; Volume is muted at lowest setting
1KHz Tone: Available: -12, -18 or -20 dB
Microphone
None built-in
Recording Media
CF Card (Type 1 Only): 2 slots (Movie files); UDMA supported
SD Card: 1 slot: Still images, Custom Picture Data*, Clip Metadata and menu settings
*Custom Picture Data and settings are not compatible with data from other Canon models
USB Terminal
N/A
Video Terminal
Same as HD/SD-SDI Terminal
Audio Terminal
XLR 3-pin jack (2), Switchable between MIC/LINE
HDMI Terminal
Yes (Type A), output only
AV Mini-terminal/Headphone Terminal
3.5mm stereo mini-jack
WFT Terminal
For compatible Wi-Fi Accessory
Power Supply (rated)
7.4V DC (battery pack), 8.4V DC (DC-IN)
Operating Temperature Range
Performance: 32°-104°F / 0°-40°C, 85% (relative humidity)
Operation: 23°-113°F / -5°-45°C, 60% (relative humidity)
Dimensions (W x H x D)
EOS C300 + Thumb Rest: 5.2 x 7.0 x 6.7 in / 133 x 179 x 171mm
EOS C300 + Grip: 6.9 x 7.0 x 6.7 in / 174 x 179 x 171mm
Camera + Monitor: 7.3 x 9.8 x 7.4 in / 185 x 249 x 187mm
Camera + Handle + Monitor: 7.3 x 11.2 x 11.9 in / 185 x 284 x 301mm

(not including lens hood, eyecup, grip belt)
Weight (not including lens)
Main Unit:
EOS C300: 3.2 lb / 1430g

Grip: 8.1 oz / 230g
Monitor Unit: 1.4 lb / 620g
Handle Unit: 6.3 oz / 180g
Thumb Rest: 0.35 oz / 10g
BP-955 Battery: 7.8 oz / 220g
Attachment fitting: 0.32 oz / 9g
CF Cards x 2: 0.63 oz / 18g
Measure hook: 0.11 oz / 3g
Body Cap, Camera Cover (either type): 0.63 oz / 18g

EOS C300 w/:
Grip, Monitor, BP-955, 2@CF 5.6 lb / 2520g
Grip, Monitor, Handle, BP-955, 2@CF 6.0 lb / 2700g