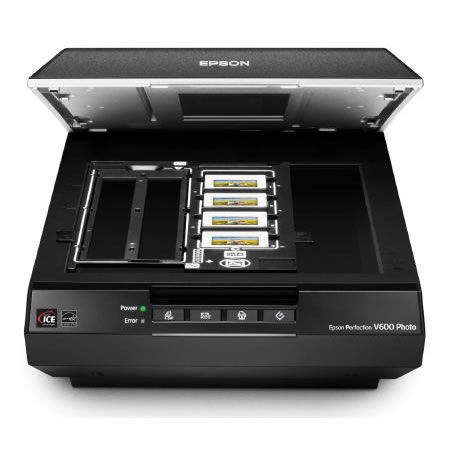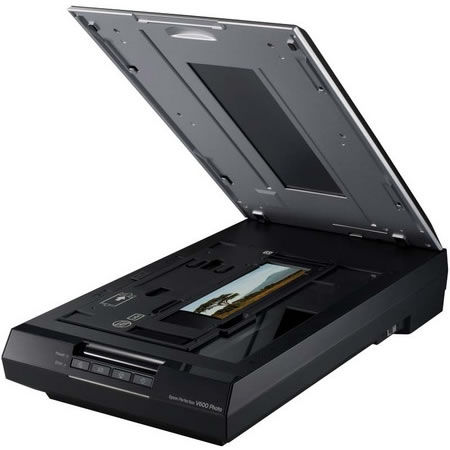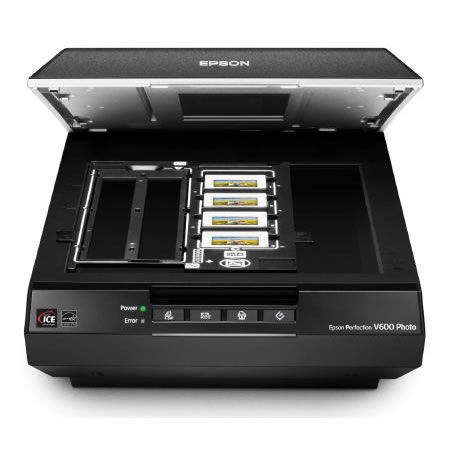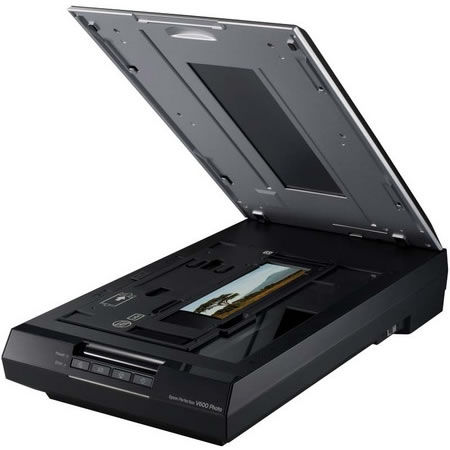 Rental ID:

R305674

• Webcode: 246675
Rental Details
Flatbed scanner for film negatives, prints, and documents. Comes with holders for 35mm negative strips, mounted transparencies, and medium format 120 film.
Product Highlights
Film, Slide, Medium Format

Scan Media

35mm / Mounted slides / 120

Film Size

6400 dpi

Resolution

8.5 x 11.7"

Max. Scan Area

21ms/Line

Scan Speed

3.4 Dmax

Optical Density
Available in Edmonton
---
Buy this for: $329.99 Learn More

Quality and Versatility
6400 x 9600 dpi optical resolution for extraordinary 17 x 22" enlargements from film; TPU for slides, negatives and medium-format panoramic film up to 6 x 22 cm; scan photos, film, everyday documents and 3D objects.
One-touch Colour Restoration
Bring faded colour photos back to life effortlessly with Epson Easy Photo Fix.
Powerful Image Restoration
DIGITAL ICE for Prints removes the appearance of tears and creases from damaged photos; DIGITAL ICE for Film removes the appearance of dust and scratches from film.
Increased Productivity
Optical Character Recognition (OCR) to easily convert scanned documents into editable text; four customizable buttons to instantly scan, copy, scan-to-email and create PDFs.
Energy-Efficient LED for Fast Scans
Exclusive ReadyScan LED Technology enables fast scanning with no warmup time; contains no mercury and consumes less power.
Key Features:
Create extraordinary enlargements from film – 6400 x 9600 dpi for enlargements up to 17" x 22"
Scan slides, negatives and medium-format panoramic film – built-in Transparency Unit
Remove the appearance of tears and creases from damaged photos – DIGITAL ICE for Prints
Remove the appearance of dust and scratches from film – DIGITAL ICE for Film
Restore faded colour photos with one touch – Epson Easy Photo Fix® included
Achieve greater productivity – convert scanned documents into editable text with ABBYY® FineReader® Sprint Plus OCR
Quickly complete any task – instantly scan, copy, scan-to-email and create PDFs with four customizable buttons
Energy-efficient LED for fast scans – exclusive ReadyScan LED light source means no warmup time, faster scans and lower power consumption
What's Included
V600

Perfection Photo Scanner
Transparency Unit (built into lid)
35mm, mounted slides, and 6x22 cm Medium-format Film Holders
Scanner Installation CD-ROM
Scanner Setup Poster
Hi-Speed USB 2.0 Cable
AC Power Adapter and Cord
Product Specifications
Detailed Specifications
Scanner Type
Flatbed colour image scanner
Photoelectric Device
Epson MatrixCCD® 12-line, colour sensor
Optical Resolution
6400 dpi (max)
Hardware Resolution
6400 x 9600 dpi
Maximum Resolution
12,800 x 12,800 dpi (interpolated)
Effective Pixels
54,400 x 74,880 (6400 dpi)
Colour Hardware Bit Depth
48-bit internal/external
Grayscale Hardware Bit Depth
16-bit internal/external
Optical Density
3.4 Dmax
Transparency Unit

35mm Transparency Adapter
12 negatives/4 slides
Medium-format film (up to 6 x 22 cm)

Buttons
4 customizable buttons: Scan, Copy, E-mail and PDF
Maximum Read Area
8.5" x 11.7", TPU 2.7" x 9.5"
Light Source
ReadyScan LED technology
Interface
Hi-Speed USB 2.0
Scanning Speed

6400 dpi High-speed Mode Monochrome:
21.00 msec/line
Full colour:
21.00 msec/line

Reliability
MCBF — 30,000 cycles
Environment Conditions

Temperature
Operating 10 °C to 35 °C (50 °F to 95 °F)
Humidity
Operating 10 – 80% (no condensation)

Power Requirements

Voltage
AC 100 – 120 V
Frequency
50 – 60 Hz
Power consumption
16.5 W
Ready mode
5.5 W
Sleep
1.6 W
Off
0.4 W

Windows Requirements

IBM® compatible PC with Pentium® II 450 MHz or higher processor
USB 2.0/1.1:
Windows® 7/Windows Vista® — 1 GHz CPU, 1GB RAM, 90MB HDD
Windows XP Professional x64, XP Home, XP Professional, 2000 Professional — 800 MHz CPU, 512MB RAM, 90MB HDD
DIGITAL ICE:
Windows® 7/Windows Vista® — 1 GHz CPU, 1GB RAM, 1GB HDD
Windows XP Professional x64, XP Home, XP Professional, 2000 Professional — 800 MHz CPU, 512MB RAM, 1GB HDD

Macintosh Requirements

PowerPC® G3 400 MHz or Intel®-based CPU
USB 2.0/1.1:
Mac OS X® 10.3.9 or 10.4.x – PowerPC G3 600 MHz/Intel® 1 GHz CPU, 256MB RAM, 100MB HDD
Mac OS 10.5.x or later – PowerPC G4 867 MHz/Intel 1 GHz CPU, 512MB RAM, 100MB HDD
DIGITAL ICE:
Mac OS X 10.3.9 or 10.4.x – PowerPC G3 600 MHz/ Intel 1 GHz CPU, 512MB RAM, 1GB HDD
Mac OS 10.5.x or later – PowerPC G4 867 MHz/Intel 1 GHz CPU, 512MB RAM, 1GB HDD

Physical Dimensions

Width
11" (280 mm)
Depth
19" (485 mm)
Height
4.6" (118 mm)
Weight
9.0 lb (4.1 kg)

Software

Epson Scan with Epson Easy Photo Fix® technology
Epson Event Manager
Epson Copy Utility
ABBYY® FineReader® Sprint Plus OCR

Warranty
One-year limited warranty in the U.S. and Canada