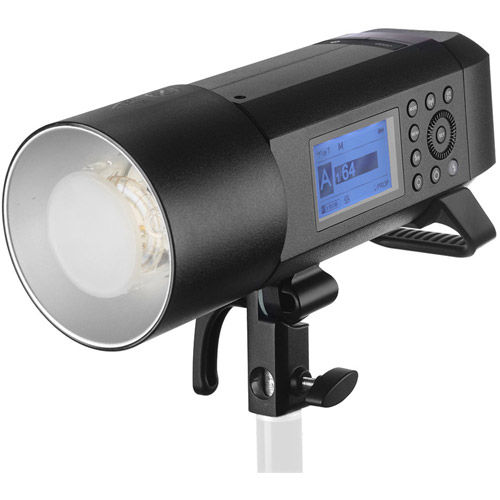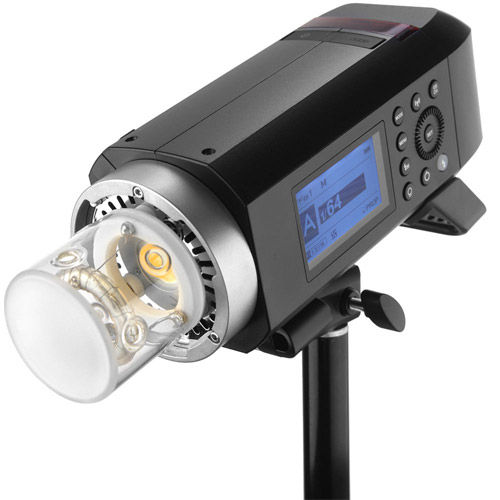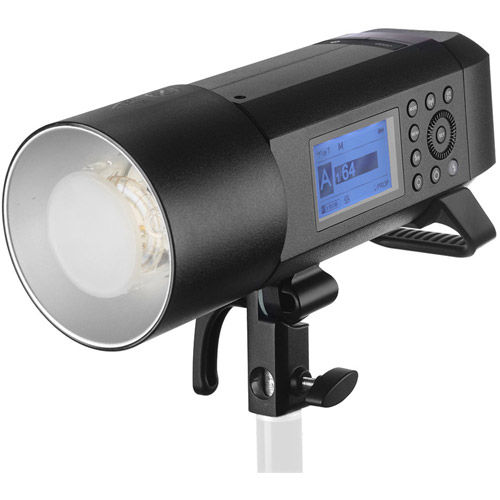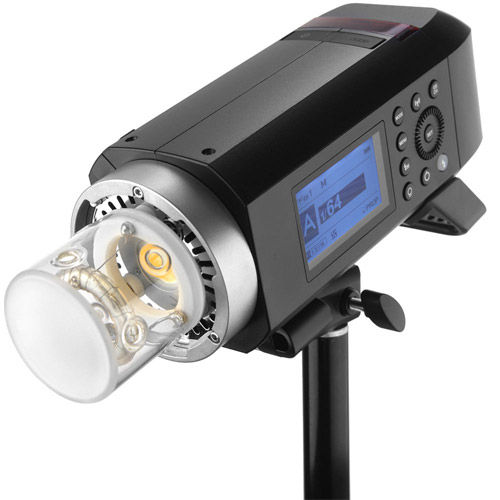 Rental ID:

R306258

• Webcode: 426107
Included in Rental
1

Godox AD400Pro Wistro All-In-1 Outdoor Flash

1

Godox WB400P Battery Charger for AD400pro

1

Godox Mini Reflector for AD400Pro

1

Godox Protection Cap for AD400Pro

1

Godox Battery for AD400Pro
Product Highlights
400Ws

Power

Up to 1/8000 Sec. HSS

High Speed Sync

Up to 1/240 Sec.

Flash Duration

390 Full Power

Flashes

0.01-2s

Recycle Time

9 Step

Power Range

Built-In AirTTL Radio Receiver

30W LED

Modelling Light

72 (m ISO 100)

Guide Number

Includes Bowen Adapter & Carrying Case
Available in Edmonton
---
Buy this for: $854.99 Learn More

AD400Pro | All-in-One Outdoor Flash
The AD400Pro All-in-One Outdoor Flash has 400Ws strong power, 0.01~2s recycle time, 12 continuous flashes in 1/16 flashes in 1/16 power output, 30W LED modeling lamp, 390 full power pops, and stable colour temperature. It is compatible with TTL auto flash systems of multi-brand cameras.
Key Features:
400Ws Power
390 Full Power Flashes
2.4G Wireless X System
0.01~2s Recycle Time
Built-in Godox 2.4G Wireless X System with Great Compatibility
With built-in Godox 2.4G wireless X system, AD400Pro is compatible with Canon E-TTL II, Nikon i-TTL autoflash, Sony, FUJIFILM, Olympus & Panasonic TTL autoflash system. The AD400Pro supports 1/8000s high-speed sync. With master & slave function, the AD400Pro can be used in combination with Godox TTL camera flash, TTL outdoor flash, etc.
Supports Portable Accessories with Adapter Rings
With specially designed New Godox-mount to install lighter and more portable accessories which can be used in combination. The AD400Pro includes a Bowens-mount adapter ring to install Bowns-mount accessories. Optional adapter rings of other brands can be purchased to allow for use of other accessories e.g. Broncolor, Profoto, Elinchrom, etc.
Two Power Supply Methods with Great Flexibility
The professional lithium battery pack for the AD400PRO has large capacity (21.6V/2600mAh) to provide 390 full power flashes and recycle in 0.01-1 second. Users can adopt an AC power source to achieve AC-DC dual-purpose.
Small Size, Light Weight & Portable
Only weights 2.1kg with the small size of 220 x 102 x 128 mm (without the flash tube and reflector). When using with a portable flash head (seperately sold), detach the handle and mounting bracket to lose weight and save room, thus gaining great portability and easier shooting.
What's Included
AD400Pro Flash
Flash Tube
Lithium Battery Pack
Battery Charger
Power Cord
Reflector
Bowens-Mount Adapter
Carrying Bag
Wrench
Product Specifications
Godox AD400Pro Wistro All-in-1 Outdoor Flash w/Bowen Adapter & Carrying Case

Wireless Slave Unit Mode
Radio transmission mode (compatible with Canon E-TTL II, Nikon i-TTL, Sony, Olympus, Panasonic & Fujifilm)
Flash Mode
Wireless off M/Multi
Slave unit of radio transmission TTL/M/Multi
Guide No. (m ISO 100)
72 (m ISO 100, with high-efficiency standard reflector)
Flash Duration
1/240 to 1/12810 seconds
Power
400Ws
Power Output
9 steps: 1/256~1/1
Stroboscopic Flash
Provided (up to 100 times, 100Hz)
Flash Exposure Compensations (FEC)
Manual. Feb +3 stops in 1/3 stop increments
Sync Mode
High-speed sync (up to 1/8000 seconds), first-curtain sync, and second-curtain sync
Delay Flash
0.01~30 seconds
Mask
Yes
Fan
Yes
Beeper
Yes
Modeling Lamp (LED)
30W/4800K/TLIC: 93
Optical Slave FLash
S1/S2
Flash Duration Indication
Yes
Display
Dot-matrx panel

Wireless Flash (2.4G wireless transmission)

Wireless Flash Function
Slave, Off
Controllable Slave Groups
5 (A, B, C, D, E)
Transmission Range (approx.)
100m
Channels
32 (1~32)
Wireless ID
To avoid signal interference effectively, triggering can only be achieved when the channnels and wireless IDs of the master and slave unit are set to the same

Power Supply

Power Supply
Lithium batteyr pack (21.6V/2600mAh)
Full Power Flashes
390
Recycle Time
Approx. 0.01-0.9s
Battery Indicator
Yes
Power Indication
Power off automatically after approx. 30~120 minutes of idle operation
Sync Triggering Mode
3.5mm sync line
Colour Temperature
5600+200K
Stable Colour Temperature Mode
Changes within +75K in entire power range

Dimensions

Dimensions (with Battery)
220 x 102 x 128 mm (flash tube & reflector not included)
Net Weight (with Battery)
2.1 kg (flash tube & reflector not included)