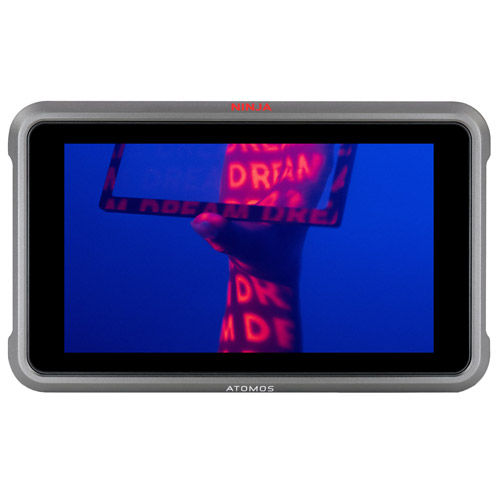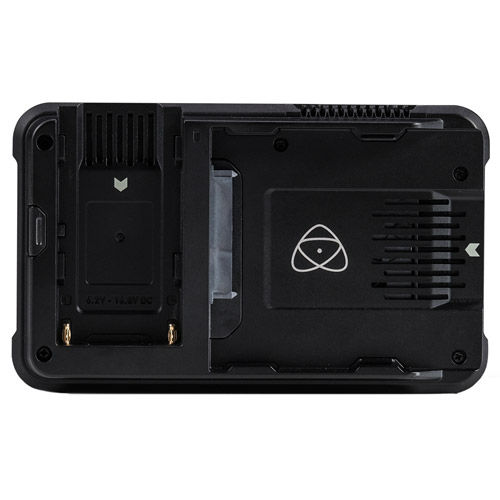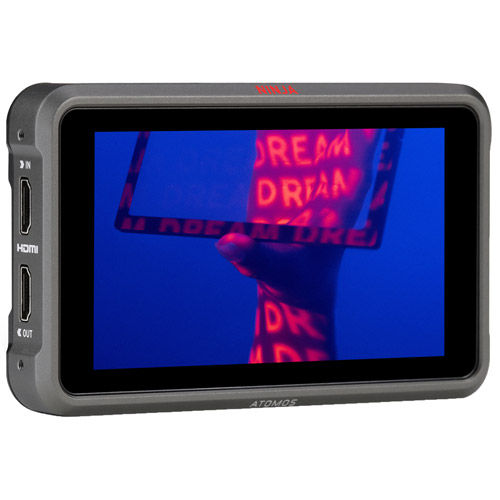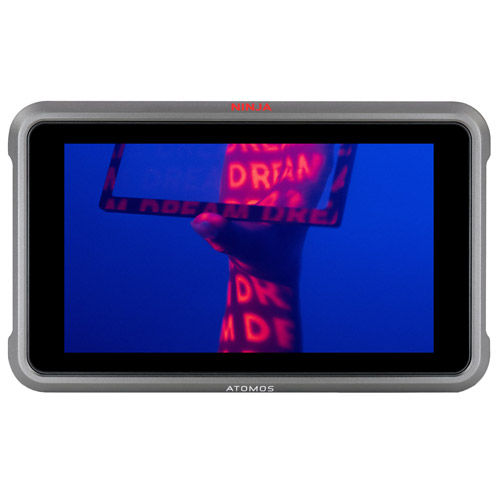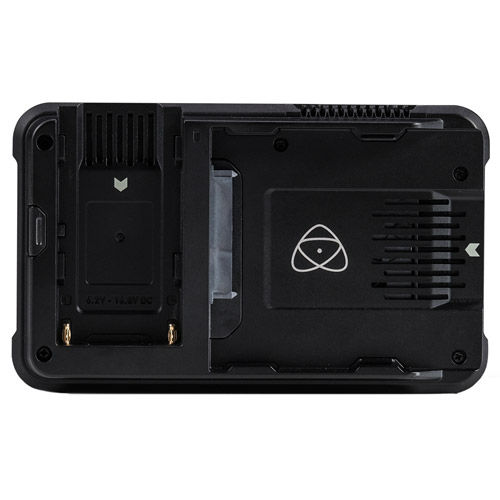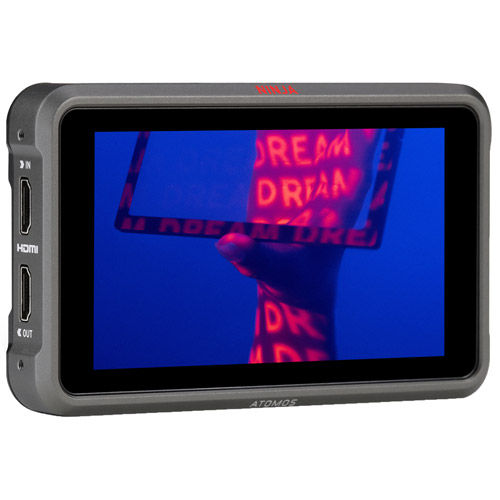 Rental Details
Accessories may vary at different locations.
Included in Rental
1

Atomos Ninja V+ 5" Monitor

2

Sony NPF970 InfoLithium L Type

1

Atomos NPF Series Charger

1

LED Go CN-B08 Hot Shoe Adapter Clamp

1

Atomos Docking Station with USB 3.0 & 2.0

1

Atomos Sony battery adapter

1

TechCraft 3 ft. HDMI to Mini-HDMI 1.3c M/M - Platinum

1

TechCraft 2 ft. HDMI to Micro-HDMI 1.4D M/M - Platinum

1

TechCraft 3 ft. Ultra-Slim HDMI v1.4 Cable with Ethernet - Platinum

1

Atomos Master Caddy II case

1

Atomos DC to Wall adapter for Ninja V

1

Atomos Battery to DC Adapter for Ninja V
Product Highlights
5.2"

HDR Monitor

1920 x 1080

Max. Resolution

1000 nits

Brightness

HDMI

Input

8Kp30 & 4Kp120 RAW

Continuous Recording

In-Plane Switching

IPS Technology
Available in Edmonton and Toronto
Ninja V+
The Ninja V+ delivers high quality accurate monitoring and extended recording capabilities for your camera of choice. Delivering support for continuous recording of 8Kp30 and 4Kp120 in Apple ProRes RAW adding to the great workflow of Ninja V, that bring together the great partnerships with camera manufactures and the world's leading editing systems for Atomos' customers.
Key Features:
10-bit HDR
4K 60p Video
H.265 (HEVC)
HD 60p up to 120p
Apple ProRes
8K 30p / 4K 120p RAW
4K 60p RAW
RAW over HDMI
AVID DNx
Included in the codec arsenal is the ability to record video inputs using the10-bit H.265 (HEVC) codec for high quality compressed recordings with small file sizes, which is perfect for the world we now live in, where streaming and sharing online has dramatically increased.

Ninja V+, sports a new stealth grey bezel and expands the processing power to deliver for 8k and high-frame-rate RAW recording. Using the latest chip technology, this premium Ninja has plenty of grunt to be able to record ProRes RAW at even higher frame rates and higher resolutions than the Ninja V.

The extra horsepower under the hood allows the platform to add other 'plus' features when combined with future Atomos products and upcoming AtomX modules. The efficiency of ProRes RAW opens the possibility for creativity with the increase in resolution or frame rate whilst maintaining a workflow that can seamlessly slide on to the timeline of your existing ProRes RAW projects.
Ninja V+ and 8K workflow
Atomos is also delighted to announce that the Ninja V+ will be able to record 8Kp30 ProRes RAW when connected to a Canon EOS R5 mirrorless camera. Atomos and Canon are delighted to be bringing customers a world first for capturing stunning pristine 8K images with such an affordable, capable and compact camera system. This will be a true game changer in content creation.

The ProRes RAW format is a perfect vehicle for an 8K workflow, from ease of use natively on the timeline within Final Cut Pro, to the flexibility of the image processing with full adjustment of WB and ISO control. Coupled with the proven Full Frame Canon EOS R5, this combination will propel content creators to a whole new level of production values.
Ninja V+ and 4Kp120
Capture and visualise the unseen with 4Kp120 recording at up to ProRes RAW from the Ninja V+ and the Z CAM E2 and E2-M4 models. Fully harness the dynamic range of the sensor and capture every aspect of motion and movement directly via RAW over HDMI. Add to this the benefit of being able to play back the high-frame rate video captured on the Ninja V+ with your choice of over cranked framerate for real-time preview.
What's Included
Ninja V+ 5.2" 8K HDMI H.265 Raw Recording Monitor
Master Caddy II
Battery Eliminator/Dummy Battery
Power Adapter
Neoprene Sleeve
Hard Case
Product Specifications
Ninja V+

Physical Specifications

Weight
485g / 1.06lbs
Dimensions (Control Unit)
129 x 49 x 160 (with out Ninja V/V+)
Mount Points
Anti rotational 1/4" 20 / 3/8 on base of unit

Construction

Body
ABS plastic with locking arm for Ninja V/V+
Cooling
Passive
Tally Light
Record tally Via Ninja V/V+, Program and
Preview illumination on CAST buttons
Control Button
4 x Switching, 4 x Function
AtomXpansion Slot
To connect to Ninja V/V+
(no module pass through)

Power

Input Voltage
6.2V to 16.8V
DC in Connector
Lock DC connector from Ninja V/V+
DC power supply
Battery
Via optional Atomos DC to DTAP cable

Display - Via Ninja V / V+

Touchscreen
SuperAtom IPS panel (capacitive touch)
Size
5.2"
Resolution
1920 x 1080
Brightness
1000nits
Aspect Ratio
16:9
Colour Gamut
Rec.709

Video Input

HDMI
4x HDMI 1.4b up to 1080p60
Bit Depth
10-bit
Video Chroma Subsampling
4:2:2
HDCP copy protection
No

Video Output

Via CAST
HDMI 1.4b up to 1080p60 - Program ONLY
Via Ninja V/V+
Multi functions out -
Program, Preview, Multiview
Multiview
Yes, via Ninja V/V+ Display or HDMI output
OS Overlays
Optional via Ninja V/V+ HDMI out
Video Chroma Subsampling
4 2 2
Bit Depth
10-bit

Web Streaming

USB UVC
USB-C up to 1080p30

Audio In/Out

Audio Quality
24/48kHz
Audio Codec
PCM
HDMI
2ch 24-Bit, input dependent per input
Analogue Audio In
3.5mm via Ninja V/V+
Headphone Out
3.5mm via Ninja V/V+

Timecode / Sync

Embedded
HDMI

Resolution & Frame Rates

FHD 1920 x 1080 Progressive
23.98/24/25/29.9/30/50/59.94/60
FHD 1920 x 1080 PsF
No
FHD 1920 x 1080 Interlaced
50/59.94/60*
1280 x 720p
No
SD PAL / NTSC
No

Program Recording CODEC via Ninja V/V+

Apple ProRes
LT, 422, 422HQ
Avid DNxHD
DNxHD 220x,220,145,36
(Free activation key via visit my.Atomos.com)

Recording Functions

Switched Program Record
Clean or CAST Program feed via Ninja V/V+

Multi Input / Switching

Multiple HDMI input
Up to 4 x HDMI up to 1080p60
Multiview Display
Quad input display on Ninja V/V+ Display
Multiview Output
Via Ninja V/V+ HDMI out
Picture in Picture (PIP)
Any input over Any input, 4 positions in small
or large size PIP
Graphic overlays
Select layout for Stored Graphics in Ninja V/V+
and save configured scene presets
Media pool storage
Upload and Store Graphics in Ninja V/V+
Input Processing
I > P and frame rate conversion
Transitions
Fade in / out and Dip to - White or Black

Supported Media

Master Caddy II
Yes
SSDmini
Yes, requires the included AtomX SSD
mini handle adaptor
File System
ExFat

Onboard Signal Processing

Pulldown Removal
Interlaced to Progressive on
Input and USB stream
Compatibility
Atomos products (Requires Ninja V / V+)