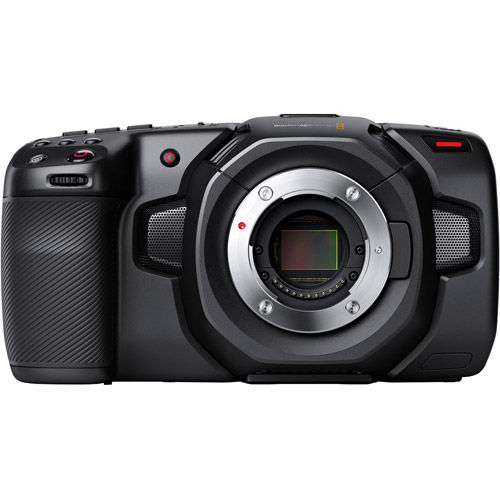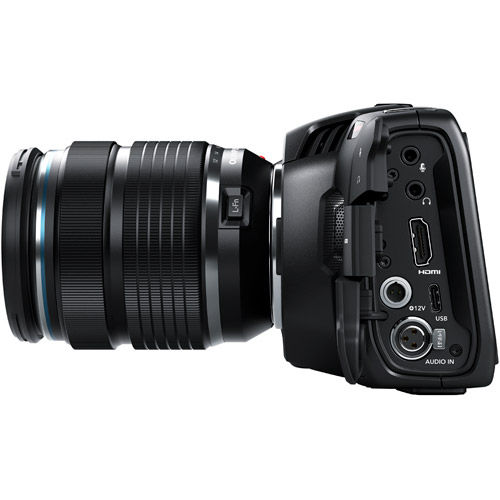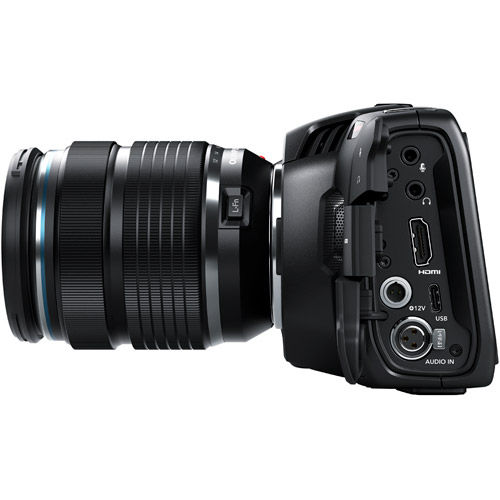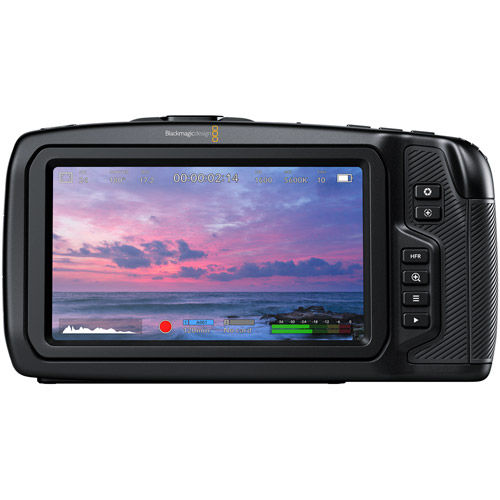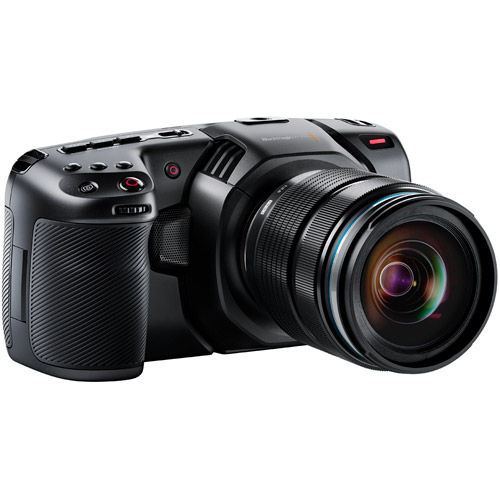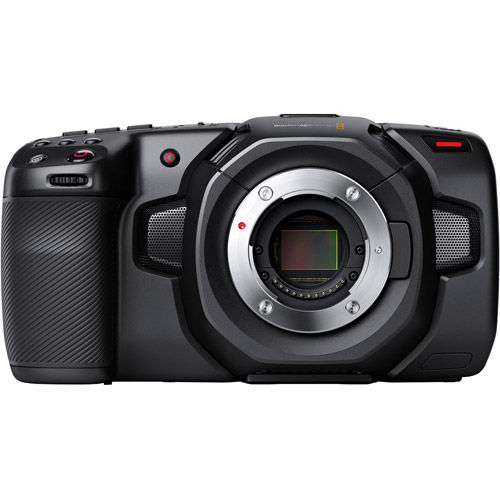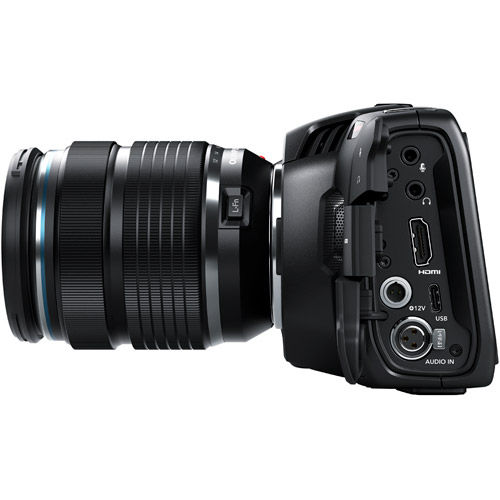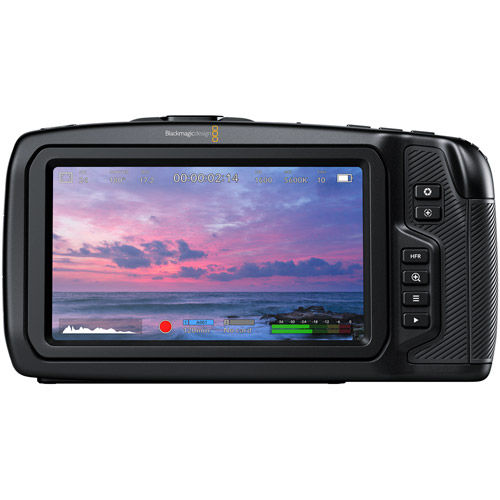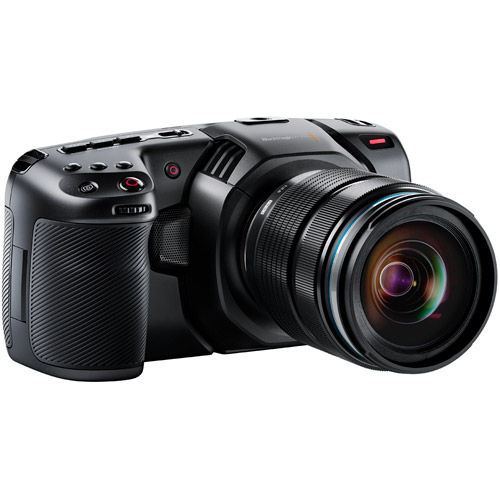 Product Highlights
HDR Micro Four Thirds

Format

4K DCI

(4096x2160) Up to 60p

13

Stops of Dynamic Range

MFT

Lens Mount

LCD

Touchscreen

722 g (25.5 oz.)

Weight
Model: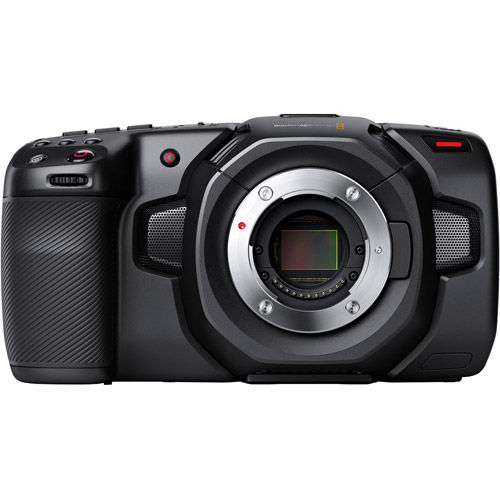 Blackmagic Design Pocket Cinema Camera 4K
Blackmagic Design Pocket Cinema Camera 4K
Web Availability:
In Stock
Product is In Stock in our Warehouse or in one of our store locations. We will confirm stock is available and process your order. If the available stock is sold before your order is processed, you will receive an email from us.
In-store
Available in Calgary
Call for Availability in Edmonton
Available in Mississauga
Call for Availability in Ottawa
Available in Toronto
Vistek Locations
Toronto In Stock
Ottawa In Stock
Mississauga In Stock
Calgary In Stock
Edmonton In Stock
Please call and verify availability at the store as stock changes daily.
Blackmagic Pocket Cinema Camera | 4K
The Blackmagic Pocket Cinema Camera 4K features a 4/3 image sensor with 4096 x 2160 resolution and an MFT lens mount, allowing you to capture wide dynamic range, Hollywood quality, digital film images in the palm of your hand. The MFT mount lets you use super compact, lightweight and affordable lenses so you can take the camera anywhere, even locations that are too hostile for larger cameras. The result is an extremely advanced, affordable and portable high end digital film camera.
Key Features:
ISO Up to 25,600
13 stops Dynamic Range
3D LUTS
Large 5" Screen
Professional Audio
Blackmagic RAW
18.96 x 10 mm Sensor
4096 x 2160 Resolution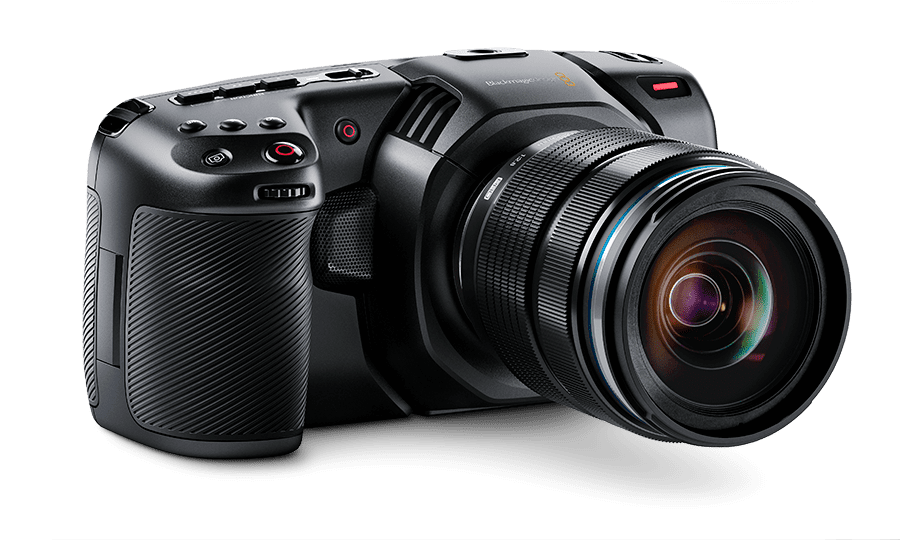 Pocket Cinema Camera 4K MFT
The Blackmagic Pocket Cinema Camera 4K features a 4/3 size sensor, 13 stops of dynamic range and dual native ISO up to 25,600 for HDR images and incredible low light performance. External controls give quick access to essential functions, while the large 5 inch touchscreen makes it easy to frame shots, focus accurately and change camera settings. Features include built in SD/UHS-II or CFast 2.0 recorders for Blackmagic RAW or ProRes recording as well as a USB-C expansion port for recording externally to disks, plus MFT lens mount, built-in microphones, XLR input, full sized HDMI, 3D LUT support, Bluetooth and more.
Introducing the Next Generation Handheld Digital Film Cameras
Blackmagic Pocket Cinema Camera is better than a simple video camera because it has professional features allowing you to create the same "look" as Hollywood feature films.
The combination of high dynamic range, great low light performance and Blackmagic RAW gives you feature film images with precise skin tones and gorgeous organic colours.
You get advanced features such as 4K or 6K models, large 5" LCD for easy focus, SD card and CFast media, external USB‑C media disk recording, EF or MFT lens mounts and more.
DaVinci Resolve Studio is also included for editing, colour correction, audio post and VFX.



Portable, Affordable and Professional
Now you can shoot anything in 4K
The Blackmagic Pocket Cinema Camera 4K gives you the professional features you need, all in a portable and affordable design that can be used anywhere. It's perfect for shooting independent films and documentaries, fashion shows, travel blogs, web videos, weddings, corporate video, sports and more. The incredible image quality, advanced Blackmagic Design colour science and RAW recording features let you shoot images that rival professional digital film cameras costing tens of thousands more. That means you get the image quality you need to seamlessly mix footage from the Blackmagic Pocket Cinema Camera 4K with other types of cameras used on high end Hollywood feature films and episodic television shows.

Designed to be portable, packed with features and fully expandable
Elegant Modern Design
The portable handheld design of the Blackmagic Pocket Cinema Camera 4K gives you incredible mobility without sacrificing features. The highly compact form factor features a carbon fiber reinforced composite body that makes it extremely durable and lightweight so you can take it anywhere. You get a super bright 5" screen, 4 built in microphones, built in recorders and external buttons and dials that give you fast access to the most important functions. That means you can quickly check framing and focus, capture audio and record your files without having to carry around extra monitors, microphones, recorders and cables. You also get lots of mounting points, a mini XLR input with phantom power, Bluetooth control and more. With the Blackmagic Pocket Cinema Camera 4K you get a fully featured portable digital film camera that's flexible and expandable.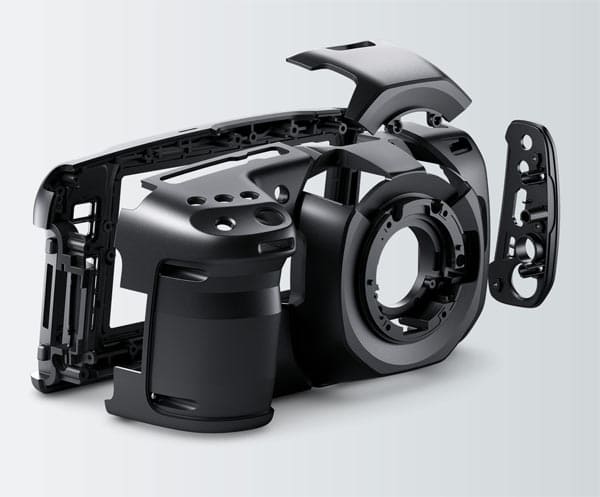 Carbon fiber reinforced body for extra durability
Designed using a space age carbon fiber polycarbonate composite, the body of the Blackmagic Pocket Cinema Camera 4K is extremely strong and light.

The carbon composite material consists of a high strength polymer that's reinforced with carbon fibers. This makes the camera body incredibly light giving it the strength and rigidity to protect it from bangs, drops and accidental breakage. That means you'll be able to take the Blackmagic Pocket Cinema Camera 4K virtually anywhere and have the confidence to know that you'll be able to get your shots, even under the harshest shooting conditions.
Multifunction controls at your fingertips
The Blackmagic Pocket Cinema Camera 4K features a familiar and comfortable design that has been specifically developed for shooting video so you get controls that go far beyond those found on traditional DSLR cameras. The multi function grip, which has buttons and dials placed logically for finger tip control, allows super fast access to all essential shooting functions. You get controls for recording start/stop, still photos, ISO, shutter, aperture, white balance, function buttons, power on/off and more. If you've ever shot with a DSLR, the Blackmagic Pocket Cinema Camera 4K will feel very familiar, but the images will look far better.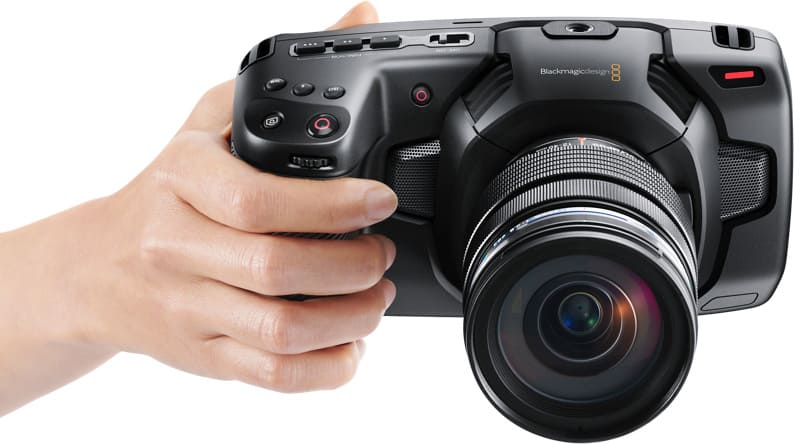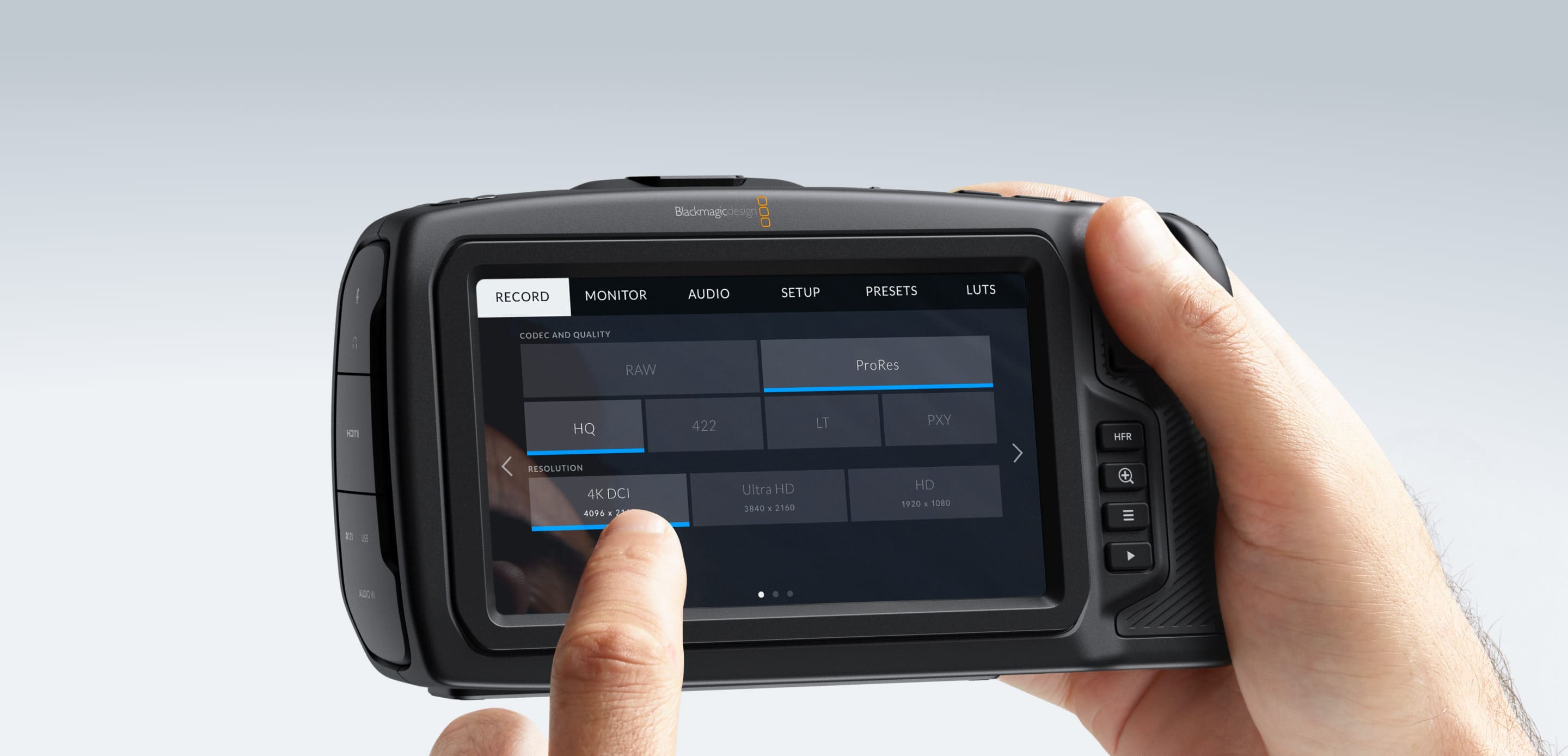 Incredibly bright 5 inch touchscreen and monitor
You'll never have to carry around a separate monitor for focussing a high resolution shot when you're shooting with the Blackmagic Pocket Cinema Camera 4K. That's because it features a built in super bright 5 inch touchscreen monitor that's perfect for framing shots and checking focus. You can even double tap on the LCD to zoom in, turn on focus peaking, focus assist and more. Plus you can use the touchscreen to access the Blackmagic OS, which lets you control all of the cameras advanced functions with simple tap and swipe gestures. You can even add metadata using the built in digital slate.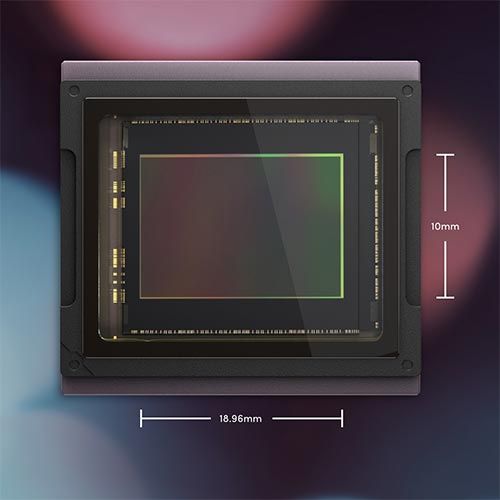 Incredible low light performance for 4K HDR shooting
The full size 4/3 sensor has a native resolution of 4096 x 2160 and can capture up to 13 stops of dynamic range.

The sensor size is designed to match the MFT lenses, so there's minimal crop factor which gives you a wider field of view. With dual native ISO up to 25,600, you also get excellent low light performance. You can also shoot at up to 60 frames per second for 4K and 120 frames per second for HD.

Unlike other small cameras, the high performance sensor has fast refresh rates, even when shooting at low frame rates, so you get rock solid images that don't have wobbly shutter artifacts.
Incredibly high quality built in microphones, plus mini XLR
Designed from the ground up to capture amazing high fidelity audio with incredible clarity, the Blackmagic Pocket Cinema Camera 4K features 4 built in microphones with extremely low noise for capturing the subtle detail in live sound. All this means professional audio is a major design goal for this camera.

There's also a mini XLR input with 48 volts of phantom power for connecting professional boom and lapel microphones. You can also use the 3.5mm input to connect standard video camera microphones. With the Blackmagic Pocket Cinema Camera 4K, you get professional quality audio with flexible options for microphones.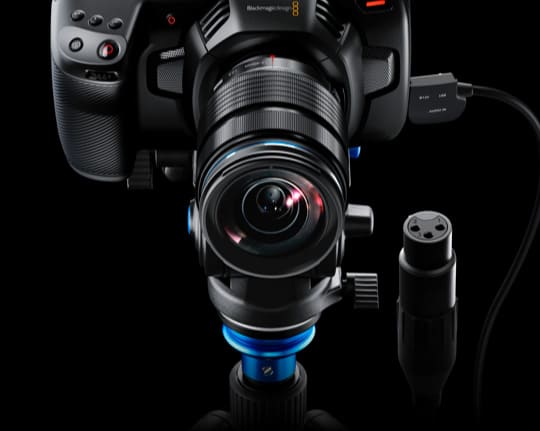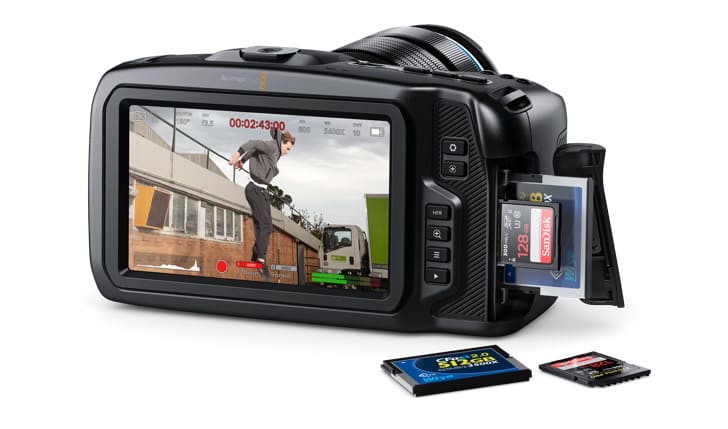 Record using standard SD cards, UHS-II cards or CFast 2.0 media
When it comes to recording, the Blackmagic Pocket Cinema Camera 4K gives you 3 kinds of media to choose from. Images can be recorded on to standard SD cards, faster UHS-II cards or CFast 2.0 cards. High definition video can be recorded using regular inexpensive SD cards. Higher performance UHS-II cards can be used for recording Ultra HD in ProRes at up to 60 frames per second and RAW at up to 30 frames per second. CFast cards can record 12-bit RAW at all supported frame rates. For longer recording times, you can also record directly to an external SSD or flash disk using the built in USB-C Expansion Port. Best of all, there's nothing proprietary. The files will work with all professional post production software. You can even mount the media cards on your computer and start editing directly from them using the included DaVinci Resolve Studio software.
Designed for recording direct to disk, plus future expandability
USB-C has become the new standard on everything from computers to cell phones, because it's very fast, provides both power and data, and has an extremely small connector. The Blackmagic Pocket Cinema Camera 4K includes a USB-C Expansion Port so you can connect peripherals such as a flash disk or SSD for long recording times. Once your recording is complete, you can simply unplug the disk and connect it to your edit workstation. The USB-C connection also handles power, so you can use a standard computer power supply or power pack to charge the internal battery.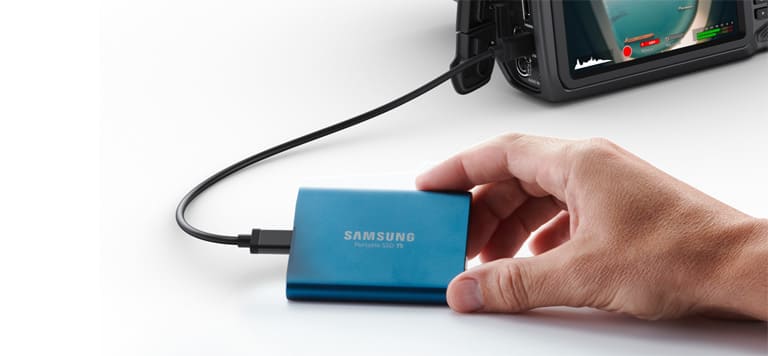 The connections you need for expanding and rigging the camera
The Blackmagic Pocket Cinema Camera 4K features a full size HDMI connector with support for HDR output, plus you get support for a clean 10-bit HDMI output with or without overlays for on set monitoring. There's also a mini XLR connection with 48 volts of phantom power for attaching professional microphones, and a 3.5 mm video camera style microphone input. The 3.5mm microphone input will accept LTC timecode from an external source. You also get a professional camera style locking DC power connector. For wireless connectivity and control, you can even use Bluetooth, as well as customizing your own control solutions with the Blackmagic Bluetooth control developer SDK.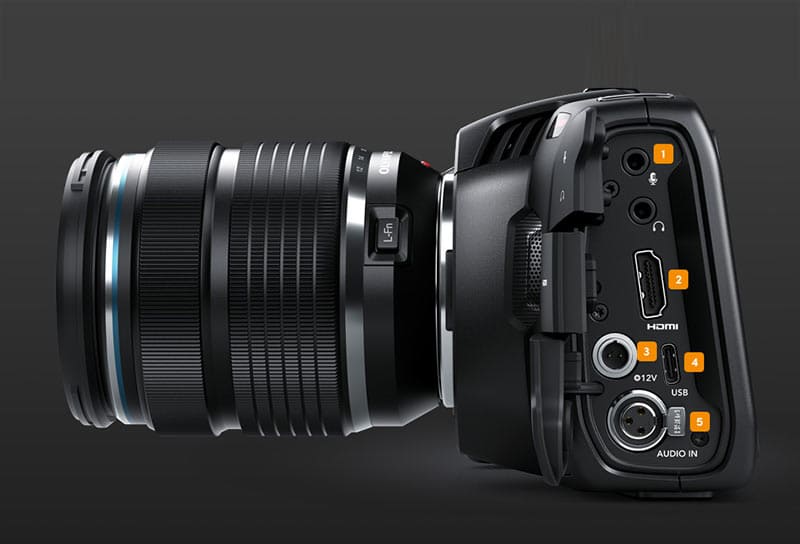 3.5mm Stereo Inputs


Stereo inputs perfect for video microphones and can even accept LTC timecode.



Full Size HDMI Connector


Robust full size HDMI connection with 10-bit clean output or overlays.



DC Power


Professional locking DC power connector.



USB Expansion Port


High speed USB-C connection for direct external recording.



XLR Audio Connection


One mini XLR connection with 48V phantom power and high quality, low noise pre‑amps.
Compatible with Cinema & Photographic Lenses
With 2 models, you can chose between EF or MFT lenses, making Blackmagic Pocket Cinema Camera compatible with the largest range and most popular lenses in the world.

The 6K model features an EF lens mount so you can use lenses you already own from other cameras such as DSLR, URSA Mini Pro or even the original Blackmagic Cinema Camera. You can use commonly available photographic lenses that provide incredible creative choice and wonderful feature film quality lens effects. The active lens mount lets you adjust focus and iris from the buttons on the camera or the touch screen. For even greater flexibility, the MFT lens mount on the 4K model can be adapted to PL, C, EF or other lens types.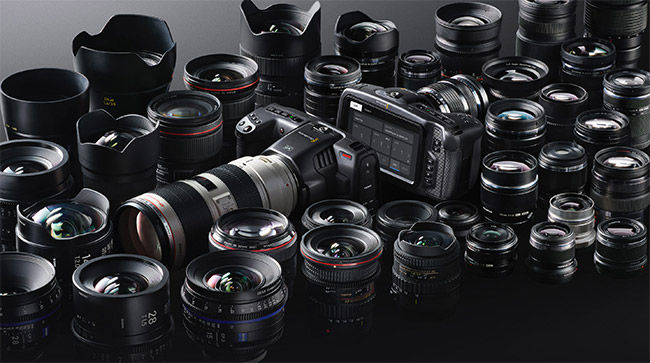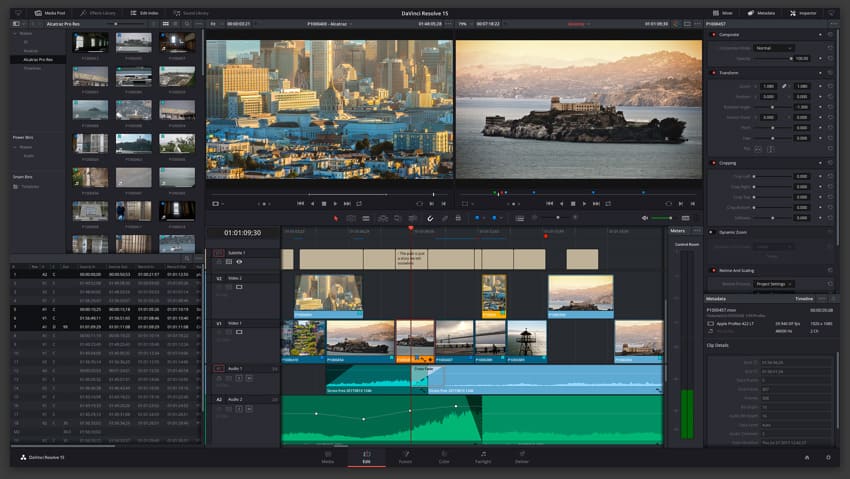 Professional editing, visual effects, colour correction and audio post
The Blackmagic Pocket Cinema Camera 4K includes a full version of DaVinci Resolve Studio, which is a complete post production solution. You get the world's most advanced solution that combines professional editing, colour correction, audio post and visual effects all in one software tool. DaVinci Resolve is used to finish more Hollywood feature films than any other solution, so you'll get the best possible post production tools to edit native video from your camera and retain every bit of quality. Whether you're working on major Hollywood feature films, episodic television productions, music videos, commercials or even the latest YouTube shoot, DaVinci Resolve Studio gives you a completely lossless workflow for native editing, colour correction, effects, audio and delivery, so your video always looks as good as possible.
What's Included
Blackmagic Pocket Cinema Camera 4K
Lens turret dust cap
30W power supply with locking connector and international adapters
SD card with software and manual
Welcome card
DaVinci Resolve Studio with activation key
Product Specifications
Pocket Cinema Camera 4K

Camera

Effective Sensor Size
18.96mm x 10mm (Four Thirds)
Lens Mount
Active MFT mount.
Lens Control
Iris, focus and zoom on supported lenses.
Dynamic Range
13 Stops.
Shooting Resolutions
4096 x 2160 (4K DCI), 3840 x 2160 (Ultra HD), 1920 x 1080 (HD).
Frame Rates
Maximum sensor frame rate dependent on resolution and codec selected. Project frame rates of 23.98, 24, 25, 29.97, 30, 50, 59.94 and 60 fps supported.
Off-speed frame rates up to 60 fps in 4K DCI, 120 fps in HD windowed.
Focus
Focus button turns on peaking, auto focus available using compatible lenses.
Iris Control
Iris wheel and touchscreen slider for manual iris adjustment on electronically controllable lenses, iris button for instant auto iris settings on compatible lenses so no pixel is clipped in film mode. Scene average auto exposure in video mode.
Screen Dimensions
5" 1920 x 1080.
Screen Type
LCD capacitive touchscreen.
Metadata Support
Automatically populated lens data from electronic Micro Four Thirds lenses. Automatic recording of camera settings and slate data such as project, scene number, take and special notes.
Controls
Touchscreen menus on 5 inch screen. 1 x Power Switch, 1 x Record Button, 1 x Stills Button, 1 x Scroll Wheel with push integrated into handgrip, 1 x ISO Button, 1 x White Balance, 1 x Shutter Button, 3 x software configurable Fn buttons, 1 x High Frame Rate (HFR) Button, 1 x Zoom Button, 1 x Menu Button, 1 x Play Button, 1 x Focus Button and 1 x IRIS Button.

Connections

Total Video Inputs
None.
Total Video Outputs
1 x HDMI Type A
Analog Audio Inputs
1 x mini XLR analog switchable between mic with phantom power support and line level (up to +14dBu).
1 x 3.5mm Stereo Input. Can also be used for Timecode input.
Analog Audio Outputs
1 x 3.5mm headphone jack.
Computer Interface
USB Type-C for external drive recording, software updates and media download.

Audio

Microphone
Integrated stereo microphone.
Built in Speaker
1 x mono speaker.

Standards

SD Video Standards
None.
HD Video Standards
1080p23.98, 1080p24, 1080p25, 1080p29.97, 1080p30, 1080p50, 1080p59.94, 1080p60.
Ultra HD Video Standards
2160p23.98, 2160p24, 2160p25, 2160p29.97, 2160p30, 2160p50, 2160p59.94, 2160p60.
4K DCI Standards
4KDCIp23.98, 4KDCIp24, 4KDCIp25, 4KDCIp29.97, 4KDCIp30, 4KDCIp50, 4KDCIp59.94, 4KDCIp60.

Media

Media
1 x CFast and 1 x SD USH-II card slot for CinemaDNG Raw and ProRes Recording. Actual supported codec and frame rates are media dependent.
Media Format
Can format cards to ExFAT for Windows and Mac or HFS+ for Mac (file systems).

Supported Codecs

Codecs
CinemaDNG RAW, CinemaDNG RAW 3:1, CinemaDNG RAW 4:1, ProRes 422 HQ QuickTime, ProRes 422 QuickTime, ProRes 422 LT QuickTime, ProRes 422 Proxy QuickTime.

Storage

Storage Type
1 x CFast 2.0.
1 x SD UHS-II card.
Storage Rates
4096 x 2160
CinemaDNG RAW - 270 MB/s
CinemaDNG RAW 3:1 - 128 MB/s
CinemaDNG RAW 4:1 - 96 MB/s
3840 x 2160
Apple ProRes 422 HQ - 110 MB/s
Apple ProRes 422 - 73.6 MB/s
Apple ProRes 422 LT - 51 MB/s
Apple ProRes Proxy - 22.4 MB/s?
1920 x 1080
Apple ProRes 422 HQ - 27.5 MB/s
Apple ProRes 422 - 18.4 MB/s
Apple ProRes 422 LT - 12.75 MB/s
Apple ProRes Proxy - 5.6 MB/s
Storage rates based on 30 frames per second.
Recording Formats
Lossless CinemaDNG RAW, RAW 3:1 and RAW 4:1 with film dynamic range at 4096 x 2160, 3840 x 2160 and 1920 x 1080. Apple ProRes 4096 x 2160, 3840 x 2160 and 1920 x 1080 with either film, video and extended video dynamic range.

Software

Software Included
Pocket Cinema Camera 4K Operating System.
DaVinci Resolve Studio on SD Card.
Blackmagic Camera Setup.
Operating Systems
macOS 10.12 Sierra,
macOS 10.13 High Sierra or later.
Windows 8.1 or Windows 10.

Power Requirements

Power Supply
1 x External 12V power supply.
External Power Input
1 x 2-pin locking connector.
Battery Type
Canon LP-E6.
Battery Life
Approximately 60 minutes.
Power
12V-20V

Physical Specs

Dimensions
178.1 x 85.5 x 96mm
Weight
722 g (25.5 oz.)

Environmental

Operating Temperature
0°to 40°C (32° to 104°F)
Storage Temperature
-20°to 45°C (-4° to 113°F)
Relative Humidity
0% to 90% non-condensing

Warranty

Warranty
12 Month Limited Manufacturer's Warranty.
Blackmagic Design Pocket Cinema Camera 4K
Looking for a personal touch? Not sure if you are choosing the right product? Our staff is here to help.
We want to make sure you get the right product for your needs.
Our staff will help you understand the options available so you can be confident in your purchase.
As the country's leading Professional Imaging retailer, Vistek is in the perfect position to ensure you make the right choice.
Contact us today for a personal touch.