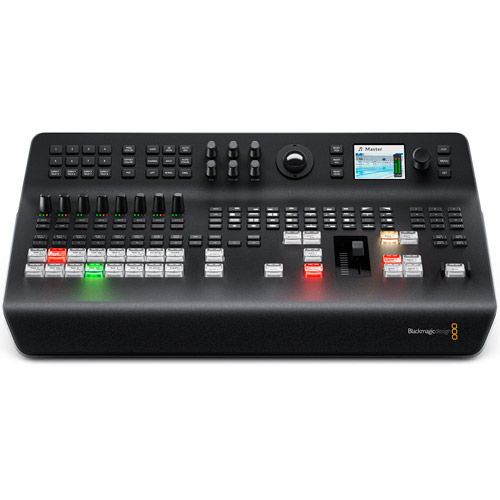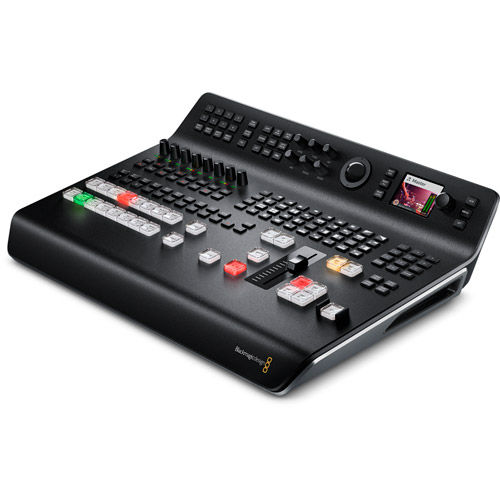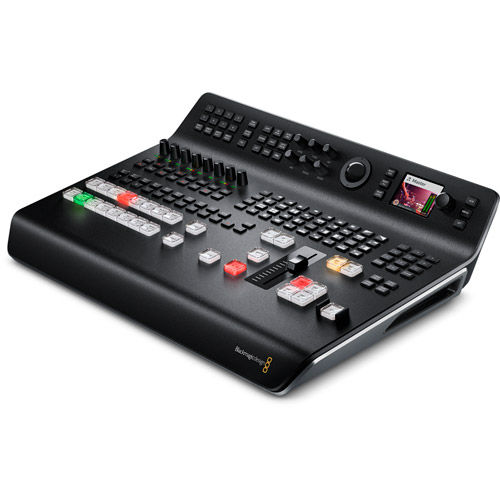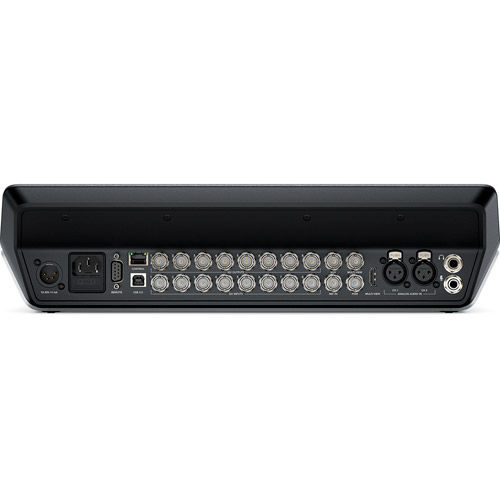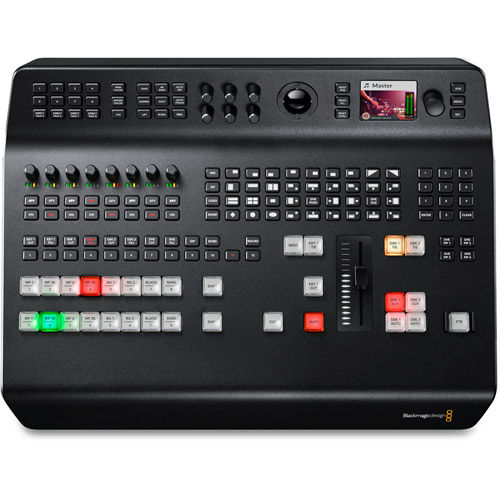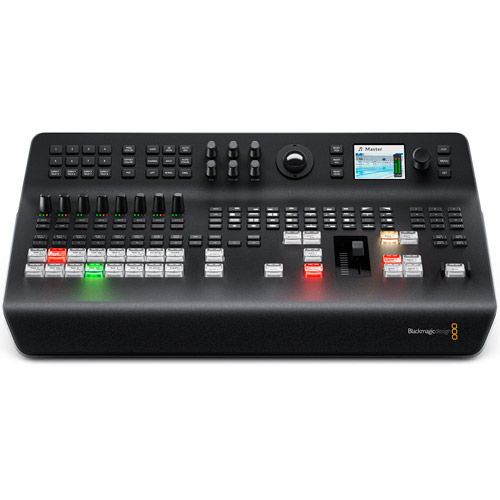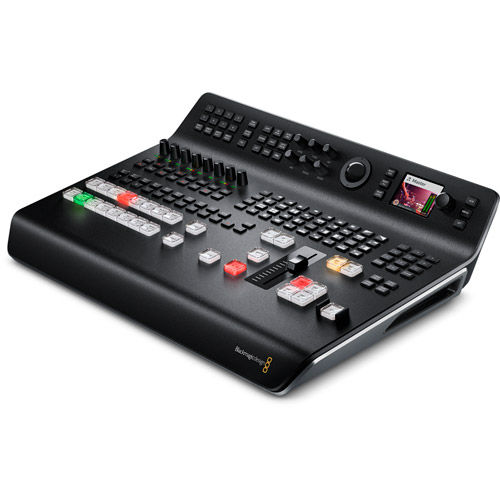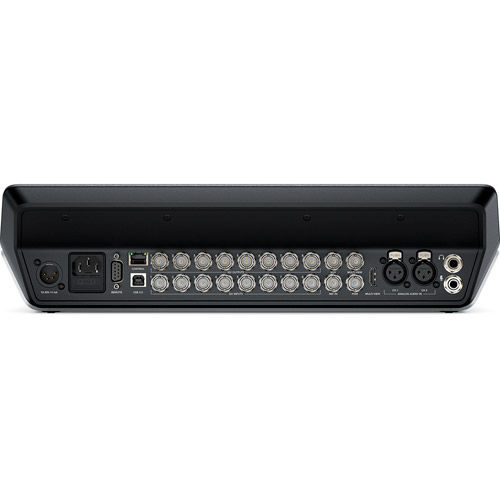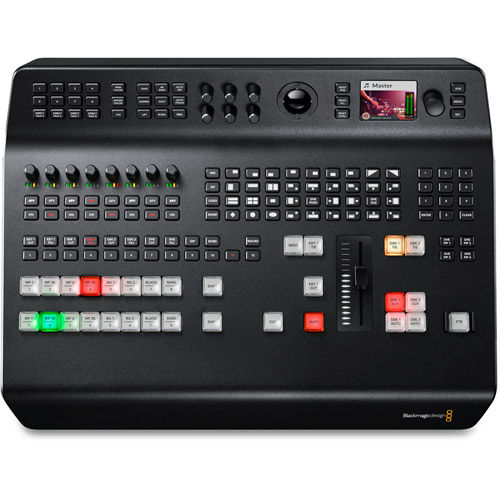 Webcode:

424019

• Mfr: SWATEMTVSTU/PRO4K
Product Highlights
SD/HD/UHD/4K

Supported Formats

8x

Video Inputs

2x XLR & 1x Microphone

Audio Inputs

9x 10-Bit HD/UHD Switchable

Video Outputs

1x Headphone

Audio Output

1x

Aux Bus Output

1x SDI & 1x HDMI

Multi-Viewer Outputs

2x Patterns, 1x Up Stream Keyers, 2x Down Stream Keys, 1x Chroma Keyer, 3x Linear/Luma Keyers & 1x DVE

8x

PGM

Option: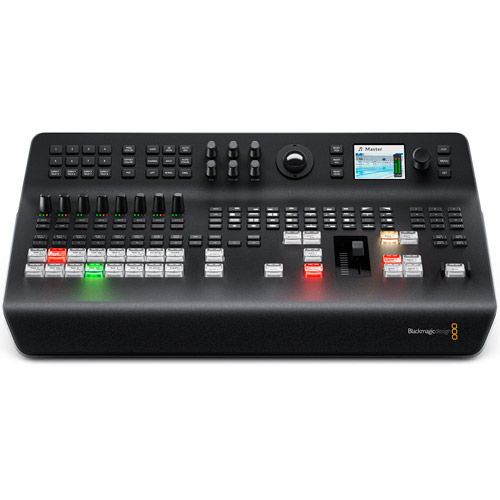 Blackmagic Design ATEM Television Studio Pro 4K
Blackmagic Design ATEM Television Studio Pro 4K
Web Availability:
In Stock
Product is In Stock in our Warehouse or in one of our store locations. We will confirm stock is available and process your order. If the available stock is sold before your order is processed, you will receive an email from us.
In-store
Call for Availability in Calgary
Available in Toronto
Vistek Locations
Toronto In Stock
Ottawa Available for Order
Mississauga Available for Order
Calgary In Stock
Edmonton Available for Order
Please call and verify availability at the store as stock changes daily.
Introducing ATEM Television Studio Pro 4K!
The world's most advanced all-in-one Ultra HD live production switcher with 8 independent 12G-SDI inputs with re-sync and full standards conversion, DVE, Fairlight audio mixer with parametric EQ and compressor/limiter, media store with motion clips, talkback, multiview and more.
The new model includes 8 standards converted 12G-SDI inputs, new Fairlight audio mixer, ATEM Advanced Chroma Key, motion media clips and more. The new ATEM Television Studio Pro 4K model includes all the benefits of the HD models and now adds Ultra HD capability with more SDI inputs. With 8 independent 12G-SDI inputs, ATEM Television Studio Pro 4K can handle all popular HD and Ultra HD formats up to 2160p60. Each input features re-sync as well as a full low latency standards converter so input is automatically adapted to the switcher's format. That means you can even have 8 inputs, all running different video formats. The upgraded Fairlight audio mixer features dynamics, 6 band parametric EQ, dual mono channel split and stereo simulator with audio delay on the analog inputs. ATEM Television Studio Pro 4K also features the ATEM Advanced Chroma Keyer, Ultra HD multiview and motion clips in the media pool.
The new ATEM Television Studio
The world's first live production switchers for broadcast, professional and AV users.
ATEM Television Studios are the first live production switchers designed for both broadcasters and AV professionals. There are 2 powerful HD models with 4 SDI and 4 HDMI inputs and a new Ultra HD model with 8 12G-SDI inputs. Packed with high end broadcast features, ATEM Television Studio models feature re-sync on all inputs so you always get clean switching whether you're using professional or consumer cameras. Plus, you get multiview output so you can see all of your sources, preview and program on a single screen, aux out, built in talkback, 2 still stores, an audio mixer, camera control unit and more. ATEM Television Studio Pro models have the same features plus an integrated professional broadcast hardware control panel and additional CCU controls. Both models are perfect for live production, episodic television, web shows, AV or even live coverage of video gaming competitions. Simply plug in your cameras, game consoles or computers
12G-SDI for Ultra HD to 2160p60

The ATEM Television Studio Pro 4K features 8 standards converted 12G-SDI inputs so you can connect to both HD and Ultra HD sources. Each input also features a corresponding 12G-SDI output that can be used for camera return feeds with embedded control data, and mix minus is available on each 12G-SDI output.
Full Input Standards Conversion

Each 12G-SDI input features an independent Teranex low latency standards converter allowing inputs to be any combination of HD or Ultra HD television formats. The switcher will convert inputs to the switcher's standard, and combined with input re-sync, this means you can simply plug in and it just works.
ATEM Advanced Chroma Key

The all new ATEM Advanced Chroma Key is the next generation keyer that enables incredibly clean green screen keying in real time for seamless multi layer compositing. You get lots of key controls including on screen image sample, edge, flare, foreground color correction, separate spill controls and more.
Fairlight Audio Mixer

The ATEM Television Studio Pro 4K model now has a new incredibly powerful Fairlight audio mixer that includes pro audio features such as 6 band parametric EQ, compressor, limiter, expander/noise gate, pan, audio channel split to dual mono, stereo simulator on analog and mic inputs and an audio delay on analog inputs.
Live Production Switching
Turn any live event into a professional HD or Ultra HD television program.
ATEM Television Studio switchers are the fastest and most affordable way to create incredible programs immediately from live events. They are perfect for broadcasters, professional sports, concerts, seminars, or even the new emerging generation of web broadcasters using platforms such as YouTube Live, Facebook Live and Twitch.tv. You can switch between multiple cameras, game consoles and computers in real time, all with broadcast quality transitions, graphics and effects. Both models feature clean professional switching so there's never a glitch when changing sources. That means you can even use it as a front end controller for your AV system and switch between multiple sources with the press of a button.
Extremely Portable Design
The world's smallest all in one broadcast switchers.
The ATEM Television Studio HD model is the true professional switcher that's packed into an incredibly tiny rack size, making it compact and portable enough to use anywhere. The all in one design includes a built in AC power supply, full front panel controls with input source buttons for switching, a built in LCD screen, spin knob and more. It's small enough to use on the desktop, or it can be mounted in equipment racks using the optional Teranex Mini Rack Shelf. That means it fits alongside other Blackmagic Design products such as Teranex Mini converters, HyperDeck Studio Mini recorders, Blackmagic MultiView 4 or Blackmagic Web Presenter, all in a single rack unit.
Front Panel Control
Operate all switcher features directly from the front panel.
The front panel controls on ATEM Television Studio HD feature 8 large illuminated buttons for switching, along with audio controls, buttons for the down stream keyer, fade to black, media players, and cut-bus style or automatic switching with transitions. That means you can create a program right from the front panel. It also makes ATEM Television Studio HD perfect for things such as professional AV installations where all you need is to simply switch between sources. The built in LCD screen lets you adjust all switcher features via menus, plus it can be used for video and audio monitoring, aux control and to display the audio channel you're adjusting.
Combined Switcher and Control Panel
Get the control panel with a built in live production switcher.
For more complex, faster paced productions, the ATEM Television Studio Pro models are the perfect combination of a professional control panel with built in switcher. You get a professional hardware control panel with high quality buttons that makes it faster to switch sources, add stunning effects, smoothly manage and color grade remote cameras, mix audio, and key graphics, all live and in real time. The control panel even has adjustments for remote control of cameras including Blackmagic Studio, URSA Mini, URSA Broadcast and Micro Studio, all via the SDI return feed from the switcher back to the camera.
Software Control Panel
Includes free software control panel for Mac or Windows.
For the ultimate in creativity and control, both models include a free, elegant software control panel. Use the control panel and parameter palettes to switch cameras live, change transitions and adjust key settings. You can also load graphics for display or keying, control the hardware audio mixer, automate clip playback from decks and program and activate macros. The powerful camera controls lets you remotely adjust iris and focus, camera settings and color correction, all via SDI. Work alone on your laptop computer or, for more complex events, use multiple laptops and people to switch, control cameras, mix audio, and manage graphics and media, all at the same time. If you're new to live production then you can start with ATEM Television Studio HD, then upgrade to ATEM Television Studio Pro models as you grow and do more complex work.
SDI and HDMI Inputs
Connect up to 8 cameras, game consoles or computers.
All models feature 8 independent video inputs, with the HD models featuring 4 HDMI and 4 SDI inputs, while the 4K model features 8 12G-SDI inputs. This lets you connect up to 8 cameras, game consoles, computers or other sources. That means you can start with affordable HDMI consumer cameras, or work with professional SDI HD or Ultra HD broadcast cameras. You also get reference input, analog audio in, RS-422 PTZ control, and Ethernet for connecting hardware or software control panels. All video inputs feature automatic frame re-synchronizers, so you don't need expensive genlock cameras. The 4K model includes standards conversion on each input so you can plug in an HD or Ultra HD input source and it just works.
Professional SDI Outputs
Broadcast quality connections that won't hold you back technically
ATEM Television Studio includes professional SDI program and aux outputs, along with SDI and HDMI outputs for multiview monitoring. The SDI program output lets you connect to professional decks and recorders, like HyperDeck Studio Mini, so you can record your program at the highest possible quality. The multiview SDI and HDMI outputs make it easy to monitor your inputs, program and preview on any display, including big screen televisions. Plus the 4K model even supports switching the multiview output to Ultra HD. The Aux output lets you send your switched program or a clean feed without graphics and overlays out to another display, deck, or even massive screens on stage behind a performer.
Built in MultiView
See all your video sources on a single monitor.
When you're creating a live program from multiple cameras, it's important to be able to see all of the video sources at the same time. The multiview output lets you see up to 8 channels of video on a single HDMI television or SDI monitor. You can see all of your cameras, tally indicators, graphics, preview and final program output all on the same display at the same time. Customize labels, see audio meters, set safe area markers, and more. Connect any standard TV to get perfect multi camera monitoring in any location.
Powerful Transitions
Massive creative choice with broadcast quality transitions.
Select and instantly use broadcast quality transitions like mixes, wipes, dips and more when switching between sources. You can adjust the duration of transitions, along with an incredibly wide range of options including border, border color and width, position, direction and more.There are 18 completely customizable transitions that will give your program that high end broadcast look. You can also use the DVE for transitions, create graphic wipes, and even stingers when you use it with a HyperDeck Studio Mini playing back 4:4:4:4 graphics with fill and key back to the switcher.
Built in 2D DVE
Amazing DVE transitions and picture in picture effects.
A powerful digital video effects "DVE" processor lets you position, resize and scale live video, all in real time. That means you can create professional picture in picture effects with customizable borders and drop shadows with lighting. Imagine using a picture in picture effect to superimpose a commentator when covering events such as sports, training videos, interviews and even gaming competitions. You also get 17 DVE powered transitions that you can use to squeeze and swoosh between sources, or to create graphic wipe transitions with your own graphics.
Includes Talkback
Realtime two way communication with your cameras.
ATEM Television Studio features built in talkback that takes advantage of rarely used SDI channels 15 and 16 to send talkback audio to and from the camera. There's also headset connections on the front panel for talking to and listening from cameras that support SDI talkback. The talkback from the camera is embedded in the SDI video feed from the camera to the switcher. If you connect the talkback SDI outputs of the switcher back to the camera, then the director's talkback audio is sent to the cameras along with tally and camera control. The 4 SDI outputs feature talkback to cameras with mix minus. This lets you send program audio back to an interviewee so they hear everything except themselves, and won't be distracted by hearing a delayed audio echo.
Titles and Graphics
Add professional titles and graphics in seconds.
Store up to 20 of your own custom graphics or logos and get them on air in seconds. Simply upload the files from the media management page of the software control panel into the ATEM's media pool, then select any file to play through the 2 built in media players when you need them. The media players use flash memory, so your graphics are saved after the power is turned off. There's even an included Photoshop plug-in that lets you upload graphics from Photoshop directly into the ATEM media pool from a computer over an ethernet network. Now you can get custom titles and graphics on air in seconds.
Real Time Keyers
Use green screens and mix graphics with live video.
ATEM Television Studio HD models include an upstream keyer with full chroma keying for green screen and blue screen shots. That means you can remove the screen and add weather maps, graphics, and incredible virtual sets behind the on-screen talent. The upstream keyer works with chroma, patterns, shapes, and linear keys. The 4K model includes the new ATEM Advanced Chroma Keyer for better control, image sampling, foreground color and spill correction for more seamless chroma keying. You also get 2 downstream keyers for adding graphics, logos and bugs to your video. You can even install a HyperDeck Studio Mini as a source for ProRes 4:4:4:4 motion graphics files with alpha channels that you can key over your live video in real time.
Professional Audio Mixer
Mix audio from all sources in real time.
Use the professional audio mixer to mix audio from all inputs and audio from the analog XLR inputs and talkback mic input. You can fully mix audio from the front panel, or you can use the audio mixer control tab on your Mac or PC to get a complete on screen, multi track mixing interface with level meters. Easily mix with precision and balance inputs, quickly enable and disable channels, or set audio to automatically follow the video source. Then if you need more powerful audio, the 4K model includes features such as 6 band parametric EQ, compressor, limiter, expander/noise gate, pan, audio channel split to dual mono, stereo simulator on analog and mic inputs, and an audio delay on analog inputs.
Remote Camera Control
Full camera control from your switcher.
Get full control of your cameras right from the ATEM software control. The Blackmagic Studio Camera can be controlled via the SDI program feed to the camera, so you can control its built in camera settings and full color corrector, all remotely from the ATEM software control panel.There are two types of control interface, a CCU layout for traditional camera control style, or a color corrector interface which is the same as DaVinci Resolve's primary color corrector so you can use all your color correction skills from DaVinci Resolve for adding incredible creativity to live production.
Aux SDI Output
Feed big screens and video projectors on stage.
ATEM Television Studio has an independent auxiliary output that's perfect for feeding big video screens on stage, or can also be used to send "clean feeds" without on air graphics to recorders for program mastering. The front panel aux button makes it easy to select exactly what you want to send to the aux output. Auxiliary outputs can be selected to any video input, media players, the preview bus, test signals and more. Aux outputs are also fantastic for technical monitoring, such as when you are doing camera control, because it can be set to automatically switch to the camera you are adjusting.
Hardware Control Panel
Complete switcher control in a compact design.
If you're using the tiny ATEM Television Studio HD model then a fantastic option for expansion is to use an external dedicated hardware control panel, you can add the optional ATEM 1 M/E Advanced Panel. The super compact 1 M/E panel features high quality buttons, knobs and controls for the most demanding 24/7 live production environments, giving you precise hands on control of all switcher functions. With the ATEM 1 M/E Advanced Panel you can rack mount your ATEM Television Studio HD and then still get the benefits of speed and control that a hardware panel provides.
Blackmagic Design ATEM Television Studio Pro 4K
Looking for a personal touch? Not sure if you are choosing the right product? Our staff is here to help.
We want to make sure you get the right product for your needs.
Our staff will help you understand the options available so you can be confident in your purchase.
As the country's leading Professional Imaging retailer, Vistek is in the perfect position to ensure you make the right choice.
Contact us today for a personal touch.