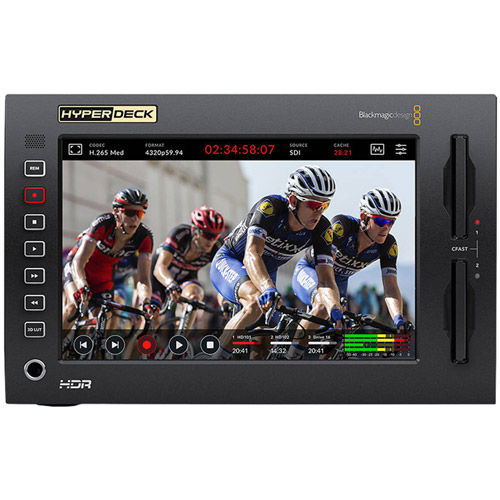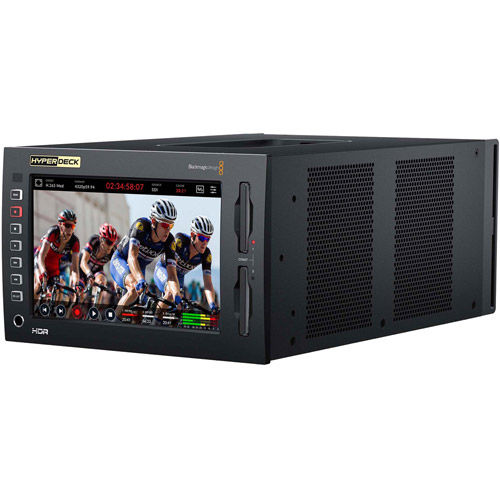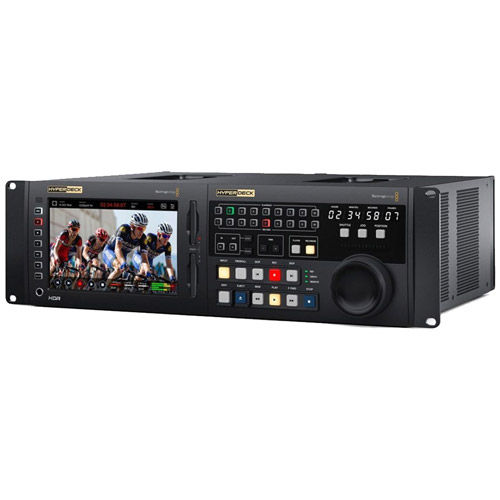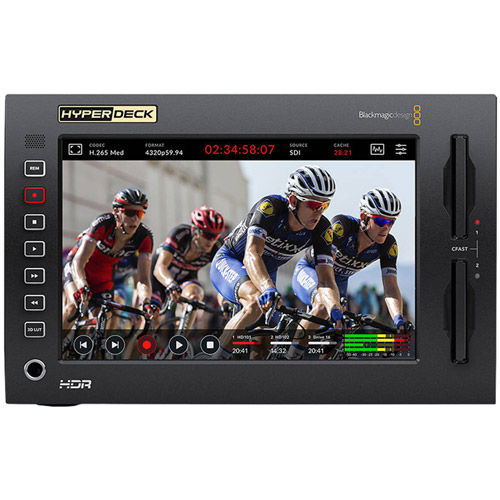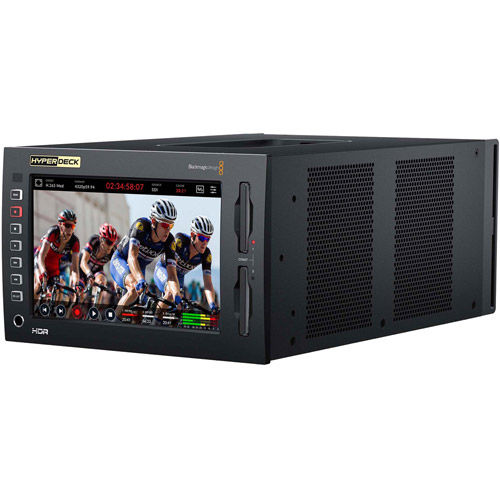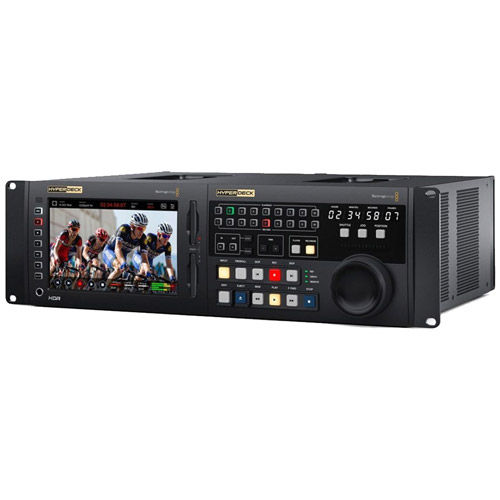 Webcode:

431791

• Mfr: BMD-HYPERD/RSTEX8KHD
Product Highlights
SD/HD/Ultra HD/8K

Formats

4x

Video Inputs

5x SDI / HDMI

Video Outputs

XLR / USB-C / SDI / HDMI

Connections

16x SDI / 8x HDMI / 4x Analog

Audio Inputs

16x SDI / 8x HDMI

Audio Outputs

Built-in LCD

Display

100-240 VAC / 4-pin XLR 12V DC

Power

Built-in Streaming

Mac 10.13 / High Sierra / Mac 10.14 / Mojave

Operating System

3.65 kg (8 lbs)

Weight

21 x 13 x 33.4 cm (8.2 x 5.1 x 13.1")

Dimensions
Vistek Locations
Toronto Special Order
Ottawa Special Order
Mississauga Special Order
Calgary Special Order
Edmonton Special Order
Please call and verify availability at the store as stock changes daily.
HyperDeck Extreme 8K HDR
The world's first 8K broadcast deck with advanced H.265 recording, touch screen interface, internal cache, traditional deck style control option and more.
The new HyperDeck Extreme 8K HDR features the trusted reliability of HyperDeck combined with new innovations such as space saving H.265 files, optional internal cache, 3D LUTs, native 8K and HDR support. With the ability to record native 8K in H.265, you get reduced storage costs and amazing image quality. The large touch screen ensures a perfect view of your recording as well as control over all deck settings. You can then add HyperDeck Extreme Control to transform it into a traditional broadcast deck. This means HyperDeck Extreme is the perfect solution for the next generation of broadcast, live production and digital signage.
Modern Design with Traditional Controls
HyperDeck Extreme has an innovative touch screen user interface with deck controls as well as a large screen to view your recording. Then add a HyperDeck Extreme Control for traditional broadcast deck controls and a large shuttle knob that feels incredibly luxurious to use. You can even rack mount the HyperDeck and the controller. HyperDeck Extreme also includes 2 media slots, Quad 12G-SDI for 8K, analog connections for archiving, USB‑C external disk recording, plus a front panel speaker and headphone jack. There's also an optional cache that eliminates dropped frames if your media becomes full or is too slow. Both AC and DC power connections are also included for studio or on location use.
Perfect for Live Production, Digital Signage and Archive
With its amazing versatility, HyperDeck Extreme is also great for live production as a master recorder, clip player and for recording ISO cameras. The analog inputs allow you to record from old video tapes, so legacy programming can be used on the latest streaming services or for use in editing. Digital signage in 8K is easy with HyperDeck Extreme as it has 10G Ethernet for fast media uploads, plus it features a simple remote control protocol. You can even use it as a field recorder as it includes HDMI, SDI and analog inputs with built in scopes and 3D LUTs. The scopes also help you QA masters to ensure compliance with broadcast standards before streaming and broadcast.
Convert Legacy Programming for Streaming
As streaming services have become common, preserving cultural diversity through maintaining localized content is increasingly important. The solution is to get each country's legacy programs onto streaming services at an affordable cost. HyperDeck Extreme Control lets you connect to legacy broadcast decks, set an in and an out point, then edit. Just add HyperDeck Extreme 8K and HyperDeck Extreme Control to each legacy deck to keep them all archiving constantly with just one operator. It's even possible to edit across formats by using Teranex Express to convert tapes from SD to HD in one step. You can control a wide range of decks, including Digital Betacam, 1 inch C format, and Betacam SP.
Record and Playback Full Resolution 8K
The latest Quad Link 12G-SDI is included so it's possible to record and playback in full resolution 8K for amazing quality. The SDI connections are multi-rate, so you can use Quad Link 12G-SDI to get compatibility with other 8K products, or switch to SD, HD or Ultra HD using the single link 12G-SDI connection. To allow regular CFast cards to be recorded at high resolution 8K, HyperDeck Extreme uses modern H.265 files for 8K recording and playback. This means HyperDeck Extreme 8K is perfect for connecting to the latest 8K televisions and projectors. Plus it's also the perfect solution when using ATEM switchers. With 8K broadcasting already happening in Japan now, you're ready for an 8K future.
Big Bright Screen for Easy Touch Control
The innovative touch LCD user interface provides incredible control. On screen, there are dedicated buttons for play, stop and record, plus a mini timeline for scrolling through your recordings. You can even image swipe to jog. The LCD includes a heads up display of timecode, video standard, media status as well as audio meters. Scopes can be enabled via the touch screen as well as focus and exposure assist. There's also an extensive range of settings all controlled from the large LCD. Plus you can load and save 3D LUTs. You also get direct buttons for transport control, enabling the 3D LUT and remote enable. Then you can always add traditional deck controls with HyperDeck Extreme Control.
Traditional Broadcast Deck Controls
HyperDeck Extreme Control extends your HyperDeck Extreme to add traditional broadcast deck controls. It works like a traditional broadcast deck with a familiar layout. You can control up to 8 decks via industry standard RS‑422 control. You can even rack mount to the HyperDeck Extreme to create a single "broadcast deck" unit. Because it uses standard RS‑422, you can control old broadcast decks and perform edits using set in and out points. That's perfect for archiving work. Plus you can even edit between frame rates if standards converting between formats. Even the controls have been developed in-house by Blackmagic Design to ensure a premium feel with traditional styling.
Dual CFast Media for Non Stop Recording
CFast media support allows you to record to commonly available flash memory cards. The H.265 files are small enough to allow long recordings on standard CFast cards. Plus there are 2 CFast card slots so you can swap out any full cards even during recording, allowing infinite length recording. CFast cards are perfect for broadcast because they are small, high speed and affordable. You can even use a Blackmagic MultiDock 10G to add SSD compatibility. With H.265, you can record 498 minutes at 8Kp60 on a 1 TB card, 1,059 minutes in 2160p60 Ultra HD and 2,354 minutes in 1080p59.94 on a 1 TB card. That's over 8 hours in 8K and over 39 hours in HD.
Record Direct to External USB‑C Media Disks
If recording to other media types is required, then the USB‑C Expansion port lets you plug in an external flash disk for recording. USB‑C flash disks have massive capacity as they don't suffer from any size constraint. Plus, it's possible to record to the same disk you are using or editing, so you don't need to waste time copying files before starting post production. Flash disks are so fast, they can record high data rate formats that are too big for CFast cards, such as real time ProRes in 8K. Adding a Blackmagic MultiDock 10G also makes it easy to use SSDs for compatibility with other HyperDeck models. You even get on screen menus for managing external disks using the touch screen.
Optional Media Cache Eliminates Dropped Frames
Sometimes your media can fill before you change to a blank card, or if the card is too slow, then you can get dropped frames in your recording. To eliminate this problem, you can install a PCIe flash disk into HyperDeck Extreme 8K to use as a record cache. This eliminates problems with CFast media or external disks, as the cache will automatically take over and record any content the media could not capture. Even if a card fills, recording will continue to the cache until it's swapped. The cache even lets you record formats that are too fast for the media card or external disk. Common PCIe flash disks are used and a thermal pad is included to allow user installation.
Advanced Quad Link 12G-SDI for 8K, HDMI and Legacy Analog.
HyperDeck Extreme 8K features a wide range of video and audio connections such as multi-rate Quad Link 12G-SDI for SD, HD, Ultra HD and 8K SDI devices. The 12G-SDI outputs support fill and key when playing RGBA 4:4:4:4 files. HDMI is included for consumer televisions and video projectors. For archiving work, HyperDeck also includes both balanced analog, HiFi audio plus timecode connections. For monitoring there's even a down converted monitor SDI output that includes overlays. The USB‑C connection lets you plug in flash disks or disk arrays for recording. The latest 10G Ethernet is included for high speed upload using FTP protocols. HyperDeck even includes both AC and XLR 12V DC power connections.
Advanced HDR Support and Bright Wide Gamut LCD
You'll be ready for the latest HDR workflows with support for the latest HDR standards and an extremely bright screen with a wide color gamut. The built in scopes even change to HDR scopes when working in HDR formats. Files are tagged with the correct HDR information then SDI and HDMI inputs will also automatically detect HDR video standards. Static metadata PQ and HLG formats are handled according to the ST2084 standard. The bright LCD has a wider color gamut so can handle both Rec. 2020 and Rec. 709 colorspaces. The built in HyperDeck Extreme 8K HDR LCD color gamut can even handle 100% of the DCI‑P3 format.
Built In Scopes Ensure Compliance to Broadcast Standards
HyperDeck Extreme features full internal waveform monitoring so you can ensure compliance to broadcast standards when used on high end work. The waveform display provides a traditional luminance (brightness) levels view of your input or playback signal. The vectorscope display allows you to see the intensity of color at 100% SDI reference levels. You also get RGB and YUV parade displays which are ideal for color correction and checking for illegal levels. Histogram shows the distribution of white to black detail in your images and highlights or shadows clipping. The built in scopes can be overlaid on live video, or as a small picture in picture view at the top right of the scope.
Latest MultiRate 12G-SDI for SD, HD, Ultra HD and Native 8K
You get full support for the most popular video standards. The SDI and HDMI connections are multi-rate, so handle SD, HD, Ultra HD and 8K. SD formats include NTSC and PAL. 720p HD standards include 720p50 and 59.94p. 1080i HD interlaced formats include 1080i50 and 59.94. 1080p HD formats include 1080p23.98, 24, 25, 29.97, 30, 50, 59.94 and 60p. You can even do 1080 PsF formats. Ultra HD is supported up to 2160p59.94. 2K and 4K DCI rates are available up to 25p. 8K standards are included at 4320p23.98, 24, 25, 29.97, 50, 59.94 and 60p. HyperDeck Extreme also supports Level A and Level B at 3G‑SDI rates.
Standard H.265 and ProRes Files for Wide Compatibility
8K has 4 times as many pixels as Ultra HD so HyperDeck Extreme 8K uses H.265 files for 8K recording to reduce costs and make working with 8K files easy. H.265 files are extremely small and range from 60:1 to 285:1 compression ratios which means much lower file sizes. Plus H.265 are now supported on all major operating systems. You can use H.265 for all 8K, Ultra HD or progressive HD formats. HyperDeck Extreme 8K even supports ProRes 422 HQ, ProRes 422, ProRes 422 LT for recording and playback plus ProRes 4444 for playback to fill and key out. This means files will be compatible with software such as DaVinci Resolve, Media Composer, Premiere Pro or Final Cut Pro X.
Professional Multi Channel SDI and Analog Audio
HyperDeck Extreme 8K HDR includes professional audio for modern broadcasters or archiving from older broadcast decks. When working in SDI formats, you can record 2, 4, 8 or 16 channels of audio in real time. For capturing legacy programming there are 4 XLR analog audio inputs that let you record all 4 channels from Betacam SP decks. You can monitor using 4 on screen audio meters with user selectable VU or PPM ballistics. For consumer devices such as VHS, DVD and set top boxes, there are also direct HiFi audio inputs. HyperDeck Extreme 8K HDR might be the latest in 8K technology, however the analog connections have also been designed to low noise and low distortion broadcast specifications.
Localized for 11 Popular Languages
Multiple languages are fully supported so you don't need to learn another language to use it. Support is included for English, Chinese, Japanese, Korean, Spanish, German, French, Russian, Italian, Portuguese and Turkish. At first start, HyperDeck Extreme 8K will display a menu for selecting a language, plus you can still use the menus to change languages any time you need. When a language is selected, the on screen text overlays will change, as well as all menus and the overlays on the SDI monitoring output will also be displayed with the selected language. All this means HyperDeck is perfect for doing international location work with different crews.
The Fastest Networking with Modern 10G Ethernet
With 10G ethernet, HyperDeck Extreme 8K HDR is perfect for digital signage because remote uploads are extremely fast. What's amazing is the ethernet uploads on HyperDeck Extreme 8K HDR are much faster than CFast card transfer speeds. All models use an easy text based protocol plus you can use Telnet to test control commands. Simply log into HyperDeck and then type "play" or "record" and it will execute the command. It's that simple. To upload media files remotely, you can use FTP, or even use simple FTP client software. When the ethernet protocol and FTP is used with large USB‑C disk arrays, HyperDeck Extreme becomes a great broadcast server for ingest, media management and playout.
Traditional RS‑422 Broadcast Deck Control
The most popular control connection used on broadcast decks since the early 1980s is the RS‑422 protocol. Originally developed by Sony, RS‑422 is used on almost all broadcast gear. HyperDeck Extreme 8K HDR features wide protocol support so you can connect it direct to broadcast systems. It also supports extra commands for the Advanced Media Protocol for managing disk recorders. When designing RS‑422 control solutions, you'll know you're connected to a HyperDeck Extreme 8K when you see the ID 0xF0E0 in 30/60p, 0xF1E0 in 25/50p or 0xF2E0 in 24p. The full set of support remote commands are included in the instruction manual and you can download this from the support page of our web site.
Compatible with Controllers, Switchers, Converters and More.
There's a wide range of Blackmagic Design products you can use with HyperDeck Extreme, including the HyperDeck Extreme Control for adding traditional broadcast deck controls. Plus it uses the industry standard RS‑422 deck control protocol so it works with any broadcast deck. Add the new Blackmagic MultiDock 10G to use regular SSDs for compatibility with media from other HyperDeck models. HyperDeck Extreme 8K is also a perfect mastering recorder with the new ATEM Constellation 8K, or for clip playback and ISO reordering. For monitoring, the Teranex SDI to HDMI 8K allows broadcast monitoring on a television and it also has monitor calibration, 3D LUTs and on screen scopes.
Works with the World's Most Popular Video Software
The files from HyperDeck Extreme 8K are common so they are compatible with all operating systems or in most video software. Media can be formatted using ExFAT or HFS+ so you can easily access the media on computers and access the files like regular disks. DaVinci Resolve is perfect for use with HyperDeck because it features editing, color correction, audio post production and visual effects all in one software application. Plus you can download DaVinci Resolve free of charge for Mac, Windows and Linux. You can also use recorded files in other popular software such as Premiere Pro and Final Cut Pro X. With HyperDeck, your media is common so your files will remain readable in the future.
HyperDeck Extreme Control
HyperDeck Extreme Control gives you traditional deck control features with a built in editor for automating the ingest of legacy videotape based programming. Combined with HyperDeck Extreme, you get a professional deck solution that's exciting and fast to use. There are transport control buttons, timecode, deck status, plus a large search dial with electronic clutch for jog, shuttle and positioning. Controlling up to 8 separate decks is possible using standard RS‑422 ensuring compatibility with virtually any type of deck. It's even possible to edit between different video standards, so you can up convert old 4:3 interlaced SD masters to 1080p HD in 16:9 via a Teranex Express converter.
Automate Editing Between Tape and HyperDeck
The built in editor allows deck to deck editing. Operating the same way as traditional decks, the controller can operate both the HyperDeck recorder and the legacy broadcast deck all from the same front panel. This allows editing of old videotape simply by selecting the player button and entering in and out points on the tape and then selecting the recorder and pressing edit. The HyperDeck Extreme Control will now cue and play the broadcast deck while recording on the HyperDeck. Often streaming services need 1080p24 masters. That's easy as it's possible to add an inline Teranex Express converter to de-interlace, up convert, aspect ratio convert and remove pulldown while editing.
Control Up to 8 Broadcast Decks.
The top of the HyperDeck Extreme Control includes a row of 8 buttons for the recorder selection and a row of 8 buttons for the player selection. There's a built in remote control router that makes multi deck work possible. The connections are all standard RS-422 control so each device can be plugged into one of 8 rear mounted RS-422 sockets. You can even use the 8 ports to control 8 HyperDecks. The RS-422 control has been tested to ensure compatibly with legacy broadcast decks such as the BVH-2000 series 1 inch C format machines, D2, Betacam SP and Digital Betacam broadcast decks.
Familiar Broadcast VTR Style Design
The transport controls are a hybrid of controls from HyperDeck as well as traditional decks. You get buttons for rewind, fast forward, stop, play and record. To protect videotape masters, recording requires pressing both REC and PLAY. There's an eject button for ejecting cassettes, an input button for changing EE/PB modes plus a pre-roll button for cueing the tape.
Traditional and Elegant Transport Controls
You get familiar transport controls, such as PLAY, which when pressed during a recording, will cause the recording to stop and then the deck will continue to play from the same point. To start a recording, press both the REC and PLAY button simultaneously. If you hold down the REC button while a HyperDeck is in record it will change cards. When either REW or F FWD is pressed, the deck will shuttle reverse or forward at the maximum rate. The search direction indicator will also show full speed shuttle. Available when used with HyperDeck, the SKIP REW and SKIP FWD buttons will move to the previous clip or the next clip in the recording.
Premium Search Dial for Jog and Shuttle
The high quality search dial features both jog and shuttle plus an electronic clutch that stops the knob at the end of the shuttle travel or allows free spinning when in jog. HyperDeck Extreme Control replaces varispeed with a position function that allows rapid movement up and down the recording. The search dial uses twin bearings so you can free spin it for fast jog.
Full Timecode Display and Deck Status
Full deck status is included and this includes a large easy to read timecode display. This display indicates the timecode of the current selected deck and the timecode source switch will control what's displayed on the time counter. The horizontal light bar indicator allows the user to see the position of the search dial and provide a visual feedback, which is important when working with remote decks. The servo indicator light will show when the deck is in play or record mode and the servo system is correctly locked. Because remote decks will still display the time counter and transport state, the remote indicator will let you know if the deck is in remote. There's even external video reference status.
Flexible In and Out Point Entry for Editing
For editing, you need to enter an in and out point for the remote deck. Simply select the IN or OUT buttons and the ENTRY button simultaneously to enter the points. To display each edit point on the time counter display, simply press the IN or OUT buttons only and the time point will be shown. While the entry button is used for entering the in or out point data, you can also clear the in and out points by pressing the IN or OUT buttons while pressing DELETE. To trim edit points, you can press the TRIM + or - button while pressing the IN or OUT button, and you will advance or delay the edit point by 1 frame at each press.
Pre-roll Edits to Cue Decks
For cueing decks a pre-roll button is included. When this button is pressed, the tape machine will run to the pre-roll point which is generally 5 seconds before the IN point. If you are using an older broadcast deck it could take a few minutes for the deck to get to the cue point as the machine has to spool the tape. Although a HyperDeck will cue instantly. If the PREROLL button is pressed when simultaneously pressing the IN or OUT point then the deck will cue to the IN or OUT point exactly. This feature is great for cueing to a specific location set via the IN or OUT points.
Perform the Edit Automatically
Once you have your in and out points set, you can perform the edit automatically by pressing the EDIT button. If the EDIT button is pressed before setting the IN point, then the current tape position will be automatically entered as the IN point, and then the editing will be performed. This means you can select the edit button and it will set the IN point and then perform the edit all in one step.
What's Included
HyperDeck Extreme 8K HDR
SD card
User manual
Product Specifications
HyperDeck Extreme 8K HDR

Connections

SDI Video Inputs
4
SDI Video Outputs
5 (12G-SDI A,B,C,D and 3G-SDI Monitor Out)
SDI Rates
270Mb, 1.5G, 3G, 6G, 12G.
HDMI 2.0 Video Inputs
1
HDMI 2.0 Video Outputs
1
Analog Video Inputs
Component YUV on 3 BNCs,
Composite NTSC/PAL on 1 BNC.
Analog Video Outputs
None
Analog Audio Inputs
4 Channels of professional balanced analog audio via XLR connectors and 2 channels of consumer unbalanced via RCA connectors.
Built in speaker
Mono
Screen
7 inch 1920 x 1200. 2000 nit DCI-P3 100% HDR LCD
Timecode Connections
1 x XLR in and 1 x XLR out.
Reference Input
Tri-Sync or Black Burst.
SDI Audio Inputs
16 channels embedded audio.
SDI Audio Outputs
16 channels embedded audio.
HDMI Audio Inputs
8 channels embedded audio.
HDMI Audio Outputs
8 channels embedded audio.
Remote Control
1 x RS-422 In, 1 x RS-422 Out.
Recorder Configuration
Via user interface or Blackmagic HyperDeck Ethernet Protocol.
Ethernet
10 Gb/s
External Recording
1 x USB-C 3.1 Gen 2 (up to 10Gb/s) for external disk recording.
Computer Interface
1 x USB-C for software updates.

Standards

SD Video Standards
525i59.94 NTSC, 625i50 PAL
HD Video Standards
720p50, 720p59.94, 720p60
1080i50, 1080i59.94, 1080i60
1080p23.98, 1080p24, 1080p25, 1080p29.97, 1080p30, 1080p50, 1080p59.94, 1080p60
1080PsF23.98, 1080PsF24, 1080PsF25, 1080PsF29.97, 1080PsF30
2K DCI Video Standards
1080p23.98 DCI, 1080p24 DCI, 1080p25 DCI
1080PsF23.98 DCI, 1080PsF24 DCI, 1080PsF25 DCI
Ultra HD Video Standards
2160p23.98, 2160p24, 2160p25, 2160p29.97, 2160p30, 2160p50, 2160p59.94, 2160p60
4K DCI Video Standards
2160p23.98 DCI, 2160p24 DCI, 2160p25 DCI
8K Video Standards
4320p23.98, 4320p24, 4320p25, 4320p29.97, 4320p30, 4320p50, 4320p59.94, 4320p60
8K DCI Video Standards
4320p23.98 DCI, 4320p24 DCI, 4320p25 DCI
SDI Compliance
SMPTE 259M, SMPTE 292M, SMPTE 296M, SMPTE 372M, SMPTE 424M, SMPTE 425M Level A and B, SMPTE 2081-1, SMPTE 2081-10, SMPTE 2082-1, SMPTE 2082-10 and SMPTE 2084.
SDI Metadata Support
HD RP188 and closed captioning CEA-708. HDR Metadata supported on SDI.
Audio Sampling
Television standard 24-bit, 48 kHz sample rate.
Video Sampling
4:2:2 YUV
Colour Precision
10-bit
Colour Space
REC 601, REC 709, REC 2020. 33 point 3D LUTS can be applied via the LUTS menu tab.
Multi Rate Support
Auto detection of SD, HD, 6G‑SDI, 12G-SDI, 2SI Quad Link 12G-SDI.
Copy Protection
HDMI input is unable to capture from copy protected HDMI sources. Always confirm copyright ownership before capture or distribution of content.

Media

Cache Recording
Slot for optional M.2 PCIe NVMe card for cache recording up to 16Gb/s. 60mm 80mm and 110mm supported.
Media
2 x CFast 2.0 card slots and 1 x USB-C 3.1 Gen 2 expansion port for external recording of SD, HD, Ultra HD and 8K.
Media Type
CFast card and external USB-C flash drives.
Media Format
Can format media to ExFAT (Windows/Mac) or HFS+ (Mac) file systems.

Supported Codecs

Supported Codecs
ProRes HQ QuickTime, ProRes 422 QuickTime, ProRes LT QuickTime, ProRes Proxy QuickTime for all formats up to 4320p60. H.265 High, H.265 Medium, H.265 Low for all progressive formats up to 4320p60.

Scopes

Scopes
Waveform, RGB Parade, Vector and Histogram scopes in broadcast quality 10-bit.
Viewing Modes
Picture in picture, picture overlay with opacity control. Waveform and RGB parade with standard and HDR graticules and Vector with zoom.

Control

Built in Control Panel
Integrated capacitive touchscreen LCD with onscreen controls for settings and navigating menus.
External Control
RS-422 deck control, SDI start/stop, timecode run. Includes Blackmagic HyperDeck Ethernet Protocol.

Software

Software Included
Blackmagic HyperDeck Operating System
Blackmagic HyperDeck Setup
Internal Software Upgrade
Loaded at system start, or via Blackmagic HyperDeck Setup using USB port.

Operating System

Operating System
Mac 10.13 High Sierra, Mac 10.14 Mojave or later
Windows 8.1 / Windows 10

Display

Display
Built-in LCD for video, audio & timecode monitoring and menu settings.

Power Requirements

Power Supply
Internal 100 - 240V AC.
4 pin XLR 12V DC IN for external power or battery use.

Accessories

Optional Accessories
HyperDeck Extreme Control
HyperDeck Extreme Rack Mount Kit

Physical

Installation
3 rack units height, half rack width.
Specifications
21 x 13 x 33.4 cm (8.2 x 5.1 x 13.1")
Weight: 3.65 kg (8 lbs)

Environmental Specifications

Operating Temperature
0° to 40° C (32° to 104° F)
Storage Temperature
-20° to 60° C (-4° to 113° F)
Relative Humidity
0% to 90% non-condensing
Blackmagic Design HyperDeck Extreme 8K HDR
Looking for a personal touch? Not sure if you are choosing the right product? Our staff is here to help.
We want to make sure you get the right product for your needs.
Our staff will help you understand the options available so you can be confident in your purchase.
As the country's leading Professional Imaging retailer, Vistek is in the perfect position to ensure you make the right choice.
Contact us today for a personal touch.