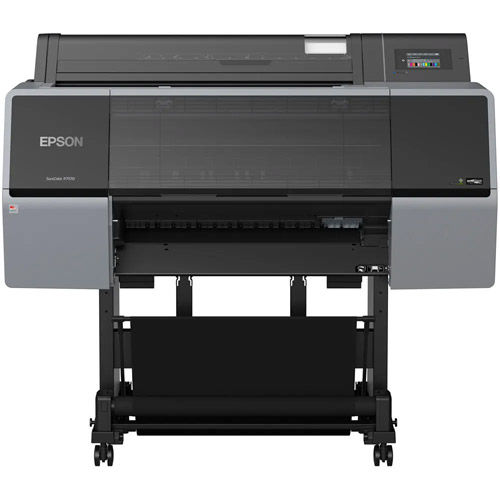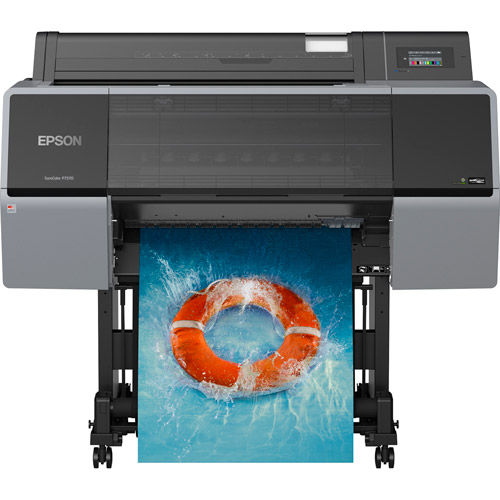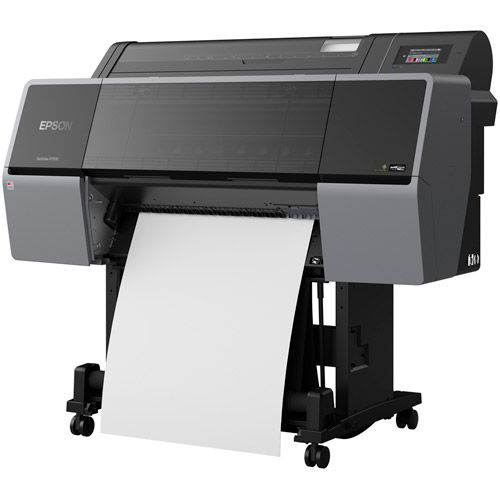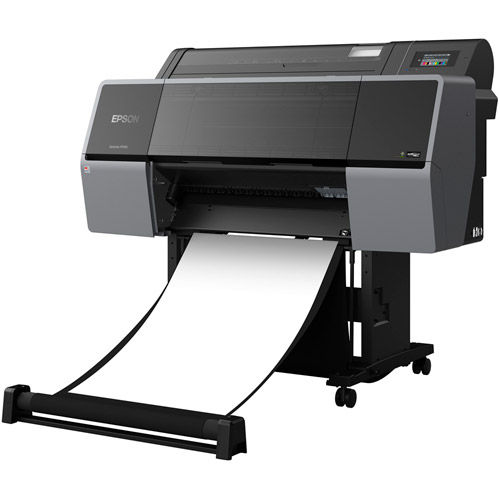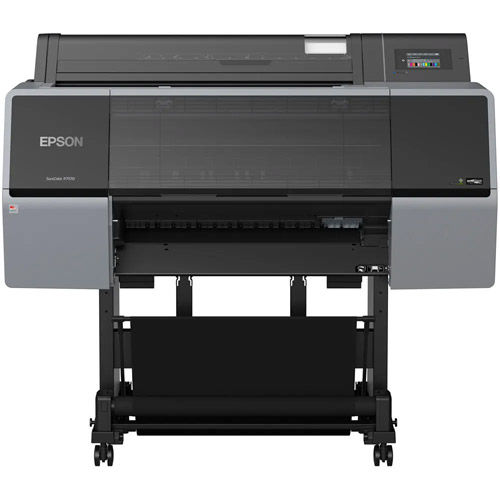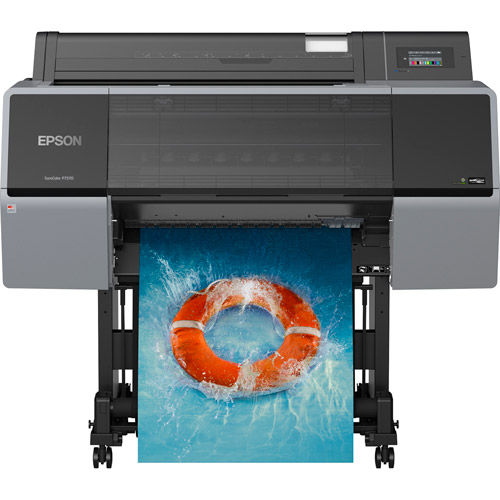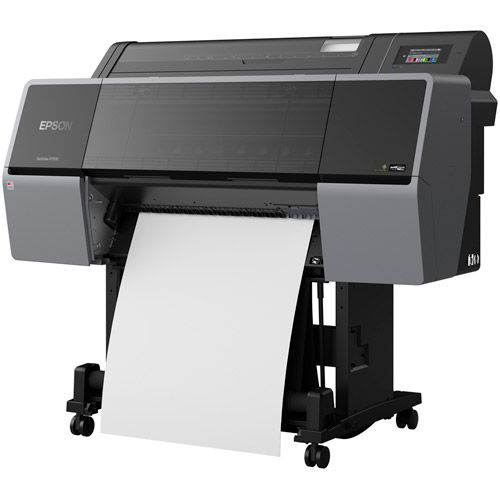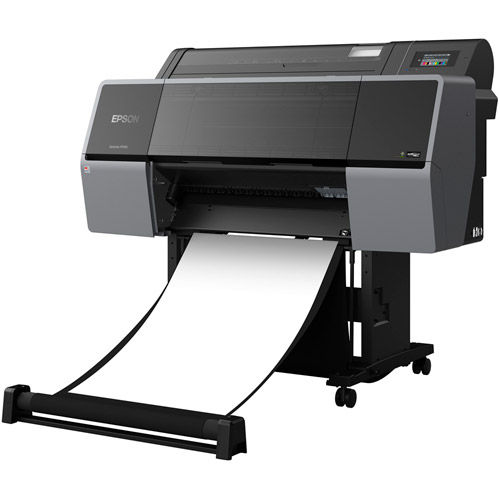 Webcode:

437649

• Mfr: SCP7570SE
Product Highlights
61 cm x 18 m (24" x 59')

Max. Print Size

24"

Max. Print Width

2400 x 1200 dpi

Max. Resolution

UltraChrome PRO12 Pigment

Ink System

2:02 mins (23.4 x 33.1" print)

Print Speed

Hi-Speed USB 2.0 & Ethernet

Interface

4.3" Customizable

Touchscreen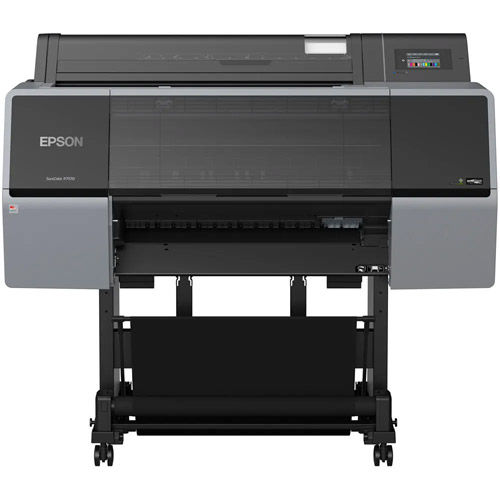 Epson SureColor P7570 24" Standard Edition Printer
Epson SureColor P7570 24" Standard E...
Web Availability:
Available for Drop Shipment
This product is not in stock at our warehouse but is available to be drop shipped directly to you from the Manufacturer's warehouse.
Vistek Locations
Toronto Available for Drop Shipment
Ottawa Available for Drop Shipment
Mississauga Available for Drop Shipment
Calgary Available for Drop Shipment
Edmonton Available for Drop Shipment
Please call and verify availability at the store as stock changes daily.
SureColor P7570 | 24-inch Wide-Format Inkjet Printer
The Art of Performance.
Epson believes technology has the power to push creative boundaries, exceed the limits of imagination and propel artistry to new heights. That's why, after 20 years of perfecting wide-format printing technology, they are ready to unveil their most advanced printer to date, designed to transform your artistic vision into a truly unforgettable experience.
Epson's most advanced wide-format printer yet
Tackles photography, fine art, proofing and graphic design printing with unmatched image quality and performance
Powered by PrecisionCore
New 12-channel MicroTFP printhead performs at speeds up to two times faster than previous generations
Extreme colour gamut
All-new UltraChrome PRO12 Ink with Violet produces astounding colour with up to 99 percent coverage of the PANTONE® FORMULA GUIDE solid-coated standard
Realtime Photo and Matte Black ink switching
Dedicated nozzles for both black ink types
Industry-leading print permanence
Creates prints that last up to 200 years colour and 400 years black-and-white
What's New?
High performance, industrial PrecisionCore microTFP print head
2.4 times the print speed of the current P9000 printer
UltraChrome PRO12 12-Colour Ink Technology
Widest colour gamut in its class with
No Photo Black/ Matte Black switching required
Black Enhance Overcoat Technology
Industry leading black density on glossy media
Industrial Hardware Design
High reliability components- over 40lbs heavier
New catch basket design - Can be placed directly against the wall
User Interface Design
4.3" user customizable touchscreen interface
Media Inductive Roller and Loading
Accurate and fast media feeding with no quality compromise
New Options and Accessories
Hdd, Adobe Postscript Server, Take-up Reel allows customers to configure the printer to their needs
Production User Maintenance
Automatic maintenance for normal users; Simple user self service for routine cleaning and maintenance for production users
Epson Media Installer
Easy to configure and load Epson Branded Media (Signature Worthy, Legacy, etc)
Retractable, configurable media catch basket
Adjusts to the customers' workflow
PrecisionCore MicroTFP Print Head
Core Industrial Print Head for all Proofing and Photo Printers
The PrecisionCore MicroTFP printhead is developed using individual PrecisionCore "blades".
Each "blade" has two rows - one for each colour - across a 1.32" width.
When combined, the final printhead array prints over a 2.64" print width.
PrecisionCore MicroTFP Print Head
Latest Generation PrecisionCore Print Head Array
Over 9,600 nozzles from a 12-chip print head array
Droplets as small at 3.5 pl- Incredible accuracy and dot placement capability
Dedicated Matte and Photo Black Channels - No Black Switching
Faster production workflows vs previous generation with dedicated nozzles for matte & photo black
No more switching/ flushing when going from a matte media to photo media
Nozzle Verification Technology
Automatic maintenance can check nozzle health without using any ink in only microseconds
User configurable cleaning assures the best print every time
Industrial-Level Reliability
Capable of high-volume printing with very little downtime for maintenance
New user maintenance doors allow production customers to do simple manual cleanings if necessary
UltraChrome PRO12
Newly Developed 12 Colour Ink Technology
Dramatically Improved Colour Gamut
Photography

Wider colour gamut for photography while keeping Advanced B&W mode vs previous generation.

Proofing

Live Violet Ink channel helps to achieve 99% of the Pantone® plus formula guide solid coated colour matching.

Single SKU

No need for separate Standard and Commercial Edition SKUs.
Dedicated Photo Black and Matte Black Channels - No Black Switching
Industry-Leading Print Permanence
Print permanence ratings in testing by Wilhelm Imaging Research, Inc.
Up to 200 years colour/ 400 years B&W (in testing)
Dramatically Improved Glossy Black Density- Black Enhance Overcoat Technology
Higher Dmax on glossy photography without the need for expensive Chroma Optimizer ink
Black Enhance Overcoat
Regardless of how its viewed, blacks will be denser, higher contrast and have a "wet" look.
New print mode for best in class black density- a "wet" look
Special driver mode to improve black density, contrast, and reduced bronzing & gloss differential
Optimized for glossy media/ metallic glossy photographic media
Advanced precision screening using existing light gray ink
No "Chroma Optimizer" or "Gloss Optimizer" dedicated ink channel
Lower additional ink usage (no "flood" coat)
Simple User Maintenance
Automated Printer Maintenance
Head cleaning / auto nozzle check- is all printer controlled to provide the best print quality
New user maintenance functions for high productivity users
Simple quarterly maintenance process using standard supplies
No service costs or technician required
Advanced Media Handling
Roll Media Handling
Top-Loading Roll Media Support up to 44" Wide
Supports most photographic, fine art, and design media types up to 7" in diameter
Spindle-Free media adapters with both 2" and 3" media core adjustments
Roll Media Length Tracking
LCD display and Barcode on media if removed to accurately estimate remaining length
BorderFree Printing for Many Popular Print Widths
10" , 13", 16", 17", 20", 24", 30", 36", and 44"
Designed for printing standard 24" x 36" posters fully trimmed ready for pack and ship*.
Borderfree replacement pads available
Built-in Automatic Rotary Media Cutter
Capable of smoothly cutting most photographic and fine art media types
Optional Auto Take-up Reel System
Compatible with SC-P9570 printer and offers forward and reverse wind mode
Cut Sheet Media Handling
New Top Loading Cut Sheet Media Slot
Simple and accurate loading of cut sheet media from 8.5" x 11" up to 44" wide
Allows for no bend media path without requiring space behind the printer
Provides for a safe media feeding path for most delicate paper types
Single Sheet Front Straight-Through Poster Board Media Feeder
Simple front feeder for poster board media up to 1.5 mm thick
Ideal for printing directly to virtually any thick media type up to 1.5 mm thick
Supports single sheets from 17" wide up to 44" wide
Inductive Media Roller
Consistent, repeatable media feed for sellable-quality prints at high production speeds
Inductive Media Roller System Reduces Paper Feed Error
Assures accurate and consistent feed regardless of the weight of the media roll
Consistent back-tension
Automatic, Simplified Media Loading Process
Automatic loading process- easier for operator to load
Reduced media skew
Epson Media Installer Software
Loading Epson media is now simple and is integrated into the driver to provide the best results
Epson Media Installer Software Simplifies Media Management
Single, customized, media list on printer driver and control panel
Unified Settings: Print Driver, Printer Control Panel, and Profiles
Updates available from a central server – Accessed from the driver (PC) or a included Utility (MAC)
Eliminates complex media installation process – One step process to…
Download new & additional media Epson Genuine Media
Configure printer mechanical parameters
Install ICC Colour Profiles
What's Included
SureColor P7570 Printer and Stand
Paper Catch Basket
Maintenance Tanks (Quantity 2 installed)
Initial Ink Cartridges (110 mL x 12 cartridges)
AC Power Cable
User Guide Kit (Documentation and Warranty)
Product Specifications
SureColor P7570

Print

Printing Technology
PrecisionCore MicroTFP 12-channel, dropon-demand printhead
Ink Type
UltraChrome PRO12 pigment ink; 12-ink, 12-colour ink configuration: Cyan, Light Cyan, Vivid Magenta, Vivid Light Magenta, Yellow, Gray, Light Gray, Orange, Green, Photo Black, Matte Black and Violet
Fade Resistance/Print Longevity
Colour: up to 200 years; Blackand-white: up to 400 years
Nozzle Configuration
Colour and monochrome heads; 9600 nozzles (800 nozzles x 12)
Droplet Technology
Smallest droplet size: 3.5 picoliters;
Variable Droplet Technology can produce up to three different sizes per line
Maximum Resolution
2400 x 1200 dpi
Printer Speed
23.4" x 33.1" prints
Normal (BEO: off) 2:02
Normal (BEO: on) 4:04
(BEO=Black Enhance Overcoat)
Printer Language/Drivers
Epson ESC/P® raster photographic drivers standard

Epson Intelligent Ink Cartridges

In-box Cartridge Fill Volume
110 mL each colour x 12 colours total
Retail Cartridge Fill Volume
150, 350 or 700 mL each colour available x 12 colours total
Ink Cartridge Shelf Life
2 years from printed production date or 6 months after opened
Printer is designed for use with Epson cartridges only, not thirdparty cartridges or ink.*

Roll Media Handling

Single Top-Loading Roll
24" wide
2" or 3" Core Diameter
User-adjustable roll media adapters
Roll Cutting
High-speed internal rotary cutter; auto or manual
Minimum Auto Cut Length
5.0" plus top and bottom margin (5.24" min.)
Top/Bottom Margins (mm)
Normal: 20/15 (Premium Luster Photo Paper); option: Top 3, 15, 20, 45/Bottom 3, 15
Left/Right Margins
3 mm each side; 0.24" total; or 0" at BorderFree® sizes
Roll Paper Remaining
Printable barcode tracking system
Optional Take-up Reel
Auto forward and backward; light-based media sensor
BorderFree Print Widths
10", 11.8", 13", 16", 17", 20", 20.3", 23.4", 24"

Sheet Media Handling

Single Sheet, Top-Loading
Up to 24" wide
Sheet Loading
Auto-loading if less than 0.5 mm thick
Media Thickness
0.8 mm to 1.5 mm
Top/Bottom Margins
3 mm/15 mm
Top/Bottom Margins with Centering On
15 mm/15 mm
Left/Right Margins
3 mm each side; 6 mm or 0.24" total; or 0" at BorderFree sizes
BorderFree Print Widths
10", 11.8", 13", 16", 17", 20", 20.3", 23.4", 24"

Printable Area and Accuracy

Maximum Paper Width
24"
Minimum Cut-Sheet Size
8.5" x 11"
Maximum Printable Roll Length
708.66"
Line Accuracy
+/- 0.2% of specified length (+/- 0.26 mm min.)

Printer Interfaces

Printer Interfaces
Hi-Speed USB 2.0 (1 port) 1000Base-T Ethernet (1 port)

Operating Systems Supported

OS Supported
Apple®: OS X® 10.6.8 or later
Windows®: 10, 8.1, 7 (32-bit, 64-bit)

General

Acoustic Noise Level
Less than 49.5 dB(A) according to ISO 7779
Electrical Requirements
Voltage: AC 110 - 240 V
Frequency: 50 - 60 Hz
Current: 2 A
Power Consumption
Printing: Approx. 85 W, Ready: approx. 32 W
Sleep Mode: Approx. 3.4 W (1000Base-T Ethernet in Standby)
Power Off: Less than 0.3
Standards and Approvals
Safety standards: UL62368-1, CAN/CSA C22.2 No.62368-1 EMC FCC part 15 subpart B class B, CAN/CSA-CEI/IEC CISPR22 class B, AS/NZS CISPR 32 class B
Limited Warranty and Service
Standard 1-year usually nextbusiness-day on-site repair with toll-free phone support Monday through Friday
Country of Origin
China

Eco Features

Eco Features
ENERGY STAR® qualified
RoHS compliant
Recyclable product
Epson America, Inc. is a SmartWay® Transport Partner

Ink

UltraChrome PRO12 Ink (150 mL)
Photo Black Ink Cartridge T834100
Cyan Ink Cartridge T834200
Vivid Magenta Ink Cartridge T834300
Yellow Ink Cartridge T834400
Light Cyan Ink Cartridge T834500
Vivid Light Magenta Ink Cartridge T834600
Gray Ink Cartridge T834700
Matte Black Ink Cartridge T834800
Light Gray Ink Cartridge T834900
Orange Ink Cartridge T834A00
Green Ink Cartridge T834B00
Violet Ink Cartridge T834D00
UltraChrome PRO12 Ink (350 mL)
Photo Black Ink Cartridge T824100
Cyan Ink Cartridge T824200
Vivid Magenta Ink Cartridge T824300
Yellow Ink Cartridge T824400
Light Cyan Ink Cartridge T824500
Vivid Light Magenta Ink Cartridge T824600
Gray Ink Cartridge T824700
Matte Black Ink Cartridge T824800
Light Gray Ink Cartridge T824900
Orange Ink Cartridge T824A00
Green Ink Cartridge T824B00
Violet Ink Cartridge T824D00
UltraChrome PRO12 Ink (700 mL)
Photo Black Ink Cartridge T804100
Cyan Ink Cartridge T804200
Vivid Magenta Ink Cartridge T804300
Yellow Ink Cartridge T804400
Light Cyan Ink Cartridge T804500
Vivid Light Magenta Ink Cartridge T804600
Gray Ink Cartridge T804700
Matte Black Ink Cartridge T804800
Light Gray Ink Cartridge T804900
Orange Ink Cartridge T804A00
Green Ink Cartridge T804B00
Violet Ink Cartridge T804D00

Physical Specs

Dimensions (W x D x H)
Basket Closed: 1401 x 667 x 1218 mm (55.2 x 26.3 x 48")
Weight
122 kg (269 lbs)
Temperature
Operating: 50 ˚ to 95 ˚F (10 ˚ to 35 ˚C)
Operating (recommended): 65 ˚ to 75 ˚F (18 ˚ to 24 ˚C)
Storage: -4 ˚ to 104 ˚F (-20 ˚ to 40 ˚C)
Relative Humidity
Operating: 20 - 80% (no condensation)
Operating (recommended): 45 - 60% (no condensation)
Storage: 5 - 85% (no condensation)
Epson SureColor P7570 24" Standard Edition Printer
Looking for a personal touch? Not sure if you are choosing the right product? Our staff is here to help.
We want to make sure you get the right product for your needs.
Our staff will help you understand the options available so you can be confident in your purchase.
As the country's leading Professional Imaging retailer, Vistek is in the perfect position to ensure you make the right choice.
Contact us today for a personal touch.