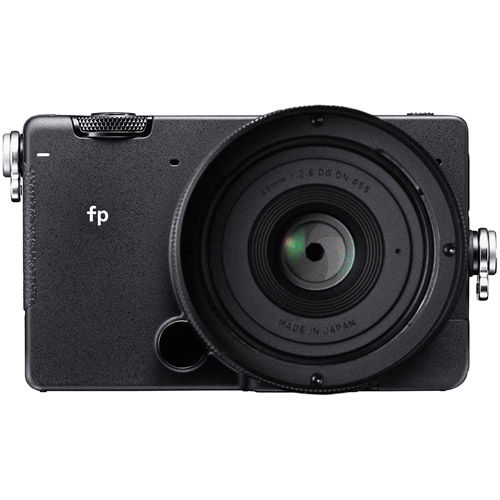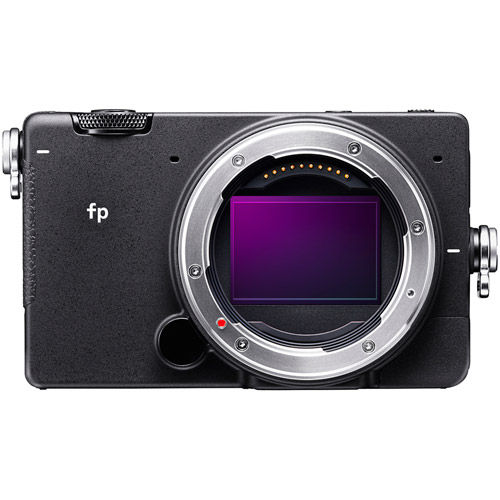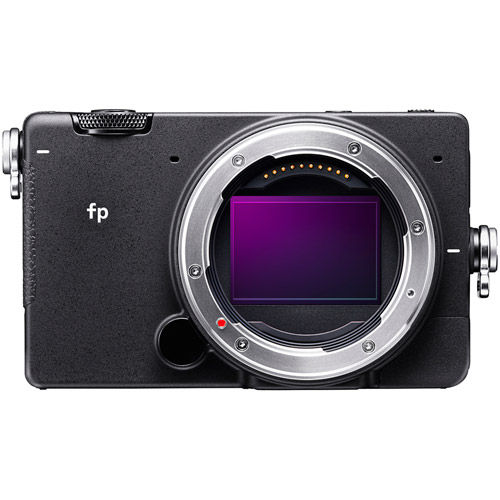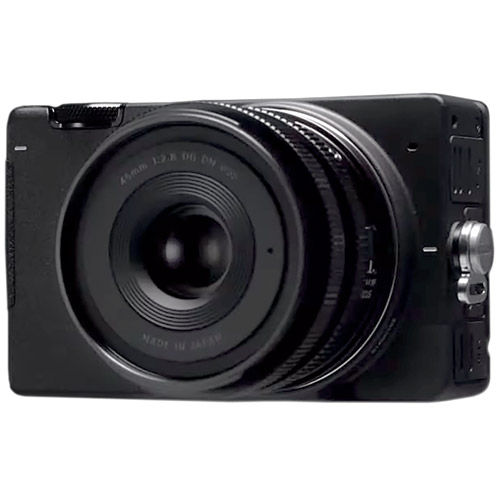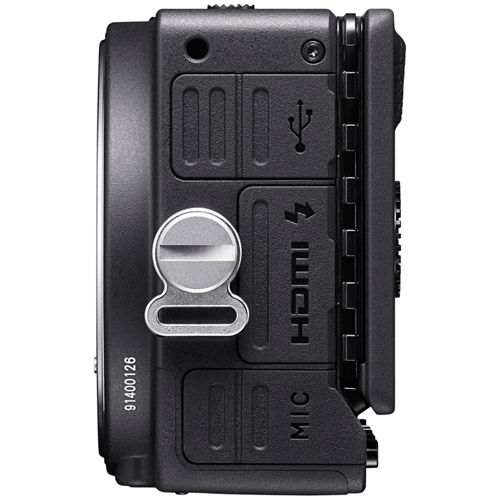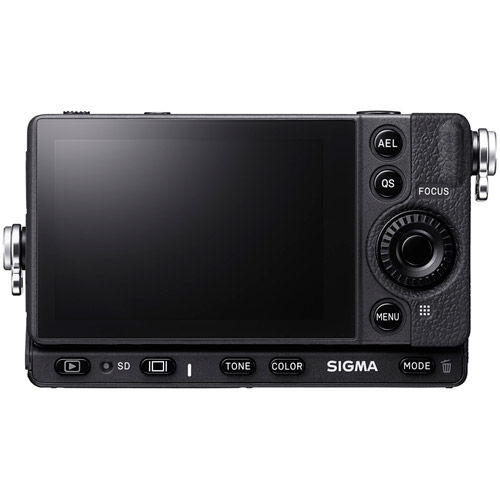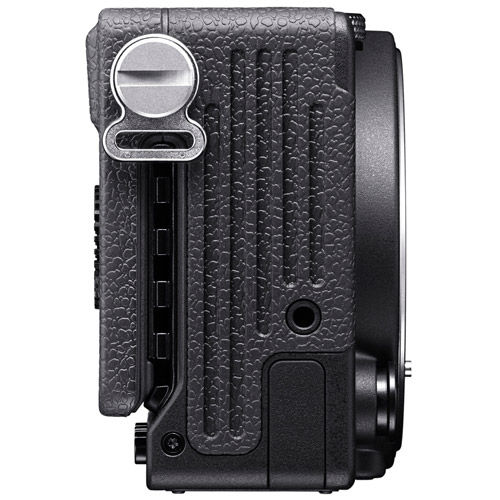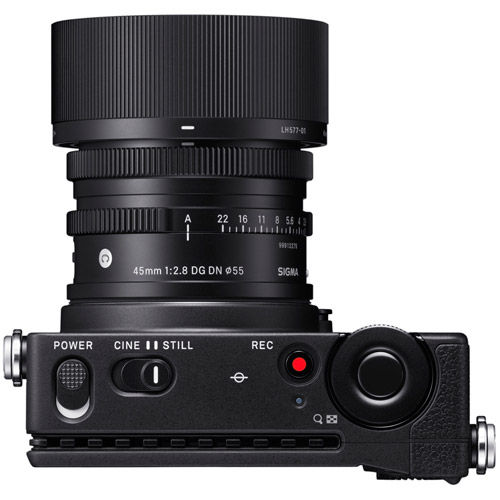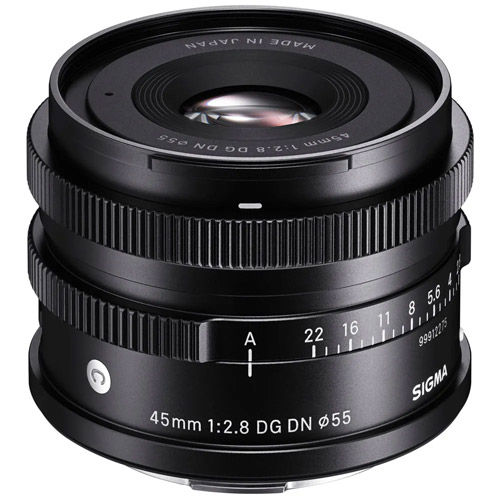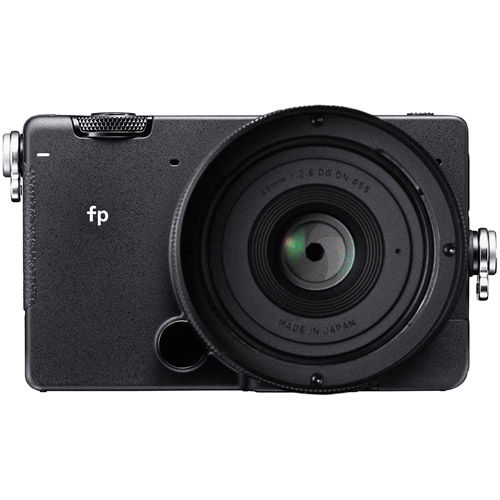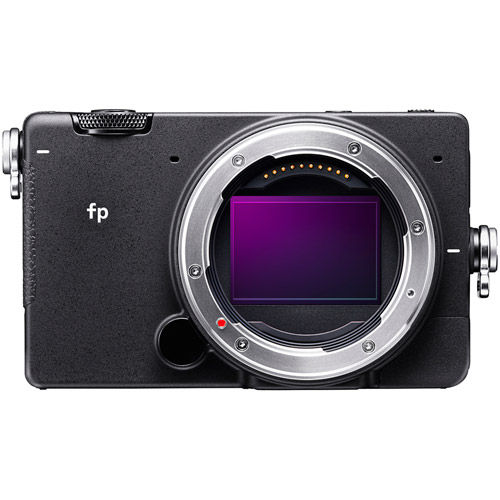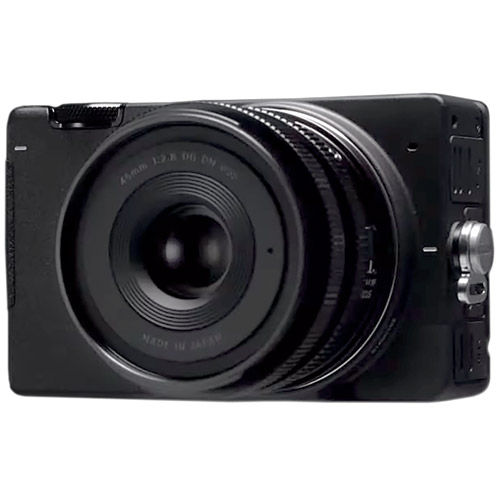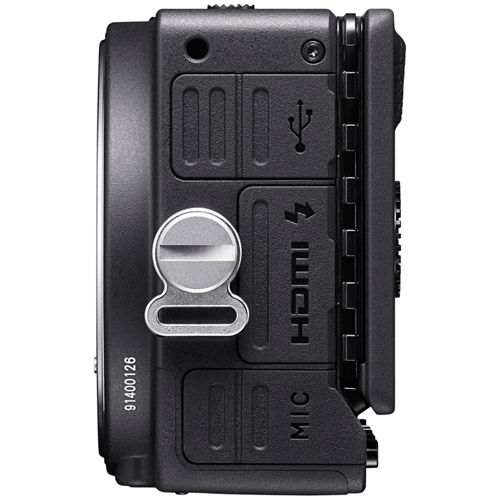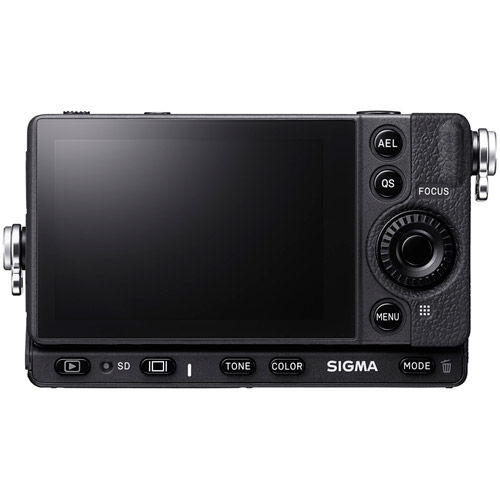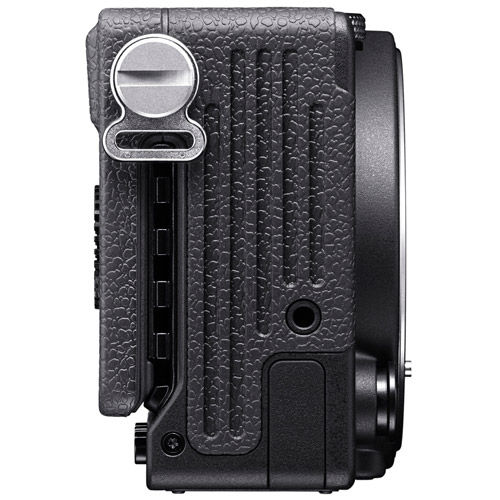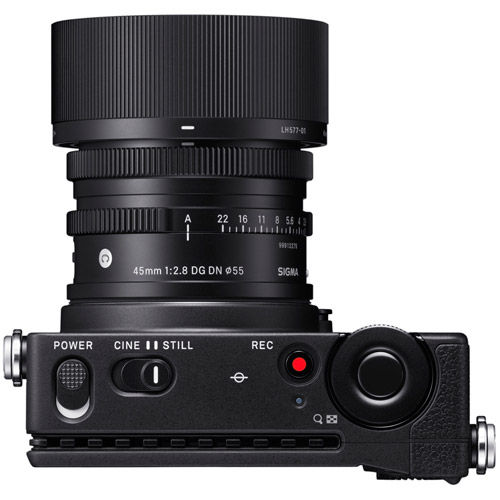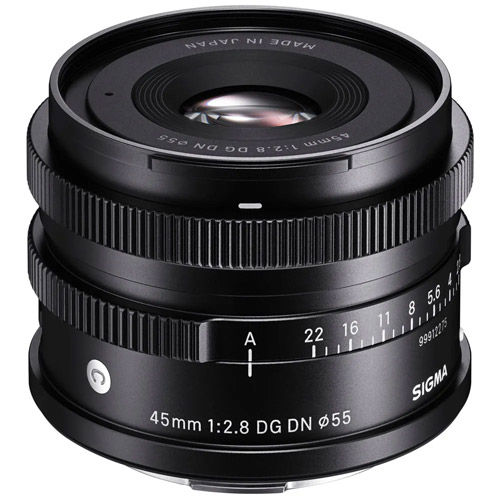 Product Highlights
24.6MP

BSI Bayer CMOS Sensor

Full-Frame

Format

18 fps

Continuous Shooting

ISO 100-25600

Expandable to 102400

4K UHD (3840×2160) at 30p

Video Recording

49-Point

AF System

Electronic Shutter

Electronic IS

Image Stabilization

Tilting Touchscreen

Dustproof & Splashproof

113 x 70 x 45 mm (4.4 x 2.8 x 1.8") Dimensions

370 g (13 oz.) Weight

Kit includes fp camera & 45mm lens
Kit Options: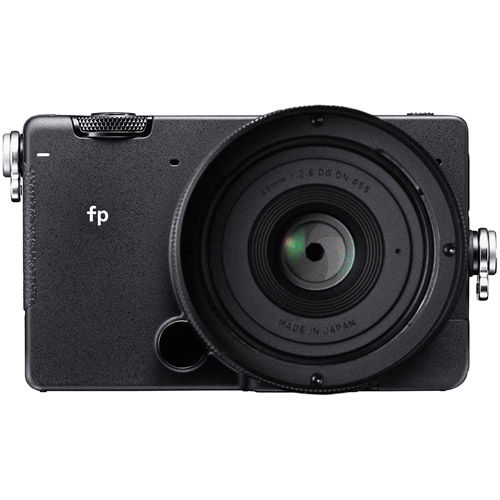 Sigma fp Mirrorless Kit w/ Contemporary 45mm f/2.8 DG DN Lens
Sigma fp Mirrorless Kit w/ Contempor...
Web Availability:
Special Order
This product will be Special Ordered just for you from the manufacturer. We do not stock this item due to its uniqueness or import schedule. Special Order items are Final Sale, see our Return Policy for details.
Vistek Locations
Toronto Special Order
Ottawa Special Order
Mississauga Special Order
Calgary Special Order
Edmonton Special Order
Please call and verify availability at the store as stock changes daily.

fp
World's smallest and lightest full-frame camera
SIGMA's take on an entirely new system camera
The SIGMA fp employs a back-illuminated 35mm full-frame Bayer sensor with 24.6 effective megapixels for high-quality images. Covered on the front and back sides with die-cast aluminum alloy for its superior robustness and thermal conductivity, the compact body of the SIGMA fp is built with a signature heat sink structure and sealing on 42 points for a dust- and splash-proof structure, making it a perfect camera to use for long hours under all types of environments. With its small body and great adaptability, the SIGMA fp enhances the joy of full-frame image quality, no matter what one's shooting settings may be.
Key Features:
Smallest & lightest full-frame camera
24.6MP Bayer sensor
Electronic shutter
Superior options in artistic creations
Advanced technologies
L-Mount
Supports full-fledged filmmaking
Still & Cine shooting modes
The world's smallest and lightest "pocketable full-frame" camera is here.

The environment that surrounds shooting and art creation is undergoing radical changes. In this day and age when one user may have both a high-performance interchangeable lens camera and a smartphone camera, using them flexibly according to specific purposes and settings, SIGMA stopped and questioned the inherent value of a digital camera.

As a result, SIGMA set itself to develop a user-oriented digital camera that reflected the idea of "how a camera can be" in a more flexible and true-to-life manner, without conforming to manufacturers' ideas of camera-centric categories and hierarchy.
fp | fortissimo pianissimo
With overall dimensions of 112.6×69.9×45.3mm and a body weight of 422g (battery included) the SIGMA fp is the world's smallest and lightest full-frame mirrorless camera.
Small enough to take along for casual use, it is a perfect camera with which to enjoy full-frame quality images in everyday snaps.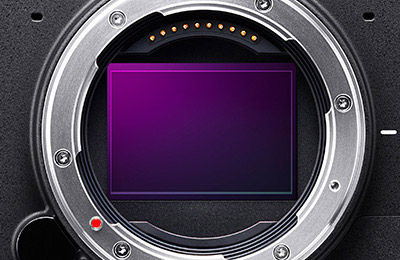 Full-frame sensor
Equipped with a back-illuminated 35mm full-frame Bayer sensor with 24.6 effective megapixels, the SIGMA fp is capable of taking high-resolution still and moving images.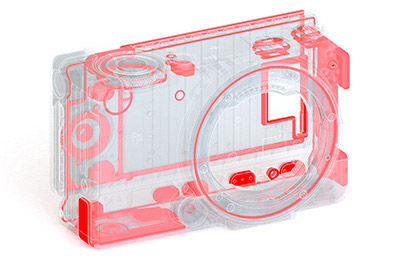 Robust & lightweight aluminum body
A body covered with die-cast aluminum on the front and the back ensures superior robustness and heat dissipation while keeping the body weight light.
Large heat sink
Designed and inspired by those used on professional cinema cameras, a large-size heat sink is mounted between the LCD and camera body. Combined with a heat dissipation coating applied to the outer surface, the SIGMA fp achieves highly effective heat dissipation. It prevents overheating at high temperatures or in long hours of use.
Dust- & splash-proof structure
The SIGMA fp is protected with the dust- and splash-proof sealing on a total of 42 points over the camera body. When combined with a dust- and splash-proof lens, the SIGMA fp is capable of shooting in rain, sandstorms, and other challenging conditions.
Same screw threads for strap fittings and tripod
The SIGMA fp is fitted with 1/4-inch threads for both the strap holder on either side of the body and a tripod. This provides greater freedom in how one use the camera, from mounting it on a tripod in portrait orientation with the fixing removed, to attaching a strap for use in portrait orientation after screwing the fixing into the hole on the base.
Electronic shutter for a variety of settings


Full-time electronic shutter
Shutter shock, sound, and lags: these are disadvantages of mechanical shutters. The SIGMA fp is designed to minimize them in pursuit of a system to adapt to a variety of different shooting scenes. Shooting that requires precision where even the tiniest shake is to be eliminated; shooting without ruining the ambience of the scene; and shooting with good response, without missing the perfect shot. These types of shooting will open new horizons in video creation.
Furthermore, the absence of a mechanical shutter makes the SIGMA fp's camera structure simpler, which in turn improves its reliability as a camera.
Superior options in artistic picture & video creations


Colour mode "Teal and Orange"
Colour grading is a process of altering the colour of a video and is an important step in filmmaking that will change the "mood" of a film or other types of work significantly.
One colour grade style that has been widely used in Hollywood films has inspired a new colour mode introduced in the SIGMA fp, called "Teal and Orange."
This new colour mode is about creating high contrast between orange colours, which are found in human skin tones, and teals (cyan blue), which are their complement, for visuals that are highly vibrant and deeply dramatic. It can be used in both the Still mode and Cine mode.

Tone Control & Colour Mode
The Tone Control menu now has a manual setting option in addition to the two auto options available in previous models (Strong/Mild), which allows users to adjust the tone curve by themselves.

The SIGMA fp is also the first SIGMA camera to come with an "effect" slider in its colour mode menu. It can be used to set the strength of an effect to apply in 11 levels, from -5 to +5, which enables the fine-tune of the colour mode.

It has also newly introduced "TONE" and "COLOUR" buttons for a quick access to the tone control and colour mode menus. With these enhancd functions and a variety of operation elements, the SIGMA fp makes it simple and easy to create an image, in-camera with great details, be it still or video.

Fill Light
A function formerly available only in SIGMA Photo Pro, SIGMA's proprietary image development software, Fill Light has now been incorporated into the body of SIGMA fp. Using Fill Light allows adjustment of the brightness of an image by adding extra light energy into the shadow regions without altering the exposure of highlight regions. This provides greater control in producing an image with great details, even with areas that are hard to control using the exposure adjustment settings.

The adjustment range, which was formerly ±2.0, has been expanded to ±5.0, making it possible to fine-tune the brightness even more.
Advanced picture & video generating technologies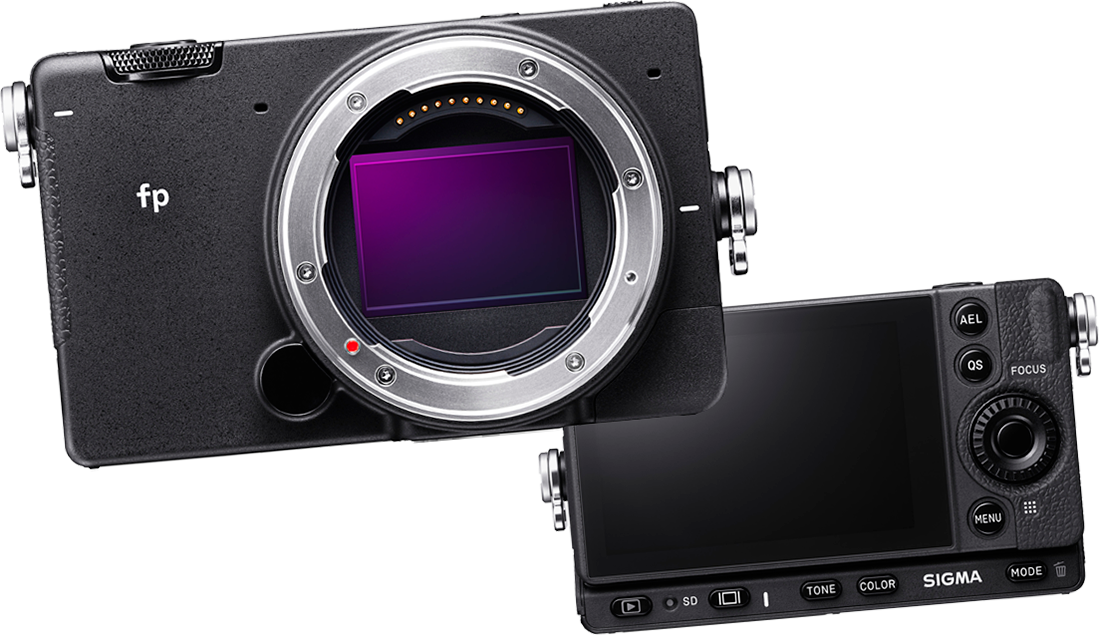 HDR Shooting
The HDR shooting takes advantage of an electronic shutter to take multiple pictures of different exposures (3 frames for still photography and 2 frames for video) at once, which can then be merged into a single picture or video with a great dynamic range that could not have been achieved in normal shooting.
Note: The HDR shooting in the Cine mode is to become available via firmware update scheduled at a later date.
Cinemagraph
SIGMA fp comes with a feature to make "Cinemagraphs", which are animated GIFs that are a hybrid between still photography and video. With this function, the SIGMA fp is capable of creating unique imagery, where parts of a still image keep moving, in-camera.
Note: The photo is for illustrative purposes only. The Cinemagraph function is to become available via firmware update scheduled at a later date.
Face/Eye Detection AF
The Face/Eye Detection AF function allows the SIGMA fp to focus automatically on the eyes of a human subject. It can bring the eyes of the model into focus instantly and precisely, even when shooting portraits using a large-diameter lens with a shallow depth of field.
Focus Peaking
The focus peaking function highlights the edges of the parts of a scene that are in focus in a particular colour. It is designed to help focusing the lens manually.
L-Mount
Optimized for mirrorless cameras, characterized by a short flange focal length, large diameter, and superior durability.
In 2018, Leica Camera AG, Panasonic Corporation and SIGMA launched the L-Mount Alliance, and announced that the three companies were to develop their own camera systems based around the same L-Mount standard. As an L-Mount camera, the SIGMA fp can be used with various L-Mount lenses offered by Leica and Panasonic, in addition to SIGMA lenses.
The L-Mount realilzes a camera system that goes beyond the boundaries between manufacturers, with unprecedented levels of scalability and possibilities.
Lenses specially designed for mirrorless cameras
To coincide with the announcement of the SIGMA fp, SIGMA announced three new lenses: 45mm F2.8 DG DN | Contemporary, 35mm F1.2 DG DN | Art, and 14–24mm F2.8 DG DN | Art. Making the most of the optical and mechanical design advantages of a short flange back, each of them is a unique mirrorless lens with high performance and distinctive characteristics.
Seamless transition between Still and Cine modes
UI optimized for different shooting modes
Preserving the distinctive "feels" of SIGMA cameras including dials and QS (Quick Set) buttons, the SIGMA fp has a specially designed operation system and displays for each of the Still mode and the Cine mode. At the flick of a special switch, it can move back and forth between the two modes. This presents a new shooting experience that goes beyond the boundaries of traditional cameras that are designed either for stills or videos.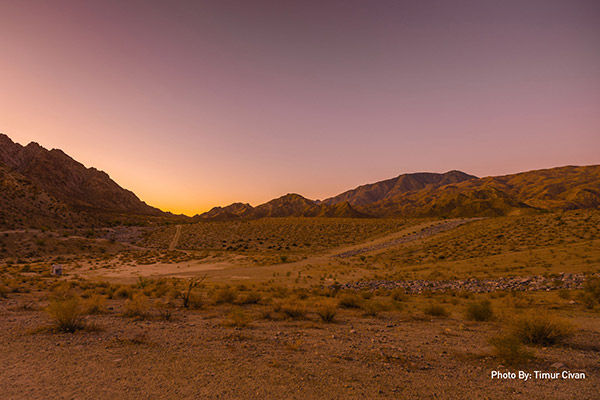 Photo by Timur Civan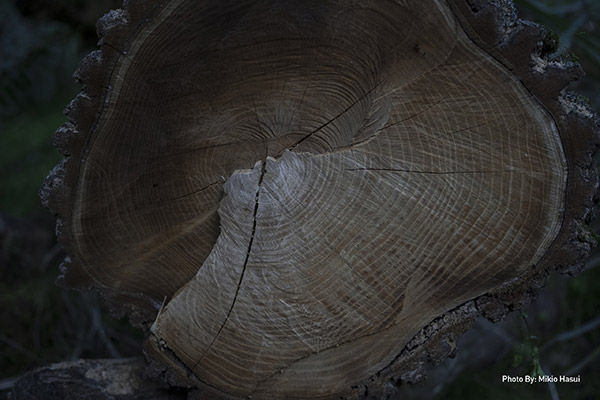 Photo by Mikio Hasui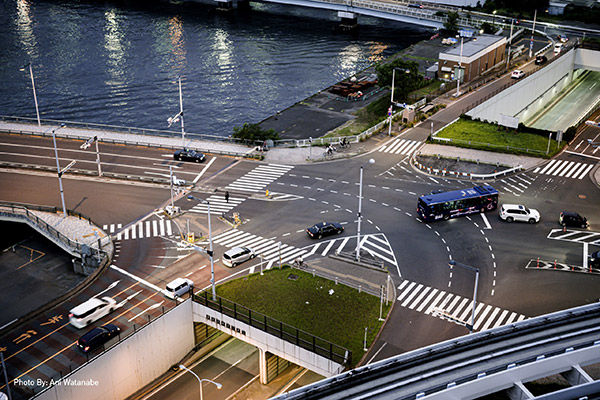 Photo by Ani Watanabe
7 shooting style suggestions with the SIGMA fp
Minimal at its basic, with maximum combination possibilities.
The concept of "having the camera to suit human needs" has opened up various shooting style choices. Here we introduce 7 shooting styles with the SIGMA fp.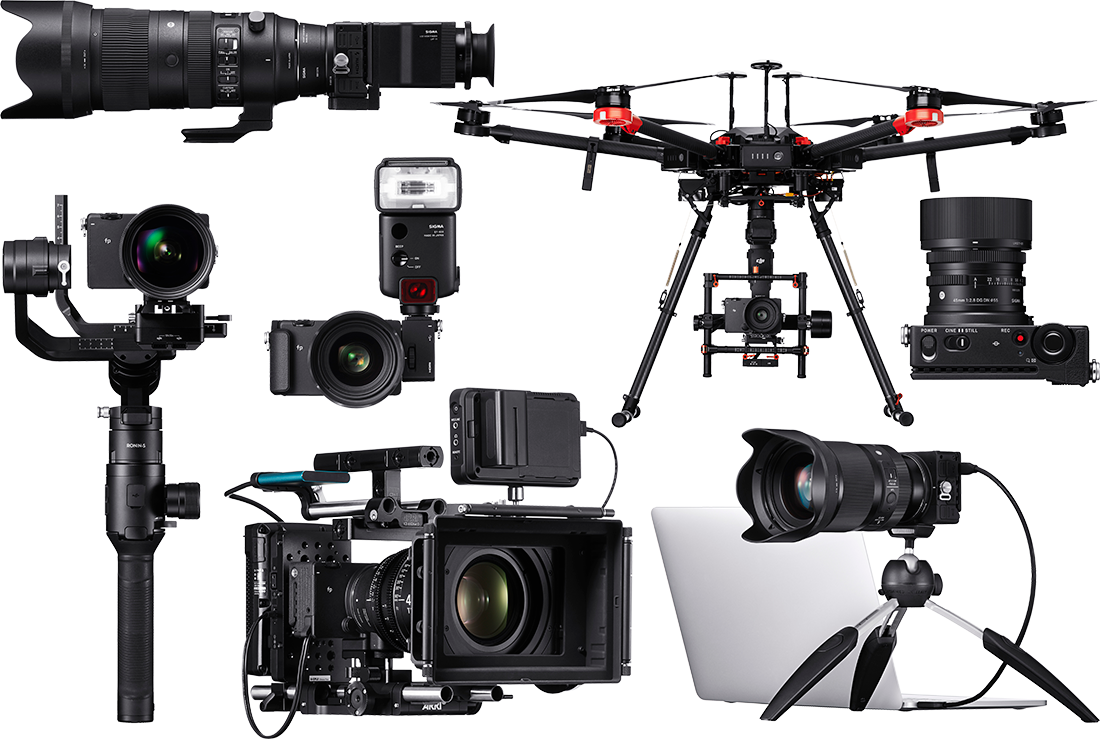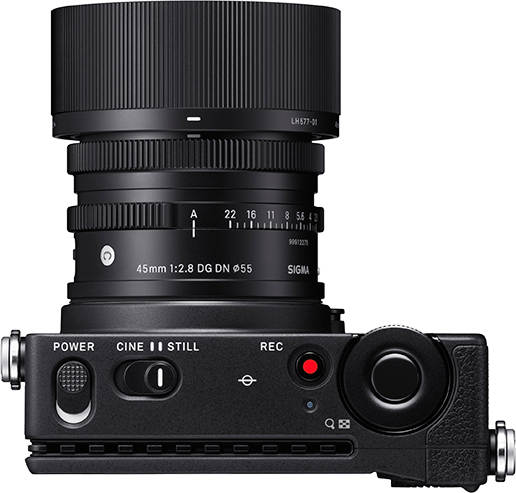 SNAP STYLE
Making the best use of the small and lightweight body of the SIGMA fp, it allows photographers to enjoy high end shooting experience in a casual way.When fitted with 45mm F2.8 DG DN | Contemporary, the SIGMA fp weighs a total of just 637g, making it truly a "pocket-size" full-frame camera.


PORTRAIT STYLE
The hot shoe that comes with the body makes it possible to attach a clip-on flash to the SIGMA fp. Using a side grip (available separately) will further enhances a secure hold. With the face/eye priority AF feature enabled, the SIGMA fp will give photographers a great deal of freedom when shooting portraits of a moving subject.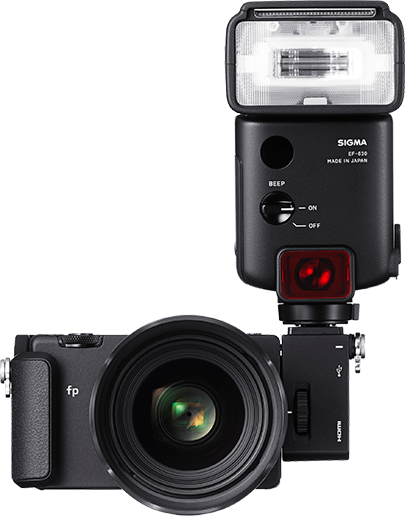 FIELD STYLE
By making use of the dust- and splash-proof structure of the SIGMA fp and specially-designed viewfinder and other accessories, photographers will be able to concentrate on shooting in all kinds of environment, be it a sunny day or in the rain. The SIGMA fp works with 14models of L-Mount lenses. With the use of SIGMA MOUNT CONVERTER MC-21, a total of 43models of SIGMA interchangeable still lenses can be used, including those for DSLR cameras (as of July 2019). This allows photographers to build a shooting system according to their field and purposes.

STREAMING STYLE
By simply connecting it to a PC via USB, the SIGMA fp can be used as a webcam. It is capable of recording audio while shooting a video. It will bring a full-frame camera quality to live streaming.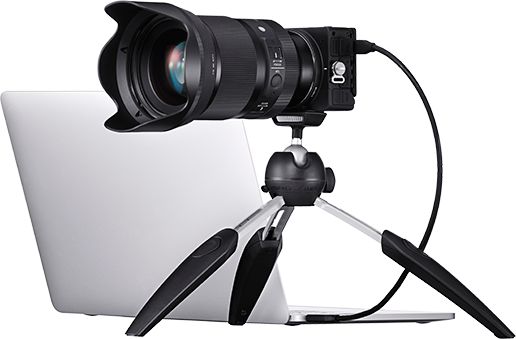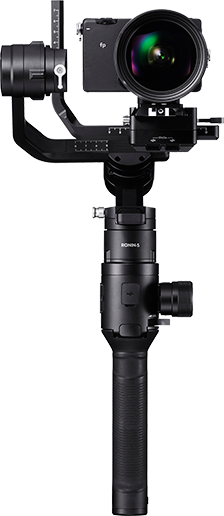 GIMBAL STYLE
Shooting a video using a gimbal is possible.
Lightweight equipment eases strain on the photo/videographer, and cuts power consumption of gimbals.


DRONE STYLE
Aerial shooting with a drone. The lightweight body of the SIGMA fp means less power consumed by the drone, which helps keep the camera airborne for longer.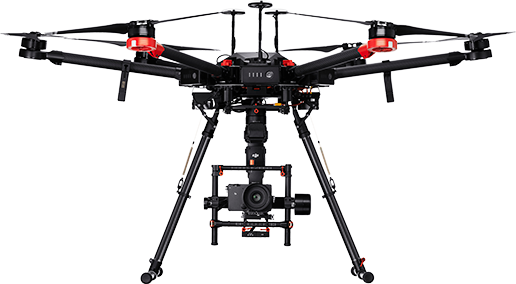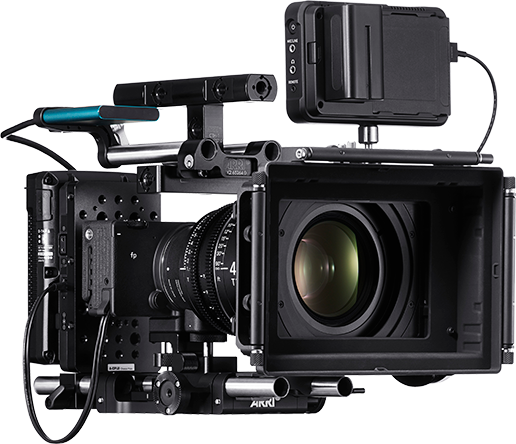 CINE STYLE
The SIGMA fp supports cinema camera-like user interfaces, which means that it can be taken straight to filmmaking settings. The small-size body translates into a smaller system as a whole, which in turn opens new possibilities for the forms of video creation that would have been difficult to achieve with bulky equipment, such as shooting in narrow space or extreme close-ups.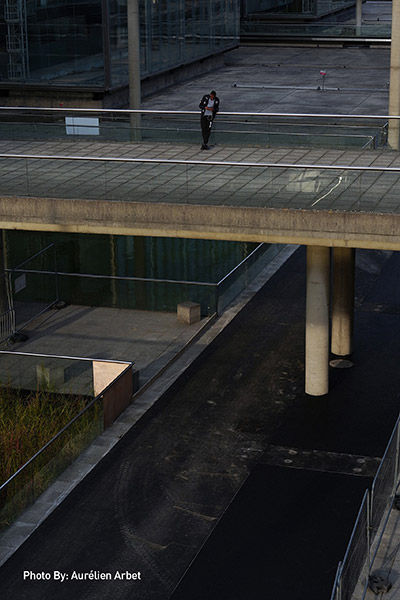 Photo by Aurélien Arbet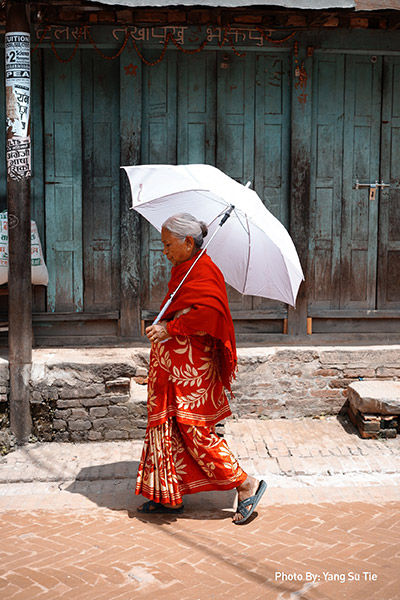 Photo by Yang Su Tie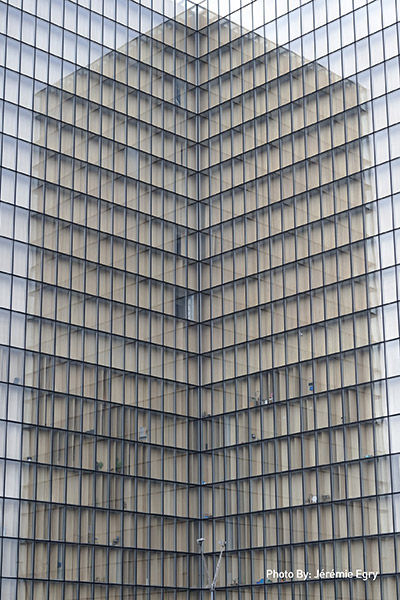 Photo by Jérémie Egry
45mm F2.8 DG DN | Contemporary
This prime lens refines the concept of the Contemporary line.
Compact size is realized while maintaining high image quality and is compatible with full-frame mirrorless cameras.
SIGMA Canada is pleased to introduce the new SIGMA 45mm F2.8 DG DN | Contemporary lens. This lens was designed to achieve the perfect balance for everyday use. Designed with relatively small full-frame mirrorless cameras in mind, this standard lens pursues easy operability as a regular prime lens by balancing its easy-to-carry size and high optical performance, thereby embodying the Contemporary line's development concept of "pursuing optimum balance," and becoming the perfect first lens in the lineup dedicated for full-frame mirrorless cameras.
Newly developed high-performance lens series for full-frame mirrorless cameras
With mirrorless cameras emerging at an accelerated pace, expectations towards lenses suited for high-performance full-frame mirrorless cameras are growing. Unfortunately, many photographers may feel that they have little choices for mirrorless lens systems in terms of performance, size, extensive lineup, and due to the burden of having to use multiple systems. SIGMA has thus developed and proposes this new full-frame mirrorless lens series as the optimal solution to this challenge.
Beautiful bokeh and rendering that can be enjoyed in every scene
With the SIGMA 45mm F2.8 DG DN | Contemporary, bokeh expressions are especially featured. Spherical aberration has been controlled to ensure not only the large bokeh in the front and rear of the subject but also the rear bokeh near the area in focus create a gradient to a soft blur. This lens softens the periphery of blurred images suppressing the double-line bokeh etc. and enhances the three-dimensional impression of the subject with the smooth expressions in the foreground and the background. In addition, its minimum focusing distance of 24cm makes it possible to enjoy shooting snapshots and tabletop photos taking advantage of the angle of view. The design gives consideration to vignetting to achieve beautiful round bokeh and subdue swirly bokeh in the whole bokeh effects. While this lens produces smooth bokeh effects of which one could say as "classical expression" when the aperture is wide open, it also realizes modern sharp rendering when it is stopped down. It is reassuring to hold this lens as the regular lens for everyday use.
High-speed and highly accurate AF enabled by the stepping motor
The lens is capable of smooth, quiet and high-speed AF made possible by a stepping motor, as well as supports Face/Eye Detection AF and video AF. The design gives consideration to MF operations, and a ring of appropriate torque provides good operability.
High build quality and outstanding operability
Because this lens is intended for everyday use, particular attention has been given to build quality and operability. The bayonet hood feels comfortable when removing and attaching, and the lens barrel incorporating metal material as the main part achieves improved durability. Furthermore, thanks to the aperture ring with the right click feeling, comfortable operability during various shooting styles is ensured.
Additional Lens Features:
Mount with dust- and splash-proof structure
Full-time manual mode
Available Mount Conversion Service
Designed to minimize flare and ghosting
Evaluation with SIGMA's own MTF measuring system: A1
7-blade rounded diaphragm
High-precision, rugged brass bayonet mount
"Made in Japan" craftsmanship
What's Included
fp Mirrorless Digital Camera Body
BP-51 Lithium-Ion Battery Pack (7.2V, 1200mAh)
Body Cap
Strap
Strap Holder
USB AC Adapter
USB Type-A to Type-C Cable
Hot Shoe Unit
45mm f/2.8 DG DN Contemporary Lens
LH577-01 Lens Hood
Sigma LCF-55 III 55mm Lens Cap
LCR II Rear Lens Cap
Product Specifications
fp

Type
Interchangeable-lens Mirrorless Type Digital Camera
Storage Media
SD / SDHC / SDXC memory card(UHS-Ⅱ supported) / Portable SSD (USB 3.0 connection, USB bus power supported)
Lens Mount
L-Mount

Image Sensor

Type
35mm full-frame (35.9mm x 23.10mm) Back-illuminated Bayer CMOS sensor
Camera effective pixels / Total pixels
Approx. 24. 6MP / Approx. 25.3MP
Aspect Ratio
3:2
Color, filter System
RGB Primary color filter
Still Image File Format
Lossless compression RAW(DNG) data12/14 bit, JPEG(Exif2.3), RAW(DNG)+JPEG:recording is possible
Image aspect ratio
[21:9] / [16:9] / [3:2] / [A Size (√2:1)] / [4:3] / [7:6] / [1:1]

File Size

RAW
HIGH:6000×4000 (3840x2560)  LOW:3008x2000 (1920x1280)*() In DC Clop Mode
JPEG
[21:9]
HIGH:6,000×2,576 (3,840×1,648)
MED:4,240×1,824 (2,736×1,168)
LOW:3,008×1,288 (1,920×824)

[16:9]
HIGH:6,000×3,376 (3,840×2,160)
MED:4,240×2,392 (2,736×1,536)
LOW:3,008×1,688 (1,920×1,080)

[3:2]
HIGH:6,000×4,000 (3,840×2,560)
MED:4,240×2,832 (2,736×1,824)
LOW:3,008×2,000 (1,920×1,280)

[A Size (√2:1)]
HIGH:5,664×4,000 (3,616×2,560)
MED:4,000×2,832 (2,560×1,824)
LOW:2,832×2,000 (1,808×1,280)

[4:3]
HIGH:5,344×4,000 (3,408×2,560)
MED:3,776×2,832 (2,416×1,824)
LOW:2,672×2,000 (1,712×1,280)

[7:6]
HIGH:4,672×4,000 (2,992×2,560)
MED:3,312×2,832 (2,112×1,824)
LOW:2,336×2,000 (1,488×1,280)

[1:1]
HIGH:4,000×4,000 (2,560×2,560)
MED:2,832×2,832 (1,824×1,824)
LOW:2,000×2,000 (1,280×1,280)
Crop
Equivalent to approx.1.5times the focal length of the lens (on 35mm cameras)
Color Space
sRGB / Adobe RGB

Movie Recording Format [Camera Internal Record]

Movie Format
CinemaDNG(8bit / 10bit/ 12bit) / MOV:H.264 (ALL-I/ GOP)
Bit rate and Supported media
Audio Format
Linear PCM (2ch 48kHz/16bit)
Recording Pixels / Frame Rate
3,840×2,160 (UHD 4K) / 23.98p, 25p, 29.97p, FHD(1,920x1,080) / 23.98p, 25p, 29.97p, 59.94p, 100p, 119.88p
Continuous recording time
Up to 2h
Cinema DNG recording media limits
SD card :UHS-II UHD 8bit under 25fps, FHD 12bit under 60fps Portable SSD : UHD 12bit 24fps, FHD 12bit under 60fps, FHD 8bit under 120fps
Movie Recording Format [HDMI External Output]
Movie Format
HDMI Loop out "External recorder record: ATOMOS Ninja Inferno, Blackmagic Video Assist 4K supported
Audio Format
Linear PCM (2ch 48kHz/16bit)
File Size / Frame Rate
3,840×2,160 (UHD 4K) / 4:2:2 8bit 29.97p / 25p / 23.98p
1,920x1,080 (FHD) / 4:2:2 8bit 119.88p / 100p / 59.94p / 50p / 29.97p / 25p / 23.98p

Focus

Auto Format / Focus Mode
Contrast detection system, Single AF, Continuous AF (with moving object prediction function), Manual Focus
AF Measurement DistanceDetecton Range / AF mode
-5EV~18EV(F1.4:ISO100) / Auto, 49-points selection mode, Free Movement mode, Face/Eye Detection AF mode, Tracking AF mode
AF Lock
Half-press the shutter button, or press the AEL button (setting change required)
Other Focus Functions
AF+MF, MF Assist, MF Guide, Focus Peaking, Release Focus Function, AF-ON, Quick AF, Pre-AF, AF during Image Magnification

Exposure Control

Metering System
Evaluative, Spot, Center Weighted Average
Metering Range
-5~18EV (50mm F1.4: ISO100)
Still Image Shooting Mode
(P) Program AE (Program Shift is possible), (S) Shutter Speed Priority AE, (A) Aperture Priority AE, (M) Manual
Movie Shooting Mode
(P) Program AE, (S) Shutter Speed Priority AE, (A) Aperture Priority AE, (M) Manual
ISO Sensitivity
ISO 100-25600, Expanded sensitivity ISO 6, 12, 25, 50, 51200, 102400
Exposure Compensation
±5EV (in 1/3-stop increments) : ±3EV at movie recording
AE Lock
Half-press the shutter button, or press the AEL button (setting change required).
Exposure Bracket
3-frame/5-frame stage exposure 3EV (1/3 Step, Standard→Underexposure→Overexposure) (Sequence changeable)

Image Stabilization System

Image Stabilization System
Electronic system

White Balance

Settings
12types
( Auto, Auto[Lighting Source Priority], Daylight, Shade, Overcast, Incandescent, Fluorescent, Flash, Color Temperature, Custom 1, Custom 2, Custom 3 )

Shutter

Shutter Type
Electronic shutter
Shutter Speed
30 - 1/8,000sec., Bulb (5 minutes max)

Drive

Drive Modes
Single shooting, Continuous shooting(H:approx. 18shots/sec、 M:approx. 5shots/sec、L:approx. 3shots/sec), Self-timer (2sec. / 10sec.), Interval-timer
Maximum number of shots
HIGH: 12frame, MED: 12frame, LOW: 24frame

Monitor

Type / Coverage
TFT color LCD monitor Aspect Ratio 3:2, 3.15, Approx. 2,100,000 dots / Electrostatic capacitance system touch panel / Approx. 100%

Flash (when to use external flash)

Light Emission Mode
S-TTL automatic light control, Manual, Wireless flash, Multi-emission Flash (when to use external flash)
Flash Mode
Red-eye effect reduction / Slow synchronization, 2nd Curtain synchronization
Exposure control
Max. ±3EV in 1/3EV-step increments
Flash Tuning Speed
Max. 1/30sec.* 1/15 sec. or less at 14bit
External Flash Support
Available when the Hot Shoe Unit HU-11(supplied with this product) is mounted.* S-TTL, Wireless support, Xcontact

Color Mode

Color Mode
12types
( Standard, Vivid, Neutral, Portrait, Landscape, Cinema, Teal & Orange, Sunset Red, Forest Green, FOV Classic Blue, FOV Classic Yellow, Monochrome )

Other Functions

Recording Mode
STILL Mode: FillLight / HDR shooting
CINE Mode: Still image shooting during movie shooting / HDR shooting / Director's view finder
Playback Mode
STILL: Mode In-camera DNG Development
CINE Mode: Cinemagraph / still image cut-out

Built-in Microphone / Speaker

Type
Stereo microphone, Monaural speaker

Language

Display Language
English / Japanese / German / French / Spanish / Italian / Simplified Chinese / Traditional Chinese / Korean / Russian / Dutch / Polish / Portuguese / Danish / Swedish / Norwegian / Finnish

Interface

USB
USB3.1 GEN1 Type C
HDMI
Type D (Ver.1.4)
Release Terminal
Also used as an external microphone terminal
External Microphone
Φ3.5mm stereo mini jack (Plug-in power support)
Headphone output
Unavailable
Flash-synchro Terminal
Dedicated terminal (with hot shoe unit HU-11 (supplied with this product) mounted)

Dust & splash-proof

Dust- & splash-proof structure
Provided

Power Source

Power
Li-ion Battery Pack BP-51 *USB power supply available (when the power is turned off)
Still images
Approx. 280 images (at 23℃ according to CIPA standard)
Movie | continuous recording
Approx. 70 min

Physical Specs

Dimensions
112.6 x 69.9 x 45.3 mm (4.4 x 2.75 x 1.8")
Weight
422 g (14.9 oz.)
* including battery and SD card.

370 g (13.1 oz.)
* Camera body only.

Operating Environment

Operating
Temperature
0~+40℃
Operating
Humidity
86%or less* no condensing
45mm f/2.8 DG DN Lens for Sony E-Mount

Lens Construction
8 elements in 7 groups
Mount
Sony E
Angle of View(35mm)
51.3°
Number of diaphragm blades
7 (Rounded diaphragm)
Minimum Aperture
F22
Minimum focusing distance
24 cm (9.4")
Max. Magnification Ratio
1:4
Filter size
φ55mm
Dimensions
φ64.0mm×46.2mm (φ2.5in. × 1.8")
Weight
215 g (7.5 oz)
Sigma fp Mirrorless Kit w/ Contemporary 45mm f/2.8 DG DN Lens
Looking for a personal touch? Not sure if you are choosing the right product? Our staff is here to help.
We want to make sure you get the right product for your needs.
Our staff will help you understand the options available so you can be confident in your purchase.
As the country's leading Professional Imaging retailer, Vistek is in the perfect position to ensure you make the right choice.
Contact us today for a personal touch.