Web Availability:
Special Order
This product will be Special Ordered just for you from the manufacturer. We do not stock this item due to its uniqueness or import schedule. Special Order items are Final Sale, see our Return Policy for details.
Vistek Locations
Toronto Special Order
Ottawa Special Order
Mississauga Special Order
Calgary Special Order
Edmonton Special Order
Please call and verify availability at the store as stock changes daily.
* Please Note that this product is only available through the Vistek Commercial Solutions Group.
Press the

Request Info

tab above and your inquiry will be sent to the Commercial Team and they can generate a system quotation for you!
VENICE 2 | 6K
Full-frame digital cinema camera
With internal X-OCN recording
VENICE 2 is a cinema camera created by and for the cinematographer. The camera comes with one of two full-frame image sensors, each offering exceptional picture quality. Thanks to new internal recording capabilities, users can capture even more colours and detail within the compact body they already know. CBKZ-3610H high frame rate functionality is now automatically included with New Venice 2. No need to purchase as an option separately.
Remarkable Images
VENICE 2 offers a choice between 8K and 6K sensors, both of which boast incredibly wide latitude and gamut. Filmmakers have greater freedom of expression in grading than ever before, with either 16 or 15+ stops of latitude and exquisite colour rendition.
Simple and Intuitive
Operators need to know their camera is reliable and usable, especially during demanding shoots. VENICE 2 features simple menu navigation and connectors arranged to make life easier on set. With a durable, compact build, the camera is fast to set up for handheld or mounted shooting, so you can focus on filming, not the camera.
36 x 24mm Full-Frame Sensor for Cinema
VENICE 2 features one of two 36 x 24‑mm full-frame image sensors, designed specifically for the demands and performance of high-end cinematography.
Each offers remarkable sensitivity, latitude and colour rendition, and because the sensor blocks are interchangeable, users can easily switch between sensors—without any extra firmware—and can even use the sensor from their original VENICE. The new 8K sensor can capture images up to a maximum resolution of 8640 x 5760, while the established 6K sensor offers up to 6048 x 4032. Both offer powerful oversampling for incredible 4K images.
Full-Frame full-width 36‑mm 8K and ​6K
In full-frame, you can use the full width of the sensors (6048 or 8640 pixels) for widescreen spherical 2.39:1 or Large Format Scope. Full-Frame can be used creatively in a number of ways—for example, to allow for extra shallow depth of field or super-wide shooting.​
Super35 full height 2.0x squeeze Anamorphic
For anamorphic shooting and production, Super35 full height 2x squeeze anamorphic is supported.
Super35 17:9 and 16:9
These popular imager sizes have native support in VENICE 2, and the 8K sensor makes it possible to capture 5.8K footage in these modes. Current Super35 mm PL mount lenses can be used as well.​

VENEZIA
By Rob Hardy

Behind the Scenes of VENEZIA
By Rob Hardy
Phenomenal Latitude
VENICE 2's 8K sensor has an exceptional 16 stops of latitude, while the 6K sensor boasts 15+ stops of latitude. This means that both imagers can deliver phenomenal images with very little noise, in conditions that range from searing sunlight to almost no light. VENICE 2 also excels at High Dynamic Range imaging, allowing for unprecedented creative freedom in grading.
Fast Shutter
Jello effect is something we don't need when filming. VENICE 2 has high-speed readout sensors, which minimizes the Jello effect that is typical with CMOS sensors.
High Frame Rate
VENICE 2 can shoot at speeds of up to 120fps at 4K and 90fps at 6K, when using the 6K sensor. In combination with an anamorphic license, it also allows shooting at speeds of up to 75fps at 4K 4:3 and 72fps at 4K 6:5. With the 8K sensor, VENICE 2 can achieve up to 60fps at 8.2K and 90fps at 5.8K.
More Colours for More Expression​
VENICE 2 can exceed the BT.2020 colour space, with a colour range wider than DCI-P3. This means it can beautifully reproduce the true colour of the scene in front of your lens. The camera also provides a broad palette in the grading suite, using the established workflow of Sony's S-Log3 and Ultra-wide Colour space, S-Gamut3. Plus, VENICE 2's 6K and 8K sensors match colours almost perfectly, making your grading experience even better.
Internal 16-bit X-OCN and 4K ProRes Recording in a Compact Body
New for VENICE 2, cinematographers and colourists can unlock the incredible creative possibilities of 16-bit X-OCN recording, without an external recorder.
Users can enjoy the full dynamic range and colour reproduction of the image sensor, capturing in 4K ProRes 4444 and 422 HQ.
With such a compact design, and no external recorder, set-up is faster, simpler, and easier, particularly for gimbals, Steadicams, and drones.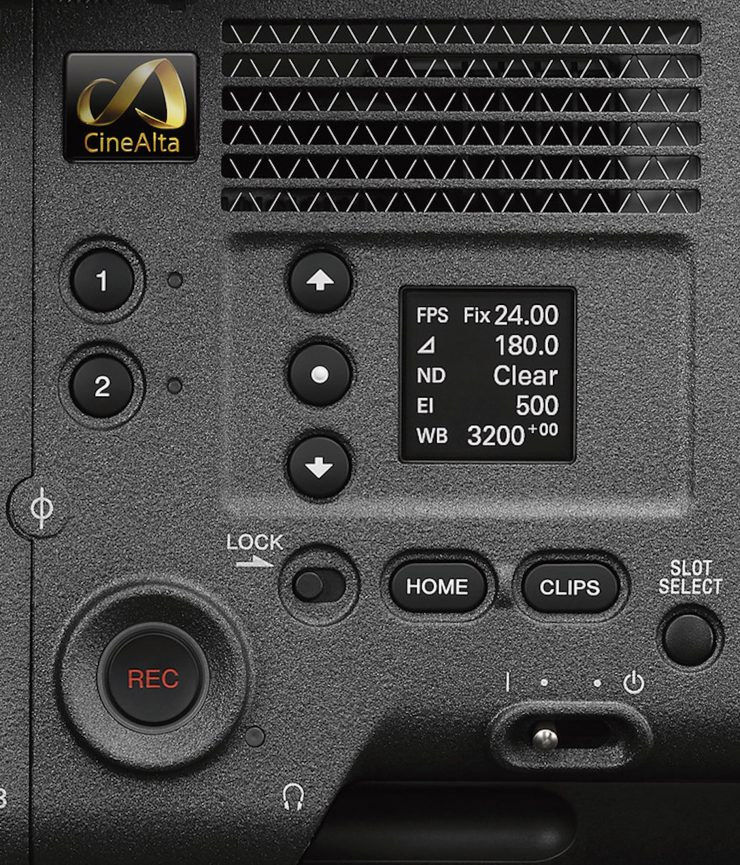 High Performance Proven Recording Formats
VENICE 2 offers complete production flexibility. The camera supports internal recording of X-OCN or 4K ProRes recording onto AXS memory cards, removing the need to attach additional recording hardware.
X-OCN – 16-bit eXtended Tonal Range Original Camera Negative​

Full 4K, 6K or 8K resolution, with extraordinary colour reproduction, nicely suits Sony's third-generation colour development, S-Gamut 3. In particular, 16-bit scene linear tonal gradation retains the camera's full dynamic range, with far greater capacity for visual expression than 10-bit or 12-bit digital formats.

16-bit X-OCN offers significant file size reduction, which makes working with full-resolution content from VENICE 2's 8.6K or 6K sensor far more practical in terms of file transfer times and storage requirements.


Apple ProRes 4K

Apple ProRes, including ProRes 4444 and Apple 4K ProRes 422 HQ, are popular in post-production, and VENICE 2 supports Apple ProRes 4K. This means there's no need for transcoding; you can simply handle these 4K ProRes formats directly from the camera.
Dual Base ISO
VENICE 2 features dual base ISO, meaning that the 8K sensor offers Base ISO3200 in addition to Base ISO800, while the 6K sensor has Base ISO500 and Base ISO2500. High Base ISO3200 excels in low-light High Dynamic Range capture, with an exposure latitude from 6 stops over to 10 stops under 18% Middle Gray, for a total of 16 stops. High Base ISO 2500 offers an exposure latitude from 6 stops over to 9 stops under 18% Middle Gray, for a total of 15+ stops.
Anamorphic Look
VENICE 2's support for anamorphic lenses allows for the capture of breathtakingly beautiful images. When combined with the ability to shoot 4:3 and 6:5 aspect ratio at high horizontal resolutions, this can give users stunning lens flare, bokeh, and emotional impact. The 8K sensor can shoot 5.8K with an aspect ratio of 6:5, while the 6K sensor can shoot both 6:5 and 4:3 at 4K.
Lens Mount Flexibility
PL Lens Mount

VENICE 2 comes with the industry-standard PL lens mount and is compatible with all Super35 and full-frame PL lenses—spherical and anamorphic. The lens mount includes contacts that support Cooke /i Technology, and lens information is recorded as metadata, frame by frame. We have also added support for ZEISS eXtended Data.


Lever Lock Type E-Mount​

E-mount offers unsurpassed compatibility with Sony lenses. E-mount (lever lock type) gives users the ability to change lenses by rotating the locking collar rather than the lens itself, which means that in most cases lens support rigs don't need to be removed, saving time during a production.
Forward Development
Sony is committed to extending the capability of VENICE 2 with powerful system upgrades based on ongoing discussions with filmmakers.

Claudio Miranda
"The Camera Test"

Behind the Scenes of "Homecoming"
With Rob McLachlan
Interchangeable
Image Sensors
VENICE 2 allows you to easily remove and replace the image sensor, swapping between the 8.6K and original 6K image sensor as required. This also means a 6K sensor can be swapped between VENICE and original VENICE 2.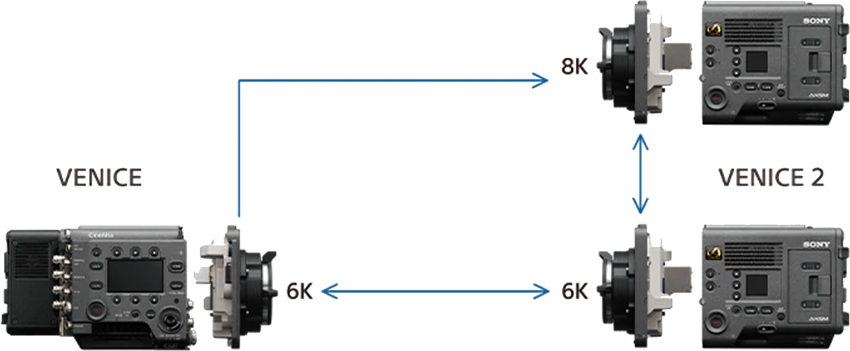 VENICE 2 6K Extension System
VENICE 2 users can expect the same image quality and integrity when using the robust CBK-3610XS Extension System, which makes VENICE 2 more mobile and discreet. The system is fully compatible with VENICE and VENICE 2 camera systems that use the 6K image sensor block* and is ideal for countless mounting set-ups and filming scenarios. These could include use with gimbals, handheld stabilizers, underwater and helicopter housings, and 3D/VR rigs, as well as in tight and unconventional spaces, such as in vehicles, on cranes, or Russian arms.

*Extension System for VENICE 2 8K is planned to be released by early 2023
8-Step Mechanical ND Filters
VENICE 2 follows the world-first of VENICE, with a servo-controlled 8-step Mechanical ND filter mechanism built into the camera chassis. It offers a massive ND of 0.3 (1/2 = 1 stop) to 2.4 (1/256 = 8 stops) range that reduces time lost on set changing external filters. The ND filters also greatly increase VENICE's flexibility when being controlled remotely on drones and cranes, or in an underwater housing.
Engineered to Survive
VENICE 2's chassis is engineered to be amazingly robust and has been rigorously tested in the harshest conditions, and the main frame structure enables the design of the body to be more durable. Its ventilation system is completely isolated from all electronic components to prevent ingress of dust, sand, and splash. The silent-running fan can be cleaned or even swapped out on set quickly and easily.
Intuitive and Familiar On-Set Operation
VENICE 2 has control displays on both sides of the camera, with the same layout as VENICE. A 3-inch LCD display provides the camera assistant with fast access to settings during shooting, while on the other side, the camera operator's OLED mini display provides easy control of commonly accessed features, such as ND filter, shutter, FPS, White Balance, and Exposure Index.

Based on user feedback, the menu interface has been upgraded for even easier on-set operation. Many of VENICE 2's connectors have also changed location and type, such as the Lemo 12V out and the Ethernet connector moving to the camera assistant's side.
Camera Menu Simulator
Sony's VENICE 2 Camera Simulator is an interactive training tool that represents the CineAlta camera's menu-driven user interface.

Zoom to Fit
For Monitoring
Full-frame 3:2 recording used to mean that users could not see their image without black bars at the sides of their monitors. Our Zoom to Fit function allows VENICE 2 to record in Full-frame 3:2 and deliver a 17:9/16:9 monitor output simultaneously, so directors, cinematographers and crew have a bigger picture for on-set monitoring.
Technicolour Look Collection
The Look Collection for VENICE allows anyone to add the artistry and experience of Technicolour colourists to their VENICE productions. Free downloads of LUT (Look Up Table) files can be used for on-set monitoring, as well as be applied in post-production. Also included are .ART files, Sony's new proprietary file format, which offers enhanced performance compared to 3D LUTs.
Powerful Tools for Colour Management and On-Set Workflow
The RAW Viewer are free software downloads for colour grading and transcoding capabilities that work in close alignment with third-party colour grading applications and also with non-linear editing systems.

*Support for 8K will be available in February 2022.
4K LUTs for Monitors
For those who want to see on-set images that are closer to the final look of their project, VENICE 2 can apply 4K or HD LUTs to its monitor output. HD output also benefits from improved LUT processing, with richer images and colour gradation.
Paint Control from RM/RCP Units
VENICE 2 supports control from an RM/RCP panel that can be used with broadcast camcorders and system cameras. When connected, ITU-R Rec. 2020 colour space and HLG are selectable and adjustment of various paint parameters is supported.
Ethernet and WiFi Control
Using WiFi or an Ethernet connection, LUTs, CDLs and ART files can all be imported directly onto cameras, so there's no need to physically upload them using SD cards. CDLs can then be controlled and adjusted via a web interface and embedded in clip metadata.
What's Included
VENICE 2 Digital Motion Picture Camera (6K)
PL Mount
Circular Shim
15 x 1/3 Arc Shim
Lens Mount Cover
Product Specifications
VENICE 2

General

Power Requirements
DC 12 V (11.0 to 17.0 V)
DC 24 V (22.0 to 32.0 V)
Power Consumption (Condition: 12 V DC Input, Temp 25 °C, without accessories)
VENICE 2 with 8.6K image sensor (MPC-3628): Approx. 76 W
(When recording X-OCN XT, 8.6K 3:2, 24 fps)

VENICE 2 with 6K image sensor (MPC-3626): Approx. 73 W
(When recording X-OCN XT, 6K 3:2, 24 fps)
Operating Temperature
0 to 40 °C
Storage Temperature
-20 °C to 60 °C
Mass (without lens, handle, VF attachment, and accessories)
VENICE 2 with 8.6K image sensor (MPC-3628): Approx: 4.3 kg (9 lb 6.6 oz)

VENICE 2 with 6K image sensor (MPC-3626): Approx: 4.2 kg (9 lb 4.2 oz)
Dimensions
5.98 x 6.22 x 9.84 in (W x H x D, excluding protrusions)

Camera

Imaging Device
35 mm full size, single-chip CMOS imager sensor
Imaging Device Pixel Count
VENICE 2 with 8.6K image sensor (MPC-3628): 50.0 M (Total)

VENICE 2 with 6K image sensor (MPC-3626): 24.8 M (Total)
Built-In ND Filters
Clear, 0.3 (1/2), 0.6 (1/4), 0.9 (1/8), 1.2 (1/16), 1.5 (1/32), 1.8 (1/64), 2.1 (1/128), 2.4 (1/256)
ISO Sensitivity
VENICE 2 with 8.6K image sensor (MPC-3628): ISO800, ISO3200 (Dual Base ISO)

VENICE 2 with 6K image sensor (MPC-3626): ISO500, ISO2500 (Dual Base ISO)
Lens Mount
PL Mount
E-mount (lever lock type, without supplied PL lens mount adaptor)
Latitude
VENICE 2 with 8.6K image sensor (MPC-3628): 16 Stop

VENICE 2 with 6K image sensor (MPC-3626): 15+ Stop
Select FPS
VENICE 2 with 8.6K image sensor (MPC-3628):
5.8K 17:9 1–90 fps, 5.4K 16:9 1–90 fps
5.8K 6:5 1–48 fps**
8.2K 17:9 1–60 fps***, 7.6K 16:9 1–60 fps***
8.6K 3:2 1–30 fps***

VENICE 2 with 6K image sensor (MPC-3626):
4K 2.39:1 1–12 fps, 4K 17:9/3.8K 16:9 1–110 fps 4K 4:3 1–75 fps**, 4K 6:5 1–72 fps**
6K 2.39:1 1–90 fps***, 6K 17:9/6K 1.85:1/5.7K 16:9 1–72 fps*** 6K 3:2 1–60 fps***

Recording

Recording Format (X-OCN)
VENICE 2 with 8.6K image sensor (MPC-3628):
X-OCN XT/ST/LT:
8.6K 3:2 (8640 x 5760): 23.98p, 24p, 25p, 29.97p
8.2K 17:9 (8192 x 4320): 23.98p, 24p, 25p, 29.97p, 47.95p, 50p*, 59.94p*
7.6K 16:9 (7680 x 4320): 23.98p, 24p, 25p, 29.97p, 50p*, 59.94p*
5.8K 6:5 (5792 x 4854): 23.98p, 24p, 25p, 29.97p, 47.95p
5.8K 17:9 (5792 x 3056): 23.98p, 24p, 25p, 29.97p, 47.95p, 50p, 59.94p
5.5K 16:9 (5452 x 3056): 23.98p, 24p, 25p, 29.97p, 50p, 59.94p
VENICE 2 with 6K image sensor (MPC-3626):
X-OCN XT/ST/LT:
6K 3:2 (6048 x 4032): 23.98p, 24p, 25p, 29.97p, 47.95p, 50p, 59.94p
6K 2.39:1 (6048 x 2534): 23.98p, 24p, 25p, 29.97p, 47.95p, 50p, 59.94p
6K 1.85:1 (6054 x 3272): 23.98p, 24p, 25p, 29.97p, 47.95p, 50p, 59.94p
6K 17:9 (6054 x 3192): 23.98p, 24p, 25p, 29.97p, 47.95p, 50p, 59.94p
5.7K 16:9 (5674 x 3192): 23.98p, 24p, 25p, 29.97p, 50p, 59.94p
4K 6:5 (4096 x 3432): 23.98p, 24p, 25p, 29.97p, 47.95p, 50p, 59.94p
4K 4:3 (4096 x 3024): 23.98p, 24p, 25p, 29.97p, 47.95p, 50p, 59.94p
4K 17:9 (4096 x 2160): 23.98p, 24p, 25p, 29.97p, 47.95p, 50p, 59.94p
4K 2.39:1 (4096 x 1716): 23.98p, 24p, 25p, 29.97p, 47.95p, 50p, 59.94p
3.8K 16:9 (3840 x 2160): 23.98p, 24p, 25p, 29.97p, 50p, 59.94p
Recording Format (ProRes)
ProRes 4444/ProRes 422HQ
4K (4096 x 2160): 23.98p, 24p, 25p, 29.97p, 50p, 59.94p
QFHD (3160 x 2160): 23.98p, 24p, 25p, 29.97p, 50p, 59.94p
Recording Format (Audio)
LPCM 4ch, 24-bit 48-kHz

Inputs/Outputs

DC Input
XLR-type 4 pin (male)
Battery DC Input
Square-shaped 5 pin connector
DC Output
12 V: Lemo 2 pin x1
24 V: Fischer 3 pin x2
SDI Output
BNC x4, (12G, 6G, 3G, 1.5G-SDI)
HD MONI Output
BNC x1 (3G, 1.5G-SDI)
HDMI Output
Type A x1
VF
LEMO 26 pin
Audio Input
XLR-type 5 pin (female) x1 (LINE/AES/EBU/MIC/MIC+48 V selectable)
Internal mic x1
Timecode Input
BNC x1
Genlock Input
BNC x1
AUX
BNC x1 (Timecode Output)
Remote
8 pin x1
Lens
12 pin x1
Lens Mount Hot Shoe
4 pin x2, supporting Cooke /i Intelligent Electronic Lens System and ZEISS eXtended Data
Network
RJ-45 type x1, 10BASE-T, 100BASE-TX
USB
USB host, type-A x1
Headphone Output
Stereo mini jack x1
Speaker Output
Monoral
Media type
AXS Memory A-Series slot x2
SD card slot x1
*X-OCN XT is not supported
**CBKZ-3620A/AM/AW is required
***CBKZ-3620F/FM/FW is required
Sony VENICE 2 6K Full-frame Digital Motion Picture Camera
Looking for a personal touch? Not sure if you are choosing the right product? Our staff is here to help.
We want to make sure you get the right product for your needs.
Our staff will help you understand the options available so you can be confident in your purchase.
As the country's leading Professional Imaging retailer, Vistek is in the perfect position to ensure you make the right choice.
Contact us today for a personal touch.