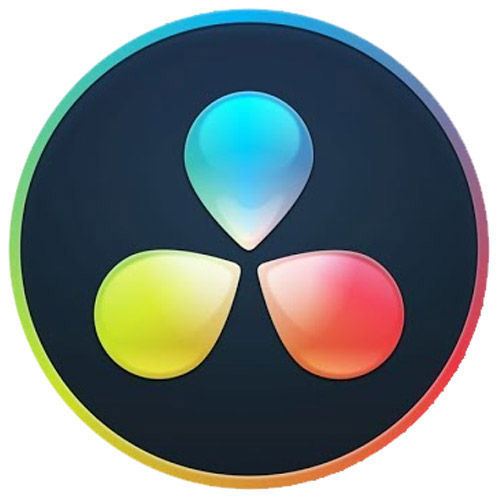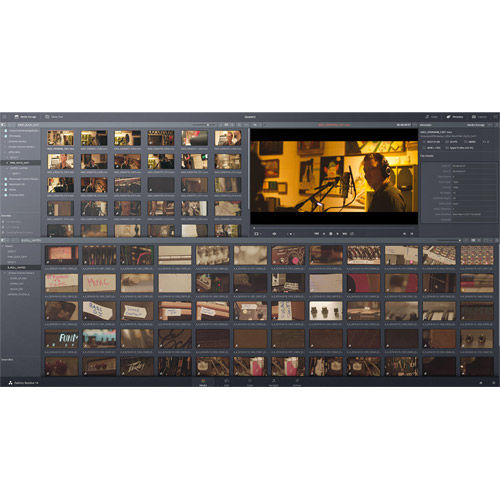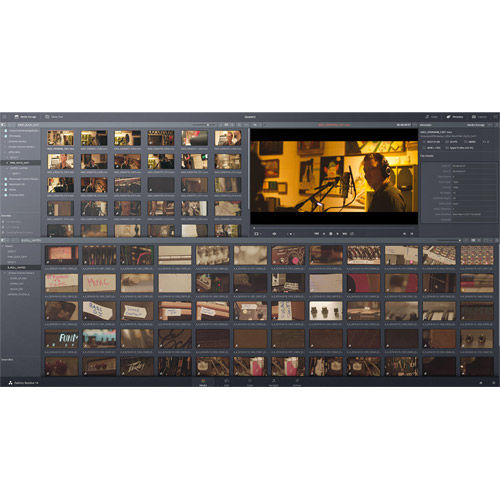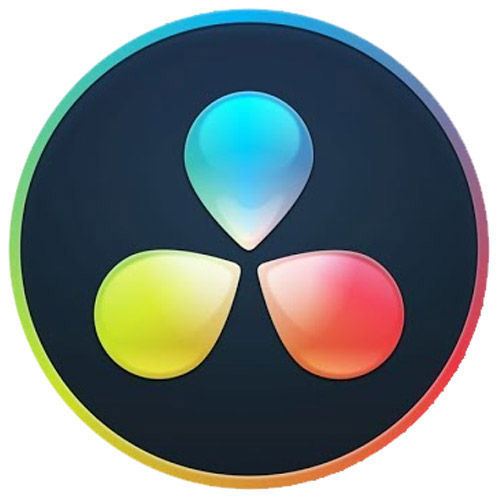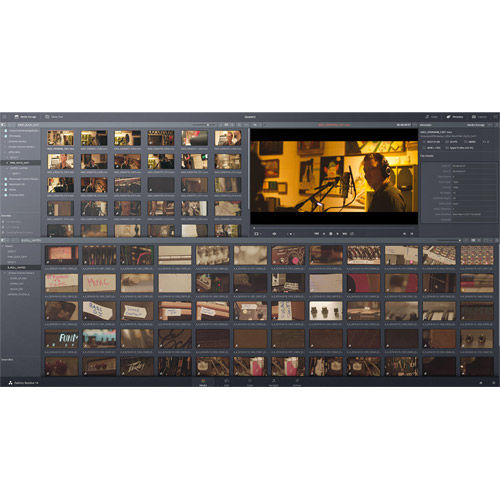 Product Highlights
Video Editing

Software

Professional 8K editing

Colour correction

Visual effects & audio post production

Cut Page

Streamlined interface
Kit Options: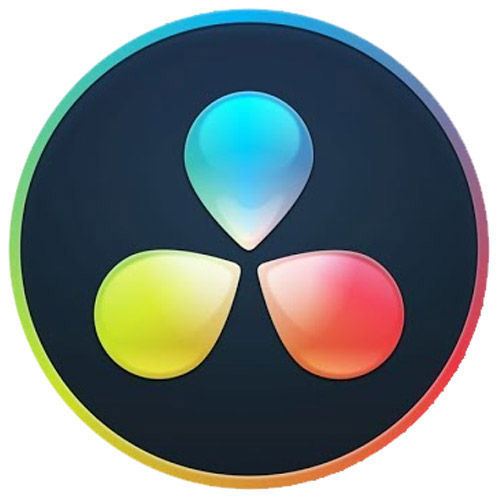 Black Magic Design Full Davinci Resolve Studio Software & Install Key Free Upgrade to Ver.16.2.1 available - BMD Website
Black Magic Design Full Davinci Resolve Studio So...
Web Availability:
In Stock
Product is In Stock in our Warehouse or in one of our store locations. We will confirm stock is available and process your order. If the available stock is sold before your order is processed, you will receive an email from us.
In-store or Curbside Pick-up
Available in Calgary
Available in Edmonton
Available in Mississauga
Available in Ottawa
Available in Toronto
Vistek Locations
Toronto In Stock
Ottawa In Stock
Mississauga In Stock
Calgary In Stock
Edmonton In Stock
Please call and verify availability at the store as stock changes daily.
announcement This package includes the Install KEY for the full version of Resolve.
You can then update to the latest available version by downloading it online here.

* Resolve 16.2 is now available.
** If packaging indicates an older version, please note that the Install KEY is still valid.
DaVinci Resolve | 16.2
The free DaVinci Resolve 16.2 includes all of the same high quality processing as DaVinci Resolve 16.2 Studio and can handle unlimited resolution media files. However it does limit project mastering and output to Ultra HD resolutions or lower. DaVinci Resolve 16.2 only supports a single processing GPU on Windows and Linux and 2 GPUs on the latest Mac Pro.

If you need features such as support for multiple GPUs, 4K output, motion blur effects, temporal and spatial noise reduction, de-interlacing, HDR tools, camera tracker, multiple Resolve FX, 3D stereoscopic tools, remote rendering, an external database server and collaboration tools that let multiple users work on the same project at the same time, please upgrade to DaVinci Resolve 16.2 Studio.
What's new in DaVinci Resolve 16.2.2:
Hardware accelerated H.265 Main10 renders on supported Macs
Blackmagic RAW clip LUT name can now be viewed in clip metadata
Ability to assign frame rate in YouTube, Vimeo and Frame.io renders
Support for marking Frame.io comments in markers as complete
Nudge keyboard actions can be used in the sync clip dialog
Support for exporting .srt files without formatting
Support for RED 7.3.1 SDK
Support for Rec.709-A gamma option for QuickTime player compatibility
Preference to automatically tag Rec.709 clips as Rec.709-A
Addressed level shifts playing some short H.264 clips on Mac systems
Addressed loss of audio transition when trimming clips in the timeline
Addressed issues with stabilization not being available in the inspector
Addressed issues with incorrect channel order for audio waveform display
Addressed an issue with previewing in Fusion when in proxies mode
Addressed an issue with using reference sizing with timeline wipe
Addressed an issue with aspect ratio metadata in some MXF renders
Multiple performance and stability improvements
What's new:
Fairlight timeline editing toolset improvements:
New mouse and keyboard based editing toolset.
User adjustable per track scalable waveform display.
Keyboard shortcut editing actions now include fade, cut, select and move.
Support for alt/option dragging clips to create a clip copy.
Support for pasting clips across timelines.
Support for bouncing individual audio clips to files.
Support for dragging audio clips to separate tracks using modifiers.
Support for dragging audio clips to specific positions using modifiers.
Support for converting multichannel tracks into linked groups.
Support for a user preference to align audio edits to frame boundaries.
Support for an action to trim all audio edits to frame boundaries.
Fairlight sound library:
Release of the Fairlight sound library installer for foley effects.
Support for searching and displaying sound library description metadata.
Effects and plugin management improvements:
Automatic sorting of AU and VST audio effects into types and categories.
Favorite audio plugins are now displayed at the top of the mixer plugin list.
Additional immersive audio support:
Support for MPEG-H bussing and monitoring in DaVinci Resolve Studio.
Improved pan and balance including the ability to constrain panning.
Track Index improvements:
Support for the edit index in the Fairlight page.
Drag selection of tracks, mute, solo and record controls in the track index.
Drag and drop reordering of audio tracks in the track index.
AAF import/export improvements:
Support for importing AAF sequences as new tracks in an existing timeline.
Support for importing AAF sequences with an offset to an existing timeline.
Support for importing multichannel tracks from an AAF as linked groups.
Support for broadcast wave files when exporting an embedded AAF.
Support for exporting audio cross fades and fade handles in AAF files.
Audio mixing improvements:
Support for additional notch filters in clip EQ.
Support for new FairlightFX Meters.
Support for new FairlightFX LFE Filter.
Fairlight Audio Editor improvements:
Support for dedicated controls for panning up and down.
Support for editing clip EQ.
Support for copying and pasting clip EQ.
Support for creating and applying presets for clip EQ.
Support for adding, managing and custom mapping of plugin parameters.
Support for changing relative clip levels.
Support for resetting clip levels to unity.
Support for editing fade shapes and deleting fades.
Support for saving and recalling user defined track view presets.
Support for enabling layered audio editing from the desktop audio editor.
Support for choosing automation curves from the editor panel or console.
Improved behavior when moving track selection with no tracks selected.
Support for improved timecode entry and high frame rate timecode.
Support for entering relative timecode values.
Support for inserting 00 in timecode entry by using the colon key.
Support for master spill on console faders.
Support for finer adjustment of controls using the mouse or audio editor.
Support for media left and media right selection keys.
Support for a text-only labels mode.
Support for a traditional Fairlight keyboard layout.
Improved support for legacy Fairlight project import:
Improved import of EQ, automation and fade from legacy Fairlight projects.
Improved speed when importing large legacy Fairlight projects.
Editing improvements:
Improved performance when switching to large timelines with many tracks.
Support for creating a compound clip from an in-out range in the timeline.
Support for previewing timeline audio during live overwrites of video edits.
Support for editing individual angles to the timeline from a multi-cam viewer.
Support for updating clip duration display while editing in the cut page.
Support for a change transition duration dialog.
Support for viewing duration in frames or timecode format in the viewers.
Support for Fusion transition templates in the edit page.
Support for Fusion generator templates in the edit page.
Support for timeline view options per system in collaborative projects.
Media Pool improvements:
Improved audio track metadata support with support for up to 24 tracks.
Support for duplicated clips and timelines being placed in the source bin.
Support for sorting media pool clips by date added.
Support for showing synced audio filenames in the media pool list view.
Support for revealing the media pool location of a clip from a smart bin.
Support for a media pool context menu to duplicate clips and timelines.
Support for only additional files when repeating media management copies.
Color grading improvements:
Multiple stability and usability improvements for collaborative projects.
Support for smart filters based on keywords and people metadata tags.
Support for modifying primary grade values using numerical values.
Support for retaining out of range data when monitoring at video levels.
Support for Fusion MediaOut name tooltips on the node graph inputs.
Support for feet and frames data burn-in options.
Support for disabling output sizing and blanking for individual clip renders.
Scopes improvements:
Support option for showing scopes at video level and data level.
Support for HLG gamma when using HDR scopes.
Support for highlighting the color viewer qualifier position in the scopes.
Codec improvements:
Support for Blackmagic RAW SDK 1.7.
Support for rendering audio only timelines.
Support for decoding 32 bit floating point audio.
Improved support for color space and gamma when decoding H.265 clips.
Support for displaying EXR codec name based on compression method.
Support for overriding the color space and gamma tags in render settings.
Support for RED SDK 7.2.1 and decoding clips from the Komodo camera.
Support for two new parameters in the RED camera raw settings.
Support for REDWideGamut Log3G10 IDT for ACES projects.
Support for the Canon EOS-1D X Mark III camera.
Support for decoding u-Law Audio in QuickTime clips.
Support for alpha channel clips with the bypass re-encode option.
Scripting, API and general improvements:
Support for running the primary screen as a window in dual screen mode.
Improved scripting API with the ability to close an open project.
Improved scripting API to set frame rate for media pool clips.
Support for new scripting functions to return ordered lists.
Support for video monitoring advance and delay on the Fairlight page.
Support for GPI/GPO control on the Fairlight Audio Interface.
Multiple performance and stability improvements.
Introducing the Cut Page
Designed specifically for editors working on high end fast turn around work such as television commercials and even news cutting, the cut page is all about speed. It's an alternate edit page with a streamlined interface and revolutionary new tools that will help you work faster than ever. The cut page lets you import, edit, trim, add transitions, titles, automatically match colour, mix audio and more. Whether you're delivering for broadcast or for YouTube, the cut page has everything you need to get the job done, all in one place. Plus, the regular edit page is still available so you can switch between edit and cut pages to change editing style right in the middle of a job.
Dual Timeline
Revolutionary dual timeline lets you quickly navigate the whole edit and trim without wasting time zooming and scrolling.
Source Tape
Quickly review all clips in a bin as if it was a single "tape" so you can select and add shots to the timeline without having to search a bin.
Dedicated Trim Interface
The new trim interface in the viewer lets you see both sides of an edit and trim in frame accurate detail so you can create the perfect cut.
Intelligent Edit Modes
To save time you don't have to place in points in the timeline as the edit modes can intelligently sync clips and edits for you.
Fast Review
Quickly review an entire timeline or clips with variable speed playback that's automatically set based on clip length.
Transform, Retime and Stabilize
Built in tools for picture in picture effects, retiming, stabilization, dynamic zoom, text, audio and more, all in one place.
Quick Export
Instantly render, upload and share your project to popular online services such as YouTube and Vimeo.
Media Import
Quickly import individual files or entire directory structures with subfolders as bins into your project right from the Cut page.
Portable Editing
The interface is scalable and works well on smaller laptop screens, giving you the highest amount of usable space.
New Editing Features in DaVinci Resolve 16
DaVinci Resolve includes everything professional editors need to cut blockbuster films, television shows, and commercials. It's perfect for both offline and online editing. The high performance playback engine makes editing and trimming incredibly fast, even for processor intensive formats such as H.264 and RAW.
Custom Timeline Settings
Now you can create timelines with different frame rates, resolutions, monitoring and output settings in the same project.
Adjustment Clips
Apply blend modes, transformations, ResolveFX, colour grades and more on top of a stack of clips in the timeline.
Facial Recognition
Use the DaVinci Neural Engine to detect faces in your clips and automatically create bins based on the people in each shot.
Speed Warp Retiming
Incredibly high quality motion estimation speed changes and frame rate conversions powered by the DaVinci Neural Engine.
Image Stabilization
Analyze shots and apply stabilization with full camera lock, zoom, smooth and strength controls right on the Edit page.
Keyframe Curve Editor
Ease controls for position along with ResolveFX and OpenFX keyframes in the timeline curve editor makes animating effects faster.
Tape Style Audio Scrubbing
High quality, tape style scrubbing with pitch correction makes it easier to understand dialogue while scrubbing.
Faster, Smarter Encoding
Encode only the frames that have changed instead of re-encoding entire files for dramatically faster rendering when delivering.
Frame.io Integration
Collaborate remotely by browsing Frame.io content, seeing comments and synchronizing annotations, all without leaving DaVinci Resolve.
New Fusion VFX Features in DaVinci Resolve 16
With over 250 built in tools, Fusion VFX's advanced 3D compositing engine and node based workflow let you quickly connect effects and tools together in a flow chart style, making it easy to create cinematic feature film quality visual effects and broadcast motion graphics right inside of DaVinci Resolve.
Faster 3D Performance
Dramatically improved GPU accelerated performance for all 3D operations.
GPU Accelerated Tools
Time effects, dissolves, stereo, vector motion, pinning, colour and more.
Faster Masks
All mask operations are accelerated, including B‑Spline and bitmap masks.
Improved Trackers
Greatly improved performance and accuracy in planar and camera trackers.
Better Caching
Faster and more reliable playback when using smart cache and user cache.
Better Memory Management
Makes working with large compositions with high tool counts more reliable.
New Colour Features in DaVinci Resolve 16
DaVinci Resolve's legendary colour tools let you manipulate colour in breathtaking ways to get results that are simply impossible on other systems. That's why DaVinci Resolve has been used on more feature films and television shows than any other grading system. You get powerful primary and secondary tools, curves, tracking, stabilization and more.
ResolveFX Keyframe Track
The Keyframe Editor now supports viewing and editing keyframes for both ResolveFX and OpenFX plugins, making it easier to create animations.
GPU Accelerated Scopes
GPU accelerated scopes show more detail, have faster performance, and add dozens of new options for advanced technical monitoring.
Curves with Histograms
Custom and HSL curves can display a histogram that lets you see which part of the curve affects the image to help guide your adjustments.
Auto Colour Balance and Matching
The auto colour balance and auto shot match tools now use the DaVinci Neural Engine to process images for more accurate results.
Gallery and Wipe Improvements
Gallery sort controls, hover scrub, match reference wipe, stills in split screen, and timeline wipe options make it easier to organize grades.
Copy and Paste Attributes
Copy the colour grade, windows, tracking and plug in effects from one node, and paste only the attributes you want on to another node.
Gang Viewer Zoom to SDI Output
Gang the Colour page viewer with the SDI or HDMI video output so zoomed images appear on both the user interface and your video output device.
View Independent Channels
Independently view R, G, or B channels in the viewer to help evaluate images for noise, artifacts, or when manually colour matching.
Improved OpenFX Compatibility
ResolveFX and OpenFX can request random frames from the GPU, making DaVinci Resolve compatible with more third party plugins than ever.
New Fairlight Features in DaVinci Resolve 16
With Fairlight in DaVinci Resolve, audio is no longer an afterthought in post production. You get a completely integrated and powerful digital audio workstation with full mixer, EQ and dynamics processing, sample level audio editing, ADR tools, sound library support, FairlightFX audio plugins and more.
Immersive 3D Audio
Mix and master projects in immersive 3D audio formats such as Dolby Atmos, Auro 3‑D, SMPTE ST 2098 and the new 26 channel super bus.
Elastic Wave Alignment
Stretch audio to align the waveforms of one clip with another for ADR or retiming to picture effects, all without changing pitch.
Timeline Bus Tracks
New bus tracks lets you see buses in the timeline along with regular tracks, making it easy to view and edit automation parameters.
Enhanced Loudness Monitoring
New support for loudness monitoring standards such as ATSC, 1770 and R128 give you more technical monitoring options than ever before.
New FairlightFX
More creative and technical FairlightFX plugins such as frequency analyzer, limiter, phase meter, dialog processor and a new foley sampler.
New Foley Sound Library
Download 500 royalty free foley sounds from Blackmagic Design to use with the new foley sampler in DaVinci Resolve.
New Collaboration Features in DaVinci Resolve 16
Featuring a universal timeline, powerful database driven design, bin and clip locking, built in chat, timeline comparison tools and more, DaVinci Resolve Studio is the world's only post production solution that lets different artists all work together on the same project at the same time.
Shared Markers
Use shared markers to create, modify and add notes so passing tasks and communicating between users is quick and fool proof.
Individual User Cache
Each user in a collaborative project can generate and manage their own cache files to optimize performance on their system.
Read Only Mode
Open collaborative projects in read only mode so you can copy and paste assets out of it or review cuts without affecting other users.
HDR Collaboration
With support for collaborative Dolby Vision and HDR10+ projects, each user has access to the SDR and HDR elements they need.
Professional Editing
The world's fastest and most advanced professional editor.
DaVinci Resolve includes everything professional editors need to cut blockbuster films, television shows, and commercials. It's perfect for both offline and online editing. The high performance playback engine makes editing and trimming incredibly fast, even for processor intensive formats such as H.264 and RAW.
Creative Editing

Familiar multi track timeline with quick edit pop-up, seven different types of edits, customizable keyboard shortcuts and more.
Advanced Trimming

Context sensitive trimming to ripple, roll, slip or slide based on the mouse position so you don't have to switch tools.
Multicam Editing

Full multi camera editing with realtime 2, 4, 9 or 16 camera playback views for cutting shows on the fly.
Speed Effects

Quickly create constant or variable speed changes, complete with ramps and editable curves.
Timeline Curve Editor

Animate and add keyframes for virtually any parameter using the inspector or the timeline based curve editor.
Transitions and Effects

Quickly add transitions and filters from the built in library, or add 3rd party plug ins to create incredible effects.
Finishing

Powerful tools, including the new position lock, that make conforming and finishing projects for final delivery faster than ever before.
Colour Correction
DaVinci Resolve has been used on more feature films and television shows than any other grading system. You get the industry's most powerful primary and secondary correction tools, advanced curve editor, tracking and stabilization, noise reduction and grain tools, Resolve FX and more.
Legendary Quality

Patented YRGB colour science and 32-bit float image processing lets you achieve looks that are simply impossible with other software.
Primary Correction

Traditional primary colour wheels along with 12 advanced primary controls for quickly adjusting temperature, tint, mid-tone detail, and more.
Curve Editors

Quickly sculpt contrast along various highlight and shadow areas of an image with separate curves and soft clipping for each channel.
Secondaries

Isolate and track different parts of an image using HSL qualifiers, keyers and basic or custom rotoscope shapes so you can make targeted corrections.
High Dynamic Range (HDR)

Work in wide latitude and wide colour formats such as Dolby Vision, Hybrid Log Gamma, and more.
Broad Format Support

Work natively with camera original RAW files and virtually every other format for total control over your images at the highest quality possible.
What's Included
DaVinci Resolve Studio Software & Install Key (Full Version)
Black Magic Design Full Davinci Resolve Studio Software & Install Key Free Upgrade to Ver.16.2.1 available - BMD Website
Looking for a personal touch? Not sure if you are choosing the right product? Our staff is here to help.
We want to make sure you get the right product for your needs.
Our staff will help you understand the options available so you can be confident in your purchase.
As the country's leading Professional Imaging retailer, Vistek is in the perfect position to ensure you make the right choice.
Contact us today for a personal touch.