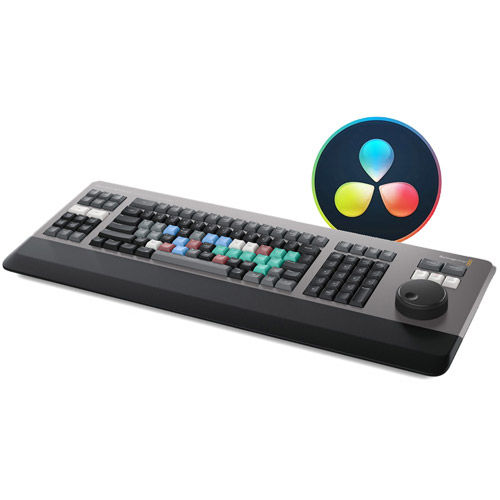 Product Highlights
iMac Pro / Desktop

Compatibility

USB-C computer

Connection

Built-in integrated search dial

Metal

Material Construction

Allows precise transport & trimming control

Kit includes Editor Keyboard, DaVinci Resolve Studio Software & Install Key
Kit Options: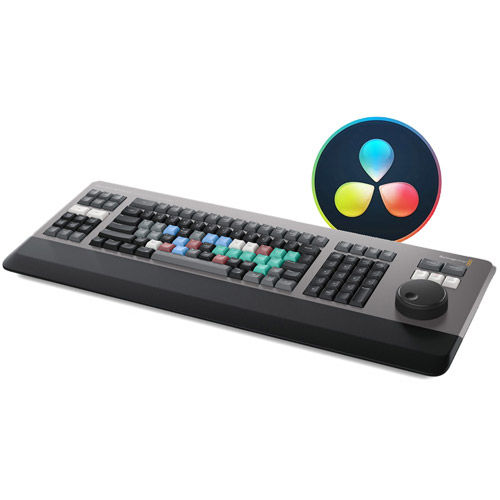 Blackmagic Design DaVinci Resolve Editor Keyboard Bundle w/Free DaVinci Resolve Software & Install Key V18.1
Blackmagic Design DaVinci Resolve Editor Keyboar...
Web Availability:
In Stock
Product is In Stock in our Warehouse or in one of our store locations. We will confirm stock is available and process your order. If the available stock is sold before your order is processed, you will receive an email from us.
In-store
Call for Availability in Toronto
Vistek Locations
Toronto In Stock
Ottawa Available for Order
Mississauga Available for Order
Calgary Available for Order
Edmonton Available for Order
Please call and verify availability at the store as stock changes daily.
DaVinci Resolve | Editor Keyboard
The DaVinci Resolve Editor Keyboard is designed for professional editors who need to work faster and turn around work quickly. More than just a simple keyboard, the DaVinci Resolve Editor Keyboard has been designed as an alternative way to edit that's much faster than a mouse because you can simultaneously use both hands at the same time. You also get an integrated search dial built right into the keyboard. Simply plug the keyboard into any USB‑C computer and you are ready to go. While most keys will work as a standard USB keyboard, the DaVinci Resolve Editor Keyboard has been designed for DaVinci Resolve 16 to enable an editing experience that's dramatically faster than previously possible.
Premium Metal Design
The all metal design is more robust because it's been designed for professional editors who spend hours each day editing and demand a premium keyboard solution. Unlike modern keyboards with flat keys, the keys have a tiered profile so it's easy to feel your way around. The key switches are the same type used by eSports keyboards and each key is certified for over a million operations. The integrated search dial is machined from solid metal and allows very precise transport and trimming control. There's even a hand rest with a soft feel to help reduce fatigue. Plus the keys caps, hand rest and key switches are all available as spare parts so the keyboard can be refreshed and repaired over time.
The Fastest Editing Physically Possible
The reason the DaVinci Resolve Editor Keyboard is so fast is you can use both hands when editing. Unlike a mouse, you can use your right hand to control the position in a clip, while your left hand is setting in and out points as well as applying edits. This means you can move, mark in and out points, apply an edit, then move again, repeatedly, one after the other, again and again. It's an extremely fast way to work, using both hands at once. You can even select points and use the search dial to live trim. The search dial is big, so trimming is very accurate. There are also transition selection buttons that let you change between a cut, dissolve and smooth cut, instantly.
Integrated Search Dial Control
The integrated search dial is machined metal with rubber coating so it feels very nice to use and you always feel you have a solid control over DaVinci Resolve's clip or timeline. There's an integrated electronic clutch that creates end stops when used for shuttle and position, all under software control. With multiple roller bearings, the search dial is very smooth and it can be spun in jog mode to allow a natural timeline scroll. The jog control allows free movement for precise positioning of the playback point. Shuttle uses the clutch and you can rotate forward and reverse wind to move up and down the timeline. Scroll allows scrolling up and down a long edit to navigate quickly.
Fast Source Tape Allows Scrolling Clips
Traditional NLE software uses thousands of clips to organize media, which requires lots of drag and drop of clips which is too slow for fast turn around work such as TVCs, news, promos and training videos. Traditional tape editing allowed all media to be on a single tape for fast access to your media by shuttling up and down the tape. The innovative source button instantly creates a "source tape" of all the clips in your bin. Now you can simply scroll up and down all your media and there's no need to navigate thousands of clips. The clip being viewed is also highlighted in the bin in real time. Plus switching between the source tape and timeline is instant.
Instantly Re-sort Bin and Source Tape
The source tape uses your bin's sort order so you get lots of control over how shots are organized. This gives you the flexibility to find shots by time, camera, duration or even clip name. The moment one of the bin sort buttons is selected, the source tape will be regenerated in that bin's sort order. Simply scroll up and down the source tape to find the shots needed. Sort by timecode to see all the bin media sorted by time, which is perfect for content shot in time order, such as live events. You can also sort by camera which is great for multi camera shoots where you lay down the wide shot first and then look for cut-aways on other cameras. You can even sort by duration and the clip name.
Fast In and Out Points
Entering edit points is one of the most used functions in editing, so we designed the in and out point buttons larger in size, and to include a small space above to allow locating them by feel. That helps when doing transport control with your right hand and punching in and out points using your left hand. When selecting in and out points in the new DaVinci Resolve cut page, you are also trimming clips with these buttons. Then once the in and out points are set, just reach your fingers up to the edit buttons. The in and out points can also be used to contract the source tape to limit the clips included. Then you can change the source tape back to the whole bin by pressing the escape key.
New Intelligent Keyboard Edit Modes
The editing functions are located just above the in and out keys, to allow a simple movement of your fingers to activate the edit you require. Because editing with a keyboard is quite different to editing on a computer's user interface, the editing functions have been optimized to take advantage of the speed of a keyboard. Most edits can be performed on the source clip without needing to place edit points on the timeline itself. That's much faster as it eliminates time wasted switching between source and timeline. The edit points can automatically locate the nearest timeline edit, or even match timecode. A good example is smart insert, which locates the nearest edit and inserts at that point.
Smart Insert
Smart insert is similar to the traditional insert edit function, however it's smarter as it eliminates the need to switch to the timeline and place an in point. All you need to do is select smart insert and it will locate the nearest edit in the timeline and insert the clip in that location.
Ripple Overwrite
Ripple overwrite is a popular edit function and it lets you replace shots extremely quickly. When applied, it will replace the clip in the timeline with the selected clip and if the clip is a different length, it will adjust the space to accommodate the new clip and ripple the timeline duration.
Place On Top
Place on top is similar to traditional edit functions and this edit mode will place the clip on top of the background layer that's already in the timeline. If the timeline doesn't have a layer above the background layer, it will add a new timeline track and then place the clip on top.
Append To End
Append to end is fantastic for building edits fast. Simply select an in and out point and then append to end will add the clip to the end of the edit and increase the timeline duration. Append to end is fantastic when adding shots to an edit from content that's been shot in time order.
Close Up
Close up is best for creating two camera angles from the one camera. Simply shoot your subject with a wide or mid shot, and then when close up is applied, it will create a slightly zoomed in version of the same camera shot and place it on top of the timeline. Plus you can also apply it to a clip in the timeline.
Source Overwrite
Source overwrite is a faster alternative to multi-cam. It automatically matches source timecode to the source timecode of the clip in the timeline and places the clip on top. If you shoot with multiple cameras and sync timecode, you can lay other camera angles on a base wide shot layer.
Search Dial Live Trimming
With a high quality search dial built in, you get an extremely accurate and fast way to do trimming of edit points. The roll buttons allow the keyboard to take control of the search dial and very precisely adjust edit trimming. You can select the trim mode with your left hand while adjusting the trim with your right. Using roll trimming is easy and is operated by pressing and holding one of the roll buttons, depending on the type of trim you need to do, while then rotating the search dial. There's also a trim editor button on the numeric keypad that allows a direct switch to trim mode, so you can scroll up and down the edit points in a timeline to allow locating and adjusting multiple edits fast.
Roll In
Roll in is very similar to adjusting trim in on the software however it's a modifier key on the keyboard. Using roll in on a transition adjusts the in point of the destination clip, while adjusting roll in on a clip adjusts its in point. All adjustments will ripple the timeline duration.
Roll Transition
The roll transition is similar to the roll edit. It works by rolling the transition between 2 clips and has the same affect as simultaneously adjusting the in point on the destination clip while adjusting the out point on the source clip. Roll edit does not affect timeline duration.
Roll Destination
Roll destination is the same as slipping the destination clip and it will move the shot up and down within the current clip's in and out points. Roll destination allows slipping the clip within the same duration so it won't affect the overall timeline duration.
Roll Out
Roll out is very similar to adjusting trim out on the software however it's a modifier key on the keyboard. Using roll out on a transition adjusts the out point of the source clip, while adjusting roll out on a clip adjusts its out point. All adjustments will ripple the timeline duration.
Roll Source
Roll source is the same as slipping the source clip and it will move the shot up and down within the current clip's in and out points. Roll source allows slipping the clip within the same duration so it won't affect the overall timeline duration.
Roll Duration
Roll duration is designed to allow you to change the transition length of any effect that has been applied to an edit point. When selected, adjusting the search dial will interactively adjust the duration of the transition. Because you can select the transition type, you can use roll duration to get the transition perfect.
Select and Change Transitions Instantly
Editing software is slow at adding transitions because it requires using drag and drop to place a transition, or a keyboard shortcut for only one transition type. With DaVinci Resolve Editor Keyboard you can press a key and add or remove a transition with a single button press. The cut key will remove any transition on an edit point and leave it as a simple edit between the 2 clips. Pressing dissolve will add a 1 second dissolve between the two clips, and using roll duration will set the desired transition length. Plus if there is already a dissolve on the edit, then the key will be ignored. There's also a smooth cut button to allow jump cuts to be removed at the press of a button.
Improved DaVinci Keyboard
The new DaVinci Resolve Editor Keyboard also includes a revised qwerty key layout that's been updated using feedback from professional editors. However you still get all the traditional editing features for both the cut and edit pages in DaVinci Resolve, so the core qwerty part of the keyboard still operates in a familiar way. All the standard edit modes are included on the main keyboard. Plus you get JKL trimming when you want to do playback and trimming via the keyboard and not the search dial. But you still get new features in the revised layout, such as a viewer button to allow instant change to full screen view, and it's even possible to edit from the keyboard in full screen view.
Direct Timecode Entry Keypad
When entering edit points and durations numerically, there's a keypad specifically designed for timecode entry. The F/TC button allows switching between timecode or frames. Just press the F/TC button and entry changes to frames. When typing longer timecode values, there's also a double zero button so you don't have to press the standard zero key as often. The plus and minus keys allow time values as offsets to current values vs absolute entry. A dedicated duration entry button allows you to numerically define the duration of a clip. Numeric duration entry is one of the most used functions. For example, if you need to set a 100 frame duration on a clip, just press DUR, F/TC and 100.
Designed for the Desktop or Insert into a Console
Although the DaVinci Resolve Editor Keyboard has been designed with a modern aesthetic, there's also function to the form. The subtle edge created by the mating of the top keyboard surface and the lower chassis has a pinstripe feel to the design that allows the DaVinci Resolve Editor Keyboard to look good on a desktop. The keyboard is a fantastic match to an iMac Pro and has a subtle energy when placed on your desk. There's even fold out rear feet to increase the keyboard tilt. However the flange has a functional benefit as you can install the keyboard in a cutout of a desk or console. The keyboard will then sit almost perfectly flat on the desk surface. This creates an amazing console look.
announcement This package includes the Install KEY for the full version of Resolve.
You can then update to the latest available version by downloading it online here.

Resolve 18 is now available.
If packaging indicates an older version, please note that the Install KEY is still valid.
Users who currently have version 17 can update to v18 for free.

* Blackmagic Design software products are final sale.
DaVinci Resolve 18

Studio Software & Install Key
DaVinci Resolve is the world's only solution that combines editing, colour correction, visual effects, motion graphics and audio post production all in one software tool. Its elegant, modern interface is fast to learn and easy enough for new users, yet powerful for professionals. DaVinci Resolve lets you work faster and at a higher quality because you don't have to learn multiple apps or switch software for different tasks. That means you can work with camera original quality images throughout the entire process. It's like having your own post production studio in a single app. Best of all, by learning DaVinci Resolve, you're learning how to use the exact same tools used by Hollywood professionals.
* Cable not included.
Cloud Collaboration
Blackmagic Cloud
DaVinci Resolve 18 supports Blackmagic Cloud, so you can host your project libraries on the DaVinci Resolve Project Server in the cloud. Share projects and work collaboratively with editors, colourists, VFX artists and audio engineers on the same project at the same time, anywhere in the world.
Blackmagic Proxy Generator
The new Blackmagic Proxy Generator App automatically creates and manages proxies from camera originals. Create a watch folder and new media is automatically converted into H.264, H.265 or ProRes proxies to accelerate editing workflows. You can extract proxies into a separate folder for offline work.
Simplified Proxy Workflow
Switch between camera original footage and proxies in a single click. With Blackmagic Proxy Generated proxies, DaVinci Resolve knows where in the file tree to find them, instantly linking to the camera originals in the media pool. Edit with proxies, then relink to camera originals to grade.
Intelligent Media Management
DaVinci Resolve 18 adds intelligent media location management, so that when you are collaborating you can quickly link media to your unique file paths. Now you don't need to manually relink or search for assets when you work remotely. So you have more time for creativity and less time on file admin.
Shared Project Libraries
The collaboration update also provides major performance enhancements if you are using a secure private network. Get immediate updates of editorial and colour changes when collaborating on a remotely hosted project library. Now creative decisions can be made in real time based on the latest changes.
Remote Monitoring Streaming
Live stream your DaVinci Resolve Studio viewer and display on a remote computer monitor, or a reference grading monitor, via DeckLink to anywhere in the world. The extremely low latency and high quality 12-bit image is ideal for remote editing or colour grading giving you instant feedback on changes.
Colour
Intuitive Object Mask
Located in the magic mask palette, the new object mask is able to recognize and track the movement of thousands of unique objects. The DaVinci Neural Engine intuitively isolates animals, vehicles, people and food, plus countless other elements for advanced secondary grading and effects application.
Automatic Depth Map
The new depth map effect lets you instantly generate a 3D depth matte of a scene to quickly grade the foreground separately from the background, and vice versa. You can bring attention to action in the foreground, help interview subjects stand out, or add atmosphere in the background of a scene.
Track Moving Warped Surfaces
Apply graphics to surfaces that warp or change perspective in dramatic ways, like t-shirts, flags, or even the side of a face. The surface tracker's customizable mesh follows the motion of a textured surface. Apply graphics, composite tattoos, or even cover up logos with this powerful tracking tool.
Updated Resolve FX Beauty
Ultra beauty gives you advanced control over a subject when performing corrective beauty work. Developed with professional colourists, the ultra beauty tool helps to address general imperfections by smoothing skin and then recovering detail to produce natural and complimentary results to the subject.
Edit
Enhanced Subtitles
Subtitle support has been expanded to include TTML and XML timed texts and embedded MXF/IMF subtitles. View and import subtitles from media storage, create regions to support multiple simultaneous captions per track, and set individual presets and text positions when indicating different speakers.
Reverse Shape, Iris and Wipe Transitions
Transitions in the effects library's shape, iris and wipe categories now have a checkbox, allowing you to easily reverse the direction of the transition. This gives you additional flexibility when using these types of transitions, as well as adding to your creative possibilities.
View 25 Simultaneous Multicam Angles
A new 5x5 option in the multicam viewer now allows you to view up to 25 different angles in a single multicam clip at the same time. Ideal for large multicam projects, this makes viewing, cutting and switching between more angles much easier, rather than moving between pages to see different angles.
YouTube and QuickTime Chapter Markers
When delivering to QuickTime formats or uploading directly to YouTube, you can choose to automatically create chapter markers from one set of coloured timeline markers. This means viewers can easily go to the relevant part of your video. All you need to do is add and rename markers to your timeline.
Fusion
GPU Accelerated Fusion Paint
In DaVinci Resolve 18, GPU acceleration allows paint brush strokes to be generated and displayed in real time, for a more intuitive approach when performing cover up work or graphic design. Instant visual feedback allows you to assess your work and make corrections in any stroke style or shape.
Text and Shape Acceleration
Text, text+ and shape templates have improved speed and playback performance in DaVinci Resolve 18. New memory management and data handling means that Fusion templates are up to 200% faster. You can see accelerated results in the viewer and put together motion graphic compositions faster than ever.
Fairlight
Convert Legacy Projects to FlexBus
FlexBus is Fairlight's flexible audio busing and routing system designed for managing high track counts, extensive plug-in processing, perfect synchronization and multiple project deliverables. Now you can effortlessly convert legacy fixed bus Fairlight projects to FlexBus with a single click.
Automatic Binaural Rendering
The Dolby Atmos deliverable toolset has been expanded to support rendering of a binaural output from a complex Dolby Atmos mix. Now a Dolby 7.1.4 mix can be rendered to playback in a pair of headphones while maintaining the immersive sound experience from just two audio channels.
Improved Decomposition of Nested Timelines
New options in the decompose menu enhance collaboration allowing editors to compile their work to a single timeline. Nested timelines can now be decomposed with all track data including FX and automation. Assignments will connect using new busses, existing paths or new tracks can be left unpatched.
Innovative Space View 3D Display
DaVinci Resolve supports the latest industry standard audio formats natively, including immersive audio formats like Dolby Atmos, Auro 3D, MPEG-H, NHK 22.2, and SMPTE. The space view scope displays a real time view of every object and its relationship to the room and other objects in 3D space.
Next Generation Engineering
DaVinci Resolve 18 features some of the most cutting edge technology in the industry today. The DaVinci Neural Engine is an advanced machine learning system powering many of the software's most powerful tools, and it is fully supported in Apple M1 Mac models including M1 Ultra. Inclusion of the latest version of Dolby Vision means that users can view HDR on supported monitors, including on laptops. The future proof DaVinci Wide Gamut and Intermediate log grading environment allow you to work on media from any source. You can deliver to every projection and monitoring standard in use today. Plus DaVinci Resolve is the only software that you can use to edit and grade 8K footage in real time.
DaVinci Neural Engine Acceleration
The advanced machine learning algorithms of the DaVinci Neural Engine are supported on Apple's M1 and M1 Pro models. This gives you up to 300% speed improvement in dozens of tools that rely on accurate automated analysis of motion and content such as Smart Reframe, SpeedWarp or SuperScale.
Laptop HDR Monitoring
Increased Dolby Vision support now includes the latest version of Dolby Vision, which offers HDR viewing on Apple displays that feature high dynamic range options. This includes XDR displays and even the latest laptops, which means you can review, grade and deliver HDR footage from anywhere.
Atmospheric Simulation
Quickly generate randomized noise data to replicate different types of atmosphere and particle like effects. Use the presets to generate smoke and mist effects. Advanced parameters let you create a distinct appearance or movement in the noise. You can even warp images using the displacement map.
Edge Detection
Improved edge strength and filter controls in the edge detect effect produce more natural results than ever. The gamma control allows for cleaner edges and a smoother rolloff. The half edge setting displays either the light or dark side of the edge, allowing for unique sharpening and halo effects.
DaVinci Wide Gamut Colour Space
DaVinci wide gamut and intermediate are timeline colour space and gamma standards that provide a universal internal working colour space. It's larger than what cameras can capture, even larger than BT.2020, ARRI wide gamut and ACES AP1. You'll never lose image quality, no matter where it comes from.
8K Real Time Colour Correction
Only DaVinci Resolve supports 8K digital negative debayering editing and grading in real time. Working directly on RAW footage when compositing and grading ensures the most accurate results, to avoid limited resolutions, compression artifacts and banding that might impact your creative decisions.
M1 Ultra Performance
Support for the new Apple M1 Ultra means faster playback than ever before, including 30x faster playback on multicam 8K timelines. Collaborative workflows and wider support of RAW formats means feature film productions are increasingly adopting faster turnarounds using original camera media.
Technology and Creativity
DaVinci Resolve provides some of the most intelligent AI and advanced feature algorithms available in post production. These tools produce quick, accurate results that will elevate the visual quality of your project while saving you hours of time. The magic mask needs only a single stroke to locate and track people, features, and objects. Smart reframe repurposes footage to dramatically different aspect ratios by recognizing the action in a scene and panning within it. Tools like object removal and the patch replacer allow you to remove unwanted equipment from a scene with the click of a few buttons. Plus the tracker has been the industry leader for over 20 years.
Person Mask
The magic mask palette uses the DaVinci Neural Engine to detect people, tracking their movement in a shot. This person mask produces clean traveling mattes for secondary grades or effects. You can make characters stand out in an under lit shot, or invert the person mask and stylize the background.
SuperScale
This unique upscaling algorithm creates new pixels when increasing the resolution of an image. The newly generated data has more detail in upscaled images than standard resizing controls. Ideal for scaling archival footage into modern resolutions, or upscaling HD footage to match a 4K or 8K project.
Smart Reframe for Social Media
Now you can use 16:9 HD or Ultra HD and quickly create square or vertical versions for posting to Instagram and other apps. The DaVinci Neural Engine automatically identifies action and repositions the image inside a new frame so you don't have to do it manually. You can even fine tune the results.
Stylize with OpenFX Library
The Open FX library features over a dozen stylize effects that can artistically modify the content of the image. Ranging from the creative, like pencil sketch, halation and abstraction, to the practical like blanking fill, these effects analyze the content of a shot to produce striking imagery.
Face Refinement
The sophisticated face refinement filter uses facial feature recognition to automatically detect and track faces. Use its many parameters for general beauty work, like skin smoothing, for correcting unflattering colour casts, and for retouching individual features like eyes, lips and cheeks.
Dead Pixel Fixer
Dead pixels in a camera sensor will often appear as static white dots and could affect hundreds of shots before they are noticed. Click on the white dots in the viewer, and the dead pixel fixer will use the surrounding pixel data to cover them up, rescuing your footage and preventing reshoots.
Object Removal
The perfect tool for covering up moving objects in an otherwise static shot, object removal analyzes a scene and uses the background information to paint out unwanted data. Create a Power Window on a new node, track the unwanted object, and link to the effect node. Watch it vanish before your eyes.
Patch Replacer
Sample an area of your scene to quickly cover up unwanted elements, like boom mics or even blemishes on a face. The patch replacer has a fantastic auto grading feature that will seamlessly blend the covered area with the surrounding colour data, even when there is movement or changes in the light.
Tools for Content Creators
Upload Directly to YouTube, Vimeo, Twitter
Link your social media accounts to DaVinci Resolve in order to upload videos directly to YouTube, Vimeo and Twitter as you export. Compression settings have been developed based on each site's best recommendations, meaning your videos will be optimized for visual quality and playback speed.
Import ATEM Mini Projects
Live production projects from ATEM Mini ISO models can be opened as a timeline. The sync bin with multiview lets you fine tune edits from the original live production or even replace shots. You can use the ISO recordings from ATEM or relink to Blackmagic RAW camera files for finishing in Ultra HD.
Advanced Noise Reduction
Two powerful tools restore noisy digital footage, even if captured in low light. The GPU accelerated temporal noise reduction algorithm removes noise while intelligently retaining areas of high detail. While the spatial noise tool analyzes the remaining noise pattern to lift it from the image.
Optical Flow Speed Change
The advanced retiming algorithm analyzes a scene's content, building new frames so you can slow down and extend the action in a sequence without repairing or blending frames into each other. Every frame created with optical flow is sharp, and intelligently constructed from existing visual data.
Mix 2,000 Tracks in Realtime
Fairlight Audio Core is a low latency, next generation audio engine that intelligently manages workloads by using all CPU cores. That means sound elements can be split into as many tracks as needed. You get up to 2,000 tracks, each with real time EQ, dynamics and 6 plug-ins, all on a single system.
Track and Follow Objects
The tracker palette lets you effortlessly follow objects and people to apply secondary grading or effects. When a window is placed on a subject, the tracker can follow its contents in 3D space, resulting in a quick and accurate mask. You can easily emphasize vital elements of a scene.
Colour Warper for Refined Grading
The mesh based warping tool lets you adjust two colour parameters at once. You can adjust both hue and saturation or chroma and luma. Adjustments are made by dragging control points, with smooth falloff for clean, natural looking adjustments. It's a new way to transform colour in your images.
Hardware and Software Integration
Streamline your workflow with editing keyboards, grading panels and audio consoles designed to work with DaVinci Resolve software. Faster than just software, dedicated features are placed directly at your fingertips. Adjust multiple parameters simultaneously on the same panels used in Hollywood.
What's Included
DaVinci Resolve Editor Keyboard
DaVinci Resolve Studio Software & Install Key (Full Version)
Product Specifications
DaVinci Resolve Editor Keyboard

Compatibility
iMac Pro / Desktop
Connection
USB-C computer
Material Construction
Metal
Blackmagic Design DaVinci Resolve Editor Keyboard Bundle w/Free DaVinci Resolve Software & Install Key V18.1
Looking for a personal touch? Not sure if you are choosing the right product? Our staff is here to help.
We want to make sure you get the right product for your needs.
Our staff will help you understand the options available so you can be confident in your purchase.
As the country's leading Professional Imaging retailer, Vistek is in the perfect position to ensure you make the right choice.
Contact us today for a personal touch.